*My posts may contain affiliate links, which means I may receive a small commission, at no cost to you, if you make a purchase through a link! Thank you for supporting my website!*
Last updated on February 20th, 2023 at 04:32 pm
Remodel An Old House On A Budget & Create Thousands Of Dollars In Equity
Last year, my husband, Adam, and I were on the hunt for our very first home.
We were the typical newlyweds that lived in a duplex (apartment) for the first year of marriage. It didn't take long before we were ready to live somewhere where you couldn't overhear the neighbors living next door.
So off on a house hunt, we went! First, we found a realtor we trusted and shared with her the things we were looking for in a home. Then shortly after that, the fun began. 
New listings were sent directly to my email, and we went and visited the ones that caught our attention. Little did we know that we were looking for a diamond in the rough… it took us over half a year of searching to find the one.
Why did it take us that long, you ask? Well, it's because we were determined to buy an old house that we could remodel and create thousands of dollars in sweat equity. Yes, I know, we gave our realtor a tall order, but she came through!
We are now proud owners of a 1560 square foot 1950s ranch with two acres of land. After we bought it, we spent the next year remodeling. We bought it for $108,000, spent $66,000 in repairs, and are expecting to be able to sell it close to $200,000 in a few years when we are ready to move on. 
(Update: The house officially appraised for $195,000!!! Our official out-of-pocket repair expenses were $52,000, and we bought it for $108,000. That means we created $35,000 worth of equity!! It's so exciting to see your hard work pay off!)
Note
(The estimated new value is based on a comparison of other homes in our neighborhood with similar acreage, square footage, and amenities. We do not guarantee that you will get the same results as we have if you decide to remodel your house.)
During this entire process, we learned so much about remodeling an old house on a budget. I want to share exactly what we learned so you can create thousands of dollars in equity in your old house as well!
Let's dive on in!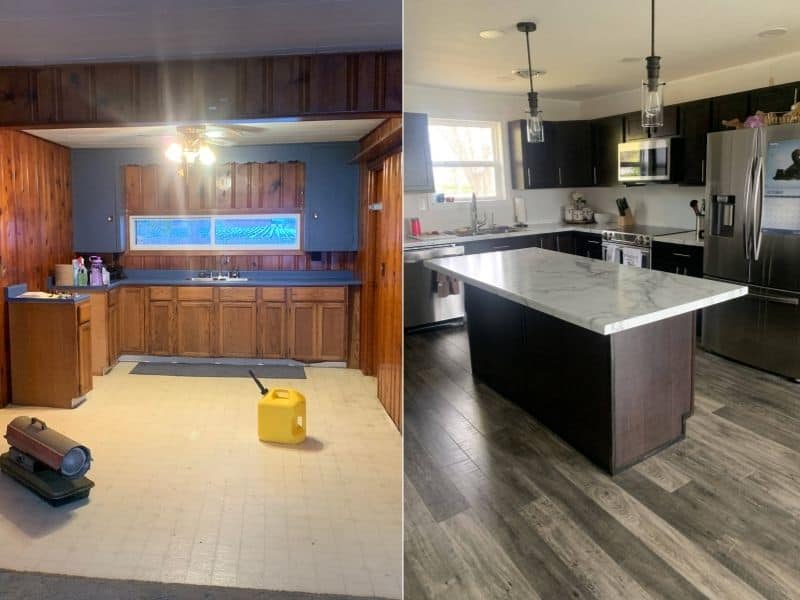 UPDATE: We added the subway tile backsplash, and I AM IN LOVE with our kitchen!! The best part is we installed a counter-to-ceiling subway tile backsplash in a couple of days for LESS THAN $150! Talk about remodeling an old house on a budget! Check it out now!
How To Remodel An Old House On A Budget & Create Thousands Of Dollars In Equity
Step One: Find An Old Property In A Good Neighborhood (Or Remodel Your Current Home!)
The first step to remodel an old house on a budget is to find an old house at a good price. If the house is purchased too high, then you will price yourself out of the neighborhood. That's a guaranteed way to never recoup all of your money.
Task One: Decide Whether You Are Going To Renovate Or Move
You might be wondering – is it better to renovate or move? The answer lies in the comparisons, your personal needs, and your willingness to put some sweat equity in the home
Your Needs
Let's start with your needs. Do you currently own a home? Because you'll need to own one to be able to remodel it. If you don't then it would be better to move. However, if you do, then does your current home fit your family (and your future family) comfortably?
It would be better to move if you need more space because (most likely), the cost to add to a house will be too great compared to moving.
(Again, I say most likely because every situation is different, and you must run the numbers on your own home. However, in general, the cost to build new is more costly than remodeling an existing home.)
On the other hand, if your family is no longer growing (or won't be for at least five years), and your home fits your needs, then it might be better to renovate. The reason behind this is because it is costly to move. Think about the random costs; moving trucks, random "necessity" purchases, closing costs, etc.
Also, you will still likely want to paint and "freshen up" a few things at your new house to make it better suit your style.
Your Willingness To DIY
Moving on, let's talk about your willingness to DIY. Do you have any experience with major home renovations? If you do, then you're a prime candidate for a home renovation! If you don't, then that doesn't necessarily mean it's better to move.
You might need to find an older home that only needs basic cosmetic work. That includes painting, possibly installing new flooring, and refinishing the cabinets that are already there.
Furthermore, do you enjoy working with your hands and building things? If you don't then you definitely should not be looking into renovating your home. (Unless you're willing to pay contractors to do it which is also fine if the numbers work out.)
A house renovation is hard, dirty work. It's not for the faint of heart. If you're living in the house while you work, then your life will be thrown into chaos until all projects are complete. It's hard for a lot of people to handle and is not for everyone. So maybe moving would be better for you.
On the other hand, if you enjoy building and creating and don't mind hard work every day, then renovating your home could be a great option for you!
The Comparisons
Lastly, we have to look at the comparisons. The comparisons ("comps" for short) are all the homes in your neighborhood that have similar features to yours that have sold in the last six months to a year.
You are looking for homes with the same (or as close as possible) number of bedrooms and bathrooms, square footage, acreage, and amenities as your current home. Also, you are looking for the ones that have recently been remodeled.
If the homes you find are selling for $20,000+ more than your home, then it might be worth renovating your current home instead of moving. This means that you have room to "create equity" into your own home.
That's like printing money!
The next tasks are assuming you are searching for another house to move to. If you are renovating your current home, then skip to the next step.
Task Two: Choose Three Neighborhoods With Mid- to Upper-Range Priced Homes & You Want To Live In
You probably are aware of the neighborhoods around you that are nicer and the ones that aren't as nice. If you aren't then do some research on the internet and drive around the neighborhoods to get a better feel of them.
Consider the home prices, crime rate, school rating, walkability score (if that is important to you), and annual property taxes.
Once you choose your three, start your house hunt.
Task Three: Find The "Worst" Property In The "Best" Neighborhood
After you've decided which neighborhoods you are going to target, contact a local realtor and have them sign you up for instant alerts from the MLS for all houses that fit your criteria.
When you get an email, scan the house for the following features.
Features
Feature
Description
Why We Care About This For A Remodel
Home Price / Square Foot
Calculate the price per square foot of the home. Take the asking price divided by the square footage of the house.
For example, a 1500 square foot home on the market for $150,000 has a price per square foot of $100.00.
This price will let you know whether you're getting a good deal for the neighborhood, or whether you're paying on the higher end.

You can now compare all houses to determine which sale price is a better deal regardless of the square footage and actual sale price.
Year Built
Anything built in the 1900s is preferable.
Older homes usually need some work done to them, so you can purchase them for cheaper, fix them up, and sell them at a higher price. 

Also, drywall became popular in the 1950s, so if you want to stay away from plaster walls, I recommend searching for 1950-1970 homes.
# Of Beds & Baths
3+ bedrooms and 1.5+ bathrooms are preferable.
In order to sell high, you need a large market, and a home that can suit both singles and families will always sell for more.
Crime Rate
Find the crime rate on Trulia.com. The lower the better.
Think about your own preference. If crime is rampant in a neighborhood, you probably wouldn't want to live there either. Well, neither will future buyers. 

Plus, you run the risk of having your property damaged while you're living in it & selling it.
School Rating
Find the school rating. A school rating of 5 or higher is preferable.
Whether you have (or plan to have) kids or not, future buyers most likely will. A decent school system nearby will help you sell for top dollar later.
Annual Property Taxes
Find the annual property taxes. The lower the better.
Property taxes and insurance are two expenses that never go away, even if you pay off your house completely.

Minimizing this expense can save you thousands of dollars over the years you are living there.

Check around because often, neighboring counties can have vastly different property taxes.
Other Features That Matter To You (Walkability Score, Stores Nearby, Highway Proximity, etc.)
Look for other features that are preferable for you.
You are going to be living in this home for at least 2 years, so you might as well enjoy it while you are there.

Also, if you find it valuable then others will find it valuable as well.
Property Features To Look For
Time To Compare
Finally, compare these features to the comps from recently sold homes in your neighborhood that have been remodeled (like we talked about above). This way, you can get a good understanding of what it will take to get top dollar out of this particular home.
To sum it up, think of the features that you would want in a home because chances are, so does everyone else. What's stopping everyone else from purchasing a home like this is the work that needs to go into it to get it up to its full value. 
That's where you come into play, my beautiful DIYer!
Task Four: View The Homes That Match Your Criteria & Find The "Cosmetic Remodels"
Next, you want to actually visit the homes that match your criteria. You want to visit as many homes as you possibly can to get the best idea of what's available in your desired neighborhoods.
To create the most equity in the house without needing expensive contractors or $50,000+, find the property in the good neighborhood that needs work, but the bones are good.
Look for the one with wallpaper on every wall, red or yellow oak cabinets in the kitchen, pink tile in the bathroom, carpet everywhere, and a yard that needs major landscaping help.
All of those are cosmetic changes. The bones of the house (the roof, water heater, furnace, well pump, water softener, foundation, etc.) should be good for another 10+ years. (If they aren't then that's something you will have to factor in your budget to replace before you can sell again.)
Also, try to avoid homes that need walls knocked down or moved because drywall and wall reconstruction is an expensive remodel that requires a little bit of technical experience.
(Yes, I am totally speaking from experience because our 1950's ranch was wall-to-wall wood paneling AND we knocked out five walls (two of them being loadbearing). The drywall & wall reconstruction cost $10,000 and we did half the work while a drywall contractor did the other half.)
Task Five: Avoid Features That Will Bring Down Your Property Value
The last thing you want to be aware of before you purchase a home are the potential features that will hold down your property value.
Bad DIY's From Previous Owners
Be weary of things that looks like the builder took short cuts. Even if the work is "new", nobody will pay top dollar for work that hasn't been completely properly.
(This is also a note to you to not do anything you can't complete (or have someone show you how to complete) at a professional level! Many things such as painting, adding floating floors, adding backsplash in the kitchen, and updating bathroom hardware are definitely in a new DIYer's wheelhouse. 
But other things like removing walls, tiling floors, building decks, adding new plumbing, or adding new electrical might be out of your wheelhouse at the moment. That's okay! Take that into consideration when you're choosing the next old house you are going to remodel on a budget.)
Noisy Roads Or Other Unpleasantries Nearby
Things such as noisy roads, sex offenders in the area, hospitals, dumps, or businesses next door, or neighbors that don't take care of their own property are all things that will hurt your property value even if it is the prettiest property in neighborhood.
Avoid these features if possible when searching for your next old house to remodel on a budget.
Side note: if you are going to renovate your own property, check out this article from HomeLight.com that goes into much further depth on things that can bring down your property value.
Our Real Life Example
First off, I have to clarify that we viewed our home as an investment opportunity, and if you're looking to create thousands of dollars in equity, you should too. That means we were looking for very specific home characteristics, a purchase price that made sense, a location that would suit our needs for the next five years, AND have a great resale value.
We were looking for a house that:
Had a little bit of land in the country (preferably an acre or more)
Was older
Needed cosmetic work, but the foundation was good
Had at least a one-car garage
Had three bedrooms and at least one bathroom
Was surrounded by similar homes that were selling quicker for much more money
Had lower property taxes
Turns out, we were able to find a house that had almost all of those features. Although, we toured over 10 homes and spent several months looking at every listing sent to our inbox to find it.
I kind of lucked into this home because it was in the county over from the one we wanted. It had an address that should have made it 10 miles away from where we wanted, not 0.5 miles away. And it had been on the market for several months but was still priced higher than we wanted.
Once I saw the land and how outdated the home appeared, we just had to go check it out.
Pictures Of Our Old House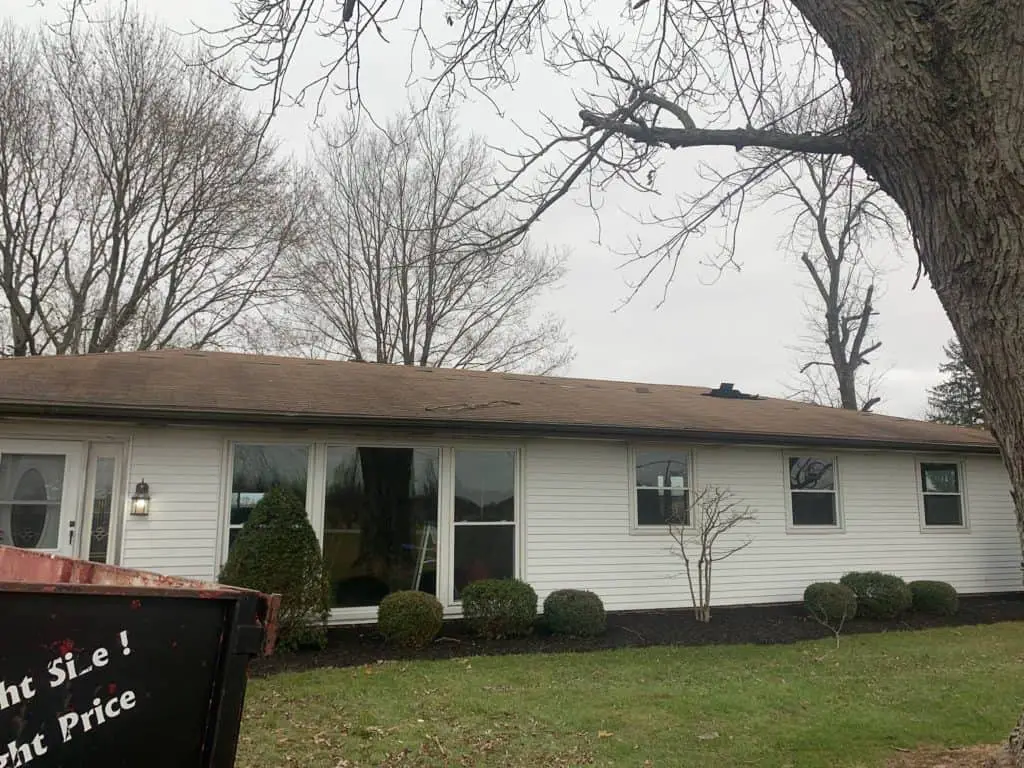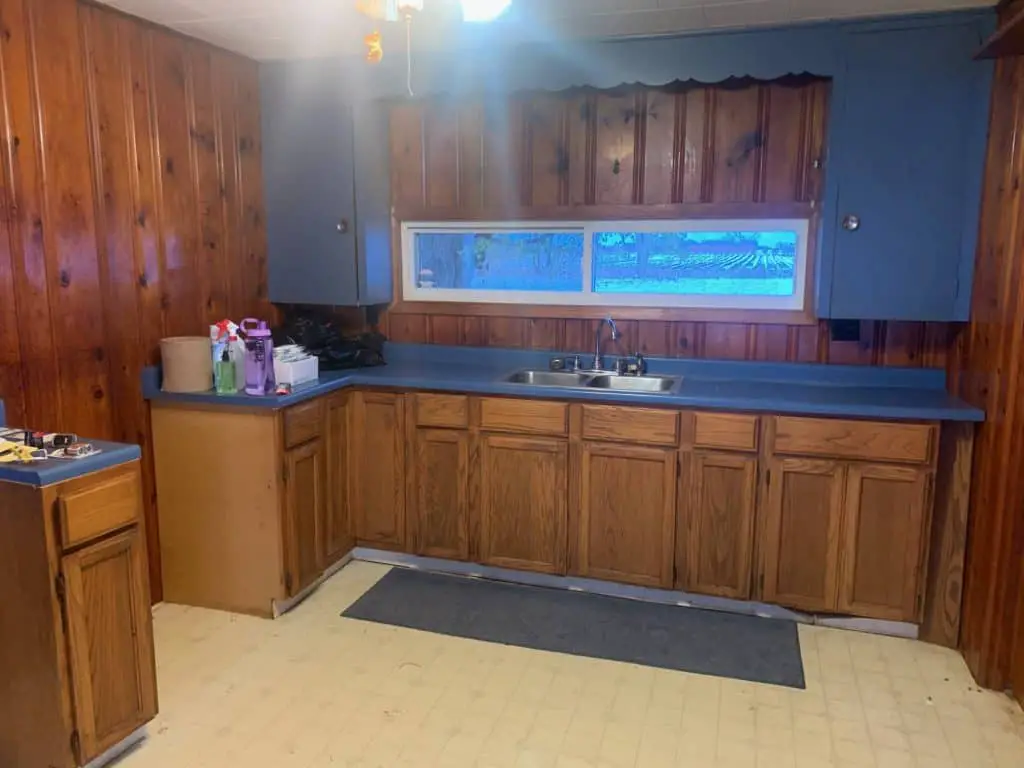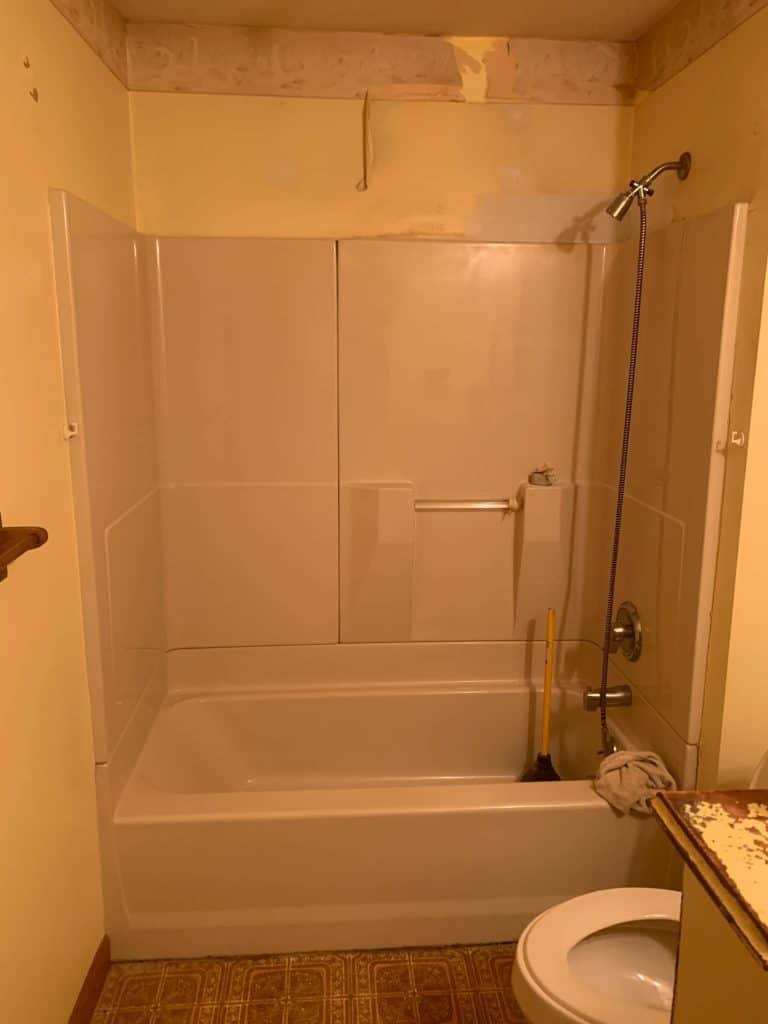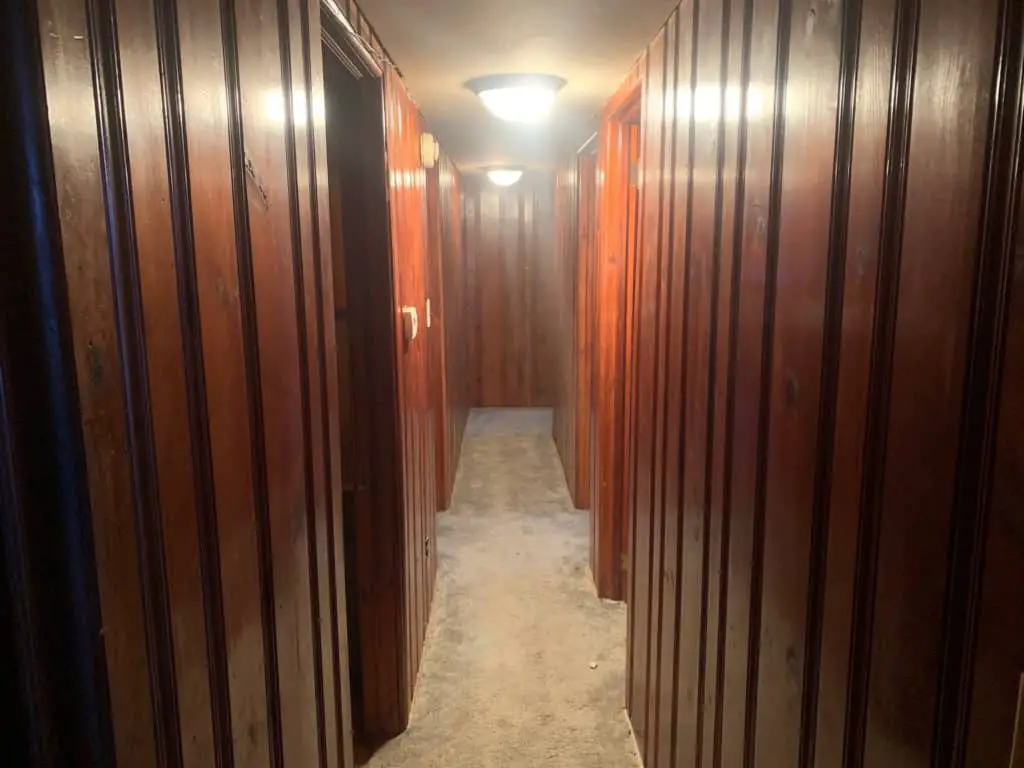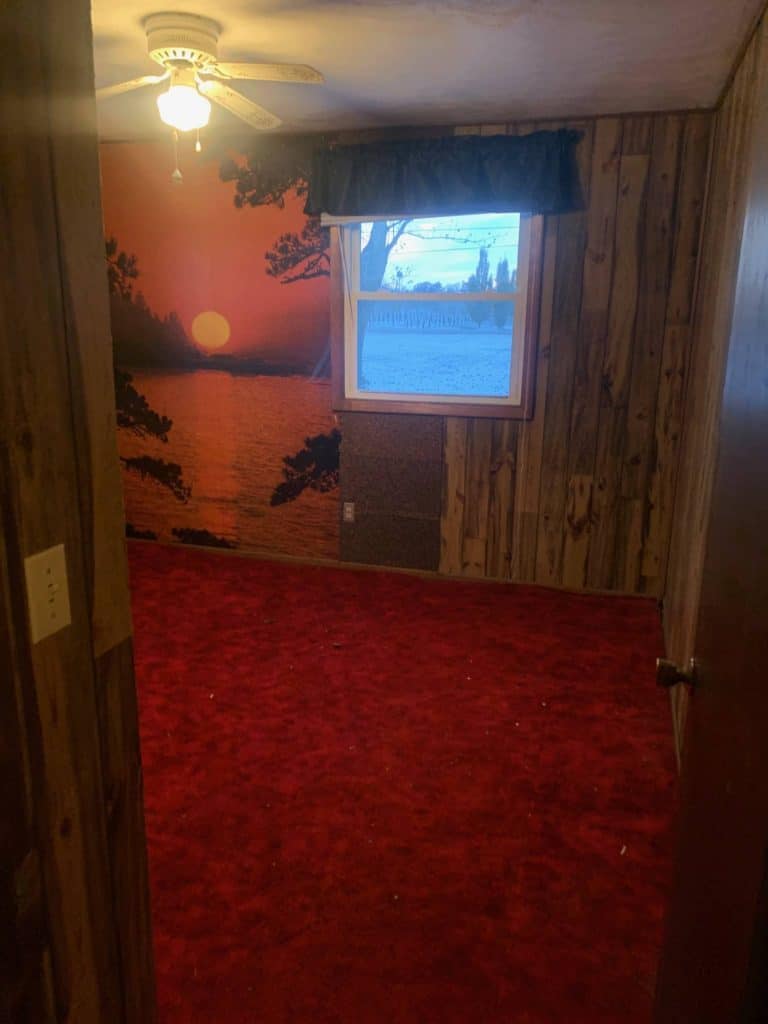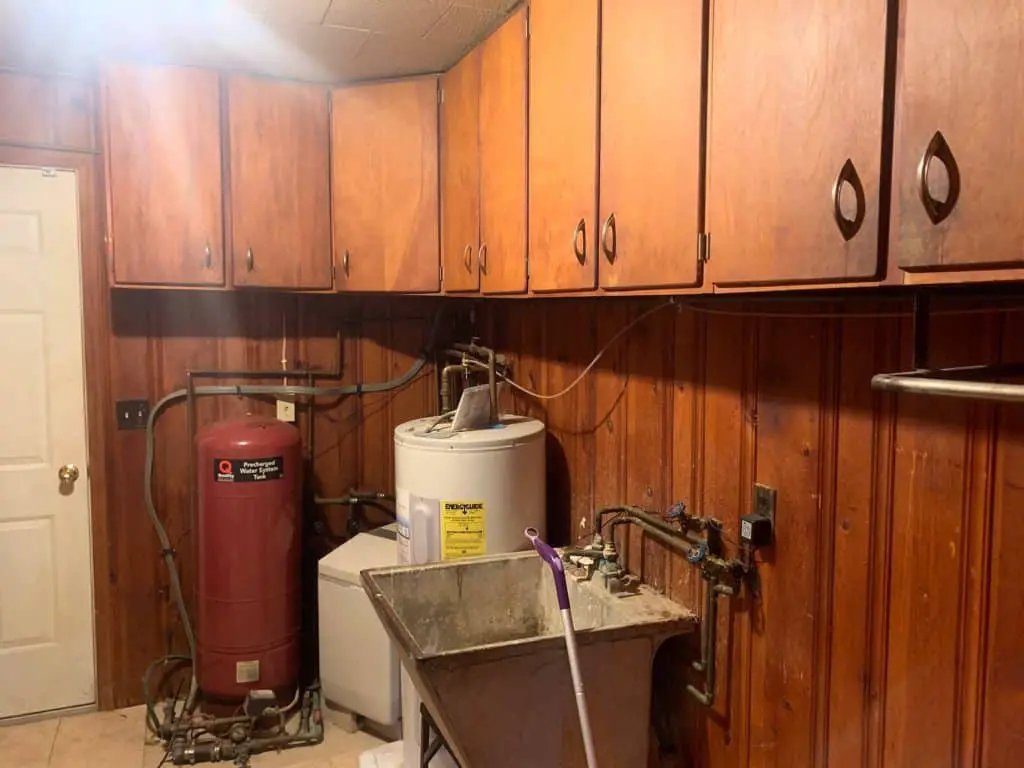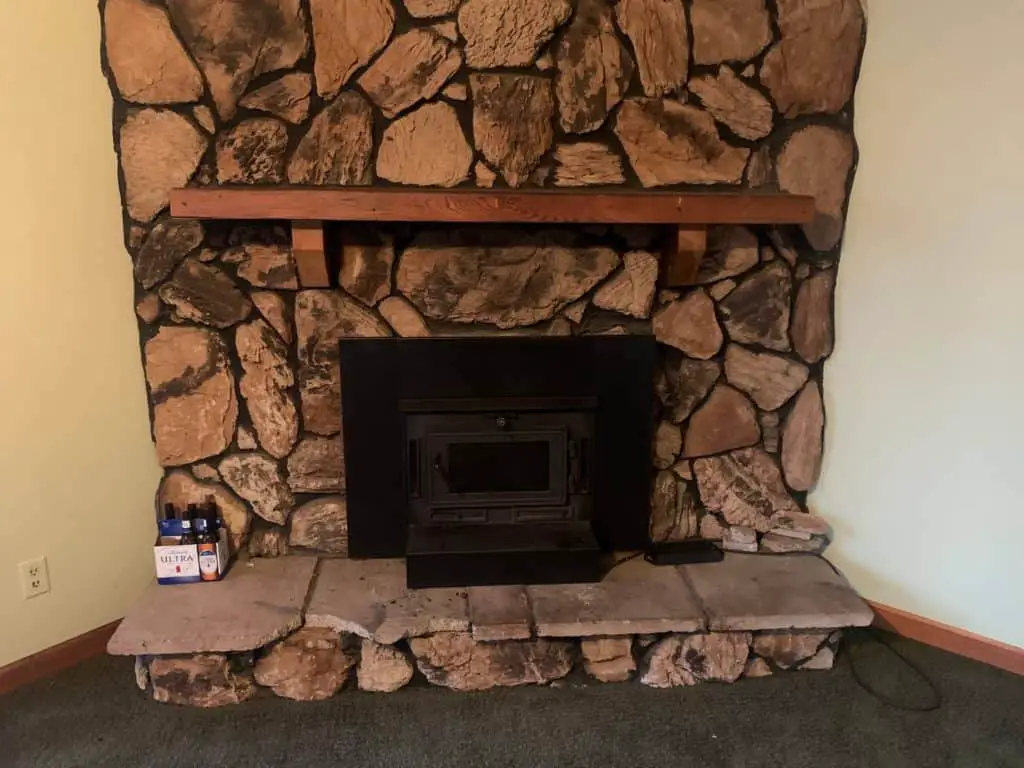 How We Chose Our Old House
We did all of the things I discussed above to find this property. We looked at as many houses as we could to get a better feel for the market. In addition, we compared this house to the other homes in the neighborhood to get a good idea of its ARV (after repair value).
And we talked the price down from $136,000 to $108,000 because of the amount of work that was needed to get it up to the neighborhood's standards.
Now, I will admit this home would be way too much work for a beginner DIYer to take on. If I hadn't had my dad to help us (who has renovated houses before), I would have found a more "cosmetic remodel" just like I am suggesting to you.
(This home was technically our second home renovation we've done; the first was our college duplex that my family and I own.)
I recommend you figure out your strengths and weaknesses, and utilize your strengths in the home you are going to remodel on a budget. (Plus, cosmetic remodels are MUCH more friendly on your budget! You can do them for a lot less than what we did to this house!)
Step Two: Plan Your Old House Remodel
Now that you have an old house in mind that you want to remodel on a budget, it's time to plan! What renovations you are going to complete to create thousands of dollars in equity?
That's simple; we want to tackle the areas of the home that will bring us the highest return on investment first. Then if you have enough room in your budget, you can add other "sizzle features" to your home that will help bring top dollar. (More on sizzle features later.)
Renovations That Will Increase Home Value The Most
Yes, I know you can read a different statistic on every different home renovation site that talks about what will increase your home value the most.
From my personal experience (and the most common theme I've found throughout these home renovation sites), there are three areas where renovations will increase home value the most.
These are:
Curb appeal
Minor kitchen remodel
Minor bathroom remodel
So let's dive into these three categories further!
Curb Appeal
Curb appeal is the landscaping and outside of the house. This area will by far get you the highest increase in home value, and here's why.
Firstly, everyone can see the outside of a house, but not everyone gets to see the inside. So the best way to attract the most amount of buyers (that ultimately cranks up the purchase price on your home) is to have a beautiful outside to your home!
Suggested Upgrades
New or freshly painted siding
Flowers, shrubs, and other well-thought-out landscaping
New windows & shutters
New or freshly painted/stained fencing
Repaired or new driveway
Garage door replacement
New or freshly painted front door
Secondly, because most curb appeal upgrades are simple, they are super DIY friendly! And whenever a project is DIY friendly, you're going to get a massive return on your money because you can cut out the expensive contractor fees.
If you didn't notice, most of the upgrades I listed above involve painting. Well, painting is one of the cheapest and most beginner DIY friendly projects out there, so you can easily increase the value of your home by starting on the curb appeal.
And you can make the outside of your house look gorgeous for a few thousand dollars. Which oftentimes, can net you a 300% return on your money if you do it yourself. Hello extra money when you sell!
Minor Kitchen Remodel
The next area that will increase home value the most is a minor kitchen remodel. Think about it, you probably feel the same way when you are looking at homes. You want a gorgeous kitchen that you can easily entertain guests with.
Plus, you use your kitchen every day, so you want it to be updated and as functional as possible.
Well, others do too, so this area can help increase the value of your home! Although, there is a point in which you can overupgrade your kitchen and not recoup all your money. So we want to make minor changes that help upgrade the cosmetics of the kitchen.
Suggested Upgrades
Refinishing cabinets (painting or staining again!)
Refacing cabinets with more modern doors and hardware
Replacing the sink and faucet
Upgrading the appliances with more energy-efficient ones
Upgrading the light fixtures, outlet covers, etc. to more modern colors
Depending on the comparison of the homes around you, you can get all new kitchen cabinets, laminate countertops, backsplash, flooring, appliances, paint, and light fixtures for around $10,000 in materials and your own labor.
(That's pretty good since the average kitchen remodel is $23,500 when you use a contractor.)
To make your minor kitchen remodel even more budget-friendly, remember that paint is a DIYer's best friend. So instead of replacing the cabinets, opt to paint and reface them for a few hundred dollars instead of a few thousand.
I have a fantastic tutorial on how to paint cabinets like a pro, so you won't have to worry about shoddy workmanship at all! You'll have the best looking cabinets in the neighborhood, and you'll save tons of money as well!
Finally, the best part? The average money recouped for a minor kitchen remodel is $18,000. That's a 180% return on your money if you spend under $10,000 and do the work yourself!
For more info on where I got these numbers, check out this article from Bankrate. Your percent of return will be better than what this article suggests if you do the work yourself! 
Minor Bathroom Remodel
The third area that will increase home value the most is a minor bathroom remodel. Much like the kitchen, everyone wants a beautiful, functional bathroom to use every single day.
It's no joke when they say kitchens and bathrooms sell homes. Would you want the home with the crusty showerhead, yellow oak cabinets, and boring, unframed builder's mirror?
Well, neither do other people who are looking to buy your home. So upgrade a few features for them, and they'll be happy to pay the increase in the value of your home!
Suggested Upgrades
Upgrading the light fixtures, outlet covers, etc. to more modern colors
A new bathroom can cost $3,000 in materials and can possibly get you a $1.70 return for every $1.00 spent. That's a 170% increase on your money.
I'd say that's a good use of your money.
For more info on where I got these numbers, check out this article from Zillow.    
Sizzle Features You Might Want To Add To Your Home
After those three areas are complete, you might still be looking for areas to increase home value. Sizzle features are extra features that buyers won't be expecting in your home. For a little bit of extra money, you will make your home unique and stand out on the market. Which standing out always brings in extra money!
A few sizzle features to think about if they fit your budget:
Some of these are on the pricier end, while others are only $100. The potential buyers who look at your house will be so excited to see some of these features!
Other Important Areas To Remodel
You will definitely want to paint your walls a modern neutral color like Amazing Gray from Sherwin Williams or Snowbound from Sherwin Williams.
Both are very popular colors that look good in any home. My favorite way to choose paint colors is to get three different samples from Samplize. Their paint samples are giant 12" by 12" stickers that let you easily move them from room to room.
This way you can see the color in all the different lighting in your room before you fork over a lot of money for a gallon of paint!
Also, remove wallpaper, repair and paint the walls, paint the trim, and paint the front door. Modern colors such as grays, greiges, blacks, and whites are key to attracting the most amount of buyers. Remember, we are remodeling a house that someone else will pay top dollar for. So that usually involves lots of neutrals.
Our Real Life Example
For our own house, we had plans to do all of these renovations and more.
Coming soon: Examples of our own plans for our home.
To sum up step two, plan the overview of the renovation out now, so you can determine whether the house you are looking at buying/remodeling is going to be worth the money and effort you are about to put into it.
Step Three: Make A Mock-Up Budget With Real Supplies
The next step to remodel on old house on a budget is to create your budget for the renovation plans. There are three tasks we need to complete to prepare a legitimate renovation budget.
Make your budget reasonable
Get quotes from real contractors
Add a 20% cushion for unexpected expenses
Task One: Make Your Budget Reasonable
Firstly, home renovation is not cheap. However, it doesn't have to cost a fortune if you do a lot of the work yourself. Do things of the highest quality and pay someone else to do the areas you can't figure out yourself.
In order to create equity successfully, we need to make your budget reasonable. Otherwise you'll never have a chance to stay within your budget.
For example, if you are planning to do a full bathroom remodel (i.e. replacing the bathtub, flooring, cabinets, lights, mirrors, toilet, etc.) for under $1,000, you probably aren't going to stay within your budget. (For reference, our master bathroom cost around $3000 and our guest bathroom cost a little under $2000.)
However, if you are planning on doing minor cosmetics like replacing the flooring, painting the cabinets, updating the mirror, and cleaning up the light fixtures, then $300-$500 might be a reasonable budget for you.
Check out my post on 10 Quick & Easy Ways To Update Your Outdated Bathroom On A Budget if you are planning on doing the minor cosmetic updates.
Do your research on common renovation costs in your area to get a general idea. (I'll also be including my own renovation costs below, so you can see a real-life example of how far our money went in Ohio.)
Task Two: Get Quotes From Real Contractors
Secondly, we need to get quotes from real contractors on the parts of the renovation that you won't be doing yourself.
The best way to figure out the real cost of your renovation is to call 3 local contractors and have them give you an estimate of the cost of a renovation of your size.
They don't need to do an in-house quote, just have them give you the average cost. This way you can compare contractor prices and get real prices into your budget.
This is also the time to focus on the three areas that bring the best return on your money. If you want to remodel an old house on a budget, then you need to focus on the three areas we talked about previously.
Only after that can you start to consider other areas of your home that need attention. Again, we are doing this renovation to create thousands of dollars in equity in our home. Not to see how much we can change in our house just because we can.
The dollars and cents have to make sense. Otherwise you might as well put your hard earned cash to better use somewhere else.
Task Three: Add A 20% Cushion For Unexpected Expenses
Lastly, we need to add a 20% cushion on top for the unknowns and miscellaneous parts of the project. (Unfortunately, there is only one thing certain when renovating an old home; there will always be unexpected expenses that come into play. It's the nature of the beast.)
To help protect yourself from these unexpected expenses, add 20% on top of what you expect to spend right now. If everything goes as expected, then great! You get to keep the extra 20% in your pocket. However, if anything does pop up, you will be protected, and it won't destroy your margins.
How To Finance A Major Home Renovation
The way you are going to finance your major home renovation is going to be completely different from the way someone else is going to do it. This is because interest rates, credit scores, how much you make, location, and debt are all going to change your options to finance.
So I am only going to briefly touch on the topic, then give you a few links to some more articles that will help you decide the best option for you.
Pull equity out of your home (DIY friendly)
Pay for things as you go (DIY friendly)
FHA 203(K)
Pull Equity Out Of Your Home
If you chose to renovate your current home in step one, then you might be able to pull equity out of your house to finance your home renovation. 
This option is very DIY friendly because you can do as much as you want yourself and hire any contractor you want.
If you don't have enough equity in your home though, this option probably won't work for you
Pay For Things As You Go
I personally like this option the best because it's the only way you don't take on more debt and you get the best bang for your buck. (This is because you aren't paying any interest. You are paying the real cost of the material you are buying.)
This option is also very DIY friendly because you have control over your own money and what you spend it on.
If you buy a house you can live in for two years and can stretch the renovations over that entire time, you'll be in a much better position than someone who refinances their home to get the remodeling done in 6 months.
If you don't have extra money to spend on renovations each month for at least the next year or if you aren't living in the house for that long, then this might not be the best option for you.
FHA 203(K)
Another option is to get a mortgage that pays for the purchase price of the house and the renovations that need done.
I don't particularly like this option because it is not DIY friendly. You can only use approved contractors on the work. (Which using a contractor is not always necessary and eats into your budget.)
Plus, you never get control of the money. It is paid directly to the contractor as they complete the work. In addition, the work has to be done in six months.
This option is fantastic if you want to add equity to your home without doing any of the labor yourself! Especially because the ban won't let you out-renovate what the property has the potential to be worth.
More Links To Explore On Financing
Again, I am not an expert on your options for financing a major home renovation. So here are some links explaining other options you have to finance your project.
Our Real Life Example
For our own house, I did follow these three tasks, and we still went overbudget.
(Side note: We knew going into our home that we were going to spend around $50,000 in renovations. That does NOT mean you have to remodel your old house on the same budget. Your budget could be $10,000. It could be $80,000. (We live in Ohio so our numbers will be different from other places such as California.)
Just make sure it is realistic for your specific property and location. Like we talked about previously, this home renovation is an investment, so we have to carefully analyze the numbers and take the emotions out of it.)
So to help you have a better idea of how much it costs to remodel an old house, I want to share with you the final costs that we had.
| Category | Total |
| --- | --- |
| Exterior (Driveway) | $1,600 |
| Landscaping | $1,600 |
| Roof & Gutters | $9,000 |
| Windows & Siding | $3,500 |
| Painting | $1,500 |
| Kitchen & Appliances | $9,000 |
| Master Bathroom | $3,000 |
| Guest Bathroom | $1,700 |
| Walls | $9,700 |
| Flooring | $5,000 |
| Doors | $4,000 |
| Plumbing | $5,000 |
| HVAC | $3,000 |
| Electrical | $3,700 |
| Garage | $1,200 |
| Chimney/Fireplace | $1,100 |
| Tools/Miscellaneous | $2,000 |
Overview Of Our Real-Life Budget
Note
(This table reflects the total cost of the renovations, but it does not reflect our real out-of-pocket expenses. Later, I discuss how we got $16,000 from insurance for a damaged roof. This extra money acted as if we bought the house for $16,000 cheaper and brought our total renovation costs down around $50,000.
Coming soon: Posts breaking down each room and costs further.
Step Four: Start With The Interior Work
The next step to remodel an old house on a budget is to actually start the work! (Of course, I'm assuming your house passed the following steps and you own the home now.)
Now, I know I said that the curb appeal brings the best return on your investment. So wouldn't it make more sense to spend your money there first?
Of course it is! But you also are planning on living inside the house for the duration of your renovation. So I've always viewed the inside work more important than the outside work.
Also, the outside work is weather-dependent. That means if it's summer and the bulk of your renovation plans involve updating the outside, start there.
On the other side, if the bulk of your renovation plans involve parts of the house that you use frequently, then you might want to start there. I'm a firm believer that you might as well enjoy the renovations a little before you sell the place!
Because of this, we are going to start talking about the inside work first.
The Order You Should Remodel Your House
Believe it or not, there IS an order that you should complete things in an old house remodel.
The rule of thumb is to always work top to bottom. In other words, start with anything that needs done on the ceiling and work your way down the walls to the floor.
Why would we do this? Simply because of gravity. If you install all new floors then remove the popcorn ceiling or skim coat the walls with compound, you are going to ruin your new floors.
Also, try to think of the most logical order to do things before you start. I know it's easier said than done, but you'll quickly figure it out after you have to re-do a few areas because you accidentally went out of order. (Been there, done that multiple times.)
If it is dusty or will make a mess, do that before you install finishing pieces. I'm not kidding when I say that drywall dust can and will get everywhere.
Our Real Life Example
For our own home, we demo'd walls and replaced pretty much everything. So you don't need to take every step on this list. However, it is a great place to start to figure out the order of your own renovation.
I am also going to supply tutorials of how we completed the project, so you can get ideas and learn how to renovate your own house! Check back here often for more!
Our Order Of Renovation For The Inside
(Click the links to find tutorials on how to complete each renovation!)
Demo
Repair roof leaks / replace
Rebuild wall studs
Raise headers
Move attic access to the laundry room
HVAC
Cut the concrete slab to run electrical to kitchen island
Wire and run electrical
Plumbing
Install bathtubs and shower bases
Install insulation in the walls
Raise the living room floor to match the rest of the slab
Replace windows / exterior doors
Repair the siding around the new windows
Drywall/repair the walls
Install new lights and outlet covers
Mortar stone on the fireplace
Install the vanities & connect plumbing to the kitchen sinks & showers 
Install kitchen cabinets
Install kitchen countertops and appliances
Install carpet
Install doors & replace door knobs/locks
Coming soon: More tutorials on how we completed renovations in our house.
Step Five: Work On The Curb Appeal
The next step to remodel an old house on a budget is to work on the landscaping and curb appeal. This step is most important right before you plan on selling because you want the outside to look fresh and beautiful to attract the most buyers.
Much like working on the inside of the house, try to do things from the top down and in the most logical order.
Remember, doing as much of the landscaping and curb appeal upgrades yourself can bring you a 300% return on your money, so focus on this area. 
Keep the design simple, but well-thought-out. Add pops of color and contrast around the front door and windows.
Our Real Life Example
We spent the first year of home ownership fixing up the inside of the house. The next summer, we will focus on the exterior of the house so it will look as beautiful and new as the inside.
Our Order Of Renovation For The Curb Appeal
(Click the links to find tutorials on how to complete each renovation!)
Re-gravel the driveway
Fix uneven concrete in the garage
Replace the vinyl siding
Add window shutters & window boxes
Add a front porch pergola
Add a patio deck
Paint the fence
Add rose bushes, shrubs, stone retaining wall, and other landscaping in front of the house
Coming soon: More tutorials on how we completed renovations outside of our house.
Step Six: Stop When You've Reached Your Budget
The next step when remodeling an old house on a budget is to track your actual expenses and stop when you've reached your budget.
Again, this is easier said than done. That's why I emphasized so much in the second and third steps. The best two protections you have to make sure you stay within your budget are the following; fully plan out the highest return on investment renovations and do that work first, and make a reasonable budget that adds in a 20% cushion.
Now, you have to actually stick to your plan and your budget to see a real increase in the equity of your old house.
You Can Overspend On A House Remodel
You can continue to add and add to your home, easily blowing past $100,000 in renovations, and still not be "done" with the house.
The problem is that the math doesn't work out perfectly. Just because you invest a dollar into your house does not mean you will get that dollar back (or more) when you sell it. If you build yourself out of the market, then you will never be able to make your money back.
Because simply, you won't be able to sell your house for as much money as you spent on it.
In addition, you can't make money if you run out of money and never finish areas of the house. Nobody will pay extra for an "almost renovated completely" home. You'll end up losing a ton of value in the house for half finished DIY projects.
This is why it is so important to tackle the most important areas first. Then only if there is room in the predetermined budget can you add more "features" to the house.
Our Real Life Example
For our own renovation, we did bust my original budget. I thought we could spend $50,000 to completely gut our 1560 square foot house and start over. I was close on some estimates in my initial budget, and I was way off in other areas.
Luckily (is it lucky?), our roof got damaged in a major wind storm, so we were able to collect $16,000 from insurance. That extra amount covered the extra amount we overspent.
(Side note: We weren't going to replace the roof at the beginning, which was a $9,000 expense that I hadn't calculated in the budget. We decided to do that when the roof was wind damaged.)
Even with the overspend, the new value of our home after repairs should be high enough to still create over $20,000 in equity.
You might be wondering, what happens if the market tanks? Two things will happen. First, we probably won't sell until it recovers. Second, by creating $20,000 in equity, we just created a $20,000 buffer for ourselves. That means the market can drop 10% and we still won't be out any money.
I am usually very private with our money and finances. However, I am sharing these numbers with you, so you can avoid some of the mistakes that we made. Take from these numbers what you want and do your own calculations on your own property.
Step Seven: Decorate Like A Minimalist
The next step to remodel an old house on a budget has less to do with the renovation process and more to do with how to emphasize the beauty in your new renovations.
Whether you live in your remodeled house for a while or you immediately put it on the market and sell it, you will want to decorate it to make the home appear even more luxurious and expensive.
My recommendation when decorating your new home renovation is to decorate like a minimalist. This means that a few key pieces in a few key places can make your home look like it came straight out of a home decor magazine. And you can decorate like this on a very small budget (which we all love!).
Decorating like a minimalist is an excellent way to save money after your costly home renovation because you don't have to cover your home from wall to wall with things. Also, it is a great habit to stop spending money on random junk that goes out of style after a few years.
Besides, the less stuff you have in your home frees up your mind and your house from clutter. It also looks more visually appealing to others who are looking to buy your home. 
Our Real Life Example
After we renovated our home, we moved into it and are planning on living here for three to five years. We already spent a good chunk of change, so the last thing I wanted to do was spend more money decorating the place.
The renovations didn't shine until I added some key decor pieces though. I mean, what is the point of spending all this money on remodeling if it still looks like something is missing?
So here are our own room decoration makeovers and my best decorating tips to help you decide how to complement your new renovations.
Coming soon: More tutorials on how we decorated each room in our newly renovated house.
Step Eight: Take Care Of Your Property Until You Sell
Last but not least, when you remodel an old house on a budget then live in it for a few years, you need to take care of your property until you sell it.
That means staying on top of regular home maintenance and cleaning to keep all of your improvements looking brand new for years to come.
Our Real Life Example
In order to keep our new hardwood floors and carpet clean, I use this awesome cleaning tool that keeps them looking new without me having to lift a finger!
Coming soon: More tutorials on how we organize and clean our newly renovated house to make it last.
Final Thoughts On Remodeling An Old House On A Budget To Make Money
There you have it! My detailed guide on how to remodel an old house on a budget and create thousands of dollars in equity.
The past year of our lives has been crazy and chaotic, but I wouldn't trade my experiences for a second. There is nothing more rewarding than working with your hands and seeing a project come to life.
Plus, a little extra money in your pocket when you sell is a great bonus. I tried to cover most of the most common questions asked about home renovations in this guide.
Happy remodeling!
Catch you in my next post!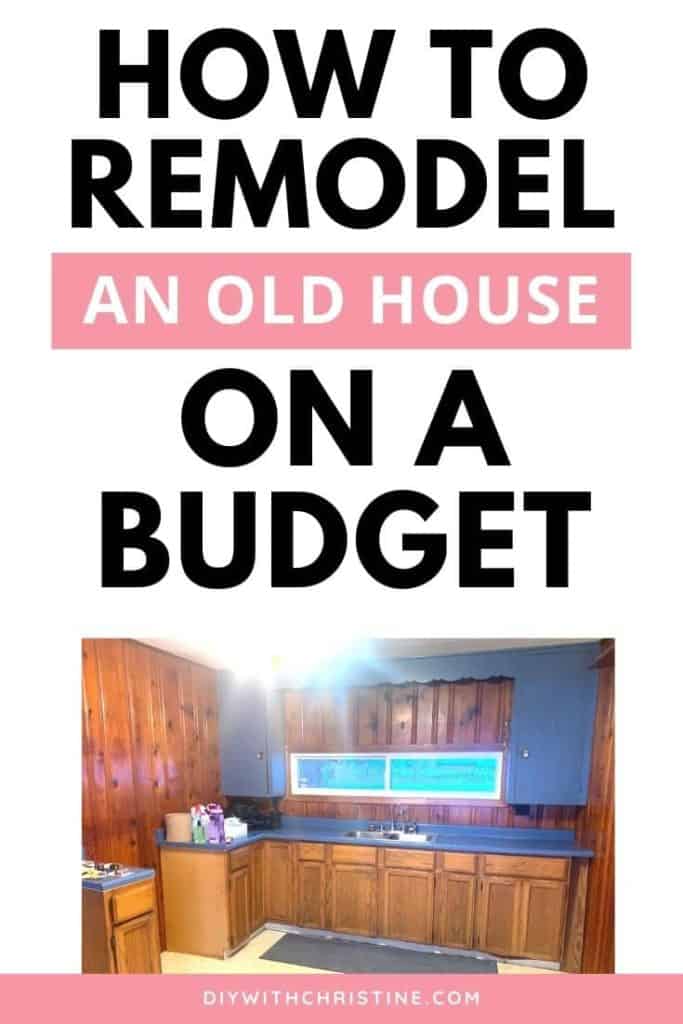 ---
Related DIY Posts
---
How To Remodel An Old House On A Budget To Make Money
DIY With Christine is a participant in the Amazon Services LLC Associates Program, an affiliate advertising program designed to provide a means for sites to earn advertising fees by advertising and linking to Amazon.com.