*My posts may contain affiliate links, which means I may receive a small commission, at no cost to you, if you make a purchase through a link! Thank you for supporting my website!*
Last updated on October 7th, 2022 at 01:24 pm
How Do You Choose The Right Color Combination For Your House? Find Out Here!
Wondering how to pick a whole house paint color? Well, look no further because I have your answer!
When picking a whole house paint color, choose a light, neutral color such as white, gray, beige, or a muted color in a satin sheen. This lets the furniture and decorations be the bold and unique features in the room, which are easier and cheaper to swap out as the seasons and trends change than repainting.
Now that we've got the basics out of the way, let's break into the details a little further so you can easily choose a color that will complement your entire house and make decorating a breeze.
Let's dive in!
Quick Navigation: Rules Of Thumb For Picking Whole House Paint Colors
Why Do People Paint Their Whole House One Color?
Before I dive into the rules of thumb for picking a whole house paint color, we first need to discuss why you should pick one, neutral color for the house (instead of a different color for each room or bright, bold colors).
I know it's tempting to paint your walls the latest color of the year that seems to be in everyone's homes, but here's why I (and many professional interior designers) think you shouldn't.
Sticking to a very light neutral paint color that will go with any color, and instead, adding bright and bold colors in your decorations will give you way more decorating flexibility than the alternative.
Many people choose to put the bright blue (or other trendy) paint color on the wall and get overwhelmed when they also try to add blue or another color to their decorations.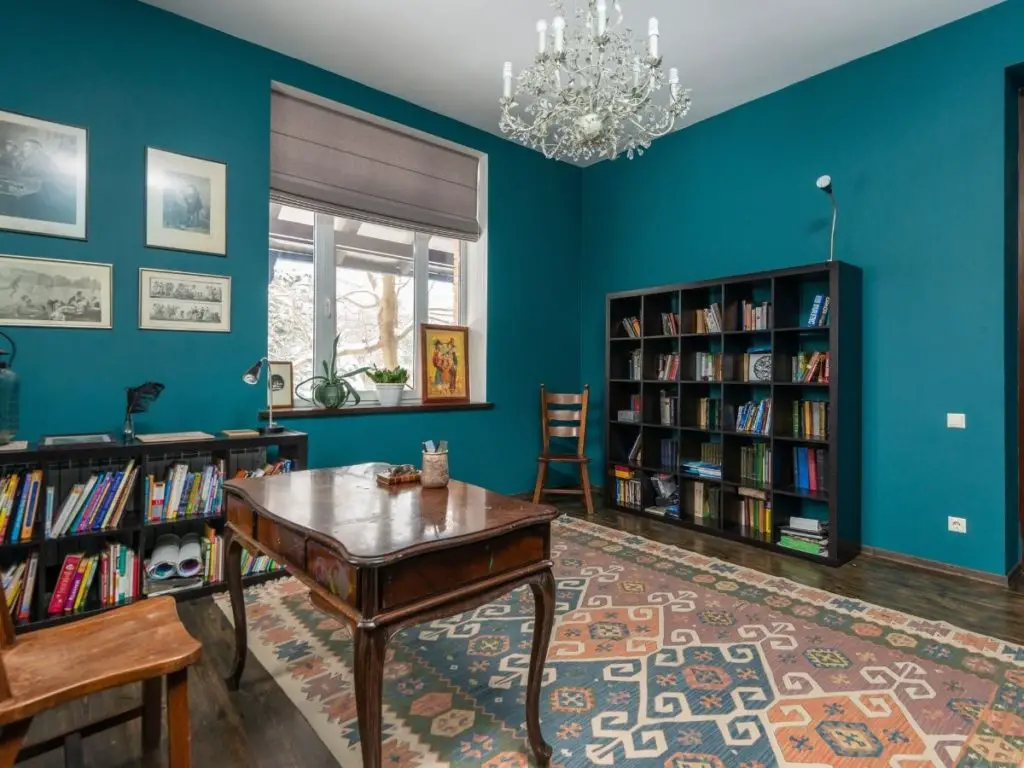 This is a design flaw because colors and seasons change so quickly.
And your walls are such a large part of your home, that the color you choose can easily overpower the furniture and other decorative pieces in the room.
Plus, it is time-intensive and can be expensive to repaint your home often.
Instead, it is easier and cheaper to swap out the decorations (throw pillows, blankets, wall art, etc) when you're bored of the color or trend than it is to constantly paint your walls or purchase a new couch.
You can still choose to have an accent wall, but keeping that a more neutral color helps minimize the amount of work you have to do as well because it will also go with any color decorations you want.
Plus it helps the room look clean, light, and airy and helps all of the furniture colors and decorations look more cohesive as you walk from room to room.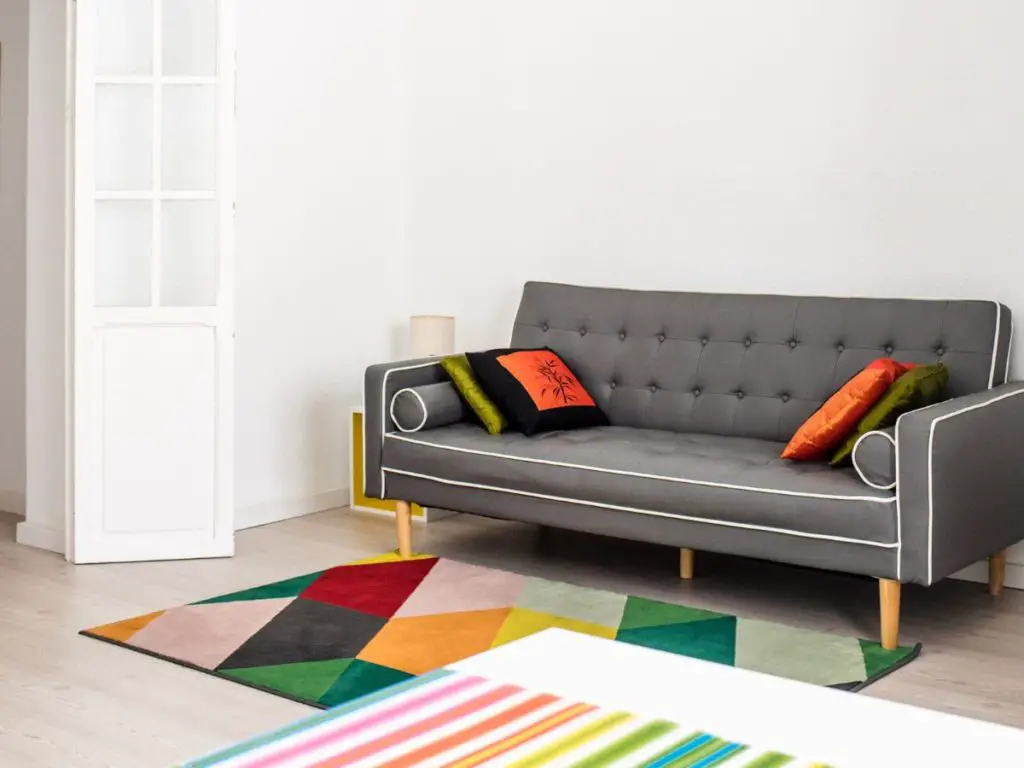 Now that we've got the why covered, let's go over how to choose a whole house paint color!
Rule One: Choose A Lighter Shade Of Paint Than You Initially Think
The first rule of thumb for picking a whole house paint color is to choose a lighter shade of paint than you think.
Paint swatches lie, especially paint swatches looked at while under store lighting.
They never give you an accurate representation of how the color is going to look on the wall and how the color will look at different times of the day.
Whatever shade you choose, the color will almost always look darker once it's on the wall.
You can help minimize this problem by doing two things:
Choosing the lightest shade on the paint swatch
Putting a sample on several walls throughout the home
Choose The Lightest Shade On The Paint Swatch
When looking at a paint swatch from the store, they usually have 4-5 different shades of color that you can choose from.
To determine if you like the color and its undertones, look at the darkest shade (the bottom color) on the swatch.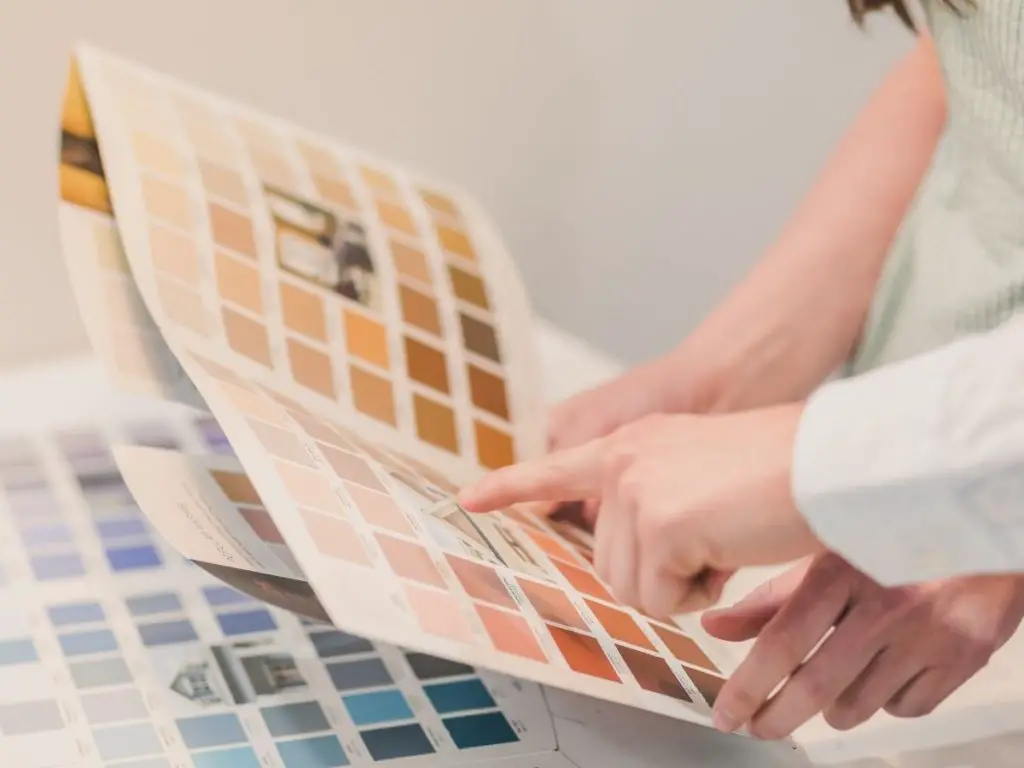 Here's an example:
If you are looking for the perfect white and you want to make sure it doesn't have strong yellow undertones, then looking at the darkest shade on the swatch will help show what undertones are going to appear in the lighter color in certain lights.
Or you might be looking for a greige that doesn't have too strong of purple undertones. Again, the darkest color on the swatch will make the undertone much more obvious than the lighter color will.
Once you find the paint swatch with your favorite color and undertones, move all the way up the swatch to the top lightest color. THAT is the color that you want to get a sample of.
By now, you know that you like the undertones and the overall color. And you know that lighter colors are best for whole house paint colors because all other furniture and decoration colors can go with it.
So all that's left to do is put a sample of it on several walls throughout your home.
Put A Sample On Several Walls
Once you find a color or two you think will be perfect, you need to put it on your walls in your home in several different rooms with different lighting to help determine if it's THE color.
My favorite place to get paint samples is Samplize.
Instead of:
Driving to the store
Waiting for multiple samples to be mixed up
Walking around and painting several patches on your walls, and
Dirtying up multiple paintbrushes
Samplize delivers sticker paint swatches directly to your door. I love to use their stickers because they are large, real paint swatches that I can easily stick up on the wall, peel off, and move from room to room.
I hate cleaning off paint brushes, and whenever you're trying samples, you have to clean the brush several times to keep trying a new color. Drives me nuts!
But the samplize paint stickers are much more convenient. Once you've picked a whole house paint color, I highly recommend you try a few of their samples. (I have my favorite colors listed below, so keep reading!)
Don't pick a color quite yet though, there are more rules you need to read first!
---
Related Paint Articles
---
Rule Two: Choose A Neutral Paint Color
The next rule of thumb for picking a whole house paint color is to choose a neutral paint color.
For a whole-house paint color, you want the rooms to flow seamlessly together. From the darkest lit room to the brightest lit room, you want the same color to work.
The best colors that accomplish this are neutral colors such as whites, grays, beiges, and light muted colors (such as blues, greens, etc).
These neutral colors are best for the entire house because they go with any color furniture or decor piece, and they make a home feel clean, bright, and airy.
If you are someone who LOVES color, then this rule is especially important for you.
Don't put the color on the wall. Instead, use a crisp white or warm white on the wall and add all of the bright, bold colors in the DECORATIONS, not the wall or furniture colors.
This is important for two reasons:
Cheaper and easier to swap out the decorations (throw pillows, blankets, wall art, etc) than to get new furniture or repaint entire rooms when you get tired of the bold color or as the seasons change (don't worry, it's completely normal to want to change the look of your home as the seasons change. It's fun to swap out colors as the year goes on!)
White walls let the colorful decor draw your attention around the room in a visually appealing way instead of the walls being the bold olive green color that overwhelms you as soon as you walk into the room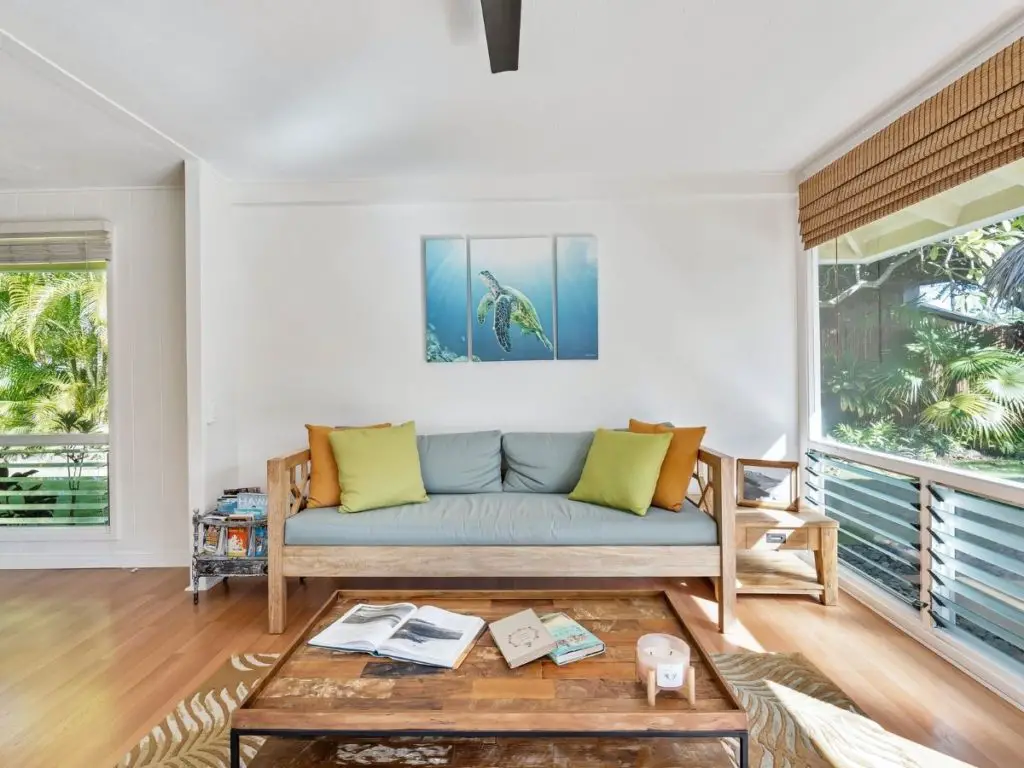 If you are like me and love neutrals with small accents of more neutral colors, then going with a light greige or warm white/light beige on the walls will be your best bet.
This color combination gives you a little bit more color than a white-washed look since you're probably also attracted to muted, neutral furniture and decorations.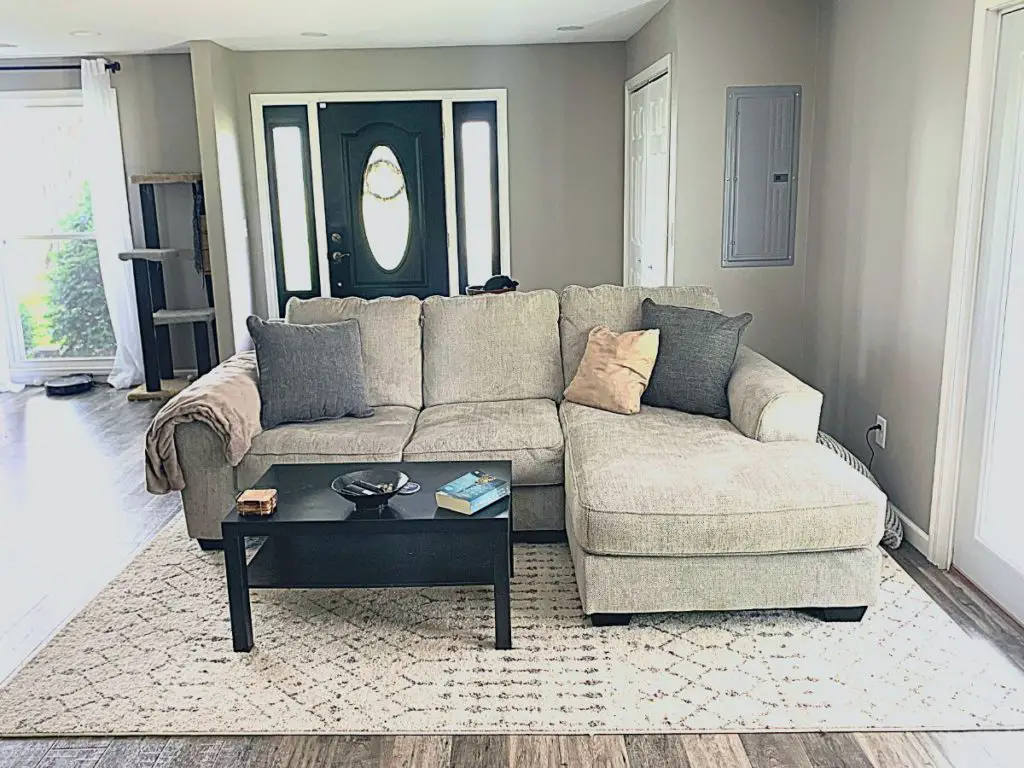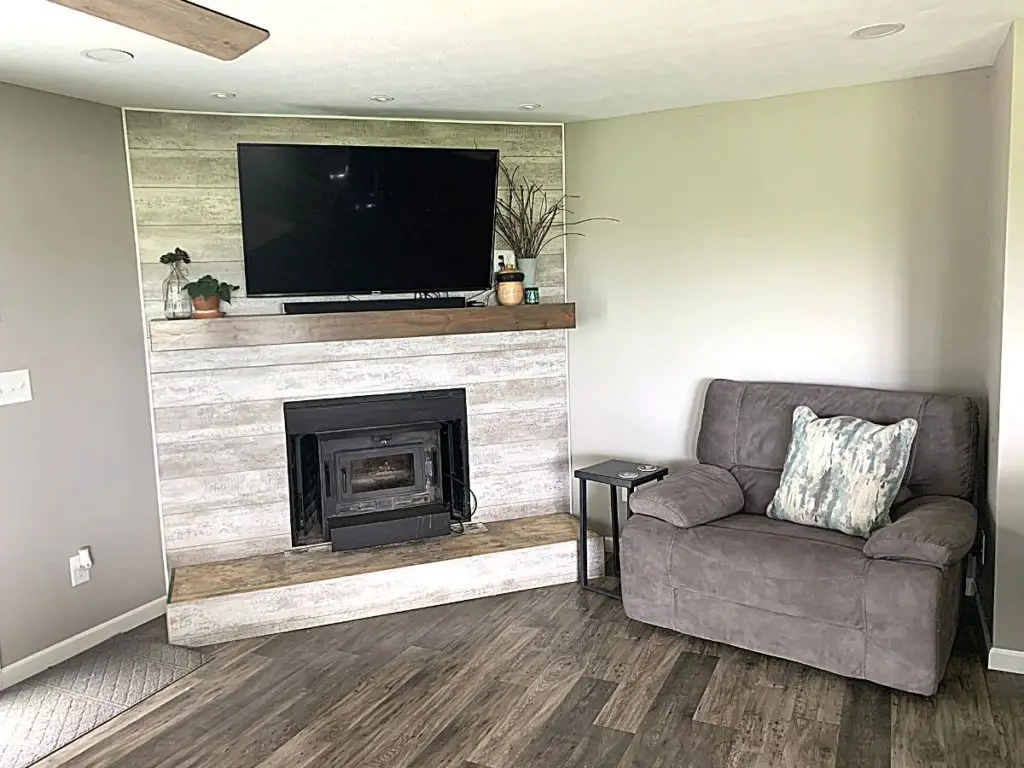 Now, there's one more rule of thumb you should consider before picking a paint swatch.
Rule Three: Choose A Satin Sheen Paint
The final rule of thumb for picking a whole house paint color is to choose a satin sheen.
Using a satin paint sheen throughout the entire house will save you a ton of time and money.
Generally, satin is recommended for bathrooms and kitchens because it can be wiped down more easily than flat or eggshell sheens. And it hides imperfections better than semi-gloss or gloss.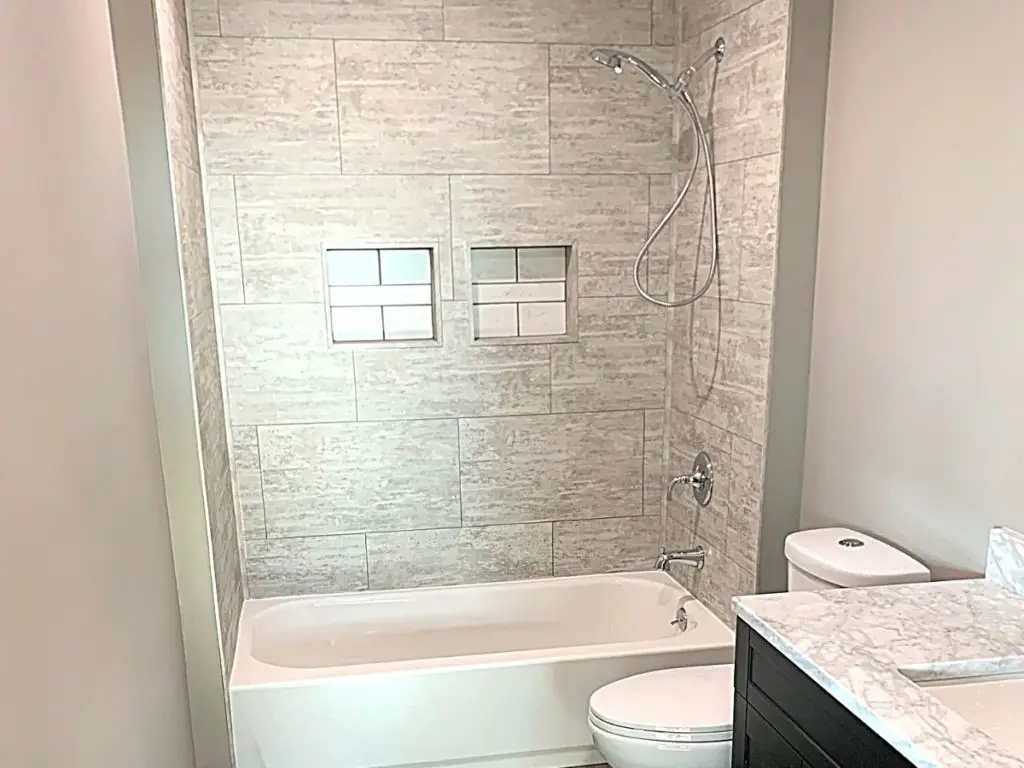 But I also recommend you use it in bedrooms, living rooms, hallways, and laundry rooms because it requires only one type and color of paint to get the entire job done.
These rooms don't need to be wiped down often, but when they do, it makes the job so much easier. (Hello my friends who have children and pets, you know what I'm talking about!)
Plus, you're saving money because you only need one kind of paint and you're saving time because you don't have to break open different cans of paint with new, clean brushes for different rooms. Just keep painting! Win-Win!
And finally, satin will reflect more light than eggshell or flat paint sheens. (You can check out my article here on what paint sheens are best to use when painting walls, ceilings, doors, cabinets, etc here.)
So, if you have a ton of natural light in a room, it will make the paint color appear even lighter which always helps a room appear larger. This is very beneficial in a whole house paint color.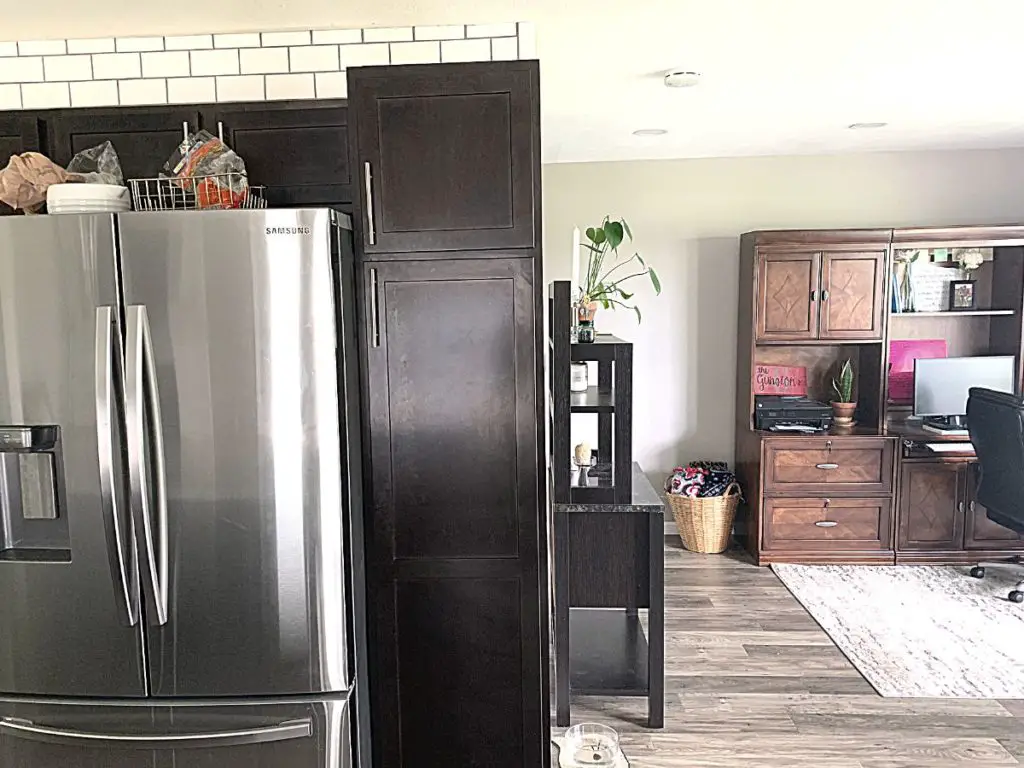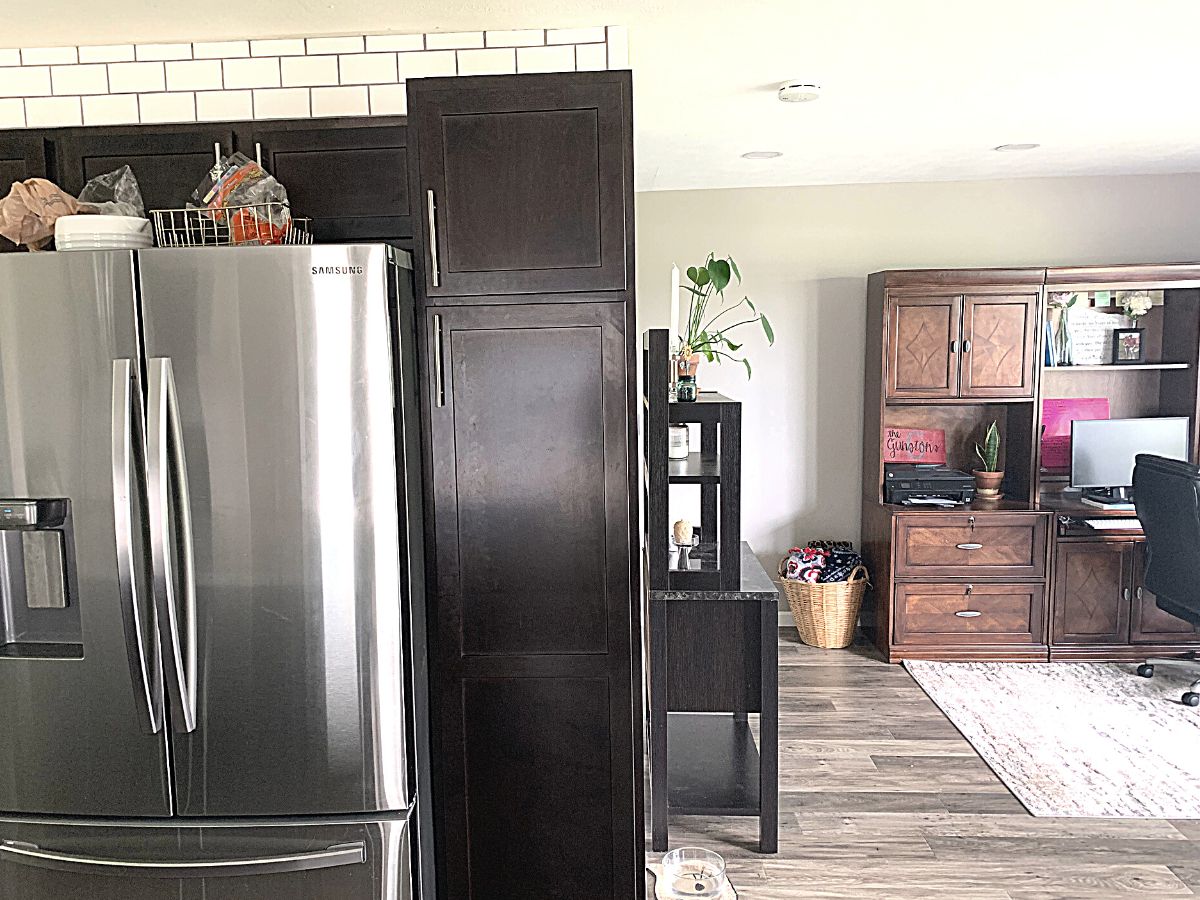 That's it! Now, you can confidently choose a color that will complement all of the rooms in your home.
Below, I've listed some of my favorite whole house paint colors to help narrow down the selection even more for you!
Best Whole House Paint Colors
To help you out, I've listed some of my favorite whole house paint colors, so you can be confident in your color selection!
I recommend grabbing no more than 3 samples and putting them on the wall for a few days before painting the entire place
You need to see the colors at all times of the day before you choose one. As mentioned above, Samplize makes it so easy to try a few different paint swatches in different rooms!
Here are some of my favorite colors that you can snag some samples from Samplize:
This table shows some of the best whole house paint colors that I like to use when redecorating a room.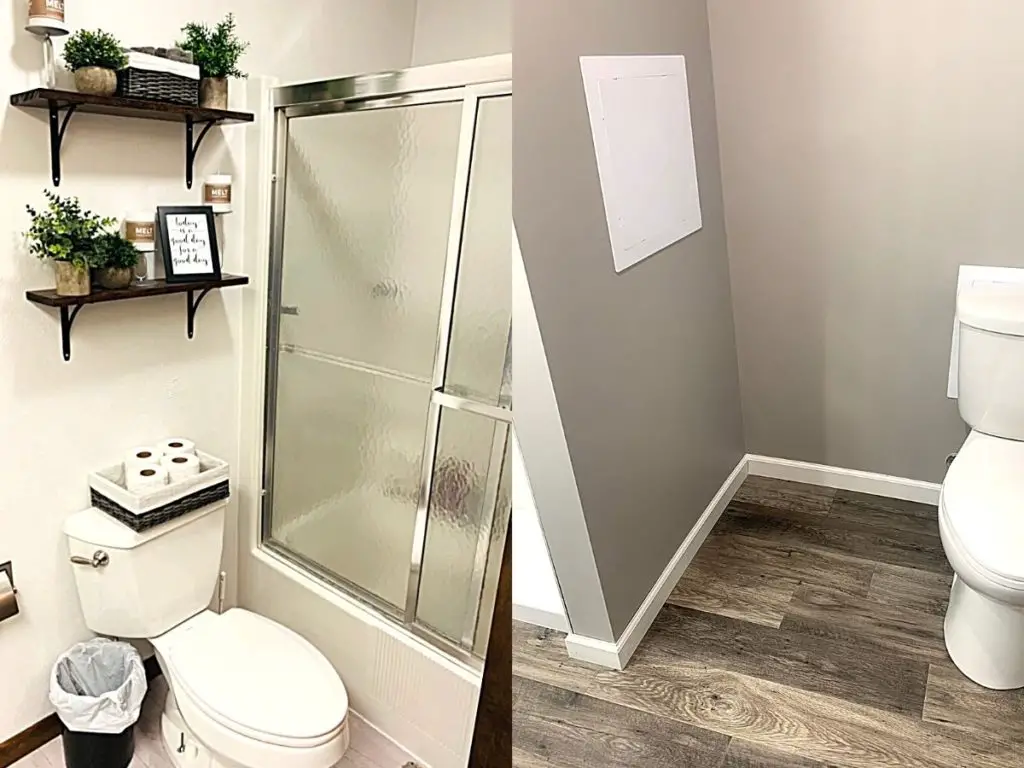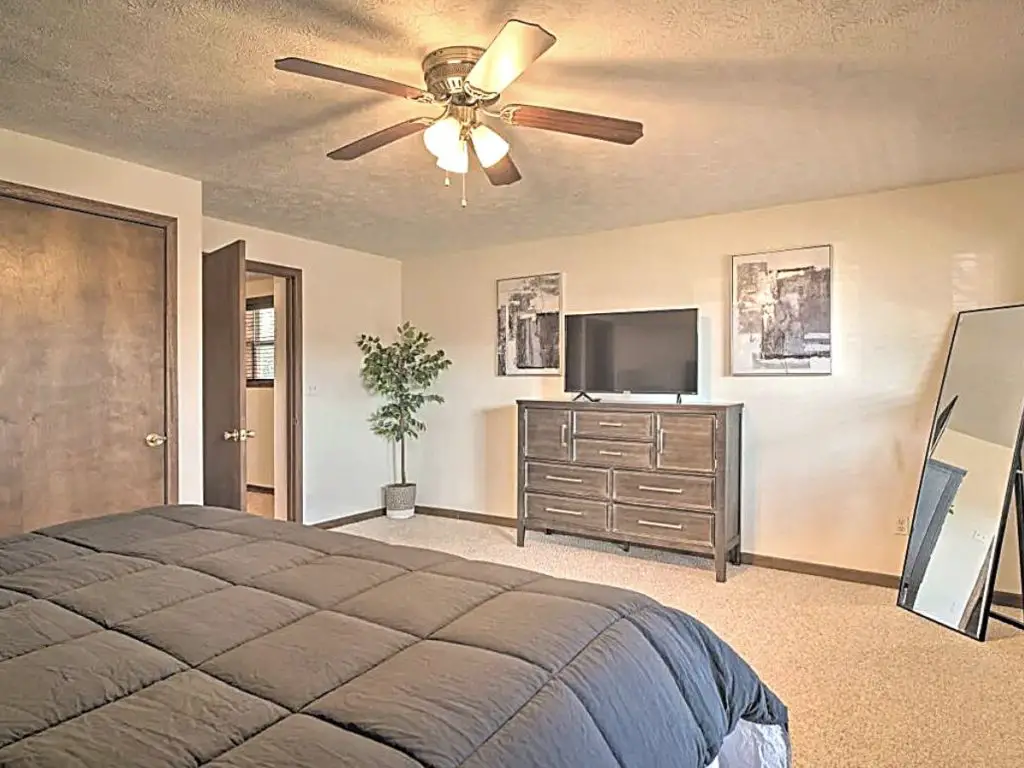 Pros & Cons Of Painting The Whole House One Color
There are tons of benefits to painting your whole house one color. But just like anything in life, there are a few drawbacks as well.
To help you decide if one color for your entire house is the best option, check out my article here.
Other FAQs About Choosing Whole House Paint Colors
Here are some other frequently asked questions about paint colors to help you choose the best whole house paint color!
How Many Colors Should A House Interior Have?
A house interior should have 3-5 colors (3 colors, 1 wood tone, and 1 green from plants) for a balanced, natural, and cozy color scheme. This number gives plenty of variety and contrast while making the house still feel cohesive.
To help you choose the best furniture color combinations for a whole house color scheme, check out my article here.
Should The Kitchen & Living Room Be Painted The Same Color In An Open Concept Layout?
The kitchen and living room should be painted the same color in an open concept layout because you want the entire room to look like it goes together. The furniture and decoration colors should be similar colors as well to make the space feel cohesive.
Final Thoughts On Choosing Whole House Paint Colors
There you have it!
Choosing a paint color always seems daunting at first. But if you follow these few simple rules, it will make choosing a color so much easier!
Hopefully, this helps you on your journey to decorating your home in a way that makes you love coming home every day.
Catch you in my next post!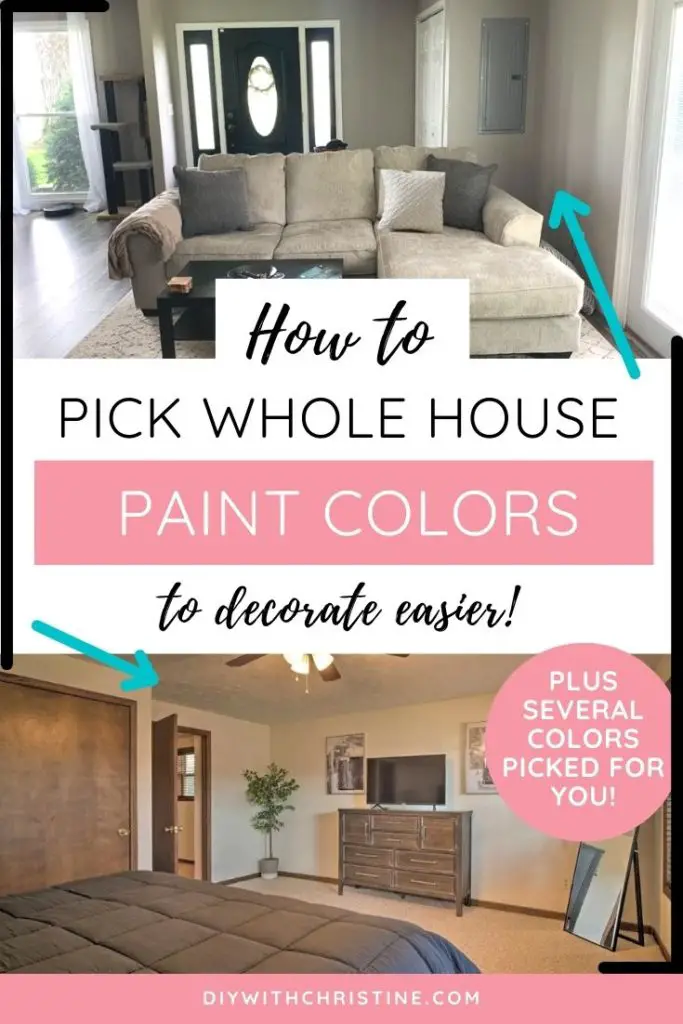 ---
Related Paint Articles
---
How To Pick A Whole House Paint Color (To Decorate Easier)
DIY With Christine is a participant in the Amazon Services LLC Associates Program, an affiliate advertising program designed to provide a means for sites to earn advertising fees by advertising and linking to Amazon.com.