*My posts may contain affiliate links, which means I may receive a small commission, at no cost to you, if you make a purchase through a link! Thank you for supporting my website!*
Last updated on March 17th, 2023 at 03:10 pm
The Ultimate Kitchen Island Size Guidelines (Minimum Space Needed & More!)
Islands are incredible multi-purpose features that are a popular choice for any modern kitchen. But they do require space. So, if you're looking to add this iconic feature to your new-look kitchen, how much room do you need to build a kitchen island?
While kitchen islands can be smaller, the minimum base size is 24 inches wide by 40 inches long (32 inches by 48 inches including seating). In addition, there should be a minimum of 36 inches of clearance between the island and other cabinets/objects. This means your kitchen needs to be at least 9 feet wide by 10 feet long to accommodate a small, but still practical island.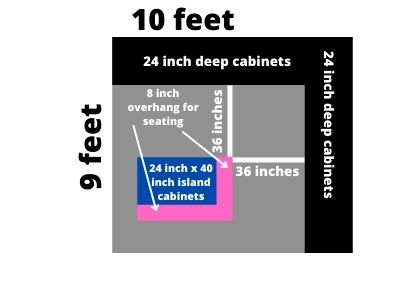 There's no doubt that islands can be excellent additions to kitchens, but the great tragedy is that not every kitchen is big enough for an island.
Without enough space to move around, an island can make your kitchen feel claustrophobic, and even if you opt for a smaller island, it may end up being so small that it doesn't serve the practical purpose that it's intended to. So, read on to find out how to determine if your kitchen is big enough for an island.
Let's dive in!
Quick Navigation: Kitchen Island Size Guidelines
How Much Room Do You Need For A Kitchen Island?
While the average kitchen island will only take up about 40 by 80 inches of actual floor space, you want to have enough room to move around the kitchen, particularly if many people live in your home.
Because the kitchen is such a central, commonly used room for everyone in the house, an island can make your once cozy space feel very, very cramped. The general rule of thumb is that your kitchen island should take up somewhere between a tenth and a fourteenth of your overall floor space.
In other words, if you want to construct an average-sized island of 40 by 80 inches, your kitchen's size needs to be at least 220 square feet. 
Here are some of the standard dimensions along with picture examples to help you plan out the perfect kitchen island size.
| Standard Kitchen Island Sizes | Dimensions |
| --- | --- |
| Minimum aisleway around the island | 36 inches |
| Minimum countertop depth for seating (overhang) | 8 inches |
| Minimum distance between refrigerator and island | 36 inches |
| Average width for a kitchen island | 40 inches |
| Average kitchen island size for 10×10 kitchen | 36 inches wide x 40 inches long |
| Average kitchen island size for 12×12 kitchen | 42 inches wide x 48 inches long |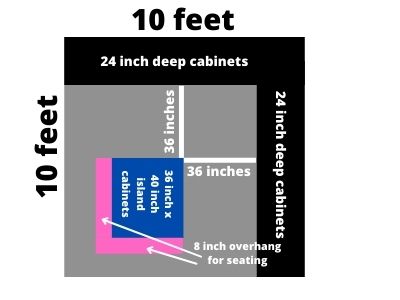 Since the standard width for a base cabinet is 24 inches wide, the minimum width your kitchen island can be is 24 inches (and there will be no seating on that side because there will be no overhang).
The length of your island can be completely customized to your space, however, because you can combine any number of different width base cabinets to come up with the perfect length for your space.
For example, our kitchen is 12 ft wide by 13 ft long, so we made our kitchen island 78 inches long. (It is made up of an 18-inch trash can base cabinet, a 36-inch base cabinet, a 12-inch standard base cabinet, and a 12-inch overhang.)
If our kitchen was a foot shorter, we would have left out the 12-inch standard base cabinet to make it fit the space we had.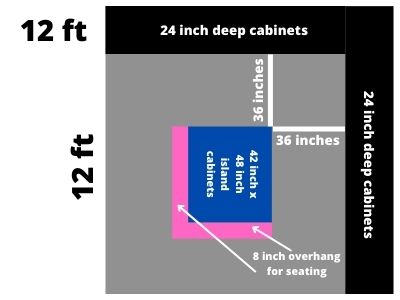 Kitchen islands are best suited for kitchens that are open on 2 sides. (In the pictures above, I'm assuming the left and bottom are "open" to the living room and/or dining room.
However, if your kitchen has cabinets on three sides (or a wall/obstacle on the third side), it is much harder to fit a kitchen island because there is not enough space for there to be a good walkway around the island.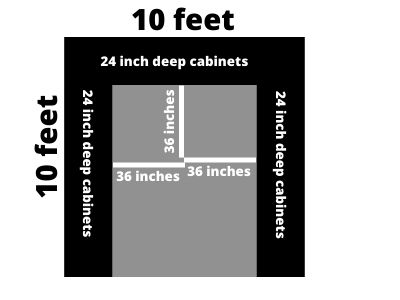 If your kitchen is big enough, though, you can fit an island that is longer and has the seating only on one end with legs to support it. With this type of island, the overhang is much longer (usually 24 inches) and must be supported by legs.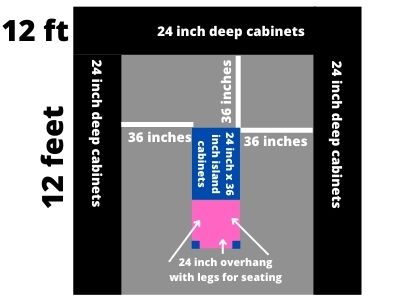 While this option isn't typical, it just goes to show that you can customize an island any way you want to make it best fit your kitchen and functionality.
Now let's talk about minimum space for seating!
---
Related Kitchen Layout Articles
---
What Is The Standard Size Of A Kitchen Island With Seating?
The most common dimension used for kitchen islands is 80 inches long by 40 inches wide, with a standard height of 36 inches (or 42 inches for an island with a bar top).
The minimum recommended clearance between an island and other objects is between 36 and 42 inches. This will allow for plenty of room to move around.
In addition, a good rule of thumb to go by with seating is to allow 24 inches of space per person.
| Standard Kitchen Island Seating Sizes | Recommended Island Dimensions |
| --- | --- |
| kitchen island size for six stools | 144 inches long (or 120 inches long for 5 seats with one seat on the end) |
| kitchen island size for five stools | 120 inches long (or 96 inches long for 4 seats with one seat on the end) |
| kitchen island size for four stools | 96 inches long (or 72 inches long for 3 seats with one seat on the end) |
| kitchen island size for three stools | 72 inches long (or 48 inches long for 2 seats with one seat on the end) |
| kitchen island size for two stools | 48 inches long |
As we discussed above, if there isn't enough room for the island, the seating, and the clearance space, then there is not enough room in your kitchen for an island.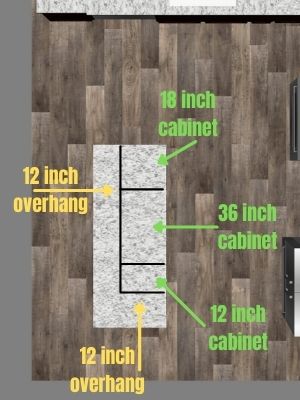 How To Make A Kitchen Island Out Of Base Cabinets
If you're worried about picking out the right size for your kitchen island, it may be the case that standard island sizes don't really work with your kitchen's unique features. And, if you're renovating your kitchen, there's no doubt that you're looking for any and every way possible to save some money.
Luckily, I've written a great article on how to make a simple kitchen island out of base cabinets that can save you hundreds of dollars and allow you to create an island that is custom-sized for your kitchen! Check out my article here for the full tutorial.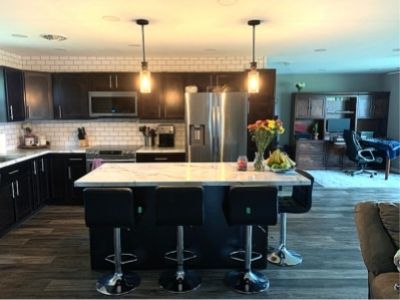 Options For When Your Kitchen Is Too Small For An Island
The sad reality that you may be facing is that your kitchen is just too small for an island, and expanding the size of your kitchen may not be an option. So, if you're unable to fit an island into your kitchen, what are the other options for you to add a feature that can fulfill the same or similar functions?
Rolling Cart
Rolling carts are like kitchen islands but on wheels. In terms of providing storage to add to your kitchen cabinet space, rolling carts are equipped with drawers, shelves, and hanging space.
Above this, they have hard surfaces that can double as an additional kitchen counter, much like your island would.
Small Table
If the main reason you want an island is to sit down and eat your delicious home-cooked meals, you can get the same functionality from a small, traditional dinner table.
As popular as kitchen islands are, kitchen tables and chairs are a far more affordable option that can take up less space and be moved around to allow you room to move through the kitchen. Not to mention, they also give you an extra surface to prepare that meal on.
Nothing – Islands Are Optional!
If none of these options are feasible to you and your kitchen is already too cramped as it is, you can also simply opt against adding an island to your kitchen. It's tragic that you won't be able to enjoy the experience of this iconic feature, but it is still an option.
There are plenty of stunning kitchens out there that do not feature an island. Your existing counter space and kitchen cabinets may be enough to meet your and your family's needs.
Final Thoughts On Kitchen Island Dimensions
Kitchen islands can genuinely transform the way you live in your kitchen, offering you more space to cook, eat, or just chill with a cup of coffee.
But, sometimes islands aren't well thought out and take up too much space, transforming your once comfortable living space into a close-quartered mess.
Your kitchen island should be taking up no more than 10% and no less than 7% of your total floor space available with at least a 36-inch gap between your island and countertops and other kitchen features, giving you and your family more than enough room to walk around, sit down and carry out tasks.
If you don't have enough space in your kitchen for an island, you can opt to either use a rolling cart, a traditional table, and chairs or forgo any kind of island at all.
Good luck with your kitchen island design plans! Let your creativity fly with this project!
Catch you in my next post!
The Best Kitchen Tools & Products I've Reviewed
Ravinte Cabinet Handle Installation Template (For Doors & Drawers)
This is my all-time favorite handle installation template because it has two templates (one for drawers and one for doors) with multiple pull sizes & knob placements! These templates make installing cabinet handles a breeze because you always know your handles will be installed in the same spot on all of your drawers and doors. The kit also comes with a drill bit so you can guarantee you're using the correct size. I used this template on my entire kitchen and both bathrooms to cut the installation time in half. You can find this hardware template here on Amazon.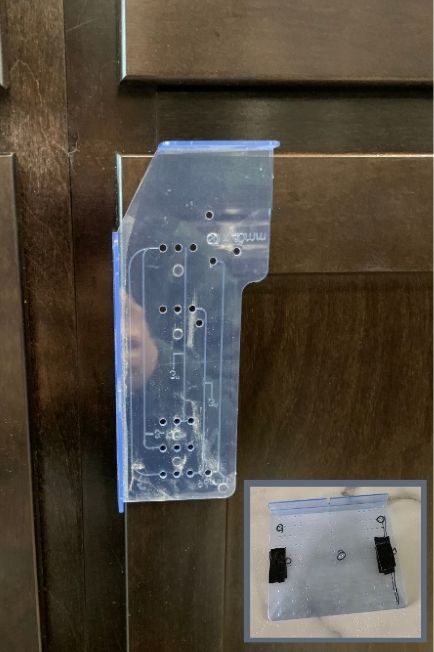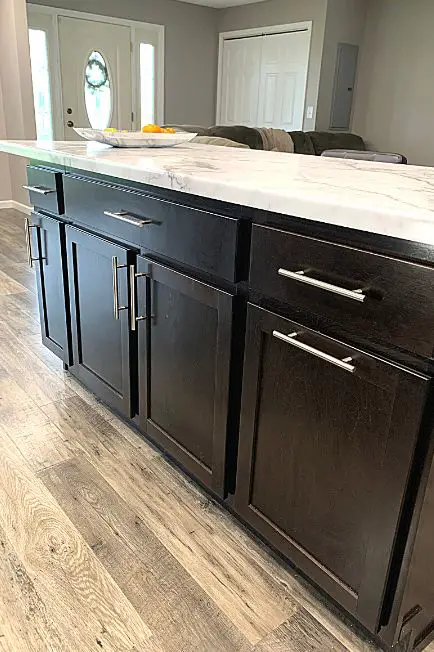 Franklin Brass 5-1/16 Inch (128mm) Center Bar Pull (Stainless Steel)
If you want to immediately modernize your kitchen island, then these cabinet pulls are a must. They are heavy-duty feeling, durable, easy to install, and are a large size for a great price. We put these pulls on all of our kitchen and island doors and drawers along with our bathroom doors and drawers. You can find these gorgeous cabinet pulls here on Amazon.
P.S. Use the hardware installation template I mentioned above to install these new pulls in record time!
---
Related Kitchen Layout Articles
---
How To Determine If Your Kitchen Is Big Enough For An Island
DIY With Christine is a participant in the Amazon Services LLC Associates Program, an affiliate advertising program designed to provide a means for sites to earn advertising fees by advertising and linking to Amazon.com.