*My posts may contain affiliate links, which means I may receive a small commission, at no cost to you, if you make a purchase through a link! Thank you for supporting my website!*
Last updated on February 20th, 2023 at 04:23 pm
What Is Palisade/Dumawall & How Do I Use It In My Bathroom Remodel?
---
UPDATE: Palisade Waterproof Grout-Free Tiles have replaced Dumawall tiles in the U.S. They are the same product, just simply rebranded, so I will use them interchangeably throughout this article.
---
Curious as to what Palisade/Dumawall is and whether you should use it in your bathroom or not? Well then welcome to my official Palisade/Dumawall tile shower review! My goal is to help you definitely decide whether this product is right for you or not.
Last year, my husband, father, and I completely gutted and renovated our 1950s Ranch.
During that renovation, we randomly came across this tile product called Palisade/Dumawall. (That's what I get for randomly perusing the internet when I should have been working haha!)
Back then, there were hardly any videos or tutorials on Palisade/Dumawall and how to install it, but still, its benefits intrigued me.
They intrigued me so much that we ended up installing them into both of our new bathrooms (you could say we went all-in).
Because of the two installations, I quickly realized all of the things I liked and didn't like about the product.
I'd love to share them with you so that you can decide if this product is right for you too!
Let's dive in!
Quick Navigation On Palisade/Dumawall Shower Review
What Is Palisade (Previously Known As Dumawall)?
Meet Palisade/Dumawall – the vinyl, interlocking wall tile made specifically for DIYers.
Instead of using messy mortar and grout to install traditional tiles, Palisade/Dumawall only needs glue and caulk to be installed.
If you've ever installed traditional tile, then you can appreciate the time saver this product would be because there's no grout involved!
It was made to be used in wet environments, such as shower or bathtub surrounds, or as kitchen backsplashes. When the seams are caulked and locked together, it creates a 100% waterproof shower surround that looks like custom tile!
Plus, it can be cut with standard power tools, such as circular saws, jigsaws, and/or table saws. No fancy, specialty tools required – Score!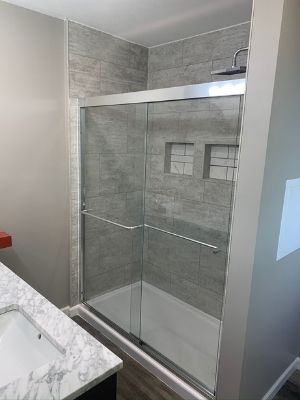 After installing Palisade/Dumawall in both of our bathrooms, I quickly realized the hardest part of the installation was the actual planning and measuring of the tile layout.
Lucky for you, I broke down my entire measurement process, so that you can save time and jump into the gluing and caulking part much quicker than we did!
Check out my full tutorial on how to easily install Palisade/Dumawall vinyl tile in your bathroom renovation.
Also, here's another quick video on how easy it is to install.
Alright, now let's dive into this Palisade/Dumawall shower review!
---
Related Palisade/Dumawall Articles
---
Key Features Of Palisade/Dumawall Tile: Palisade/Dumawall Shower Review
Short on time? Here's a highlight of the several key features worth mentioning:
Groutless – no messy grout or grout tools needed, simply use adhesive and caulk
Waterproof – made of vinyl/PVC material, and when the seams are caulked, it's 100% waterproof making it ideal for showers and bathtub walls
Modern & Elegant Tile Design – comes in several modern colors to create a custom-looking tile design that can fit any bathroom color scheme
Installs Quickly – large, lightweight tiles cover large areas for quick installation, install by yourself or with the help
No Special Tools Required – can be easily cut with any standard power tool (circular saw, jigsaw, table saw, etc.)
Durable – hides soap residue well, can be cleaned easily with any household non-abrasive cleaning product, holds up well to moisture, sunlight, and washing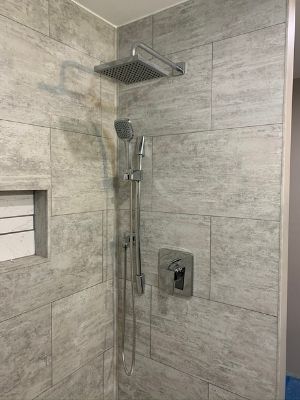 Now, let's further break down these key features into a good, old pros and cons list for this Palisade/Dumawall shower review!
Benefits Of Installing Palisade/Dumawall Tile: Palisade/Dumawall Shower Review
To start off this Palisade/Dumawall shower review, let's discuss the benefits I've found since installing Palisade/Dumawall into our two bathrooms.
Waterproof
The first thing that sold me was the fact that it is waterproof. The last thing I wanted to do after installing a brand new tile shower was worry about what day it was going to "fail".
Because at the end of the day, tile and grout are not waterproof themselves. They require a ton of extra waterproofing layers to protect the bathroom from experiencing water damage at some point.
So my viewpoint was that its failure is inevitable. It just depends on the day and the regular wear and tear it sees before it becomes a problem. (Yes, I know that's a pretty dire outlook on tiled showers, but I'd rather be safe than sorry!)
With that outlook, it makes the most sense to install one of those cheap, white, pre-manufactured shower inserts because they come in one or two pieces and are made to last forever. (That's truly the best waterproof shower system on the market in my opinion haha!)
But I was going for elegant and high-end, and that pre-fabricated shower insert just wasn't going to cut it.
So the fact that Palisade/Dumawall tiles are waterproof themselves (because they are made out of PVC material), and when the seams are caulked, the entire system is 100% waterproof, I felt like I finally found the solution to my problem.
Of course, this product also has seams that can fail, however, so I still wasn't 100% trusting of their "100% waterproof claim". So I solved that by adding a little bit of extra waterproofing to our shower walls (probably major overkill) that was still cheaper than the waterproofing required of a tiled shower installation.
You check out my full tutorial on how to waterproof shower walls for Palisade/Dumawall here.
Easy-peasy, problem solved! Now, let's move on to the next benefit of Palisade/Dumawall tile.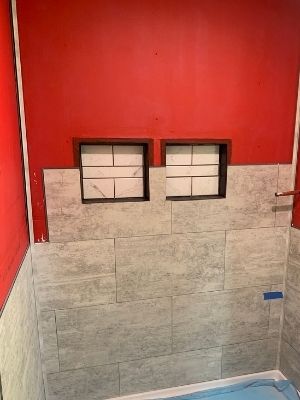 Groutless Tile
The next benefit of using Palisade/Dumawall tile is the fact that it's groutless. Yes, you use caulk in the seams as you install it instead of smearing grout overtop after installing and making a giant mess.
Being able to skip over the grouting step in a tile installation alone is a massive time-saver. Instead, we caulked the seams as we glued each piece in place and moved on.
No waiting an extra day after the glue dried to grout, then waiting another day for the grout to dry and be buffed (and possibly more time to seal it). That's an entire 24-hour+ saving!
On top of that, caulk and glue are so much easier to work with than mortar and grout (speaking from experience). We chose to be extra fancy and add a shower niche to both bathrooms where we used real ceramic tile to create an accent throughout the shower surround.
That was a very tiny area that made me so thankful I didn't have to do that in the entire shower haha!
We also installed a subway tile backsplash from counter to ceiling in our kitchen using tile adhesive and grout, so I've done my grouting time. (Find my full tutorial on how to install subway tile backsplash to create a showstopping kitchen here!)
Palisade/Dumawall lets you skip over that step, while still giving the appearance of a custom tiled shower.
Sweet, that leads me into the next benefit of Palisade/Dumawall tile.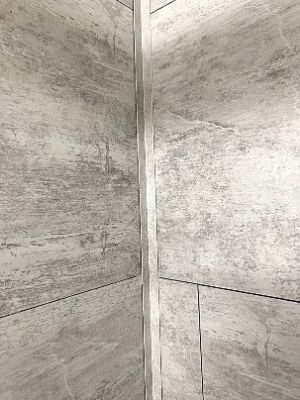 Custom-Tile Appearance
The next benefit of using Palisade/Dumawall tiles is one that I've now mentioned several times (because it was the second biggest persuader to get me to buy this product); Palisade/Dumawall tiles give a custom-tile appearance.
Unlike pre-fabricated shower inserts or other shower walls, this tile has actual seams like real tile does. And it comes in large panels just like other large tiles do.
Outside of the physical touch of the product, it looks like a custom-tiled, high-end-looking shower (because it pretty much is).
And since we remodeled our 1950s Ranch to make money, I wanted a custom-tiled shower in both bathrooms.
Palisade/Dumawall tile hit the mark while also being waterproof and being easier to install.
Okay, now let's dive into exactly how it installs quickly (on top of the time savings we've already talked about).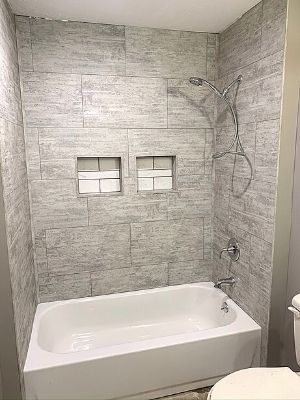 Installs Quickly
The next benefit of using Palisade/Dumawall tile is that it installs quickly. We installed each bathroom fully in about 8 hours (we did one shower surround on Saturday, and one on Sunday; that does not include the time to waterproof though).
That's because it's installed with Loctite Powergrab Adhesive and 100% silicone caulk. No need for tile spacers or trowels to run through the mortar.
If you truly want to install this product fast, then invest in a second caulk gun and have one loaded with adhesive and one loaded with caulk.
I would relay the measurements for my dad to cut, my husband would glue and caulk each piece, and I would stick the piece into place and lock it in with the surrounding tile.
Talk about a well-oiled machine, haha!
But even if you did it by yourself, the tiles are cut with standard power tools, so it's fast and easy, and a caulk gun takes no extra skill or finesse to use correctly.
Plus, you can stop in the middle of a row and pick it up the next day because the adhesive is applied directly to the back of each piece.
Traditional tile installation can also be done fairly quickly with a team of helpers, but there are more steps and a little bit more specialized skills to install it like a professional. Palisade/Dumawall is made for the beginner DIYer.
And now let's touch on how awesome it is that these tiles are cut by standard power tools!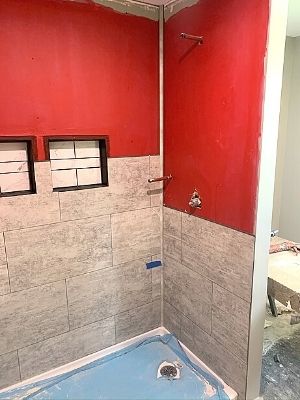 Cut With Standard Power Tools
The next benefit of using Palisade/Dumawall tile is that it can easily be cut using standard power tools. Why is this a huge benefit, you might ask? 
Well first off, no need to spend extra money or time buying or renting a new specialty tool that you'll only use on this singular project and never again. 
(Yes, I'm looking at you, grout float, trowel, and wet tile saw.)
Also, think of it as a time saver for the learning curve you get to skip. Now you don't need to go out and learn how to use a wet tile saw properly.
You can simply use the circular saw, jigsaw, and/or table saw that you're already familiar with using. Need to cut around a water supply line? Simple! Break out a general-purpose hole saw or spade bit attached to your drill and move on.
No special tipped blade or spade bit is needed, just a general-purpose one will do.
Part of why it's so easy to install is the fact that it is cut with standard power tools. And it doesn't splinter, crack, or chip while cutting them like a ceramic tile can. That's a win in my book!
Ah yes, now we're on to the last of the benefits of Palisade/Dumawall tile!
Durable & Easy To Clean
The last benefit of using Palisade/Dumawall tile is how durable and easy it to clean it is. I don't know about you, but I HATE cleaning the shower.
(YES, I'd rather clean the toilet than the shower haha!)
Well, Palisade/Dumawall (specifically the color Wind Gust, which is what we installed) does a fantastic job of hiding soap residue and watermarks.
That just means I can push off my cleaning even longer (sorry, not sorry).
And when I do need to clean it, I can use any standard non-abrasive household cleaner to give it a thorough wipe down. The easier it is to keep clean, the better in my book, and so far, our Palisade/Dumawall shower has fit that to a T.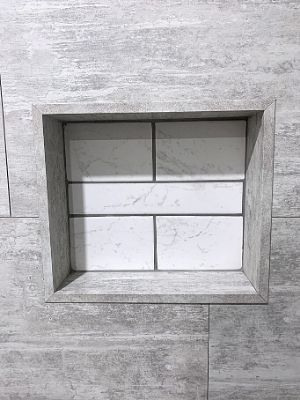 Still not sure if this product is right for you? I get it, it's hard to choose which product would work best for you when you're spending a good chunk of change on a bathroom renovation. So don't just take my word for it! Check out all of the five-star reviews on Amazon to help you make your decision.
They have some awesome pictures there as well to help you choose a color or pattern design easier. (We chose the largest tile size in the color Wind Gust, and that seems to be the most popular color. It goes awesome with our Sherwin-Williams Amazing Gray wall color, black vanity, and white trim!)
Of course, a Palisade/Dumawall shower review is useless in my opinion without covering the drawbacks of the product, though, so let's dive into some negatives!
Drawbacks Of Installing Palisade/Dumawall Tile: Palisade/Dumawall Shower Review
Yes, I know this is the part you've been waiting for in this Palisade/Dumawall shower review. Is Palisade/Dumawall tile truly right for YOU? Well, these were the major drawbacks we ran into (and others ran into as well).
Trim Makes It Almost As Expensive As Traditional Tile
The first drawback of using Palisade/Dumawall tile is the cost of the trim. I won't lie, this tile can quickly become expensive. That's mostly because the trim is half the price of a full pack of tiles. (~$45 for a piece of trim and ~$80 for a pack of 8 tiles)
Now, when I broke down the cost for our bathroom, I found that the cost of a prefabricated shower base, Palisade/Dumawall tile, all three types of trim, glue, caulk, shower niches, and RedGard waterproofing membrane was CHEAPER than if I had done a full traditional tile and waterproofing installation on the walls and the shower floor.
Depending on your renovation, that might not be the case for you.
From reading other people's experiences, their biggest complaint was that the trim is not a full 8 ft (it's 2 inches short of 8 ft, or 94 inches), so they had to buy another piece of trim just to finish off the 2 inches that it's short if you're trying to tile from floor to ceiling.
I agree, that is frustrating IF you need a full 8 ft to reach your ceiling. That, however, was not our experience.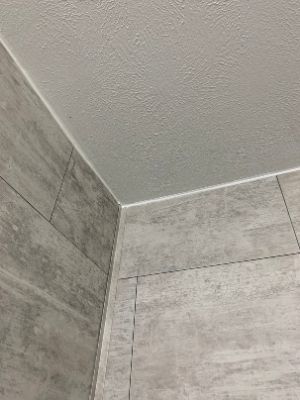 We did tile from the shower base to the ceiling, and we had to actually cut the trim shorter to make it fit because of the shower base.
The reason the trim is 2 inches shorter than 8 ft is that it is expecting you to install it on top of a prefabricated shower base (which usually sits 2-4 inches higher than the ground), so it would fit perfectly on a shower wall with a traditional 8 ft ceiling.
However, if your ceilings are taller than 8 ft, then this might pose a problem for you and drive the cost up significantly. My friendly advice is to measure your ceiling for the inside corner and J-Trim before ordering it.
The cost is always a big persuader for me, so I wouldn't recommend buying it unless it's cheaper for you to install than other methods OR you want the significant time savings it will bring you compared to other methods!
Now, outside of cost, it does have another drawback that you need to be aware of.
Can't Be Used On The Shower Floor
The next drawback of using Palisade/Dumawall tile is that it cannot be used on shower floors. Palisade/Dumawall is strictly made for use on shower walls, not the floor.
So you must purchase and install a prefabricated shower base.
Personally, we were considering installing a prefabricated base regardless of the tile we used because it's the best way to make the shower floor (the part that gets the most water and wears and tear) waterproof.
(Again, if traditional tile's gonna fail, it's gonna fail on the shower floor first.)
So this wasn't a true drawback for us, but for you, it might be. If you truly love the look of an all-tile shower, then you won't get that using Palisade/Dumawall.
In that case, you'd be happier throwing extra money into the best waterproofing system on the market that you can find and tiling your shower the way you want.
I know I keep giving the warning of tile failing, but with the awesome waterproofing products on the market today and a professional installation, you most likely won't have anything to worry about.
Now we're getting into the nitty-gritty of this product. So, let's keep digging deeper!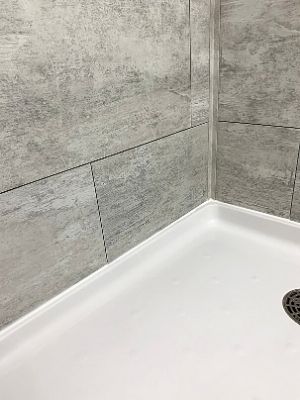 Only Comes In Certain Colors & Sizes
The next drawback of using Palisade/Dumawall tile is that it only comes in certain colors and sizes. Now, it does have a decent selection of colors:
Wind Gust
Wintry Mix
Dusky Shale
Rain Cloud
Smoked Steel
Frost Nickel
Carrara Marble
Dark Gray Slate
Light Gray Slate
They're constantly adding more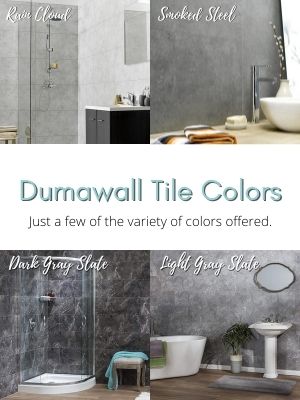 However, if you don't like any of the colors, then obviously this product isn't a good fit for you.
Also, this tile only comes in two sizes:
25.59 inches x 14.76 inches
21.9 inches x 11.2 inches
That means there's no subway tile or smaller-sized tile if that's what you vibe with. Honestly, the large tiles are better for a shower in my opinion anyway (haha, how many times can I say the word waterproofing?), but if that's not the look you're going for, then a different tile would be better for you.
And with that, we are finally onto the last drawback of using Palisade/Dumawall tile.
Still Has Seams (Unlike Basic Prefabricated Shower Inserts)
The last drawback of using Palisade/Dumawall tile is that it still has seams. Yes, we must come full circle on this 100% waterproof situation.
I've been harping on a traditional tile for its weaknesses that could result in water damage one day. So it'd be wrong of me to skip over the fact that Palisade/Dumawall also has seams (albeit fewer seams than most traditional tile patterns), so it also has points where there could be a failure that results in water damage.
(Luckily, my Palisade/Dumawall waterproofing tutorial can help you avoid that problem.)
Honestly, the only product that truly has the potential to avoid a point of failure (unless it gets a crack in it) is a one- or two-piece prefabricated shower or bathtub insert.
But that's boring, so I'd recommend finding a more custom-looking product than that haha. But if longevity and durability are your worries (like it would be if, say, you were installing a shower for a rental property), then I recommend going with a traditional prefabricated shower or tub insert.
(Your wallet will thank you later when the inserts last through numerous tenants haha.)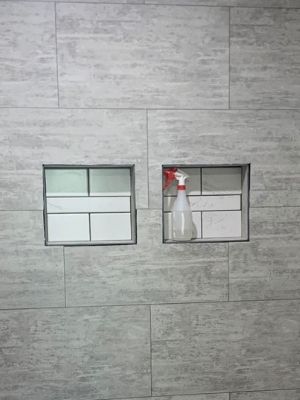 That's a wrap on the drawbacks of Palisade/Dumawall tile.
I always find the negative reviews more helpful than the positive ones, and I think you will too. So I highly recommend that you check out all of the one and two-star reviews on Amazon before you make your final decision.
When To Use Palisade/Dumawall Tile: Palisade/Dumawall Shower Review
After all of that, I'm sure you're wondering, who would find the use of Palisade/Dumawall tile the most beneficial?
Palisade/Dumawall is perfect for any DIYer who:
Wants a custom tile look without the grout and mortar mess,
Doesn't have (or want to acquire) specialty tools for tile installation,
Wants a shower that's more waterproof than traditional tile, and
Desires a fast, easy installation
When I was looking for products to use during our bathroom renovation, I fit that description to a T. If you do also, then this tile would be a good fit for you too!
Where Can I Buy Palisade/Dumawall Tile?
Whew, we've covered a lot so far. All that's left to do is to cover where you can buy Palisade/Dumawall tile.
Palisade/Dumawall can most easily be bought through Amazon, but I've also found it at Menards, Home Depot, Lowe's, DIY Decor Store, eBay, Overstock, Wayfair, and Build.
Amazon has the full shower kit that you can purchase, and it will supply you with all of the tile, trim, caulk, and glue you will need to finish a standard bathtub surround! That's pretty handy. Or you can buy the tile, trim, glue, and caulk separately to better suit your personal needs (which is what we did).
Other Frequently Asked Questions About Palisade/Dumawall
Here are some other frequently asked questions about Palisade/Dumawall to help you make a better decision!
Are Palisade And Dumawall The Same Company?
Palisade and Dumawall vinyl wall tiles are made by the same company. Palisade is the rebranded version of Dumawall and has replaced Dumawall in the United States. Palisade has a wider color and size selection than Dumawall since Dumawall is slowly becoming less available to purchase.
Palisade Vs Dumawall: Are Palisade And Dumawall The Same?
Dumawall has been rebranded and replaced by Palisade vinyl wall tiles in the United States. Palisade has the same features and is installed exactly the same as Dumawall. Additionally, Palisade has a wider selection of colors and sizes than Dumawall and is in stock more frequently.
Final Thoughts From This Palisade/Dumawall Shower Review
That's a wrap on this Palisade/Dumawall shower review! Overall, we had a positive experience using Palisade/Dumawall on both of our remodeled bathrooms, so I feel pretty good recommending others to use it.
We are planning to install it into my parent's master bathroom when we remodel it as well. Yeah, my dad was a big fan as well, and he's got way more experience with traditional tiling than I do haha.
Now you have everything you need to decide on whether this is the right product for your bathroom renovation or not.
Regardless of what you decide to use, it's amazing that you are taking it into your own hands to build the bathroom of your dreams!
Nothing is more empowering than creating the home you love for the people you love (and getting to show off your awesome handywoman skills if I might add!)
Catch you in my next post!
---
Related Palisade/Dumawall Articles
---
Palisade/Dumawall Shower Review: My Honest Opinion Of Our Shower Tile
DIY With Christine is a participant in the Amazon Services LLC Associates Program, an affiliate advertising program designed to provide a means for sites to earn advertising fees by advertising and linking to Amazon.com.