*My posts may contain affiliate links, which means I may receive a small commission, at no cost to you, if you make a purchase through a link! Thank you for supporting my website!*
Last updated on March 12th, 2023 at 04:32 pm
Install Perfectly Straight Kitchen Handles On Cabinets In Record Time
Are you ready to install new kitchen handles on your cabinets? Well, then you've come to the right place!
Installing new kitchen handles is the easiest and fastest way to modernize your kitchen on a major budget.
The best part is, you can make a huge difference in your kitchen in just 3 easy steps – no matter your DIY experience level!
So, if you're ready to tackle this kitchen handle installation project at lightning speed, let's get to it.
Let's dive on in!
Quick Navigation: How To Kitchen Handles On Cabinets
| Level Of Difficulty | Time To Complete |
| --- | --- |
| Easy | 1-2 Hours |
Not Sure Which To Choose? Check Out The Most Popular Kitchen Cabinet Handles On Amazon
Step One: Mark The Placement Of The Holes
The first step to installing kitchen handles on cabinets is to mark the placement of the holes on the door with a pencil.
Now, typically, this might sound like a daunting task. Yes, it's difficult to mark exactly where the holes line up and to make sure the handle itself remains straight.
But not if you have this handle and drawer hardware installation template kit found at Amazon!
When we renovated our 1950s Ranch, we installed all new kitchen cabinets, so we had to install brand new cabinet handles and drawer pulls on all of them.
That task would have been much more tedious if I didn't have this hardware installation template.
(Actually, I DID measure and install handles on the bathroom drawers at my mom's house by hand because I didn't know templates like this existed.
It took me twice as long, and there were occasions when I had to drill the hole slightly larger because I was off on my measurement. You can't tell, but I definitely wouldn't want to install kitchen handles on cabinets like that again!)
With this hardware installation template, you simply line up the edges with the edges of the cabinet doors and make a mark on the holes that were made for your size cabinet handle.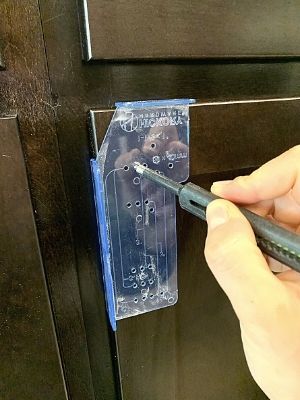 Voila! Now you can replicate the placement of your holes quickly and efficiently by repeating that process on every cabinet door!
---
Related Kitchen Cabinet Articles
---
Where Should Handles Be Placed On Kitchen Cabinets?
Handles should be placed on the lower corner of the side opposite the hinges of the upper kitchen cabinets. On lower kitchen cabinets, they should be placed up the upper corner of the side opposite the hinges.
---
Here is an example of where we installed the handles on our kitchen cabinets.
However, if you're installing handles on a small upper cabinet where the handles are almost as large as the cabinet door itself, then centering the handle on the door on the side opposite the hinges is best.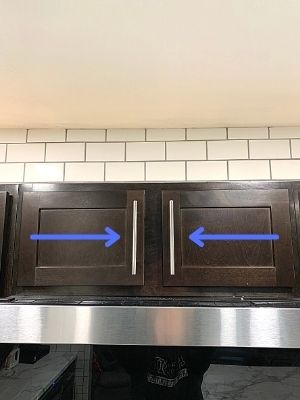 I love the large handles because they look elegant and high-end in my opinion! So for our smaller cabinets, we just centered the handles on the door, while the rest of the handles were installed in their proper corners.
With the cabinet door hardware installation template, you don't have to think about where handles should be placed on kitchen cabinets because it lines up the holes and puts the handle in the perfect position for you!
How Do You Install Cabinet Handles Straight?
To install cabinet handles straight, use a hardware installation template. Installation templates line up on the edge of a cabinet door to help you mark and drill holes for the cabinet handle consistently. Templates can be bought from Amazon or any hardware store, or you can create your own from scrap wood.
---
In addition to placing the kitchen handles in the correct place on the cabinets, the cabinet door hardware installation template also helps ensure that the cabinet handles are straight.
Since the edges of the template line up with the edges of the cabinet, your handles will end up perfectly straight!
Without the template, you could measure 2 inches from the bottom of the cabinet door and measure ¾ inches to 1 inch from the side of the door to find the first hole mark. Then you could measure from there the length of your cabinet pull (and keep it ¾ inch to 1 inch from the side) to mark the second hole.
But that is asking for human error to enter the equation. Use the KISS method (keep it stupid simple), and get this part of the project done in record time.
Pro Tip: I would circle the two holes that match your cabinet pulls on your template with a marker so you can quickly mark all of the holes on all of the kitchen cabinet doors without much thought.
I can't tell you how many times I was saved because my husband circled the correct holes for me. When you're moving quickly, your brain doesn't like to think that hard. So do this one simple step to skip over some majorly annoying mistakes haha!
Finally, mark all of the holes at the same time so that you can rapidly drill all of the holes at the same time. I'm a big fan of batching my work. My brain is a big fan too. It helps me work faster and limits my mistakes (and yes, we all make mistakes no matter how experienced we are, it's life!)
Once all of your cabinet doors are marked with holes, it's time to move onto the next step!
Step Two: Drill Through The Front Of The Cabinet
The next step to install kitchen handles on cabinets is to drill through the front of the cabinet door (right where you made your marks)!
The reason you want to drill through the front of the cabinet is that the wood will splinter out the backside as you drill. 
Instead of letting that tiny splintering show on the pretty face of your cabinet, let it happen on the backside where the screw head will cover most of that.
(It's completely normal and impossible to avoid the splintering out part of installing kitchen handles, so don't worry about it! Just drill from the front, and your kitchen will look gorgeous!)
At this point, I recommend drilling into one cabinet door at a time and installing the handle to ensure it fits properly. If your drill wanders slightly off the center of your mark as you drill, you might have to run your drill through the hole again to help the handle fit better.
It's better to do this part one at a time to make sure each one turns out perfect!
Also, I'd like to point out that this fantastic hardware installation template kit also comes with the correct drill size to install kitchen handles, so now you don't even have to think about that!
I just love simple, little kits like these that make my life 100x easier!
Once you have two holes drilled on your first kitchen cabinet door, it's time to move onto the next step!
Step Three: Screw The Kitchen Handles Into Place
The last step to install kitchen handles on cabinets is to screw the handles into the newly drilled holes!
At this point, your life should be really easy (especially if you drilled the holes correctly and have an impact driver on hand!)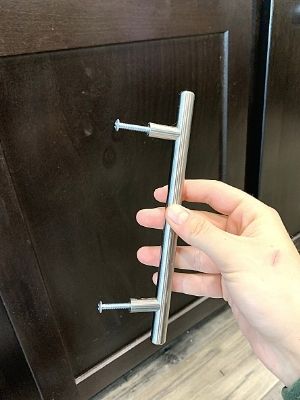 Take one of the screws that come with the kitchen handles and stick it through the first hole. Then take your kitchen handle and tighten the screw into the handle. (Leave it a little loose until you get the other screw mostly screwed in as well.)
This step goes SUPER FAST if you use an impact driver or your drill with a Phillips head bit.
Then, take the other screw, stick it through the second hole, and screw it into the handle as well (leaving it a little loose until you can confirm the handle fits well).
Once the handle seems to fit nicely, screw both screws in completely, and you're done! Time to move onto the next kitchen handle!
What to do if the kitchen handles don't line up perfectly with the drill holes?
Sometimes your drill head can wander a bit from the center of your mark as you're drilling into the cabinet face.
Not to worry! If this is the case, then you are close to having a perfect hole. All you have to do is drill through the hole and widen the hole a bit in the direction it needs to fit the handle in properly.
Be careful not to widen it too much because you don't want to see a larger hole around the kitchen handle.
Most of the time, kitchen handles have a little leeway around the base where the screws get inserted, so fuzzing off a tiny bit of the hole to get the handle to fit better won't be noticeable!
However, if your hole is completely in the wrong place, then you'll want to use wood filler to fill the hole, sand it down, and stain or paint it to match the rest of your kitchen cabinets.
I would seriously try to avoid having to repair a cabinet though because stain and paint can be hard to match.
Luckily, using a hardware installation template will help minimize this potential problem by standardizing your hole placement!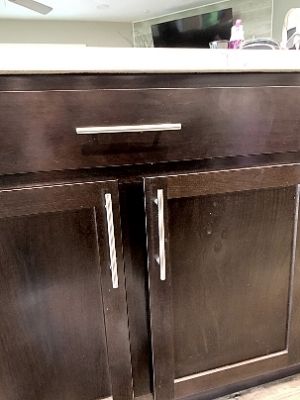 Other Frequently Asked Questions About Installing Kitchen Handles Straight On Cabinets
Here's a list of frequently asked questions about installing kitchen handles on cabinets. Hopefully, they'll help you install your handles with ease!
How do you install drawer pulls on kitchen cabinets?
What's awesome about this hardware installation template kit is that it also comes with a drawer pull template!
To install drawer pulls on kitchen cabinets:
Find and mark the center point of your drawer face
Line up the center of the template with the top of the drawer and the center point
Mark the holes that go with your drawer pull size
Drill through the face of the drawer
Screw-in the handles
The steps are similar to installing handles on cabinet doors!
However, sometimes the template doesn't have holes that line up perfectly with the center of your drawer (especially if you don't have a standard size drawer face).
In that case, this article has a fantastic tutorial on how to make your custom drawer pull installation template so that you can complete this project just as easily as you'll complete the cabinet door handles installation!
What size pull handles for kitchen cabinets?
The standard pull handle size for kitchen cabinets is 3 inches center-on-center. For a higher-end look, use 5-inch center-on-center pull handles on kitchen cabinets.
---
To choose the correct size handles for your kitchen cabinets, you need to consider two things: cost and design/looks.
Cost Of The Handle
The larger the pull handle, the more expensive the handle most likely will be. So if you want to stay on a budget, then the standard 3-inch pull handles are typically the best way to go.
However, Amazon has fantastic larger-sized handles that you can get for a good price. So you don't necessarily have to go with the smallest to get the best deal for your kitchen!
Design/Looks You Want For Your Kitchen
The larger-sized handles give off a more elegant, high-end vibe (probably because they are usually higher priced, so standard kitchens opt for the cheaper handles).
So if you want to elevate the look and feel of your kitchen, then opt for 5-inch (128 mm) handles.
We chose these 5-inch pull handles found at Amazon because of the design element they added to our kitchen, plus the larger handles allow you to fit your entire hand within them, so they're more comfortable to use in my opinion!
Should I put knobs or handles on kitchen cabinets?
You should use pull handles on kitchen cabinets whenever possible. Pull handles are easier to grab, more comfortable to use, and add a more modern, elegant appearance to kitchen cabinets.
---
This question again goes back to how much you want to spend on your kitchen cabinets and what design/look you want for your kitchen.
Knobs are typically cheaper than handles, so they're very budget-friendly. However, again, large handles give off a more elegant vibe.
If you're looking for a high-end look for a cheaper price, you can always mix and match knobs and pulls!
Doing knobs on the cabinet doors and handles/pulls on the drawers is a great way to get the best of both worlds and create a unique, custom design in your kitchen!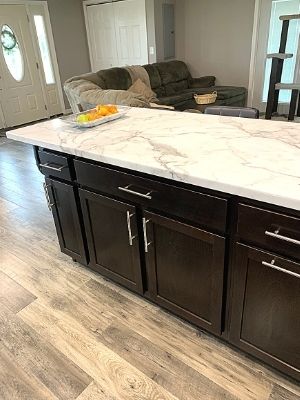 Do you put pulls on fake drawers?
You should put pulls on fake drawers to keep the design consistent with the rest of the drawers in the kitchen. Consistency is key in design, so putting pulls on fake drawers will make your kitchen feel complete.
---
Here's what our kitchen looks like with pulls on our fake drawers!
Other than the fact that the fake drawer is under a sink (which usually signals that it's fake), you would never know it's anything different from all of the other drawers in our kitchen!
Final Thoughts On Installing Kitchen Handles On Cabinets
There you have it! I love projects that have 3 easy steps to them and installing kitchen handles on your cabinets is just that!
Once you've tackled this simple DIY project, you're going to feel so confident, you're going to want to swap out all of the outdated hardware in your house!
(Which is awesome because it's such a cheap and easy way to modernize a cabinet or piece of furniture.)
Catch you in my next post!
The Best Kitchen Tools & Products I've Reviewed
Ravinte Cabinet Handle Installation Template (For Doors & Drawers)
This is my all-time favorite handle installation template because it has two templates (one for drawers and one for doors) with multiple pull sizes & knob placements! These templates make installing cabinet handles a breeze because you always know your handles will be installed in the same spot on all of your drawers and doors. The kit also comes with a drill bit so you can guarantee you're using the correct size. I used this template on my entire kitchen and both bathrooms to cut the installation time in half. You can find this hardware template here on Amazon.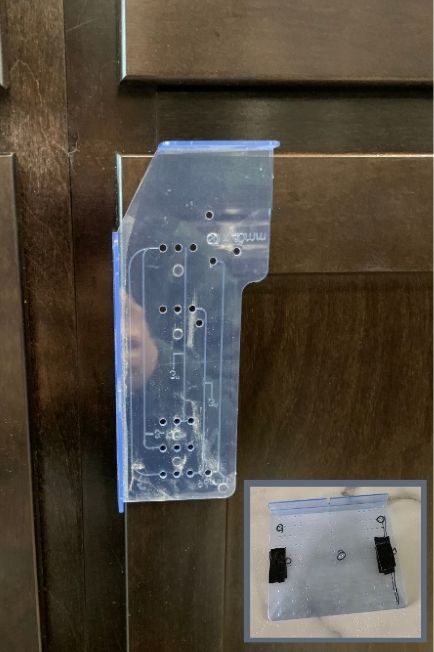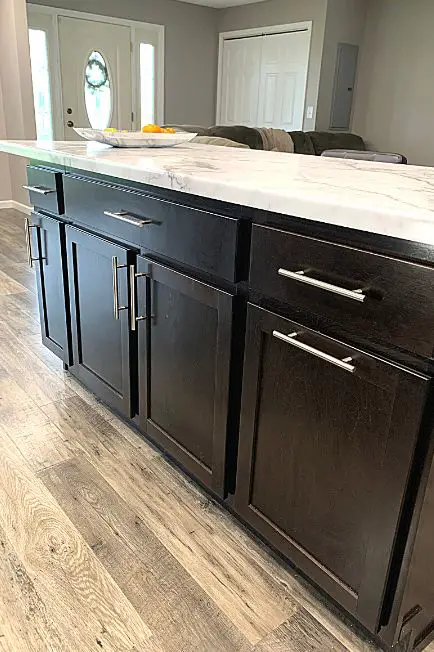 Franklin Brass 5-1/16 Inch (128mm) Center Bar Pull (Stainless Steel)
If you want to immediately modernize your kitchen island, then these cabinet pulls are a must. They are heavy-duty feeling, durable, easy to install, and are a large size for a great price. We put these pulls on all of our kitchen and island doors and drawers along with our bathroom doors and drawers. You can find these gorgeous cabinet pulls here on Amazon.
P.S. Use the hardware installation template I mentioned above to install these new pulls in record time!
---
Related Kitchen Cabinet Articles
---
How To Install Kitchen Handles On Cabinets In 3 Easy Steps
DIY With Christine is a participant in the Amazon Services LLC Associates Program, an affiliate advertising program designed to provide a means for sites to earn advertising fees by advertising and linking to Amazon.com.