*My posts may contain affiliate links, which means I may receive a small commission, at no cost to you, if you make a purchase through a link! Thank you for supporting my website!*
Last updated on June 19th, 2023 at 01:00 pm
DIY Bedroom Makeover Ideas For Cheap
Tired of walking into the same, old, boring, cluttered, tiny room? I'm here to tell you it's time to ditch that unwanted and unnecessary stress! 
Yes, I said it, your cluttered and plain room is stressing you out, and it's not fair to you and your body.
Why be sad to walk into your room when you can use these 8 easy small bedroom decorating ideas on a budget for your room and turn it into the personal oasis you can't wait to walk into?
They're so easy to implement, and pretty budget-friendly as well, so there's no better time than now to create the bedroom you deserve to come home to! And the best part? You can do them all by yourself! #HelloHandyWoman No need for demo work or expensive contractors.
So let's get to it!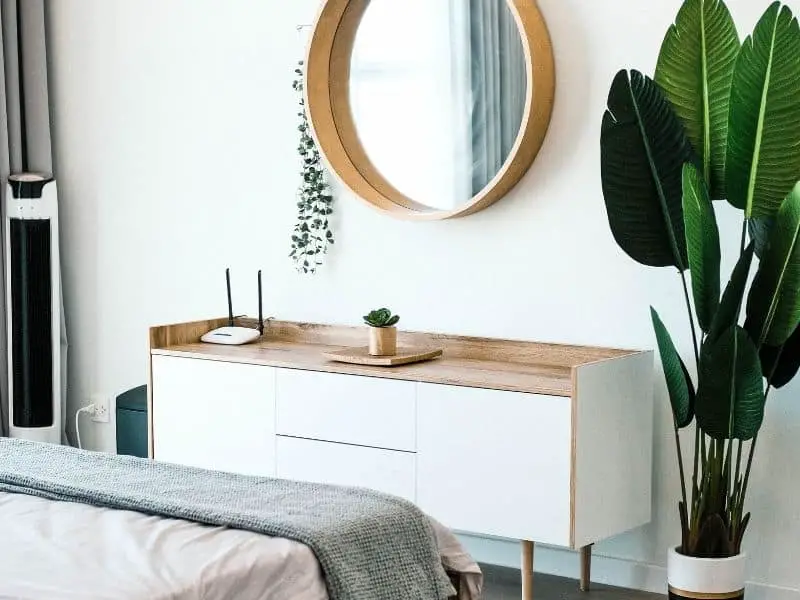 Easy Small Bedroom Decorating Ideas On A Budget:
First, Choose 2 Complementing Colors And Weave Black, White, And Metal Throughout
Let's start this list of easy small bedroom decorating ideas on a budget with the most important part; your color scheme! Your entire room and decorations will revolve around the color scheme you choose, so take the time now to find the pairing you love.
In addition, the cheapest way to completely transform your small bedroom is with a fresh coat of paint. So, this step is an important one to protect the budget!
First, we want to consider what mood we are trying to set.
Are we wanting to:
Make our room appear larger and more spacious?
Feel calmer like we are at spa?
Go bold and show our creative side?
Choosing the feeling you want from the room first will help you choose your color scheme.
---
Related Home Decor Articles
---
Colors To Make Your Small Bedroom Appear Larger
For example, if you want your room to appear larger and more spacious, go for contemporary and minimalistic design colors. I recommend sticking to grays, beiges, whites, and blacks. (Check out this article for whole house paint colors that I recommend!)
I always do better when I can see a few examples of colors and designs before I choose what I want to do. So, here is an example of this color scheme (that I personally love!):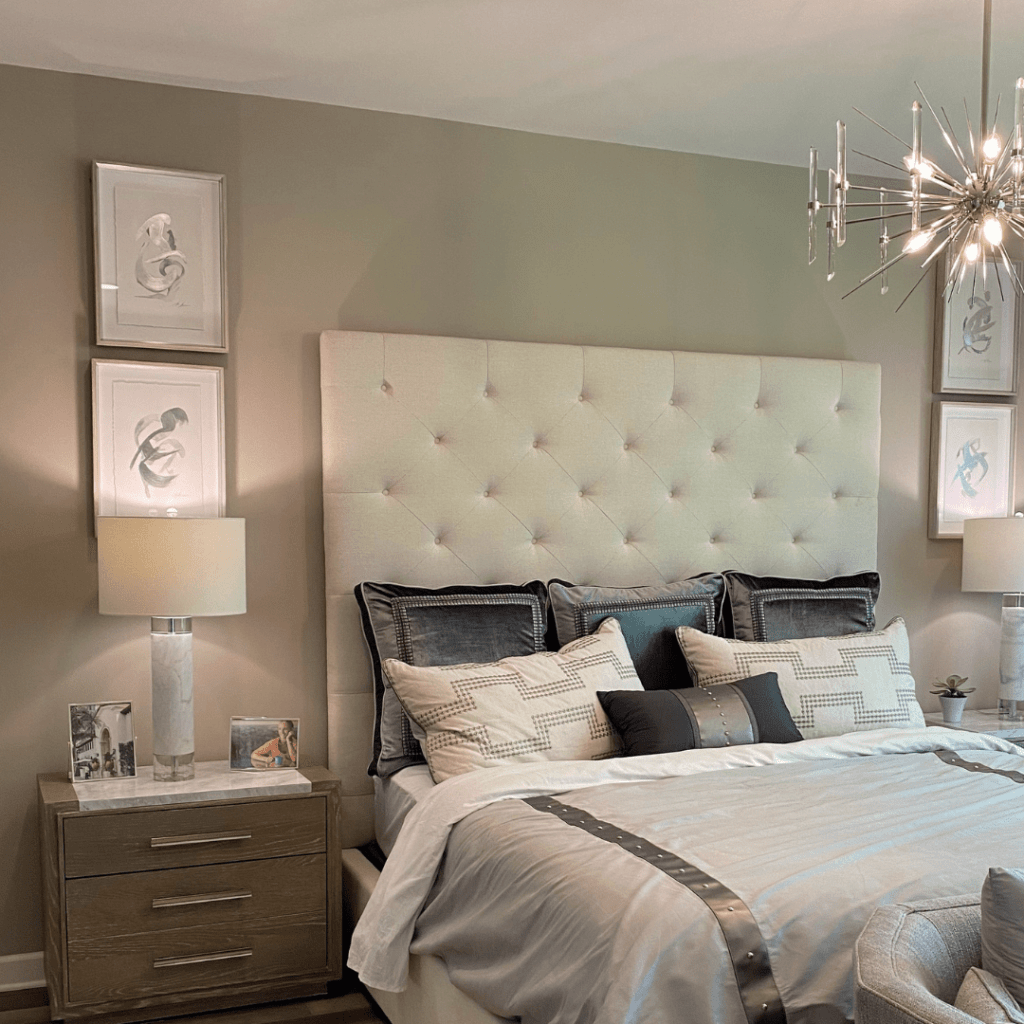 Colors To Make Your Small Bedroom Be Bold & Show Off Your Creative Side
On the other hand, if you want to go bold and show off your creative side, then you'll want to choose two colors that complement each other well and also go well with black and white. A great, bold color combo that I love is navy blue and tan/orange.
This color scheme goes especially nice with older homes that have dark, reddish/orange wood throughout. For instance, my parents have a beautiful 1970's home, but the wood trim and fireplace stone look like they came from the 70's.
Instead of pouring thousands of dollars into the house to rip out and replace all that trim and stone, we are planning to incorporate the rich tones with other colors (like navy, white, and black), that will complement what is already there!
Yes, you can make older things look beautiful again!
Or you could go with this deep teal and purple mauve combo that'll let you get in touch with your moody side.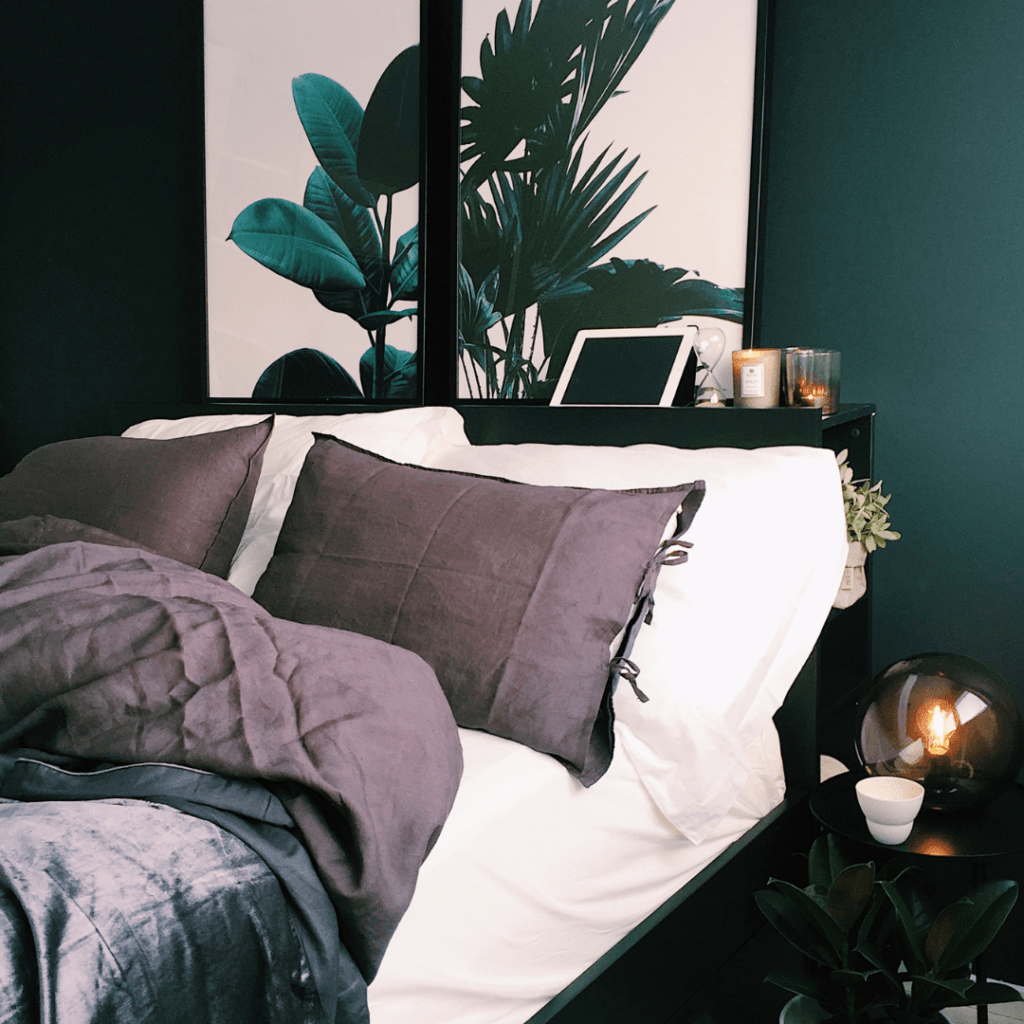 Although, if you choose to go dark, I recommend only painting one wall this dark. The accent wall will help make your small room appear larger and more visually appealing. An entire room painted this dark will make your small bedroom appear even smaller!
Colors To Make Your Small Bedroom Feel Like A Spa
Finally, if you're really looking to make your small bedroom look more spacious and give off that spa-like feeling, you can choose one light accent color. Light green or light blue are fantastic colors for this option like this picture shows:
Whatever colors and feeling sparks joy in your life, choose those. Then I want you to also weave decorations with white, black, and one color of metal (satin nickel, chrome, gold, black) throughout your design.
We want to do this because white and black are nice neutral colors that help tie every color scheme together. And metal gives a subtle contrast and different texture that will complement your color scheme well. 
Having Trouble Choosing A Color Scheme That Fits You Best?
Don't worry, you're not alone! Paint colors are one of the hardest decisions to make in my opinion. In fact, when we were choosing paint colors for our 1950s ranch, I ended up changing my mind about the color THREE different times. (YES, I did buy gallons of three different paint colors… talk about indecision haha! My husband was not too thrilled!)
I ended up wasting $60 worth of paint because I didn't have an easy way to move and test my paint sample in each room (not all rooms had drywall yet), and those tiny samples you pick up at the store just don't cut it.
Shortly after that fiasco, I found a company called Samplize that specializes in large sticker-like paint swatches that can be moved around and don't damage your wall. Oh, how I wish I knew about their products when I was choosing a paint color! I could have saved so much time, effort, and MONEY by using their products.
Peel and Stick paint samples delivered overnight with Samplize!
Cue Samplize To Save The Day
You see, on top of the $60 worth of paint I bought, I also bought $20 worth of paint samples and $5 worth of paint rollers. I could have bought $20 worth of Samplize stickers, skipped the paint rollers, been able to move my large sample into various lighting, and saved $65 worth of money and a lot of headaches from colors not turning out the way I thought they would.
Next time, I'm definitely ordering from them. They even have all of the most popular Benjamin Moore and Sherwin Williams colors, so I can't go wrong!)
Hopefully, a few samples from Samplize will help you make a better decision on your color scheme! Once you settle on your color scheme, you can begin choosing the decor pieces for your new room.
FREE overnight shipping in the US for orders $40 or more! Order today, start sampling tomorrow.
Second, Mix Your Shapes (Squares, Circles, Triangles) And Your Textures (Wood, Metal, Glass)
After choosing your color scheme, the next important idea on this list of small bedroom design ideas on a budget is to choose your shapes and textures! Let's talk about your shapes first – using different shapes in a room (such as a sharp-edged (rectangular) dresser with a circle mirror) really gives your room dimension.
To make this small bedroom design idea budget-friendly, challenge yourself to use existing items in your home & refurbish them! An old mirror can take on a new feel in a different room, or an old lamp can be spray painted a different color to give it new life.
Mirrors
First, check out your mirrors. Mirrors can make a small bedroom look massive because they reflect a lot of light and make a room look extended beyond the wall it's attached to. One of the first things I like to change in my bedroom is the mirror attached to the dresser. I love to take off that old, bulky mirror on the dresser and replace it with a sleek circle mirror above like this example: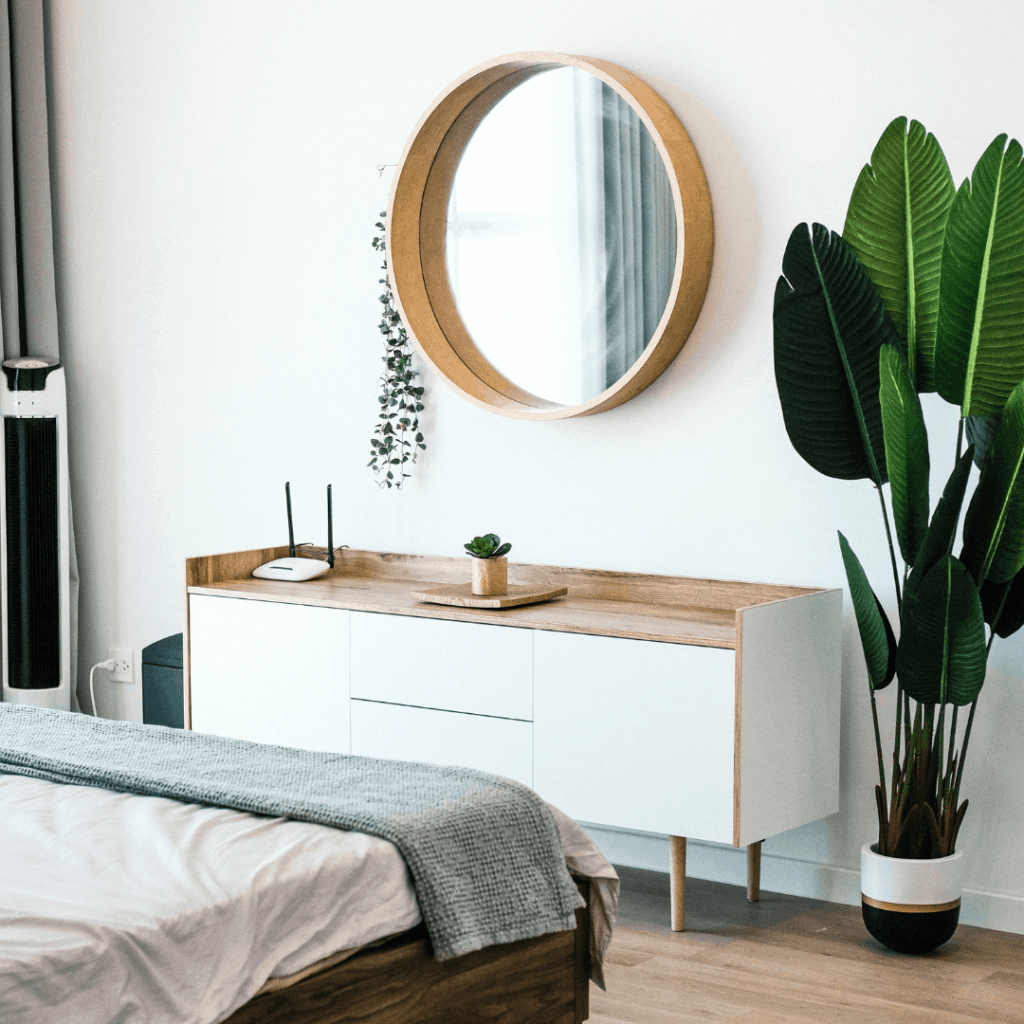 If you want to save money and avoid wasting your perfectly good dresser mirror, then use this trick.
Take off your dresser mirror
Cut off the bottom part that was used to attach it to the dresser (make the cut even with the rest of the design so it looks like it was made that way)
Sand and repaint the cut part, so it matches the rest of the mirror frame
Hang the mirror directly on the wall (either above your dresser or anywhere you want in your room)
Doing this will let you reuse a perfectly good item in your room while also modernizing and opening up your space. It won't feel so bulky and intrusive once it's off the dresser and hanging directly on the wall!
(Or if you already have a mirror, but don't like the frame, you can DIY a custom mirror frame for cheap!)
Pillows
Next, check out your pillow situation. You want to use full-sized pillows along with smaller squared pillows, smaller rectangular pillows, and/or circle pillows to add dimension to your bed.
An excellent way to make this small bedroom design idea budget-friendly is to buy cheap pillow inserts and change out the pillowcases to suit your mood. Doing it this way, your pillows last forever, and the pillowcases are relatively cheap to change out whenever you're looking for a design refresh.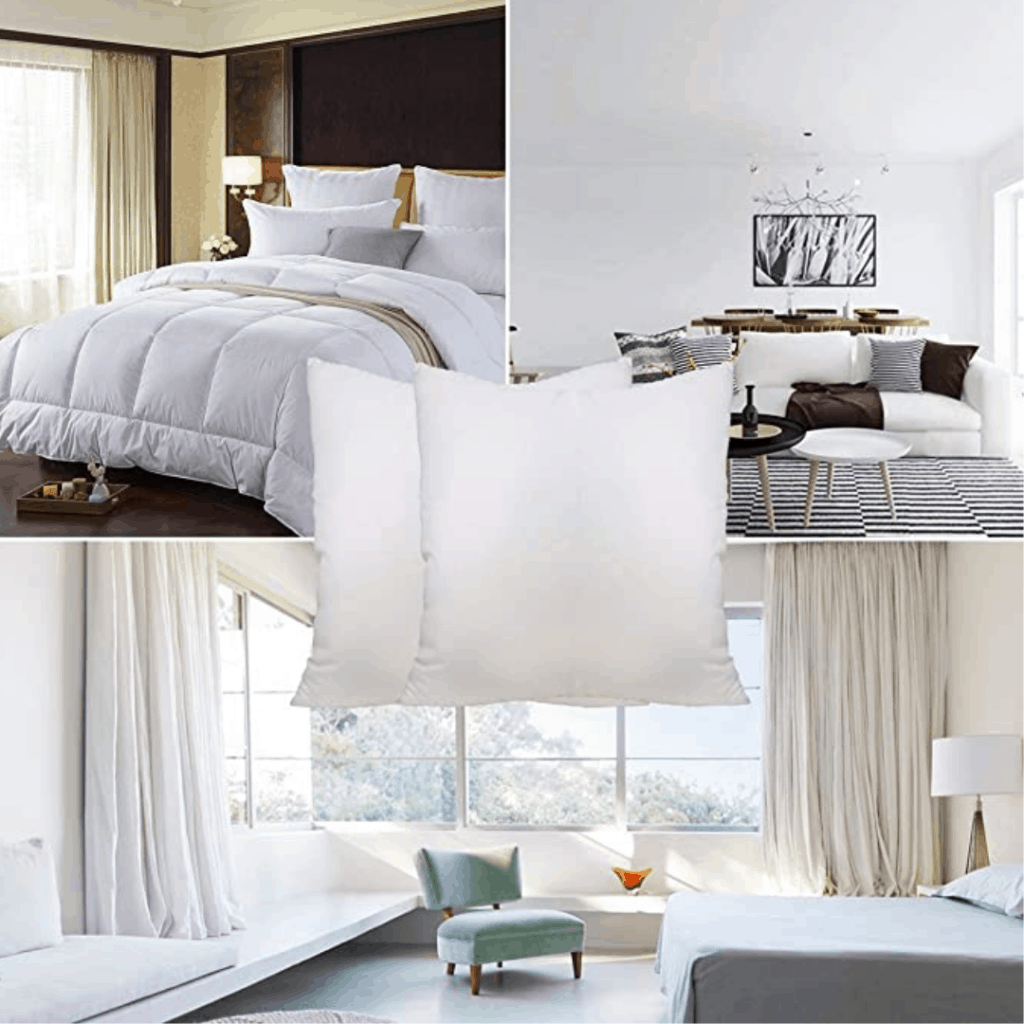 My favorite pillows to use are the ones from the Beckham Hotel Collection found at Amazon. We use these pillows in our AirBnB and have had several guests reach out to us after their stay asking where we got the pillows from.
They're soft, yet still firm enough to support your head and neck, and have cooling gel inside to give you the best night's sleep. I highly recommend giving them a try!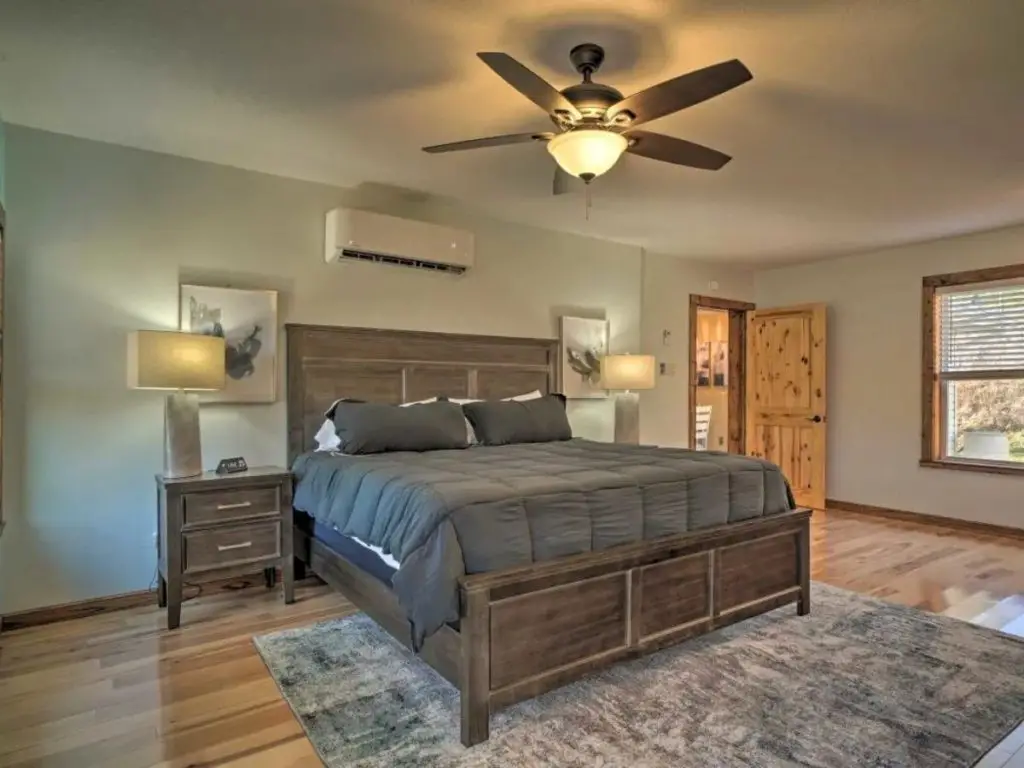 Shelves
Next, we want to add dimension to your walls. Adding different shapes to your wall shelving can draw your eyes around the room. Your shelves could be straight like normal, or you could get decorative with triangles and hexagons.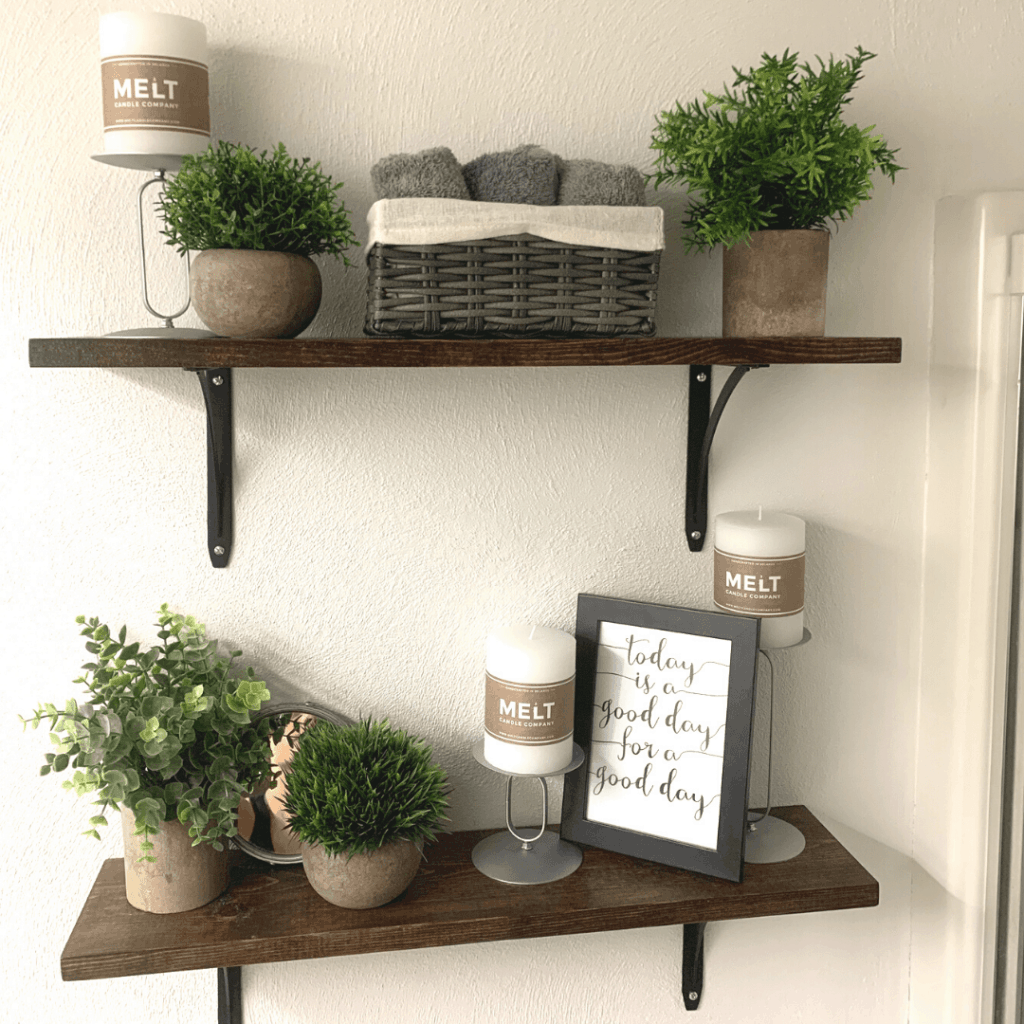 Plus they're another excellent area to add decor that will tie your room together (think about the metal, white, black, wood decor we were talking about earlier).
Simple and elegant wood shelves are SO EASY to DIY yourself! Check out this detailed tutorial for how I made super cheap wood shelves to decorate my mom's guest bathroom.
Textures
Also, use different textures throughout the room. Mixing in a complementing wood, your chosen metal, and even some glass or clear plastic containers make your decor more visually appealing.
Wood
You could use wooden shelves (like the ones you're going to DIY!) or wooden trays throughout the room. Also, your headboard or dressers could be your chosen wood color.
As a rule of thumb, if your room has a darker color scheme, lighter woods tie in better. On the other hand, if your room has a lighter color scheme, both dark and light wood shades look beautiful in your space. For small bedrooms, lighter colors will always make your room appear larger.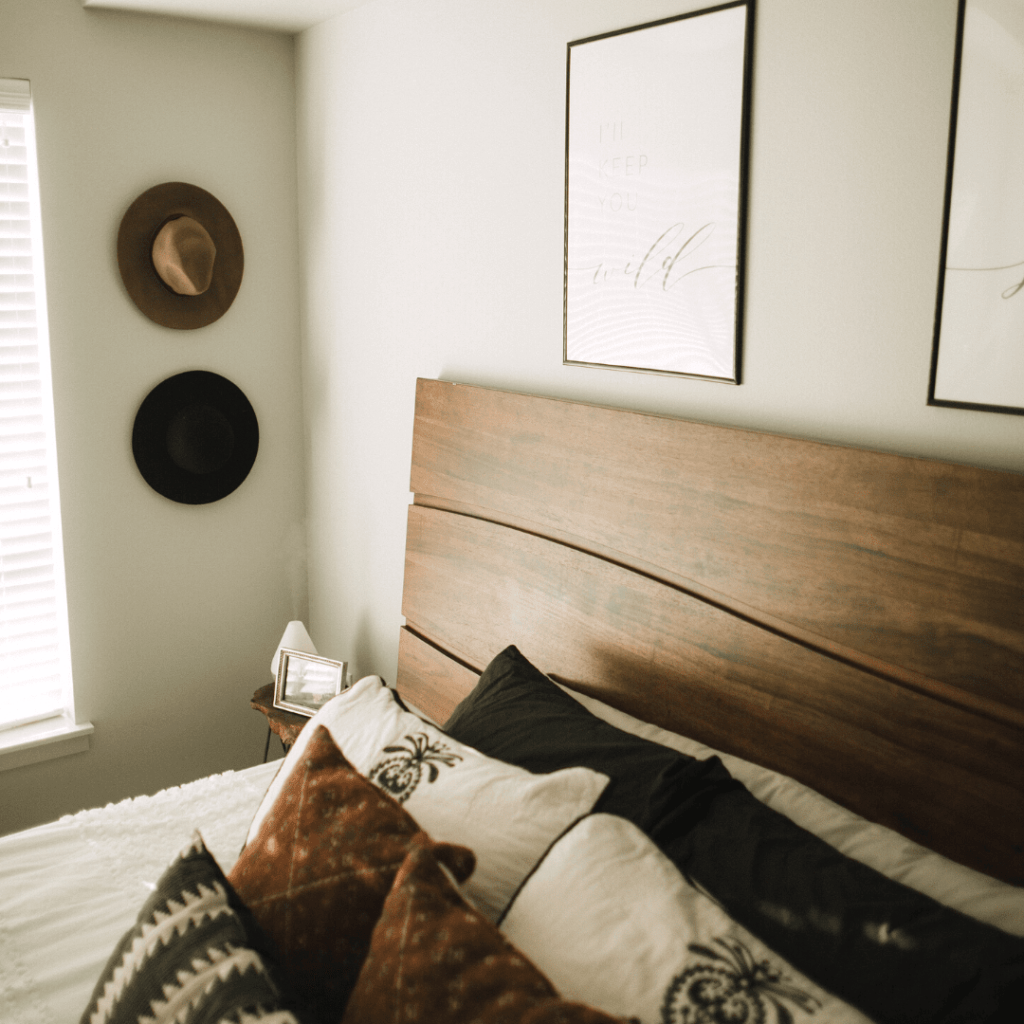 Glass
Glass jars are perfect for storing items you use regularly but don't want to show off the ugly packaging. For example, in laundry rooms, you can store tide pods. In bathrooms, you can store Q-Tips and cotton balls. And finally, in bedrooms, you can use glass figurines or candles to accent your space.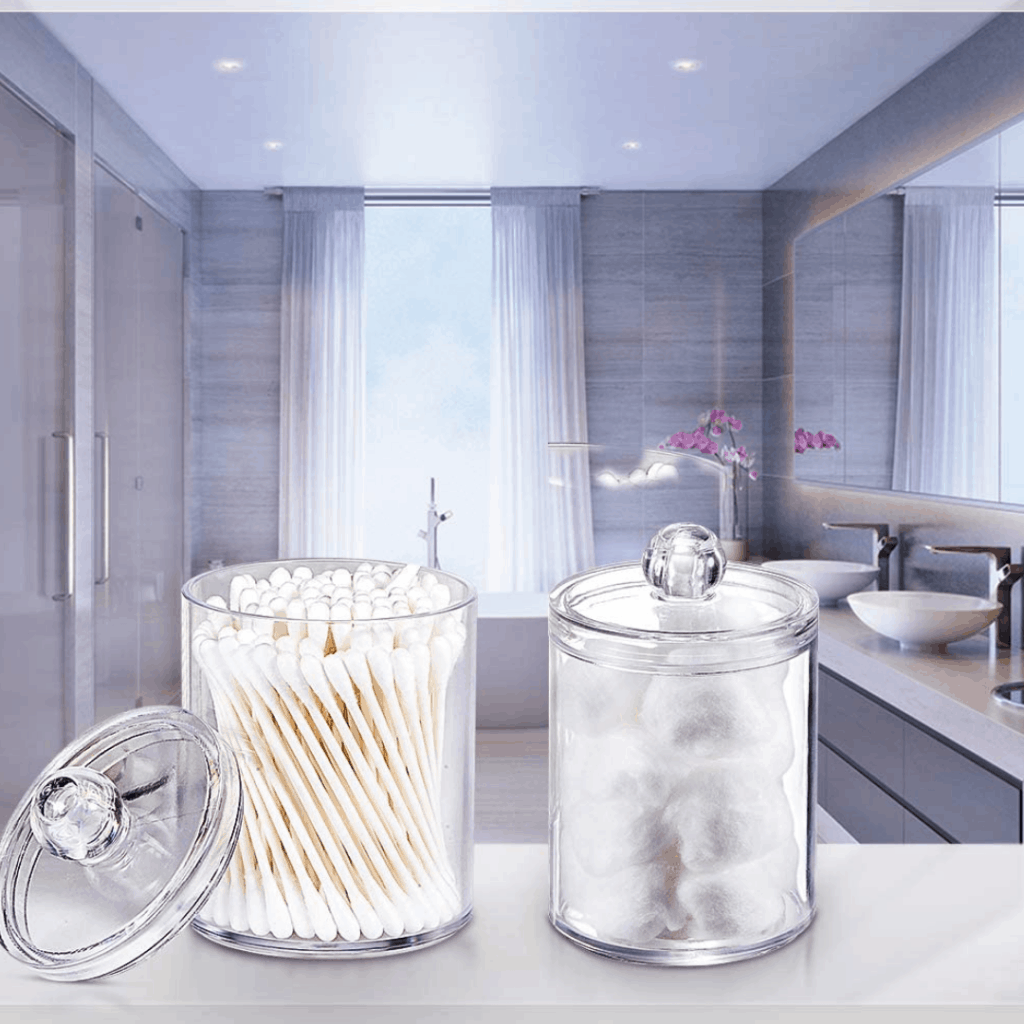 Metal
Finally, use metal throughout your room! Your dresser knobs, miniature figurines, picture frames, doorknobs, hinges, and candleholders could all be the stunning metal you've chosen to accent your room. For white and light color schemes, black/oil-rubbed bronze metal is stunning. And finally, for darker color schemes, golds and silvers/satin nickels make the space pop.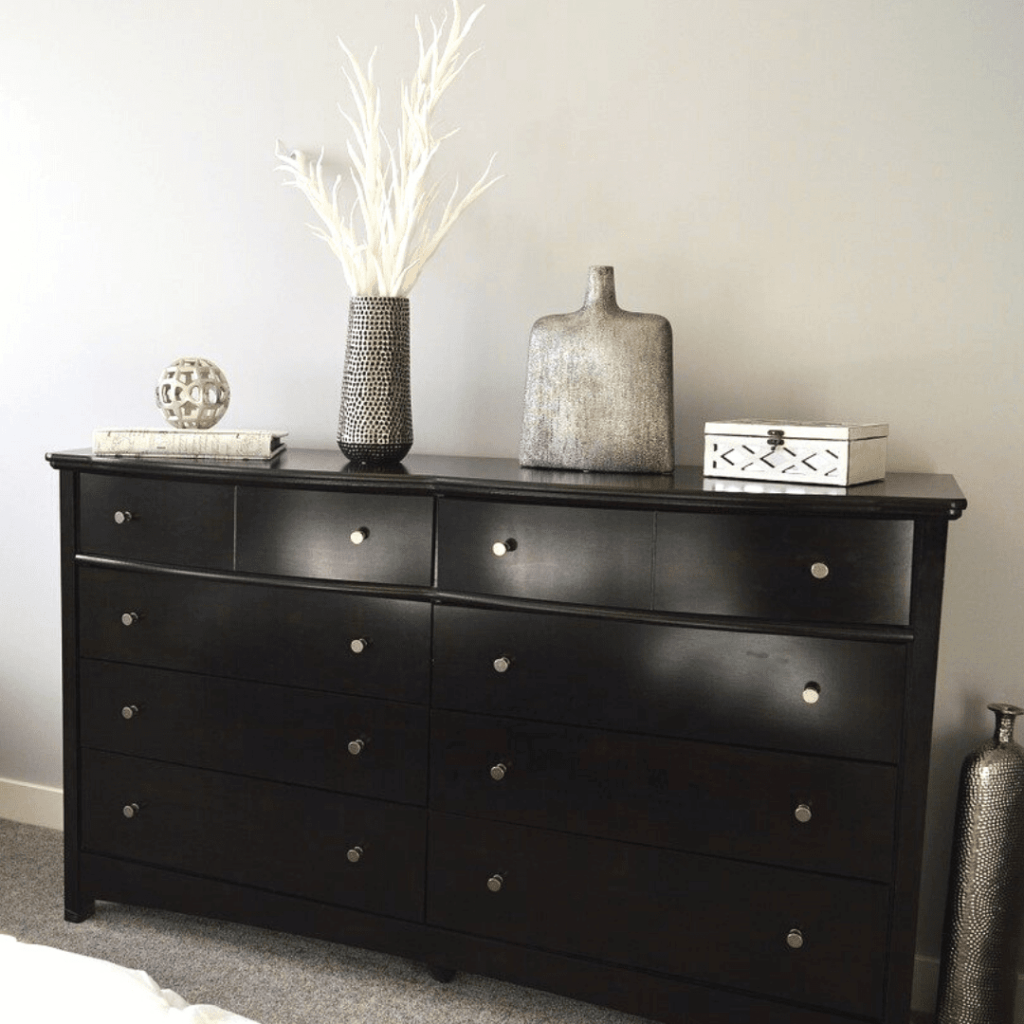 Replacing your dresser knobs with new, metal ones is an excellent small bedroom design idea on a budget! You can get inexpensive knobs that will completely update and modernize your dresser for less than $20.
Also, adding a fresh coat of paint to your dresser can really change the feel of your space as well. You can check out my post for how to paint your bathroom cabinets like a pro over here; I know it's not talking about a dresser, but the way you go about stripping down and refinishing your dresser is the same steps as a bathroom cabinet!
Third, Decorate In 3's
The next easy idea on this list of small bedroom decorating ideas on a budget is to decorate in 3's. (This tip is super budget-friendly because it doesn't cost you anything! It's just a decor positioning tip!)
You want to decorate in 3's on shelves, desks, and dressers. (This is especially beneficial if you use 3 items of differing heights.) Three items of differing heights give a nice staggered look that your eyes will appreciate.
For example, I love doing this with candlesticks; take 3 candlesticks of varying heights and put them in a triangle formation.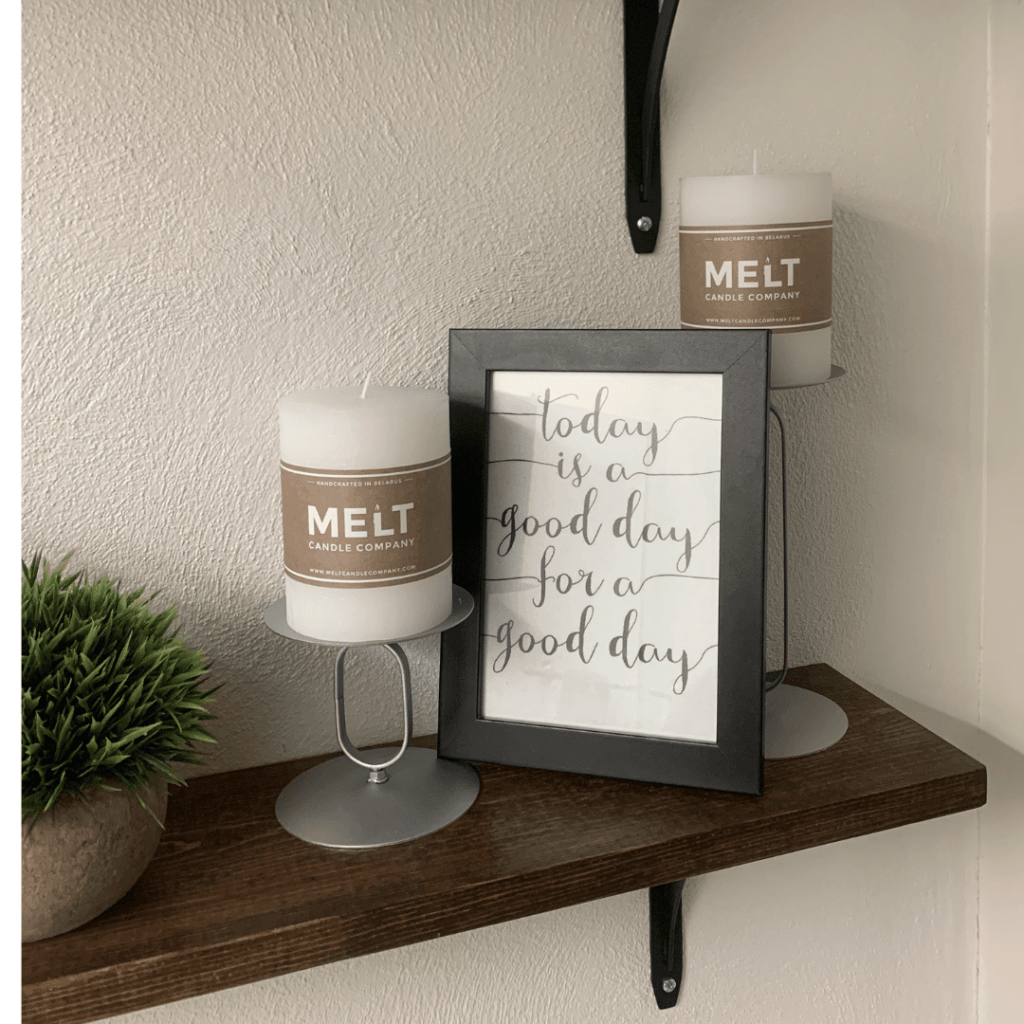 Or even better, take 3 different items (with different colors and textures) like a candlestick, a plant, and a small, metal figurine and put them in a triangle formation for a beautiful decoration on a shelf.
Wow, that decorating idea was easy! I promise you, it will make a HUGE difference to the feel of your room though!
This article from the Spruce shares some other awesome ways to style open shelving.
Fourth, Use Plants To Bring Life To Your Space
The next idea on this list of small bedroom decorating ideas on a budget involves plants. A great way to easily add more color, a different texture, and another item that looks awesome being decorated in 3's is to add plants to your room!
Now I know exactly what you're thinking, "But, Christine, I don't want to have to take care of a plant, I'll kill it!". Or maybe you're not thinking that… I guess I'm speaking from experience because that's exactly what I think whenever I decide I want to add another plant to one of my rooms I'm decorating haha!
It's okay, I'll let you in on my little secret – I use fake plants! I have a hard time remembering to feed myself sometimes, let alone a little, helpless plant that can't tell me when I'm literally killing it.
So fake plants like these cute, little ones from Amazon are my go-to. They look just as real as actual plants (and are about as expensive in a lot of cases). Yet, I don't have to think about them except occasionally dusting them off when I'm cleaning.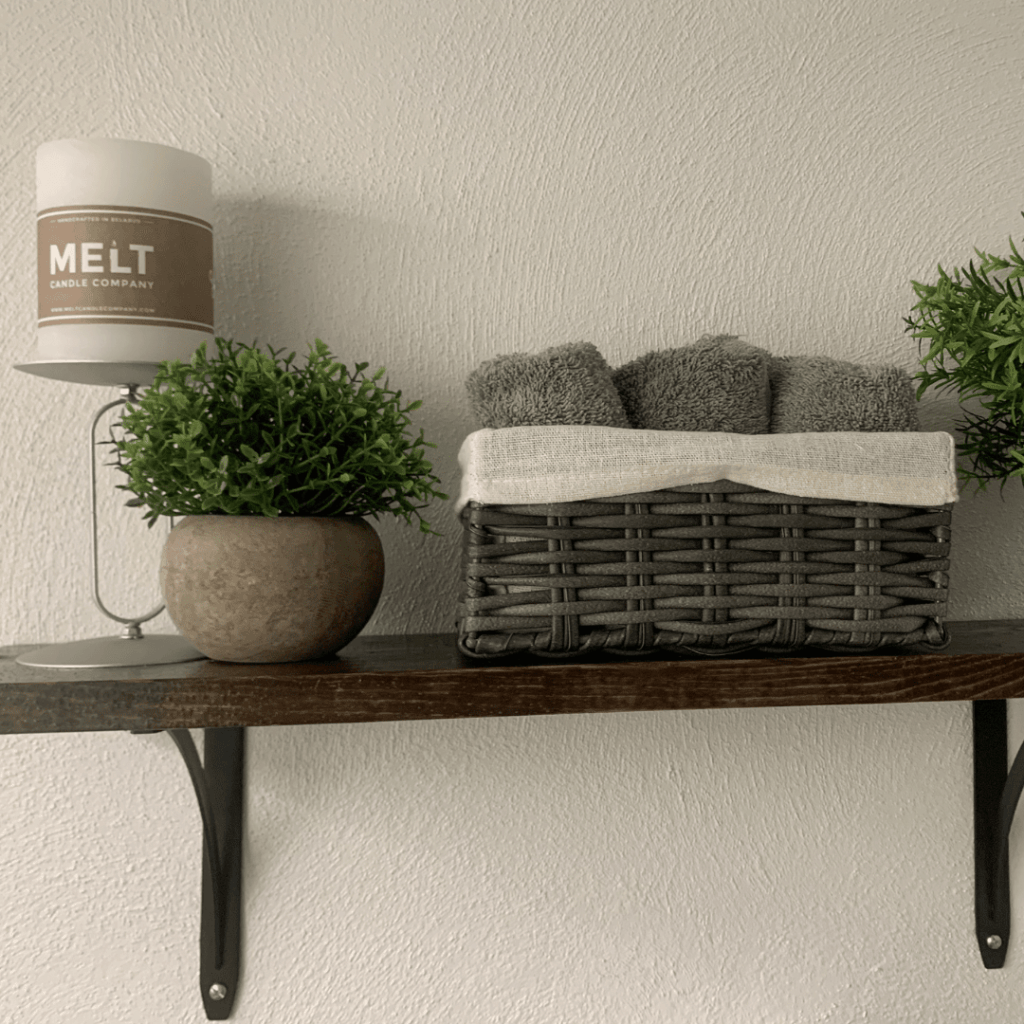 There are also some real plants that thrive in low-light settings and prefer to be neglected (my kinda plants haha). They look beautiful in your home, while also giving you some good health benefits. (You definitely need these to transform your room into your stress-free oasis).
Plants That Thrive In Low-Light
A few of these plants include
Snake plants
English and Algerian ivies
ZZ plants
Maidenhair ferns
Dieffenbachia
Peace lilies
Spider plants
Cast-iron plants
Free Ways To Add Real Plants To Your Room
If new plants (fake or real) aren't in the budget at the moment, then think about going outside and "picking" some decor pieces. In the fall, a few branches with some colorful orangey-red leaves in a glass vase are gorgeous decor pieces that last a while.
Even bare branches in a glass vase are gorgeous textural pieces as well!
In the spring and summer, you might be able to find fresh flowers or branches with fresh green leaves. These would also look stunning in an empty vase on your new wood shelves or dressers.
Kristen McGowen mentions decorating with real (free!) plants in this video and shares other fabulous home decorating tips!
Fifth, Maximize Your Space By Using The Walls
The next idea on our list of small bedroom decorating ideas on a budget involves your walls. Your walls give you so much extra space to decorate and clear up clutter; so let's use them!
The easiest and best place to start is your TV. Make your TV appear like wall decor and open up space on your dresser or table by mounting it to the wall. The cables can be easily hidden in some PVC attached to your wall and painted the same color to blend in.
The Best TV Mount That's Totally Worth Your Money
Recently, we wanted to mount our own TV over our fireplace to free up space in our small living room. However, our fireplace sits at an angle to the room, so most of the couch seats can only see the TV from an angle.
It quickly became annoying, and there was no other way to reposition the couch. So we decided to invest in a fairly expensive ($80) TV mount that only tilted up and down. (Yeah, I don't know what we were thinking either. That bad boy definitely needs to swivel.)
So my dad talked us into a swiveling (left and right) and tilting (up and down) TV mount. Much to our delighted surprise, this much better TV mount from Amazon was half the price as the other and fit our needs much better! So we bought two; one for the living room and one for our small bedroom. Best. TV. Mount. Purchase. Ever.
Look at how much better our view is from the couch now.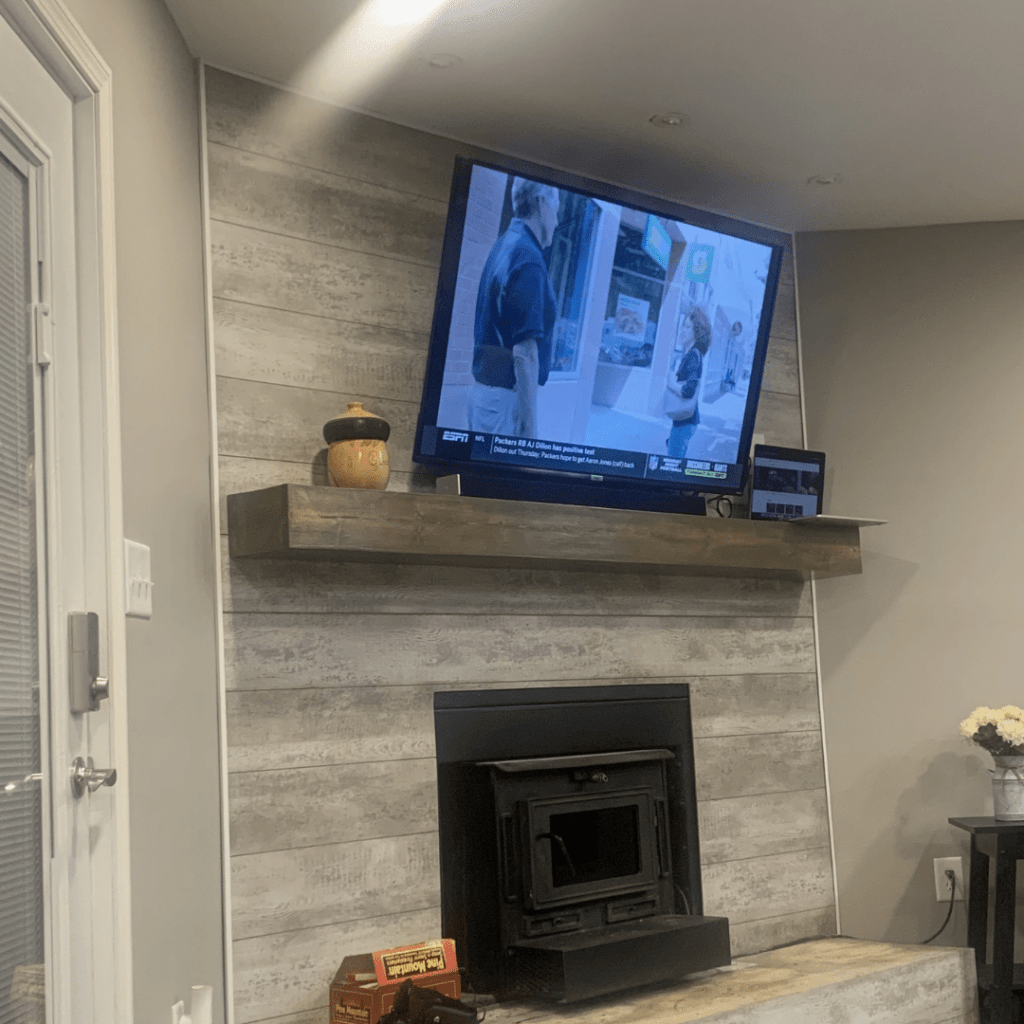 Other Ways To Maximize Your Space
After that, you can add shelving and decorate using the tips above to make your room look put together and beautiful.
In addition, you can hang mirrors, picture frames, and light fixtures, so you can keep your desk and dressers free.
Lastly, move all of your toothbrushes, makeup, etc into a drawer or your medicine cabinet to keep the countertops clear.
If you do all of these ideas, you'll have way more space to work with, and your room will appear larger with the tops of desks, dressers, and counters cleared off. And a larger room always feels more calming than a cramped one!
Also, all of these ideas are free or relatively cheap to accomplish, and they make a HUGE impact in a small bedroom!
Sixth, Don't Create Clutter (Less Is More)
The next idea on our list of small bedroom decorating ideas on a budget involves the question of "how much". When I say "don't create clutter", I'm referring to the decorations you're adding to your room. You definitely can "over-decorate". 
By putting too many pictures, shelves, and other items on the walls and desk/dresser/countertops, your eyes become overwhelmed, and the room feels smaller.
On top of all that, your room makeover will be super budget-friendly! No, you do not need to go out and drop hundreds of dollars to decorate your room. You probably already have nice decorative pieces around your house. Now is the time to place them in a more appealing way to complement your new room.
And if it doesn't complement it, get rid of it!
Less is definitely more, so choose a few key accent pieces. For example, bold shelving on one wall, and a mirror and a few picture frames on another wall will look amazing and will make your wallet not hurt as much since you're only adding a few things to your room.
Some plants like the ones we listed above in the corner of your room or on your shelves and books on top of your nightstand would look fantastic as well.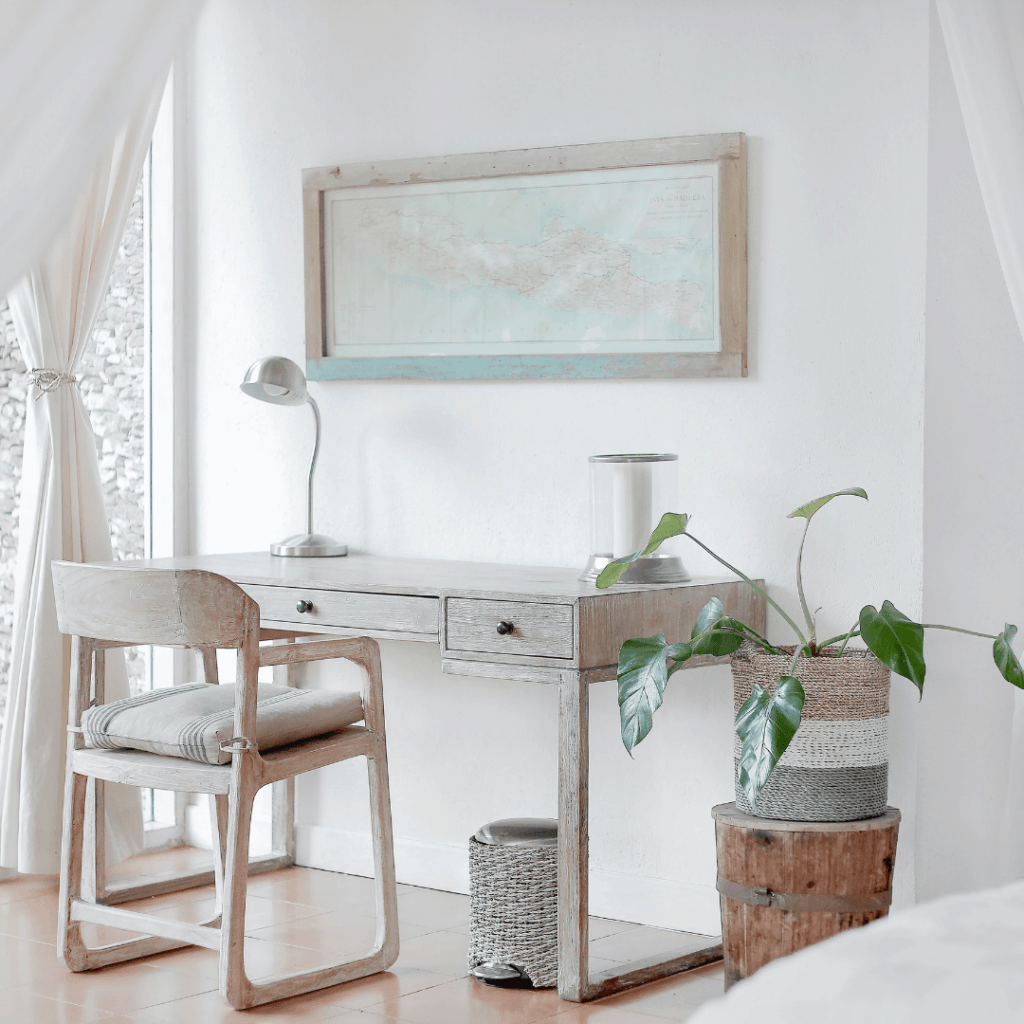 When in doubt, keep it simple and airy, and your room will always feel like an oasis or you.
Seventh, Use Mirrors To Enlarge Your Room
The next idea on our list of small bedroom decorating ideas on a budget touches back on the mirror situation we discussed early. This is because it is very important in the process of opening up your small bedroom! In addition to not over-decorating, mirrors are an amazing way to make your room appear larger.
If you've ever been in a room with a large mirror that was suddenly taken down for some reason, you'll understand what I'm talking about! The room will appear half the size it felt like it was with the large mirror up because of the missing reflection.
Because of this illusion, I love to add mirrors to the end of hallways to elongate the space!
I know decorative mirrors can be a little pricey, and we are talking about budget-friendly ways to decorate our small bedroom. But there is an awesome hack to get a large mirror for a decent price; buy unframed mirrors and frame them yourself!
A simple unframed mirror from a home improvement store like Home Depot is a fraction of the price of the same size mirror with a frame. Buy the unframed one and DIY your own frame using any color and design you want.
Eighth, Use Decorative Bins or Baskets To Hide Clutter
The last idea on our list of small bedroom decorating ideas on a budget is to hide yo' clutter! Nothing makes a room look more chaotic than a clutter-filled, unorganized mess.
There are so many different organization bins and baskets out there; select a few that match your color scheme and textures and roll with it.
I love wicker baskets, clear apothecary jars, and plastic white containers for open storage and storage behind doors. They make everything look so nice and neat, and are so easy to match several different color schemes.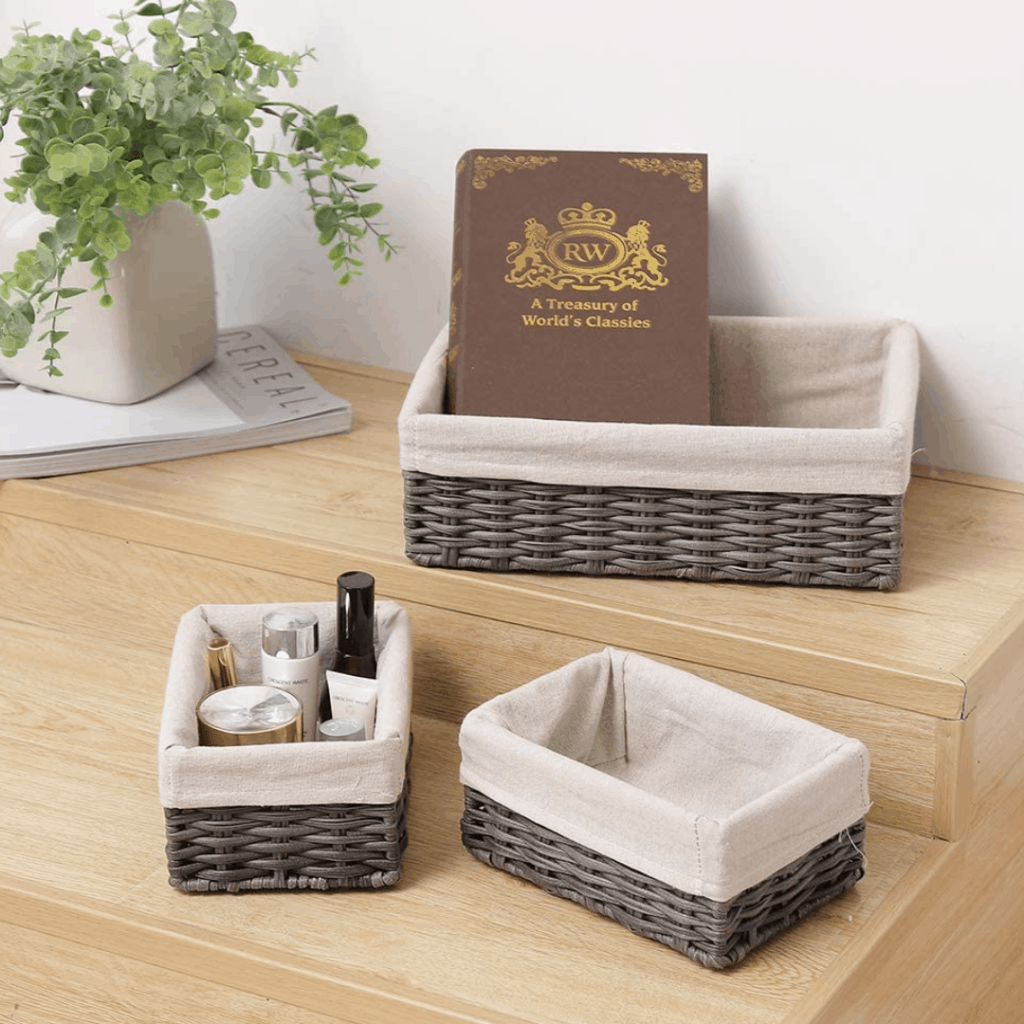 The less cluttery your space is, the more clear-headed you'll feel. Moreover, the less stuff around, the more your room with feel like a stress-free oasis that you won't be able to walk into.
Final Thoughts On Easy Small Bedroom Decorating Ideas On A Budget
There you have it! Those are the 8 easy small bedroom decorating ideas on a budget that you need to decorate your room and turn into your personal oasis. Take the time to re-read each of these tips and write down your exact game plan to decorate your room. 
I promise you'll thank yourself later for taking the time to transform your space into one you and your family will absolutely love!
Catch you in my next post!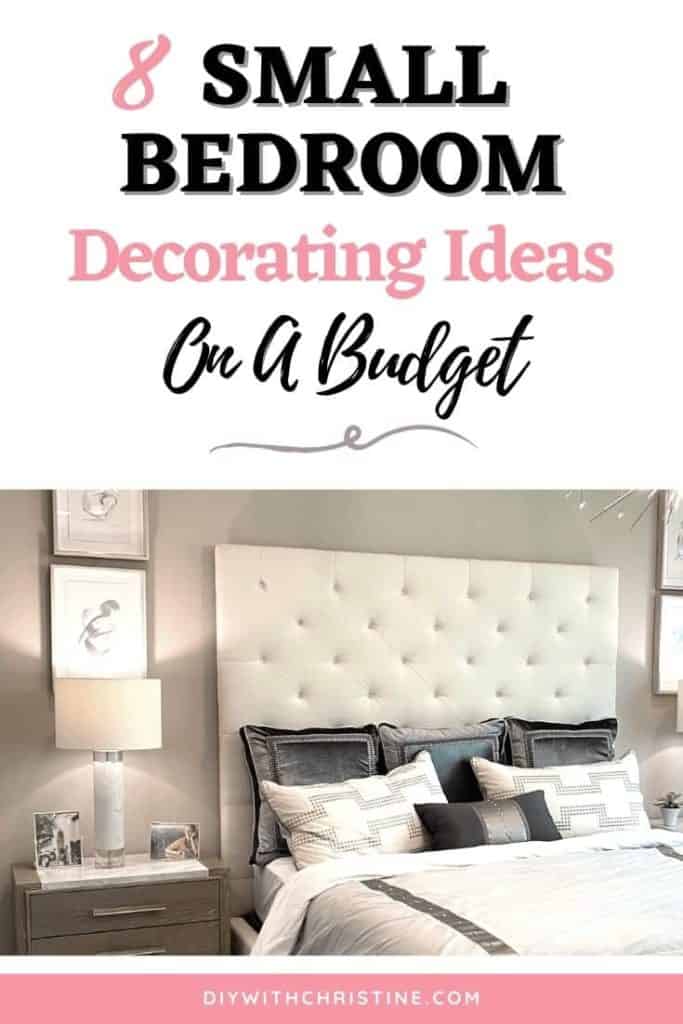 ---
Related Decorating & Home Renovation Articles
---
8 Easy Small Bedroom Decorating Ideas On A Budget
DIY With Christine is a participant in the Amazon Services LLC Associates Program, an affiliate advertising program designed to provide a means for sites to earn advertising fees by advertising and linking to Amazon.com.