*My posts may contain affiliate links, which means I may receive a small commission, at no cost to you, if you make a purchase through a link! Thank you for supporting my website!*
Last updated on February 20th, 2023 at 04:36 pm
Can A Kitchen Island Be Movable? Find Out Here!
Wondering if you should put a fixed or movable kitchen island in your home? Well, look no further because I have your answer!
Whenever space allows, a fixed kitchen island is better than a movable kitchen island because it adds extra seating, additional storage and room for appliances, more countertop space, and more value to the home.
Now that we've got the basics out of the way, let's break into the details further so you can better understand the differences between movable and fixed kitchen islands.
Let's dive in!
Quick Navigation: Fixed Vs Movable Kitchen Islands
Fixed Kitchen Island Benefits
There are several benefits to fixed kitchen islands.
Benefit One: Fixed Kitchen Islands Add More Value To The Home
Since fixed kitchen islands are secured to the ground and cannot be moved without disassembling them, they stay with the house during a sale. The opposite is true with movable kitchen islands.
Movable kitchen islands are more like furniture pieces rather than cabinets that come with the house. They can be easily removed from the house, so they don't add much value to a home.
Most homeowners find a great amount of value in fixed kitchen islands because of the extra storage, seating, and cooking space they provide. If you want to know more about whether kitchen islands are worth it or not, check out my other article here.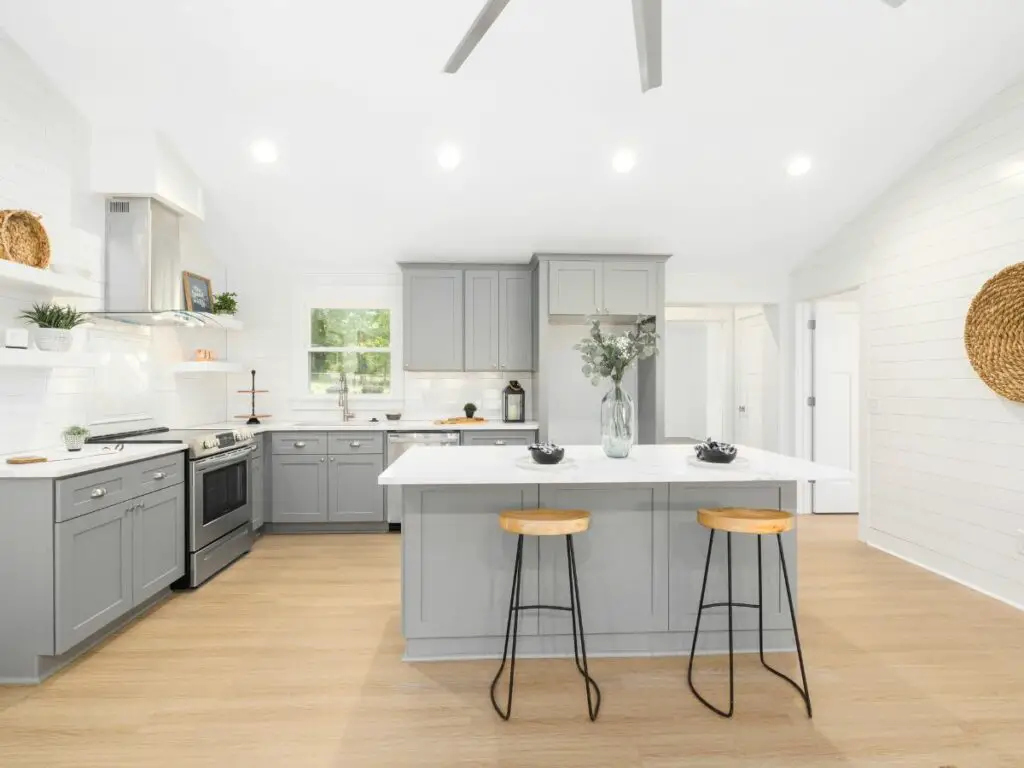 Benefit Two: Fixed Kitchen Islands Add Extra Seating
While movable kitchen islands can provide extra seating, many of them do not because they are made for smaller kitchens that just don't have room for seating.
This gives the nod to fixed kitchen islands because they almost always provide extra seating on at least one side.
While the extra seating might not always be used, it is extremely nice to have the option to enjoy a meal in the kitchen where the mess can be contained. I don't have a dining table in my home yet (I probably won't until I have children), so I eat my lunch at the kitchen island every day.
If you are trying to decide whether you need a dining table and a kitchen island, check out my other article here.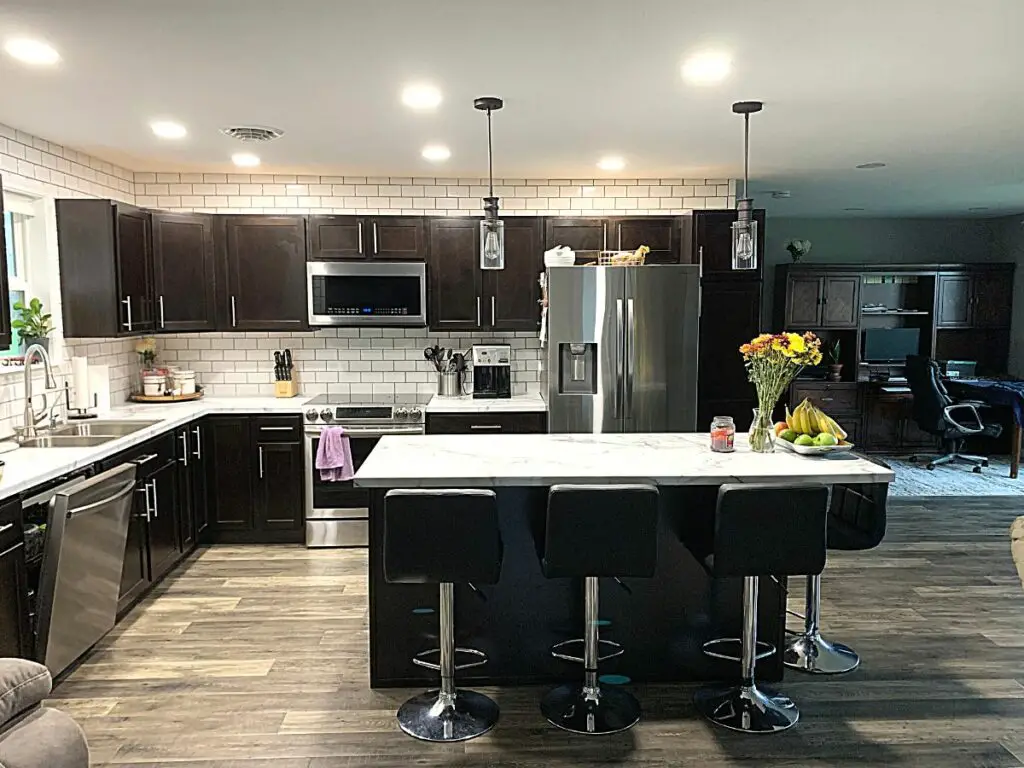 Benefit Three: Fixed Kitchen Islands Can Have Sinks & Appliances Installed In Them
If your kitchen is on the smaller side and you need more places to install a sink, dishwasher, stove, or microwave, then a fixed kitchen island can be the perfect solution.
For a fixed kitchen island to be up to code, it has to have electricity run to it and it is optional for plumbing to be run to it. Since these electrical and water supply lines can't be moved around, a fixed kitchen island that can't move is the perfect scenario for them.
Movable kitchen islands won't have electricity or water supply lines run to them (because they aren't permanent), so none of these appliances can be used on them.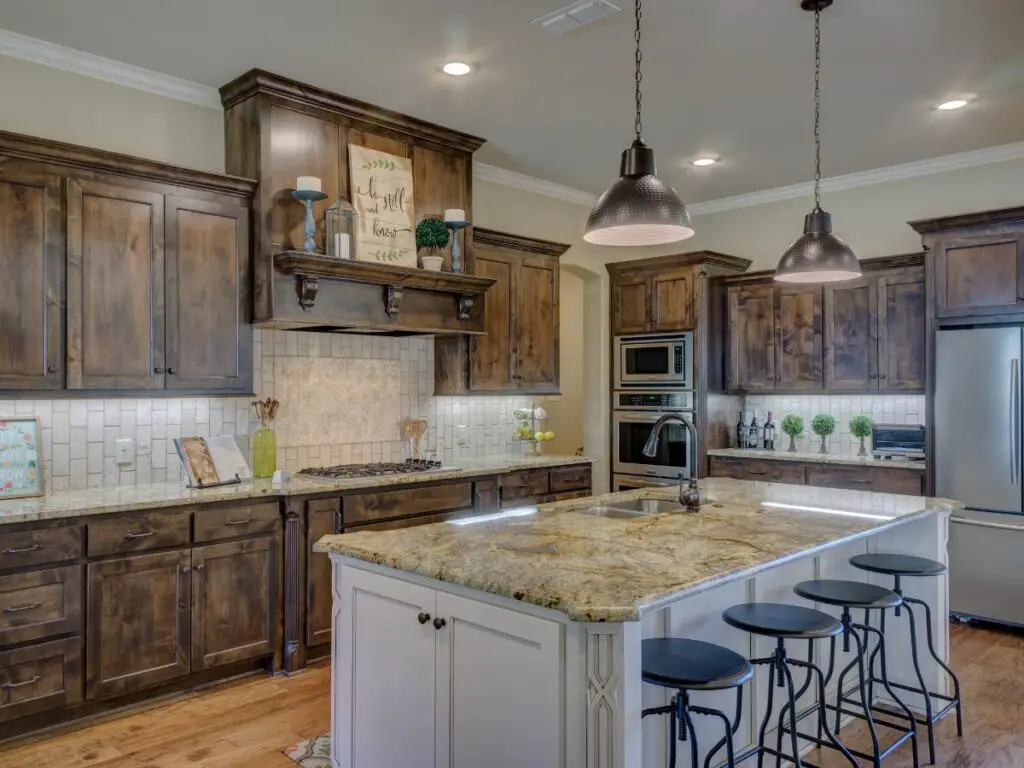 Benefit Four: Fixed Kitchen Islands Usually Have More Countertop Space
Movable kitchen islands typically are made for smaller kitchens, so the amount of countertop space they provide usually is on the smaller end compared to fixed kitchen islands.
Since fixed kitchen islands can be a customizable size to fit your kitchen space perfectly, you can have a much larger countertop installed in your home.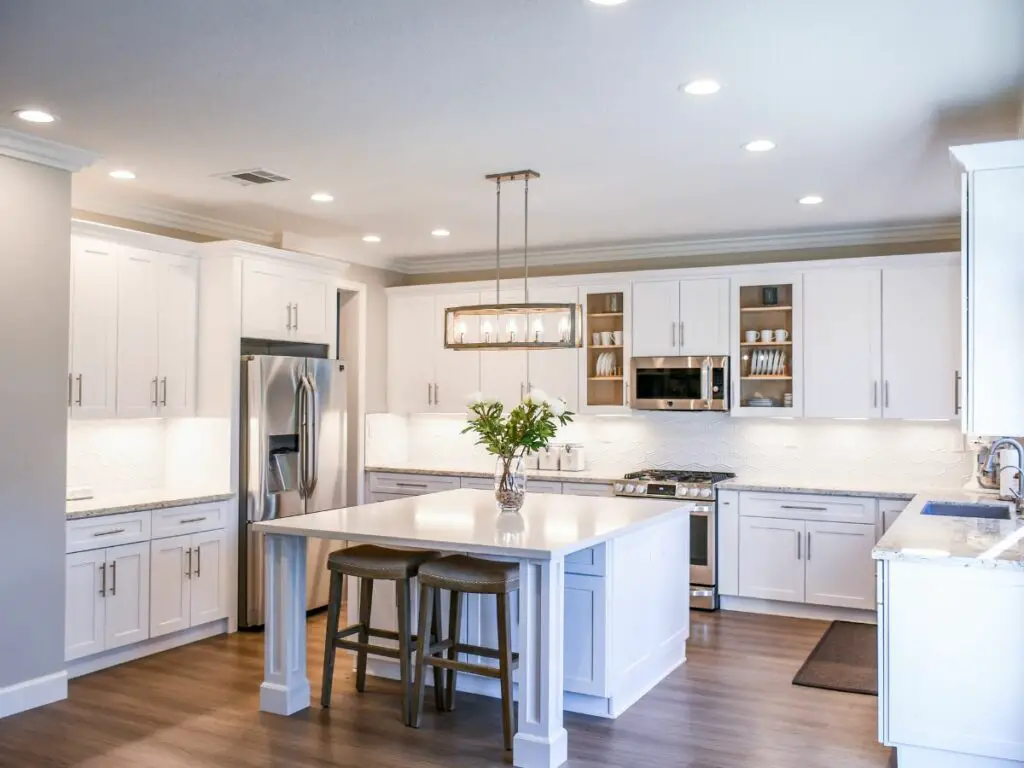 Benefit Five: Fixed Kitchen Islands Can't Be Knocked Over
This one might be obvious, but since fixed kitchen islands are permanently attached to the ground, they cannot be knocked over.
If you have small children or large pets (or even some clumsy adults) in your home, it is possible for a movable kitchen island to be knocked over. This can result in messy spills, damage to the home, and (worst case) harm to small children or pets if the island lands on top of them.
With fixed kitchen islands, you just don't have this risk because they can't be knocked over.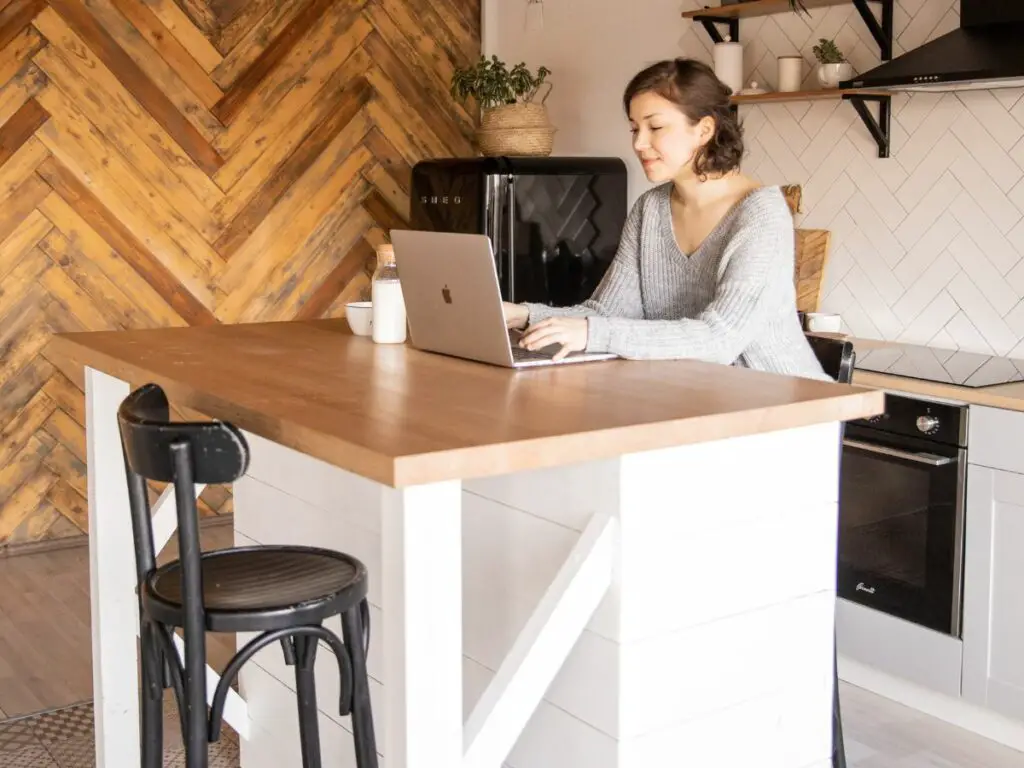 ---
Related Kitchen Island Articles
---
Movable Kitchen Island Benefits
While fixed kitchen islands do have movable kitchen islands beat, there are still some benefits and specific circumstances to when having a movable kitchen island can make more sense.
Benefit One: Movable Kitchen Islands Are More Convenient For Small Kitchens
The main benefit of movable kitchen islands is their size. They are designed specifically for the tiny kitchen that just does not have enough room for a permanent kitchen island.
Since movable islands can be moved, they can be slid out of the way when not in use and slid back into the center of the kitchen when needed.
This is a great way to add much-needed additional countertop and storage space to a tiny kitchen without taking up too much room.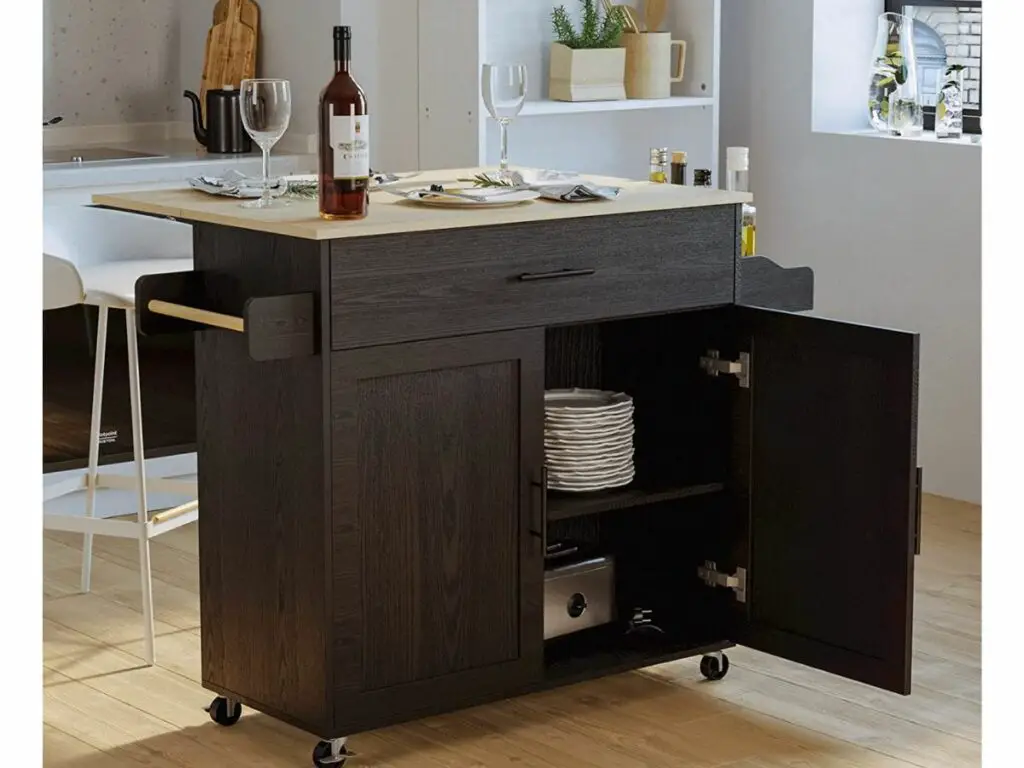 Benefit Two: Movable Kitchen Islands Can Be Swapped Out Or Updated More Easily
Movable kitchen islands can also easily be swapped out like furniture pieces whenever the style needs to be updated or you move to a different house where the dimensions of the island need to be slightly different.
Fixed kitchen islands are what they are when you purchase a home and are much more costly to update, resize, or change the layout if you don't like what the previous owner/original builder picked.
Other FAQs About Movable Kitchen Islands
Here are some other frequently asked questions about kitchen islands to help you choose which type is best for your kitchen!
How Big Does A Kitchen Have To Be To Have A Fixed Kitchen Island?
The size of your kitchen determines if you can have a fixed kitchen island or not. To see if your kitchen is big enough for a fixed island, check out my other article here.
How Do You Make A Kitchen Island?
Kitchen islands are actually simple to make out of base cabinets and a countertop. For a full picture tutorial on how to make a kitchen island, check out my other article here.
Final Thoughts On Movable Kitchen Islands
There you have it!
Whether you go with a movable or fixed kitchen island really comes down to the size of your kitchen and the size of your budget.
If you aren't sure if a kitchen island is right for your home, then I recommend trying out a movable kitchen island for a year or two to see if you like having one in your kitchen or not.
If you do, then you always can upgrade to a fixed kitchen island later.
Hopefully, this guide helped you understand the differences between fixed and movable kitchen islands so you can decide what's best for your family's needs.
Catch you in my next post!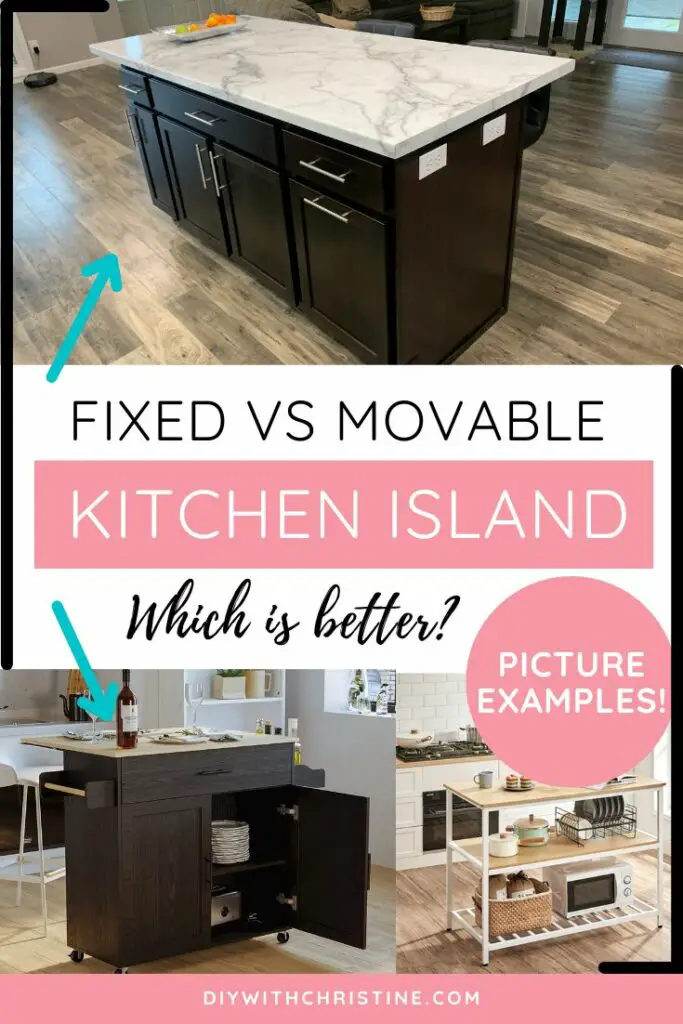 ---
Related Kitchen Island Articles
---
Fixed Vs Movable Kitchen Island: Which Is Better?
DIY With Christine is a participant in the Amazon Services LLC Associates Program, an affiliate advertising program designed to provide a means for sites to earn advertising fees by advertising and linking to Amazon.com.