*My posts may contain affiliate links, which means I may receive a small commission, at no cost to you, if you make a purchase through a link! Thank you for supporting my website!*
Last updated on January 18th, 2023 at 06:01 pm
Does A Kitchen Island Add Value To Your Home?
Wondering if adding a kitchen island will add value to your home? Well, look no further because I have your answer!
Small to mid-sized kitchen islands can add value by providing extra storage space, a larger work surface, and an additional area to eat around. Islands also add resale value because you can recoup on average 78% of the cost to install.
Now that we've got that covered, let's break the pros and cons of a kitchen island down further, so you can decide whether installing one in your home is worth it or not.
Let's dive in!
Quick Navigation: Value Of Kitchen Islands
Advantages of Kitchen Islands
Kitchen islands do have some advantages, especially if you love them or would love to own a home with one.
It's important to note that none of these advantages are really advantages if you remodel your kitchen to include an island and your kitchen is too small.
(To help you determine if your kitchen is big enough for an island, check out my article here.)
The benefits of a kitchen island are:
Extra eating space
Extra storage options
Extra counter space
Room for an additional appliance
There is a level of variety
The extra eating space is one of the most obvious advantages of a kitchen island, especially if it's a sizable island. 
Islands help you keep the "food mess" in the kitchen and help make quick meals easier to clean up (because the island is right next to the sink!).
Storage options are a must in a busy kitchen and even more important if you are a serious cooking aficionado. Everything has its place and there is a place for everything.
Kitchen islands offer excellent, additional storage opportunities for the organized mind. 
Counter space is essential as well. In fact, if you spend a lot of time in the kitchen, the kitsch island will most likely be your primary workstation.
Lastly, there are a variety of ideas to go off of, if you're renovating your kitchen or having your home built.
Look at the space that you have to work with, understand the advisable distance between the island and everything else is a minimum of 42 inches, and choose your island shape.
That's right, no one shape is recommended and you can have a kitchen island built that adheres to the overall flow of your kitchen space.
Or you can build one yourself for a fraction of the cost of a professionally installed one. Check out my full tutorial here on how to make a kitchen island out of base cabinets.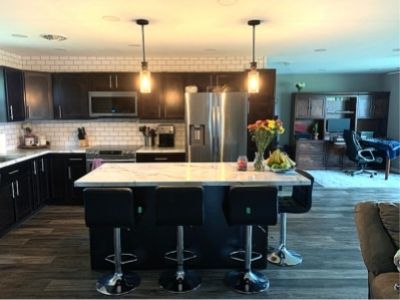 ---
Related Kitchen Island Articles
---
Disadvantages of Kitchen Islands
The thing about a kitchen island is that you have to want to use it. If you don't have any desire to use it then it's nothing but in the way.
The disadvantages of a kitchen island are:
Takes up space
Can disrupt traffic
Can cause visual clutter
Not a kitchen necessity
There's no arguing the fact that a kitchen island takes up a lot of space, especially if it is too large for the size of your kitchen and creates a huge obstacle, rather than an efficient and functional addition. 
Whether you enjoy the addition or not, you'll also notice how it can disrupt traffic through the kitchen. If you're installing a kitchen island during a renovation, that's something you want to strongly consider.
Unless you really stay on top of cleaning and organizing, the kitchen island will be a magnet for everything, including mail, paperwork, kitchen items, utensils, and everything that your family might want to toss on there as they walk by.
Luckily, kitchen islands aren't a necessity in a household, so not having one will not make your home less valuable.
Of course, islands are functional and most people would agree that they would prefer having an island over not having one.
However, an island is only truly functional if it adds to the space, and an improperly sized one will quickly detract from the functionality of the space.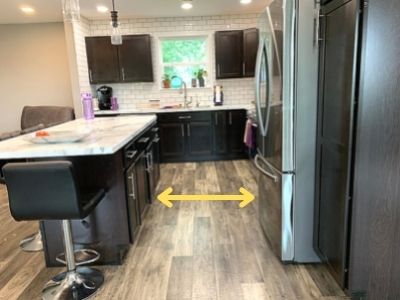 When A Kitchen Island Is Worth It (And When It Is Not)
Now that you've seen the benefits and drawbacks of having a kitchen island, you might still be wondering if it's worth installing one in your kitchen.
A kitchen island is worth it when:
Your kitchen is big enough to have at least a 4 ft by 3 ft island
You need or want extra storage or countertop space
You want another eating area in the kitchen
A kitchen island is not worth it when:
Your kitchen isn't big enough
You are installing one solely to add resale value to your home (might not be worth the level of disruption to your life to not be able to recoup the entire cost of a professionally installed one)
These guidelines are not a one-size-fits-all approach, but they should help guide you in the right direction to make a decision that will best benefit your home.
Other FAQs About Kitchen Island Value
Here are some other frequently asked questions about whether kitchen islands are worth it or not to help you decide for your home!
Where Should An Island Be Placed In A Kitchen?
You want to make sure that your kitchen island is placed a minimum of 42 inches away from everything on all sides. You also need to make sure it's close enough so that it's easy to clean, run appliances, and transfer things to and from the dinner table.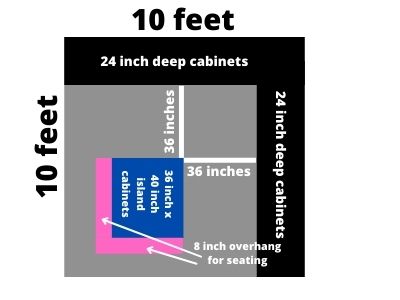 Do Kitchen Islands Add Value?
Most cost vs value reports indicate that adding a small to mid-sized kitchen island to your kitchen will raise the overall value of your home enough that if you sold the home, you would get your investment back.
Do You Need A Kitchen Table If You Have A Kitchen Island?
Not necessarily or, at least not in the kitchen. If you want to have an additional dining table, it should be in a separate room from your kitchen island.
Of course, the kitchen island can serve as a dining table as well. Also, if you have a truly enormous kitchen, then a table may not be a bad idea after all.
Check out my article on the pros and cons of using a kitchen island as a dining table to help you make your decision.
How To Make A Simple Kitchen Island Out Of Base Cabinets
We personally find our kitchen island to be one of the most used items in our home, so ours has brought us a ton of personal value.
Plus, we installed the entire thing for less than $2,000. To see how we did that, check out my tutorial here.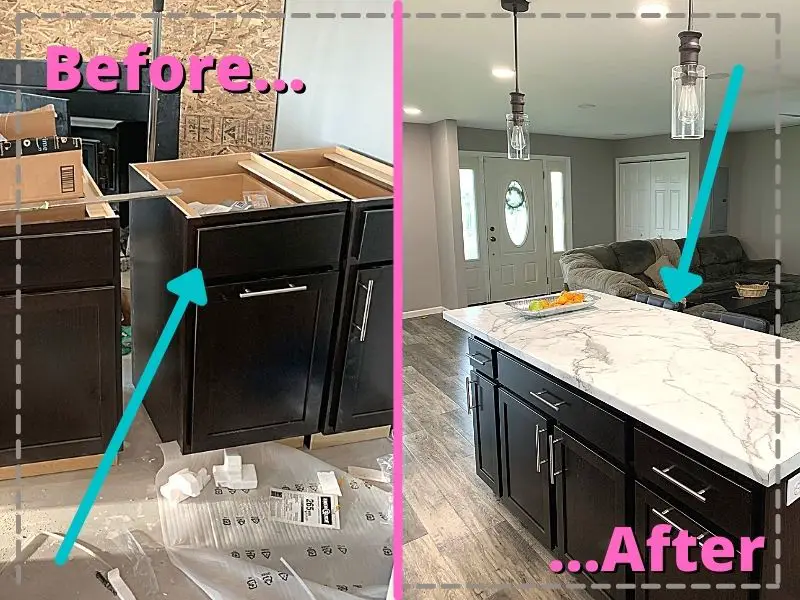 Final Thoughts On Kitchen Island Value
There you have it!
Kitchen islands have a lot of pros and a lot of cons.
It's important to know exactly what you want and how you want it; that way, you eliminate most of the cons before you even get started.
Catch you in my next post!
The Best Kitchen Tools & Products I've Reviewed
Ravinte Cabinet Handle Installation Template (For Doors & Drawers)
This is my all-time favorite handle installation template because it has two templates (one for drawers and one for doors) with multiple pull sizes & knob placements! These templates make installing cabinet handles a breeze because you always know your handles will be installed in the same spot on all of your drawers and doors. The kit also comes with a drill bit so you can guarantee you're using the correct size. I used this template on my entire kitchen and both bathrooms to cut the installation time in half. You can find this hardware template here on Amazon.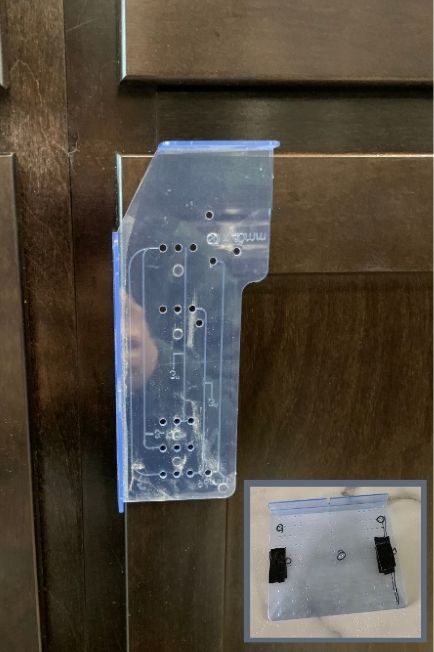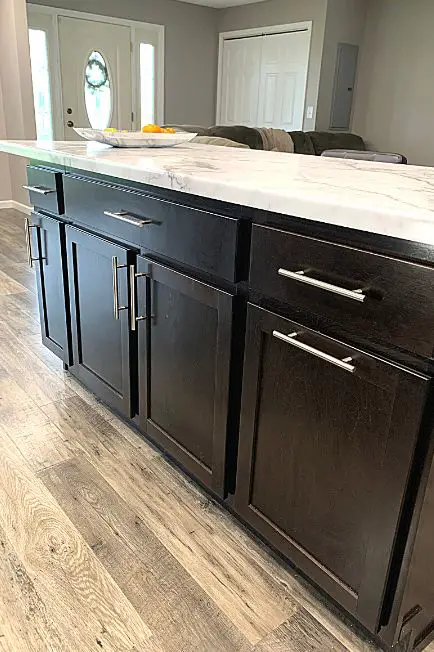 Franklin Brass 5-1/16 Inch (128mm) Center Bar Pull (Stainless Steel)
If you want to immediately modernize your kitchen island, then these cabinet pulls are a must. They are heavy-duty feeling, durable, easy to install, and are a large size for a great price. We put these pulls on all of our kitchen and island doors and drawers along with our bathroom doors and drawers. You can find these gorgeous cabinet pulls here on Amazon.
P.S. Use the hardware installation template I mentioned above to install these new pulls in record time!
---
Related Kitchen Island Articles
---
Is A Kitchen Island Worth It? (Pros & Cons List!)
DIY With Christine is a participant in the Amazon Services LLC Associates Program, an affiliate advertising program designed to provide a means for sites to earn advertising fees by advertising and linking to Amazon.com.