*My posts may contain affiliate links, which means I may receive a small commission, at no cost to you, if you make a purchase through a link! Thank you for supporting my website!*
Last updated on October 14th, 2022 at 01:33 pm
How To Install Laminate Transition Strips In Doorways
Installing new laminate flooring and wondering where to put the transition strip in the doorway? I've got you covered! Here is where you should place transition strips in a doorway:
Transition strips should be placed in the center of the door opening where the opening is the smallest. In this placement, the transition strip will not impact the door's ability to close regardless of which way the door swings.
Pictures are always more useful in my opinion though, so I'll show you exactly where I'm talking about below!
Let's dive in!
Quick Navigation: Laminate Floor Transition Strip Placement
| Subfloor Type | Level Of Difficulty | Time To Complete |
| --- | --- | --- |
| Wood | Easy | 10 minutes |
| Concrete | Medium | 20 minutes |
Where To Place Transition Strips In Doorways
I broke this tutorial up into pictures below to help you figure out exactly where to install transition strips in your doorway.
Step One: Measure Inside Of Doorway
The first step to installing a transition strip in a doorway is to measure the inside of the door opening.
The smallest, center part of the door opening is where you want to measure and place the transition strip because the door will never swing over that area.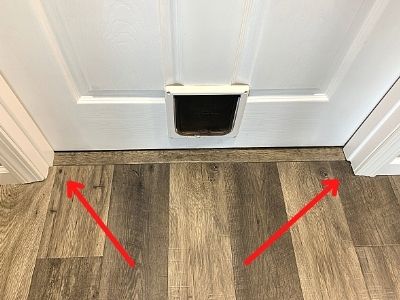 Plus, centering anything in an area is always the most aesthetically pleasing look. Transition strips in doorways are no different.
Once you have that measurement, it's time to move on to the next step.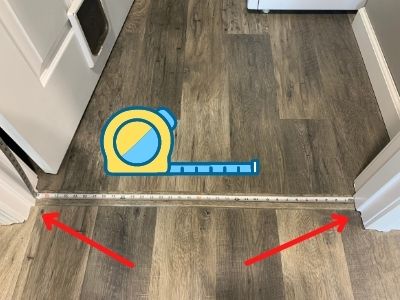 ---
Related Laminate Flooring Articles
---
Step Two: Cut Metal Rail & Screw Into Subfloor
The next step to installing a transition strip in a doorway is to cut the metal rail of the transition strip and screw it into the subfloor.
The easiest way to cut the metal rail is to use a bandsaw. A bandsaw like this one found at Amazon will slice through the metal easily and leave a clean cut.
Take your doorway measurement, make a mark on the metal with a sharpie, and cut away.
After that, it's time to screw the metal rail into the subfloor.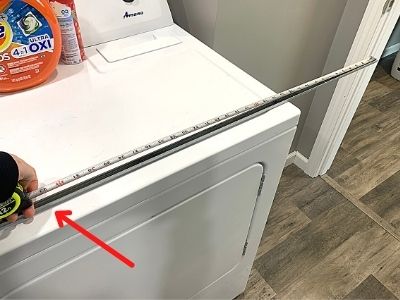 How To Attach Transition Strips To A Wood Subfloor
If you have a wood subfloor, then you're in luck and this process will take 2 seconds.
To attach the metal rail for transition strips into a wood subfloor, use the screws that come with the transition strip, and screw the cut transition strip into the wood subfloor.
That's it!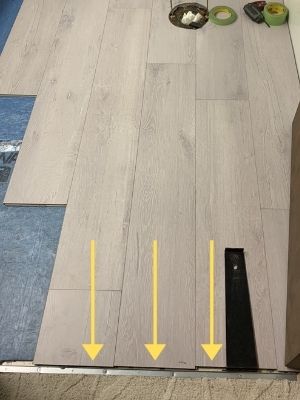 How To Attach Transition Strips To A Concrete Subfloor
If you have a concrete subfloor, then you have a couple more steps.
First, lay the metal rail on the ground and use a sharpie or pencil to mark the spots in the concrete where the screws need to go.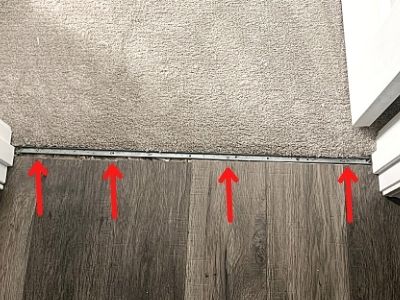 Then, use a masonry drill bit like these bits found at Amazon to drill into the concrete where you marked. This type of drill bit is crucial to cut through the concrete more easily and not damage your power tools.
After all of the holes are drilled, insert the appropriate-sized concrete anchors into the holes. (These anchors will be dependent upon the screw size of your transition strips. The instructions in the package will tell you what size drill bit to use.)
Finally, lay the metal rail back down (lining up the holes on the rail with the holes in the subfloor), and screw the rail into the anchors.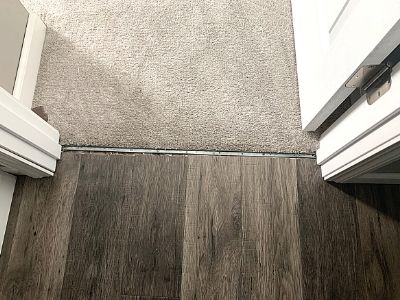 Thankfully, neither installation method is overly difficult. It will definitely make your life easier if you install the rails before installing any laminate floorboards. 
(In our first project, we didn't install the transition strips first, so we had to go back with an oscillating multi-tool to cut back the laminate where we needed it. It was a much more time-consuming project than it needed to be!)
Once the metal part of your transition strip is installed, it's time to move on to the final step.
Step Three: Cut Laminate Strip To Length & Snap Into Metal Rail
The final step to installing a transition strip in a doorway is to cut the top decorative part of the laminate strip and snap it into the metal rail.
You already have your doorway measurement, so all you have to do is make a mark with your pencil on the top decorative part of the strip, and cut it with a circular saw.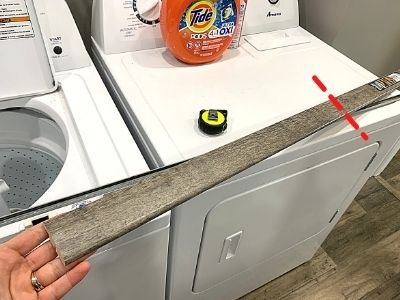 Once it's cut, snap it into the metal rail attached to the ground, and you're done!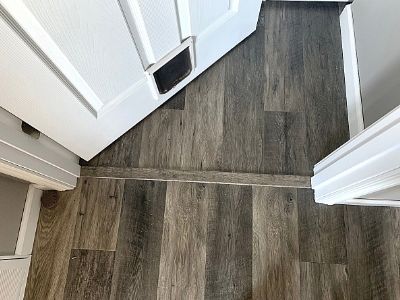 Other FAQs About Transition Strips In Doorways
Here are some other frequently asked questions about transition strips to help you install one in your doorway more easily!
How Much Gap Should A Transition Strip Have?
Transition strips should have a 1/4″ to 3/8″ gap between the metal rail and the edge of laminate flooring. This gap gives laminate flooring room to expand and contract during humidity and temperature fluctuations. The top decorative piece of the transition strip will hide this gap.
What Type Of Transition Strip Do You Need For A Wood Floor To Carpet Transition In Doorway?
The best type of transition trip for a wood floor to carpet transition in a doorway is a reducer. This transition strip is best because it bridges the gap over floors of differing heights. If the carpet is the same height as the laminate flooring, use a T-moulding transition strip instead.
For a list of all of the different laminate flooring edging options and when to use each, check out my article here.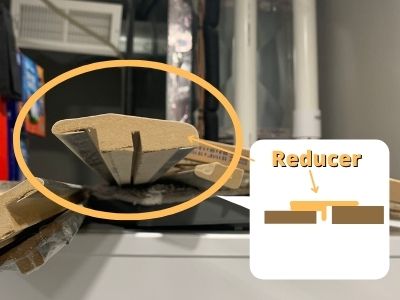 Can You Glue A Transition Strip In Place?
Glue is a bad way to secure transition strips in place because laminate flooring is a floating floor, so it is meant to move. When it does expand and contract, the glue breaks down, and the transition strips pop out of place. Instead, secure in place with screws.
In fact, we tried to do that with one of our transition strips because we have a concrete subfloor, and if the floor isn't perfectly level, it can be a nightmare to install.
The glue job lasted all of a day (pretty much until we walked over it a few times), and the strip is already detached from the subfloor.
Save time and just use the tutorial above to install your transition strips properly. Then you won't have a problem. (We ended up installing them all properly in the end, and just wasted a bunch of time.
Final thoughts On Installing Laminate Floor Transition Strips
There you have it!
Measuring and installing laminate transition strips in doorways is rather simple (especially if you have a wood subfloor).
When in doubt, just shut the door and put the strip on the floor in different places until you decide what spot looks best.
Catch you in my next post!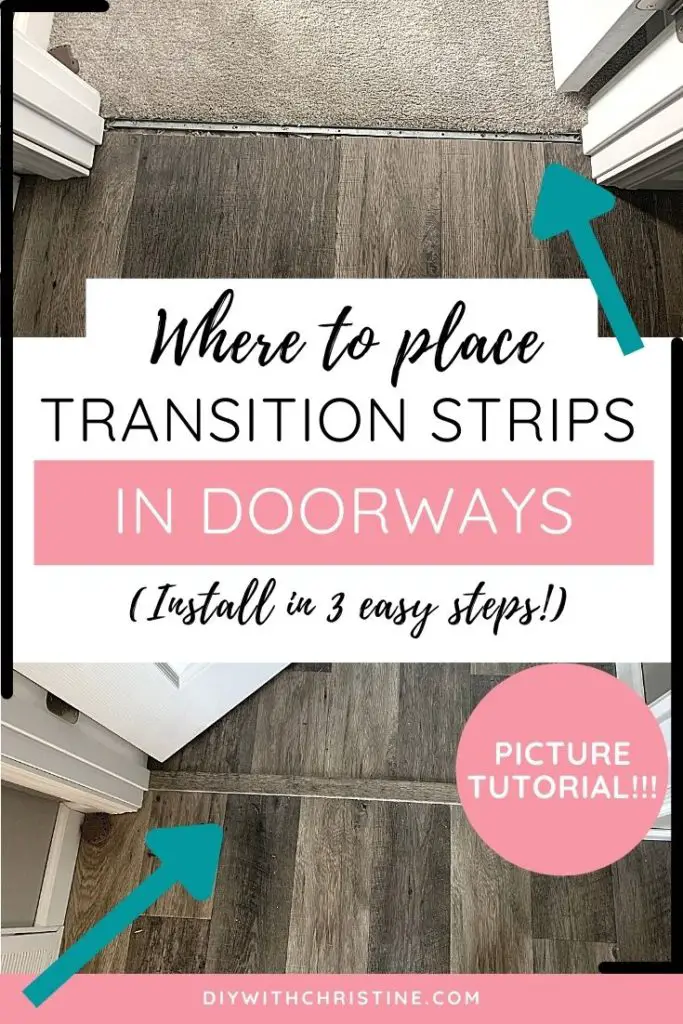 ---
Related Laminate Flooring Articles
---
Where To Place Transition Strips In A Doorway (Picture Tutorial!)
DIY With Christine is a participant in the Amazon Services LLC Associates Program, an affiliate advertising program designed to provide a means for sites to earn advertising fees by advertising and linking to Amazon.com.