*My posts may contain affiliate links, which means I may receive a small commission, at no cost to you, if you make a purchase through a link! Thank you for supporting my website!*
Last updated on January 13th, 2023 at 01:53 pm
What Happens If You Cut The Sides Of A Hollow Core Door Too Short
Wondering how much you can cut off the sides of a hollow core door before you completely cut away the block inside?
Unfortunately, I found out the hard way to answer this question by cutting out the block and needing to repair our hollow-core bifold door. Hopefully, you can avoid this problem before it happens to you! Here's what I found:
The recommended amount to cut a hollow core door is up to ¼ inch on each side. However, the actual block size is close to 1 inch on each side. If the block is cut too thin or cut off completely, then a new block should be installed to add structure and prevent moisture damage to the door.
After that fiasco, we had to find a solution to repair the door… or risk losing out on $100 and a whole lot of our time. That wasn't happening in my book, so we stuck our heads together and figured out a solution.
Below you'll find out exactly what happens if you cut a hollow core door too short, and how to fix it if you've already done it like I did.
Let's dive on in!
Quick Navigation: How Much You Can Cut Off A Hollow Core Door
What Happens If You Cut The Sides Of A Hollow Core Door Too Short? 
If you didn't already know, hollow core doors get their name because they literally have a hollow center.
Here's what it looks like: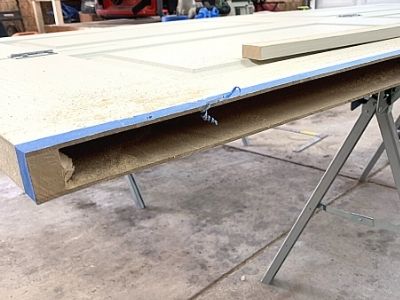 Along the top, bottom, and sides of the door, there is roughly a 1-inch block (made out of MDF) that supports the frame of the door.
There are also little cardboard supports throughout the hollowed center to give the door more support as well.
Hollow core doors are nice because they're lighter and cheaper than solid core doors. However, two problems occur if you cut the sides or bottom of the hollow core door too short:
Lost structural support
Moisture damage (warping)
Lost Structural Support
The problem with cutting the sides (or bottom) of a hollow core door too short is the lost structural support.
With the center being mostly supported by small cardboard pieces, the door needs the outer MDF block to help keep its structural integrity.
Otherwise, the door will cave in and potentially break over time from being so flimsy.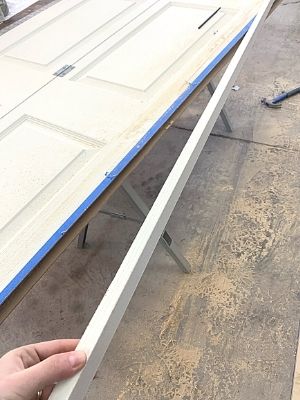 Moisture Damage (Warping)
The other less obvious problem with cutting the sides or bottom of a hollow core door too short is the moisture damage.
If you actually read the warranty on these types of doors, they require the door to have the supportive block in place and all cut edges painted to be considered under warranty.
Why would the door manufacturer care about these two things? Because both of these items protect the door from moisture damage.
If the block is in place, then moisture from the air cannot get inside the door and warp or decay the cardboard and other structures within the center.
And if the edges of the block are painted, then the block itself cannot fill up with water from the moisture in the air and warp the door either.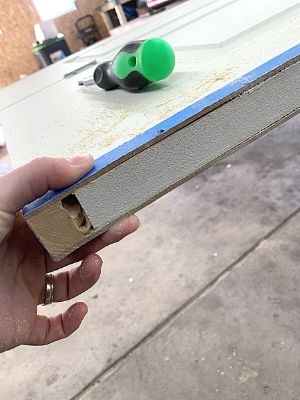 Even if you don't care about the warranty on the door (as I often don't care about these types of things), I'm sure you still want your door to last as long as possible.
So making sure to keep the adequate thickness of the block in place on all sides (including the top and bottom) of the door is crucial for the long-term care of your new door.
---
Related Door & Trim Articles
---
How To Fix A Hollow Core Door That Is Cut Too Short & Other Door Installation Solutions
Now, if this information reached you too late, and you already cut your hollow core door too short like I did, then you've got to check out my article on how to fix a hollow core door that is cut too short.
I'll show you how to install a new block on the side or bottom of the door that you cut so that it's structurally sound and sealed off from moisture again!
Then, when your door is finally installed, you should check out my full tutorial on how to paint an interior 6-panel door to avoid brush marks. (This tutorial will help you save lots of money because you can buy the cheaper primed doors and paint them to perfection!)
And lastly, when you're ready to install new door trim with mitered corners, you'll want to check out my tutorial on how to fix gaps in mitered corners for flawless trim.
While that tutorial IS meant to help you fix the gaps in badly cut mitered corners, it also shows you how to cut perfect mitered corners from the getgo! Save yourself some time and check it out now! (This tutorial is for window trim, but fixing the gaps in mitered joints on door trim works the same way!)
Other FAQ's About Trimming Hollow Core Doors
Here are some other frequently asked questions about trimming hollow core doors so you can have the easiest door installation!
Can you plane the side of a hollow core door?
Hollow core doors can be planed to better fit a rough opening. Plane the side of the door when less than ⅛" of the door needs to be removed. If more than ⅛" needs to be removed from the sides or bottom of a hollow core door, then use a circular saw to cut first, and plane the door further if necessary.
How much should I cut off the bottom of a door for carpet?
The recommended gap between the bottom of a door and carpet is  ¼" to ⅜". Use a circular saw or planer to cut off the bottom of the door and leave the recommended gap above the carpet.
Final Thoughts On How Much You Can Cut Off The Sides Of A Hollow Core Door
There you have it!
Hollow core doors can be trimmed to fit a rough opening better, but it's important to avoid over-trimming.
Nothing's more frustrating than having to fix a door that should only take 30 minutes to install! (Haha, too bad I learned that the hard way!)
Catch you in my next post!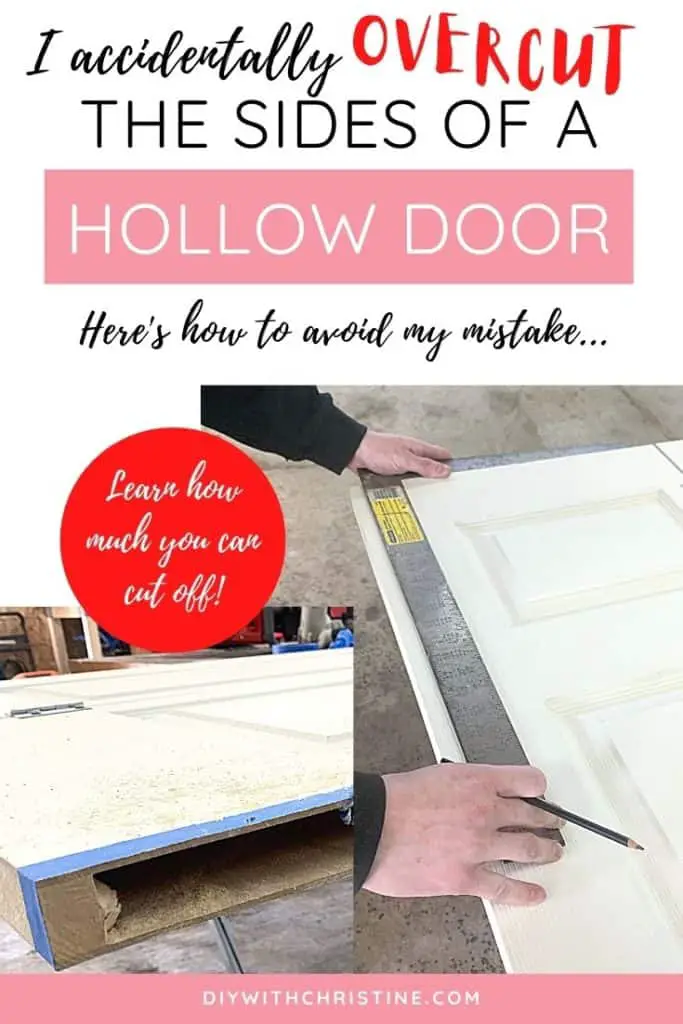 ---
Related Door & Trim Articles
---
Cutting A Hollow Core Door: How Much You Can Cut Off A Side
DIY With Christine is a participant in the Amazon Services LLC Associates Program, an affiliate advertising program designed to provide a means for sites to earn advertising fees by advertising and linking to Amazon.com.