*My posts may contain affiliate links, which means I may receive a small commission, at no cost to you, if you make a purchase through a link! Thank you for supporting my website!*
Last updated on January 13th, 2023 at 01:52 pm
How To Fix The Bottom Of A Hollow Door That Is Cut Too Short
Were you trimming a hollow core door and realized too late that you cut it too short and cut the block out? Well, consider yourself lucky because I have an easy solution to your problem!
After making this annoying mistake myself while we were installing hollow core bifold doors into our guest room closet, I realized it takes only 4 simple steps to fix a door that accidentally had its block cut out.
To fix the bottom or side of a hollow core door that is cut too short, you need to:
Clear out the excess cardboard and glue within the opening
Cut a new door block out of MDF or wood
Glue & clamp the new door block into the opening
Caulk any gaps and paint the new block
Yes, it's that simple! Although, I've always found pictures are more useful than words. 
So let me show you exactly how we fixed our hollow core bifold door, in picture form, and saved ourselves $100 from not having to buy a brand new door!
Let's dive on in!
Quick Navigation: How To Install A New Hollow Core Door Block
| Level Of Difficulty | Time To Complete |
| --- | --- |
| Easy | 15 minutes |
Step One: Clear Out Cardboard & Glue In The Way
The first step to fixing a hollow core door that is too short is to clear out any remaining debris in the way. 
If there is any remaining cardboard or glue within the opening of the door, then it needs to be removed so a new door block can slide in place.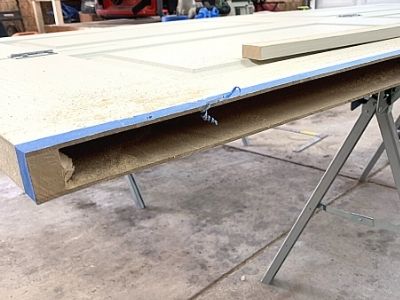 To remove this extra material, we used a utility knife to slice away anything in the way.
It should only take a minute or two to do this part. Once all of the debris is cleared out, it's time to move to the next step!
---
Related Door Articles
---
Step Two: Cut A New Door Block (Using Wood/MDF/etc.)
The next step to fixing a hollow core door that is too short is to cut a new door block.
The concept is simple. We are going to cut a new block out of MDF or wood or any other hard material to glue and shove back inside the door opening to support the door again.
Now, before you worry about what type of material you have on hand to cut, check out the piece of door block that you just accidentally cut off.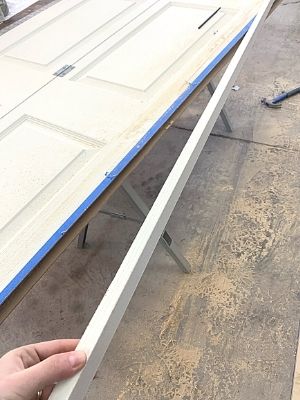 After the shock wore off that we messed up our cutting, I realized that the door block that we just cut out was thick enough to run through a table saw and slide back into the door.
And it was long enough because the piece was the entire length of the door.
So instead of rushing around trying to find a new piece of material to cut, we simply cut the existing door block down to size to reuse.
However, if your existing door block is ruined and can't be used, then MDF or part of a 2×4 cut to size would work perfectly.
After you run whatever piece of material you want to use through a table saw to cut it down to size, I recommend sliding it into the opening to test the fit.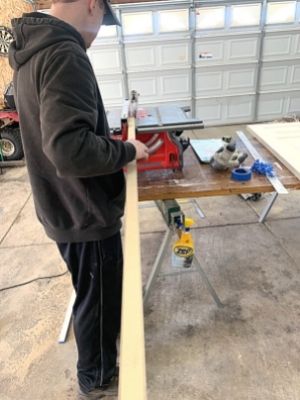 If the new door block is too thick and is causing the door to bulge out, then you'll want to shave a little more off with your table saw. A bulge will put too much stress on the door and potentially cause it to have issues in the future.
On the other hand, if the new door block is too thin, then it could eventually fall out because one side won't be able to be glued into place.
The goal is to achieve a snug, but not bulging, fit into the opening of the door.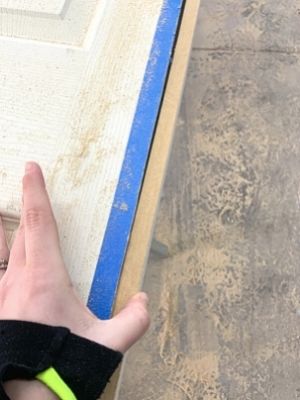 Once you have the perfect sized new door block, it's time to move onto the next step!
Step Three: Glue The New Door Block Into Place
The next step to fixing a hollow core door that is too short is to glue the new block into place.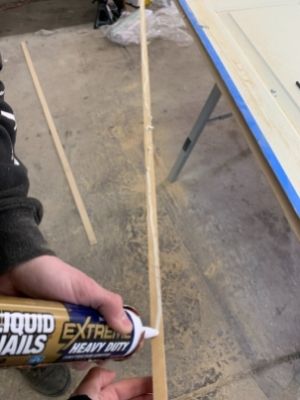 Squeeze an ample amount of glue onto both sides of the new door block and on the inside of the door opening.
I really like Loctite Power Grab adhesive found at Amazon because it grips things instantly. So you don't have to worry about the door block sliding around. Once it's in position, this glue locks it in (and it does even better with clamps all over it).
Or Liquid Nails (which is what we used since we had an extra bottle laying around) works really well too! It just doesn't grip as well as Loctite does.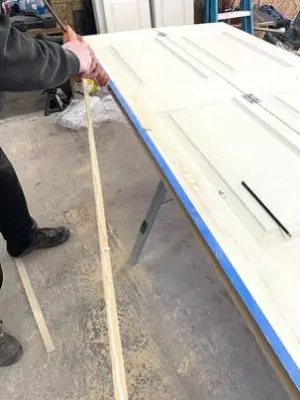 It may seem like overkill to squeeze glue into both places, but since the fit is snug, we want to make sure the block gets enough glue to hold it into place.
Now here's the important part; slide the new door block into place slowly. You want the edge of the door block to be flush with the edge of the door opening, so work slowly from side to side to avoid pushing the door block in too far.
It can be hard to slide it back out if it goes too far in.
Once you are satisfied with the positioning of the block, clamp it in place!!!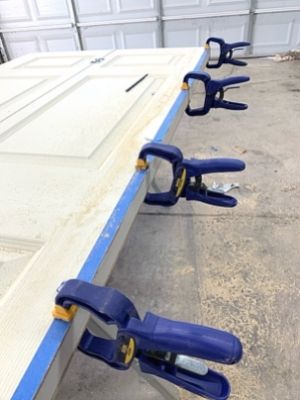 The more clamps you can put on this sucker, the better. These Irwin clamps found at Amazon do the job to hold thinner things like this door block in place while the glue is drying.
But for heavier duty gripping, I much more prefer these bar clamps found at Amazon that are adjustable. They just grip so much better than the blue ones and they can clamp together larger items, but they are a little more expensive.
After the clamps are locked into place, wipe off the excess glue, then let that glue dry completely, so your new door block stays firmly in place. Then you're ready to move onto the last step!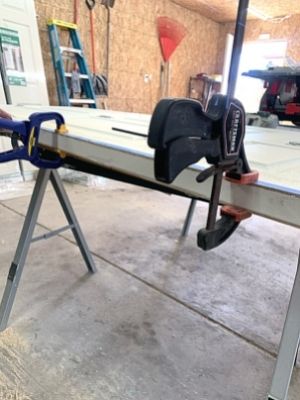 Step Four: Caulk Any Gaps & Paint
The last step to fixing a hollow core door that is too short caulk any of the gaps.
We had a small gap on each end of our new door block because of the way we installed the old block.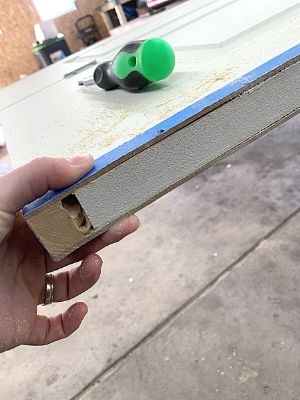 So we simply filled the gap with caulk and painted over it to officially seal it off again.
If there are any remaining gaps between the door block and the rest of the door, then you'll want to do the same to keep moisture from sneaking into the inside of the door. (The moisture will cause your hollow core door to warp over time! Seal it off correctly now, so that your door will last through decades!)
Then if you're looking to paint the entire door, you should check out my article on how to paint an interior 6-panel door fast while avoiding brush strokes! You'll be able to paint the door quickly while also achieving a finish like the pros.
And lastly, if you happen to have any window or door trim throughout your home that has gaps in the mitered corners, you'll want to check out my tutorial on how to fix those gaps. One simple (and cheap) product from Amazon will help you achieve flawless mitered corners in your painted door or window trim!
Final Thoughts On How To Fix A Hollow Core Door That Is Cut Too Short
There you have it! Now your hollow core is fixed and good as new!
Believe me, it was a huge relief off my shoulders when I realized we DIDN'T just throw $100 out the door from a tiny mistake.
Hopefully, you'll find the same relief for your overcut hollow core door!
Catch you in my next post!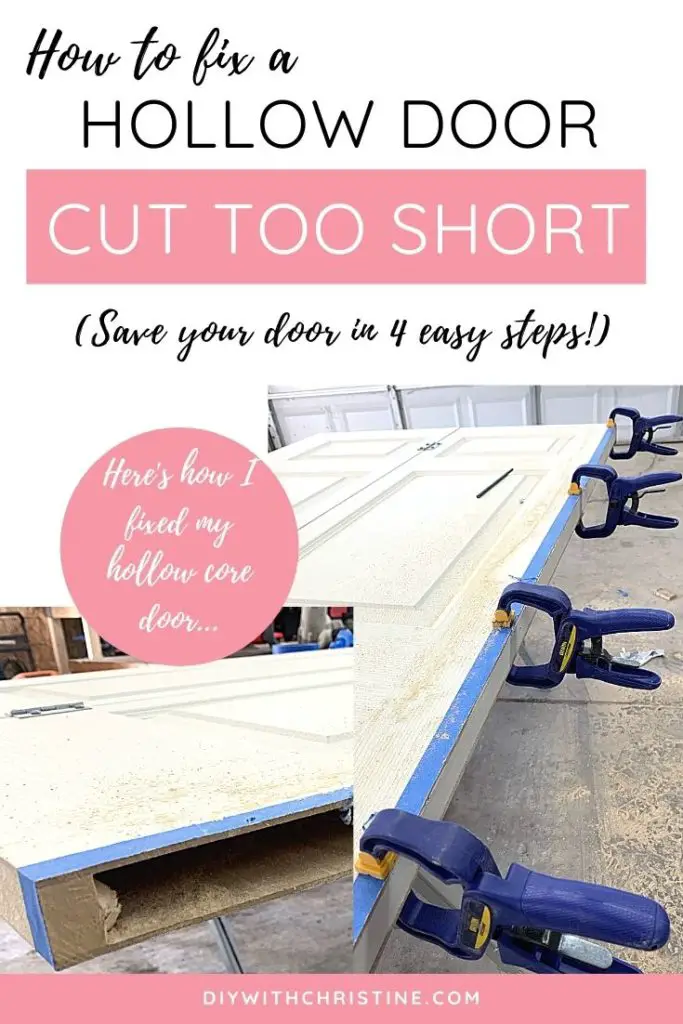 ---
Related Door Articles
---
How To Fix A Hollow Core Door That Is Cut Too Short (With Pictures!)
DIY With Christine is a participant in the Amazon Services LLC Associates Program, an affiliate advertising program designed to provide a means for sites to earn advertising fees by advertising and linking to Amazon.com.