*My posts may contain affiliate links, which means I may receive a small commission, at no cost to you, if you make a purchase through a link! Thank you for supporting my website!*
Last updated on October 14th, 2022 at 12:27 pm
How To Fix Gaps Between Carpet & Skirting Boards
Wondering how to fill a gap between the carpet and baseboard? Well, look no further because I have your answer!
To fill a gap between carpet and baseboard, you can either install quarter-round/shoe moulding over the gap, remove the baseboard and re-install it lower to cover the gap, or purchase and install a taller, thicker baseboard overtop the existing baseboard to cover the gap between the carpet and baseboard.
Now that we've got the basics out of the way, let's break into the details a little further so you can easily fill that carpet-baseboard gap and create a more finished-looking room.
Let's dive in!
Quick Navigation: Carpet Gap Filler Ideas
Option One: Install Quarter-round / Shoe Moulding Over The Gap
The first option for covering a gap between the carpet and baseboard is to install quarter-round or shoe moulding over the gap.
This option is, by far, the easiest option because shoe moulding is:
Cheap
Installed directly over the existing carpet and baseboard (no demo required)
Extremely common to be installed in most homes anyway (will look natural, not out of place)
To use shoe moulding to cover a gap between the carpet and baseboard, simply cut it to length, place it over the gap, and nail it to the existing baseboard using brad nails.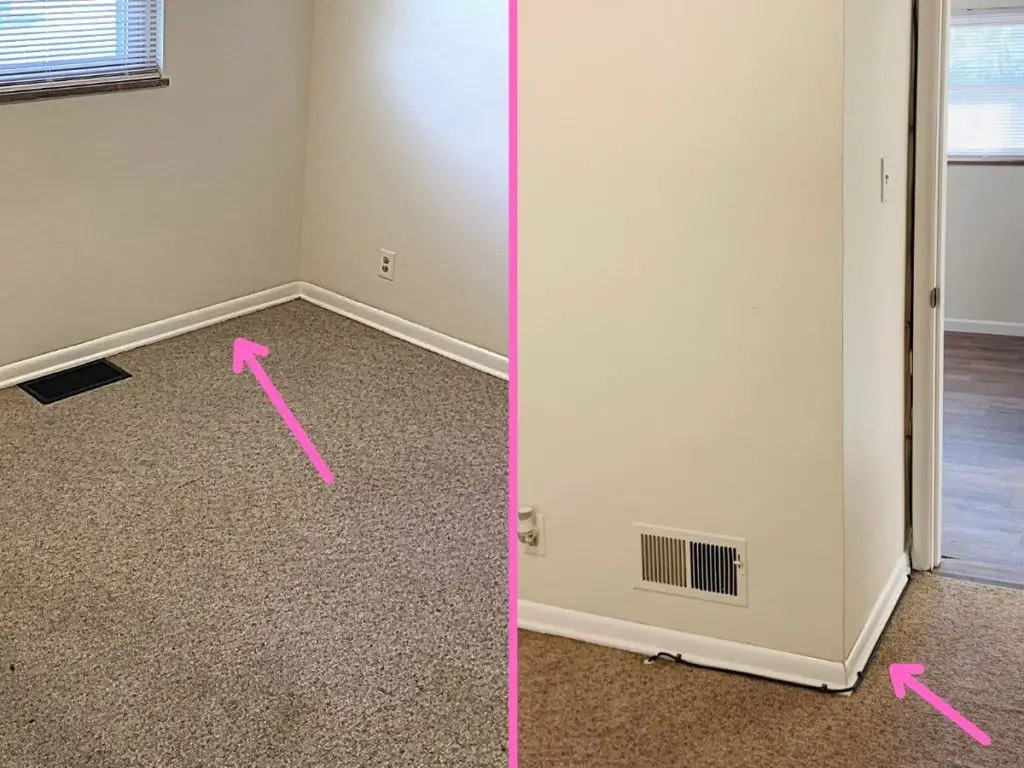 This solution will only work, however, if the gap is smaller than the thickness of shoe moulding.
---
Related Trim & Moulding Articles
---
Option Two: Remove The Baseboard & Move It Down To Cover The Gap
The next option for covering a gap between the carpet and baseboard is to remove the existing baseboard, move it down, and reinstall it so there is no gap.
It's common to leave baseboard installed when new carpet is installed, and if the new carpet and padding is not the same thickness as the old carpet and padding, then a gap can be left behind.
If the baseboard is simply removed and reinstalled at the correct height, then there will be no more gap.
This option is easier said than done, however.
If your baseboards are:
Recently installed
Not painted over so it's stuck to the wall
Secured with small brad nails
Then you will be able to pry the baseboard off easily with minimal damage to the wall and move it down to hide the gap.
One of these baseboard removal prybars found at Amazon will make this job super easy and help you keep the wall intact upon prying.
Once the baseboards are slid down and reinstalled, you can easily fill in any holes in the wall with spackle or any holes in the trim with wood filler and touch up the paint in those areas.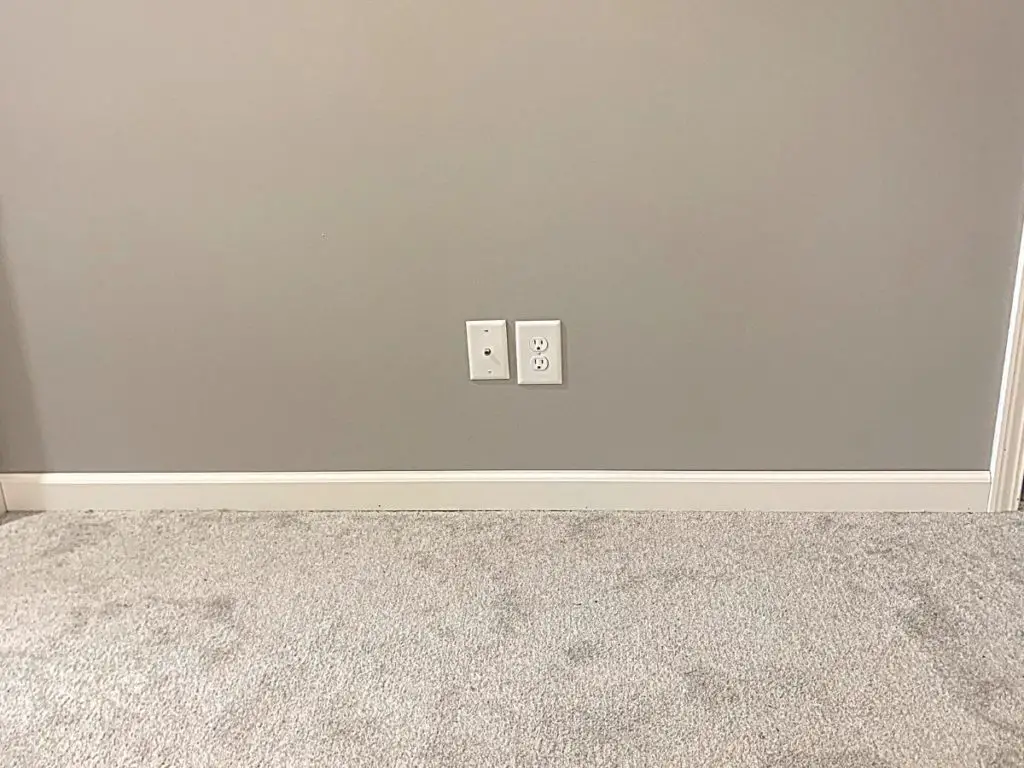 On the other hand, if your baseboards are:
Old/fragile
Painted over
Installed on a plaster wall
Installed with thicker-headed trim nails
Then this option will likely cause a lot of damage to your walls, which can cause an even bigger headache and more expenses.
If your baseboard is at this point, then it would be better to try one of the other two options before resorting to this option.
Option Three: Install A Taller, Thicker Baseboard Overtop The Existing Baseboard
The final option for covering a gap between the carpet and baseboard is to install a taller, thicker decorative baseboard overtop the existing baseboard.
If the gap is larger than shoe moulding can cover, then installing this decorative baseboard found at Home Depot directly overtop the existing baseboard before installing shoe moulding can help bridge a larger gap.
It also updates the older-styled baseboard, so it is taller and more elegant-looking. And to top it all off, this brand of trim cover also has endcaps and other accessories to help make the new baseboard flow seamlessly into the existing door casing.
Lowes also has this decorative trim cover that lets you hide cords behind it while also covering the flooring gap.
This option can help span a larger gap while still looking beautiful, so you can avoid any major demo and repair work.
What If None Of These Carpet Filler Options Work For Me?
Unfortunately, these options won't fit every situation perfectly.
If the gap is that large and none of these options is a feasible solution, then the best-case scenario is likely to:
Remove the baseboard
Repair the wall
Install new baseboard and moulding to fully cover the gap
This is definitely the most expensive and time-consuming option though, so trying one of the other options first would be worth it.
Other FAQs About Filling Gaps Between Carpet & Baseboards
Here are some other frequently asked questions about hiding gaps between carpet and baseboard to help you get a more finished look in your home!
Should There Be A Gap Between Baseboard & The Floor?
Baseboard is installed to cover any gaps between the wall and the floor. There should not be a gap between the baseboard and the floor otherwise the room will look unfinished, and a cold draft or pests can enter the room more easily.
Do You Have To Remove Baseboard/Quarter-round To Install New Carpet?
Baseboard/quarter-round does not need to be removed to install new carpet. The tack strip will be installed next to whatever is sticking out the farthest – the wall, baseboard, or quarter-round – and the carpet will be rolled and tucked underneath if there is a gap available.
If you are doing a full renovation/new construction and are wondering if you should install the carpet or baseboard first, then you should read my article first.
I'll help you decide which order of operation is best for your unique situation.
Final Thoughts On Hiding Gaps Between Carpet & Trim
There you have it!
A gap between the carpet and trim is always frustrating because it usually means something wasn't installed properly at one point or another.
Luckily, with these three solutions, you likely will be able to fill the gap for a relatively inexpensive price and make your home look that much better.
Catch you in my next post!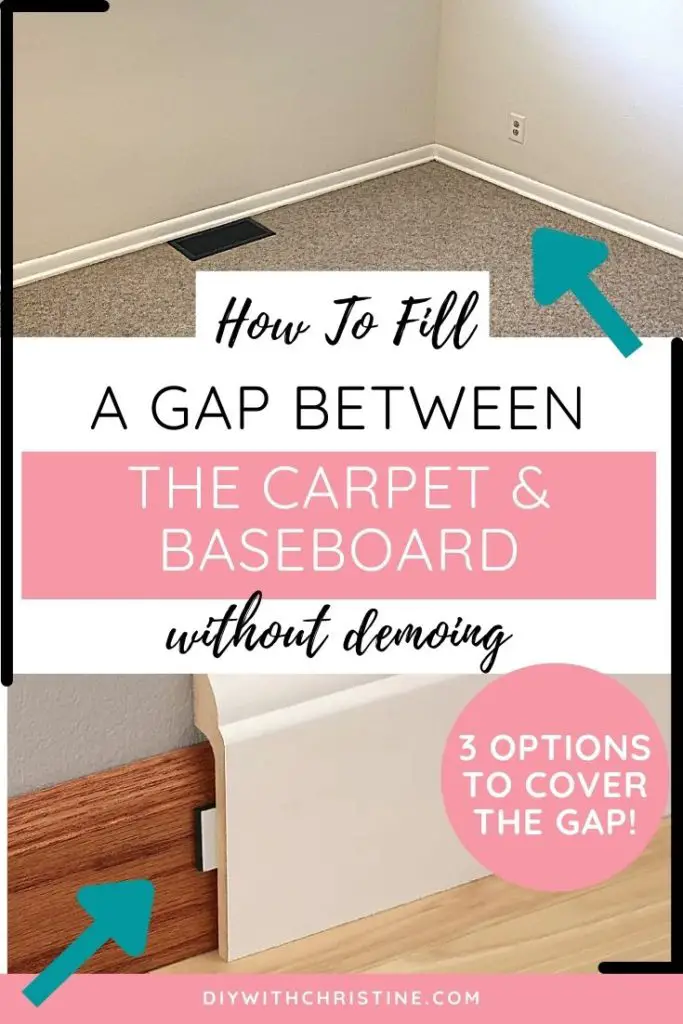 ---
Related Trim & Moulding Articles
---
How To Fill A Gap Between Carpet & Baseboard (3 Options!)
DIY With Christine is a participant in the Amazon Services LLC Associates Program, an affiliate advertising program designed to provide a means for sites to earn advertising fees by advertising and linking to Amazon.com.