*My posts may contain affiliate links, which means I may receive a small commission, at no cost to you, if you make a purchase through a link! Thank you for supporting my website!*
Last updated on February 20th, 2023 at 04:22 pm
Is Reglazing A Bathtub A Good Idea? Let's Find Out!
Wondering whether you should reglaze your old bathtub? Well, look no further because I've got your answer!
Reglazing a bathtub is a good idea for anyone who wants to change or freshen up the color or add an extra protective layer to an old tub. Bathtub refinishing kits make reglazing a bathtub an easy DIY project, but the tub must be free of major damage and instructions must be followed to avoid severe damage.
Here is a quick list of the pros and cons of reglazing a bathtub:
| Pros Of Refinishing A Bathtub | Cons Of Refinishing A Bathtub |
| --- | --- |
| More affordable than a new tub purchase | Likely can only reglaze once (tub can be severely damaged) |
| Quick turn-around time | Must follow proper safety protocols |
| Can change bathtub's color | Might have to vacate your home for a day or two |
| Restores the original look of a tub | |
| Adds an extra layer of protection | |
| Can be a DIY project | |
| Can restore any bathtub so long as the damage is not too severe | |
Now that you've seen the full list, let's further break down each point so you can make the right decision for your situation.
Let's dive in!
Quick Navigation: Reglazing A Bathtub Benefits & Drawbacks
What Are The Benefits Of Reglazing A Bathtub?
Here are the benefits of reglazing a bathtub.
Benefit One: More Affordable
The first benefit of refinishing a bathtub is its affordability compared to purchasing a new tub.
A cheap bathtub will cost at least $150 brand new (and that doesn't even include the surround).
In addition, you'll also have to pay the expenses for any new plumbing, piping, and the overall costs of getting rid of the old bathtub and installing the new one.
Depending on the number and severity of the defects on the old one, it costs roughly $250 to $700 to reglaze a bathtub and restore it to its original look and even improve its aesthetics.
And if you use one of the tub refinishing kits (like this one found at Amazon we used on our rental property), you can tackle this project yourself for less than $100.
That's a great deal, because an entire replacement cost, especially if you have it professionally done, can run well into the thousands of dollars.
Using that tub refinishing kit certainly was cheaper than ripping out the old bathtub and tile just because we didn't like the ugly yellow color of the old one.
---
Related Bathroom Articles
---
Benefit Two: Quick Turn-Around Time
The second benefit of reglazing a bathtub is how quickly you can complete it.
The small and intricate repairs, sanding, priming, and painting can all be accomplished in a single day.
If a bathtub has reached a point where it takes longer than a day to get minor repairs completed, it probably means that the bathtub isn't worth reglazing anyway. 
It's an especially convenient job if you have two bathrooms because it means you won't be locked out of the bathroom all day long—and possibly the next day as well—which makes the job a lot more doable.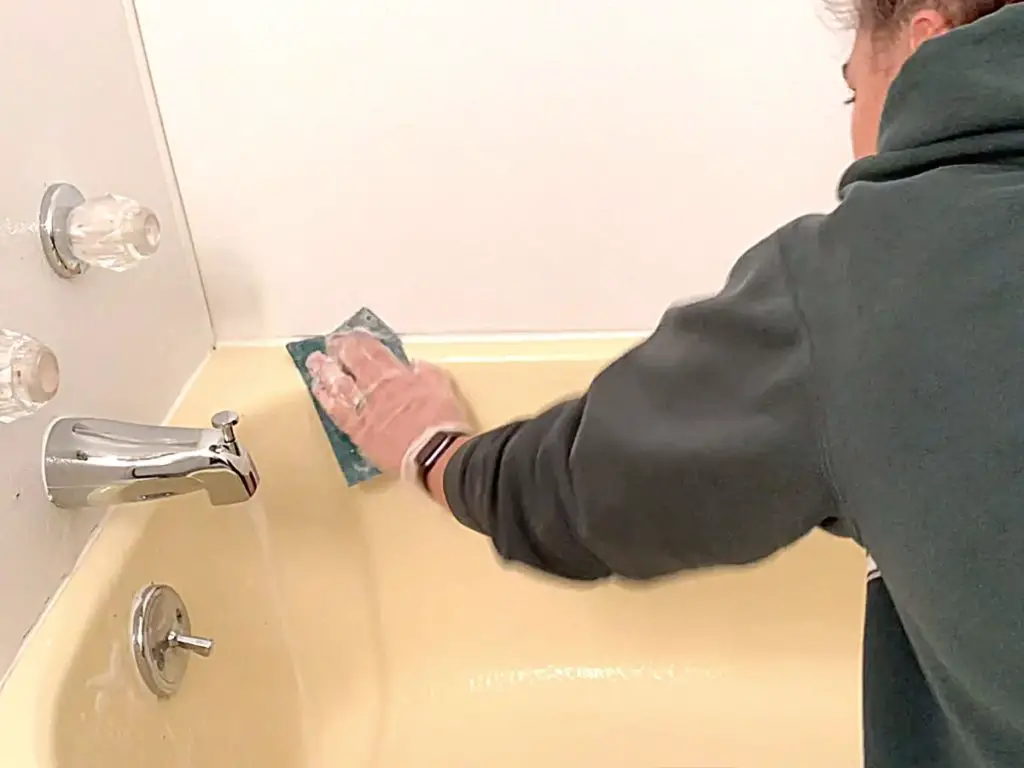 When we refinished the tub at our rental, it took us a few hours to clean, sand, prime, and paint just the tub itself (we didn't paint the surround).
For a few hours and $100 to make this bathroom look brand new, I'd say that was a great ROI on our time and money!
Benefit Three: Can Change The Color Of Your Bathtub
The third benefit of refinishing a bathtub is how easy it is to change the color of your tub. (This is the main reason we refinished our tub!)
If your bathroom is long overdue for a makeover, what better way to change the entire aesthetic of the bathroom than changing the centerpiece of the room?
It's a fairly easy job to complete yourself (as long as you follow instructions to the T), and it makes a world of a difference to the looks of your bathroom.
Once you're done repairing blemishes, refilling and sanding down cracks, and scraping off excess cosmetic defects, you can clean and prime the tub.
After it's primed, all that's left to do is paint it and step back and admire your handiwork.
No more ugly yellow, pink, blue, or green bathtubs in your future!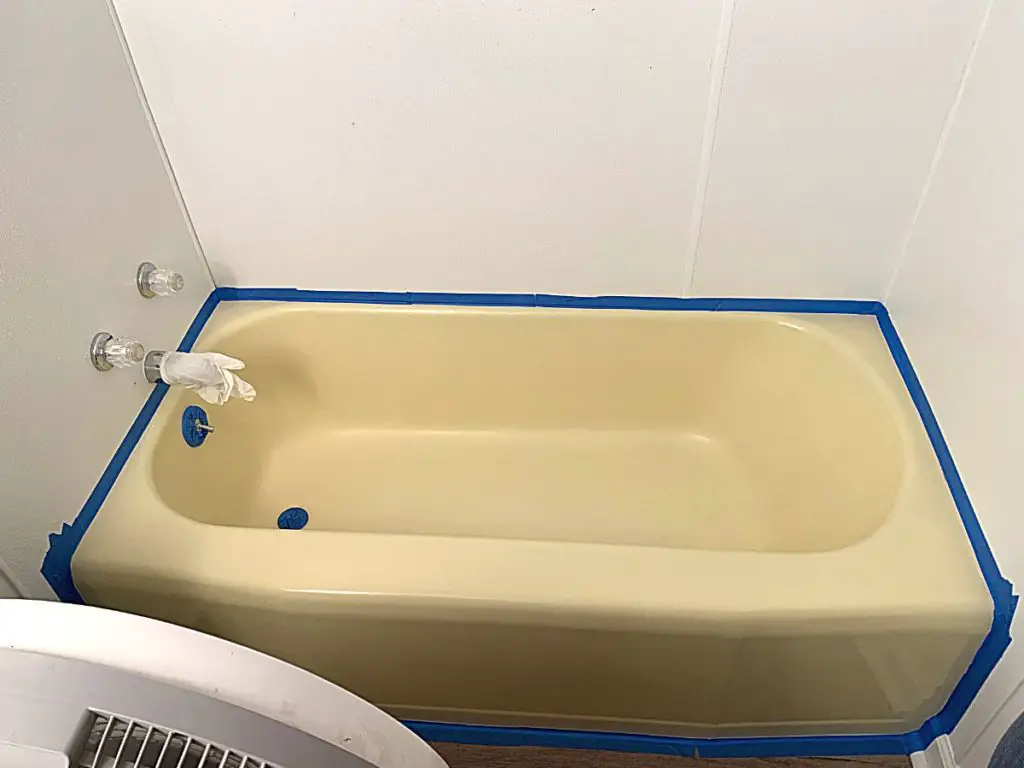 As I briefly mentioned above, we used this DIY tub refinishing kit found at Amazon and it was perfect! It was a little more expensive than other brands, but it came with almost ALL of the supplies we needed to get the job done.
It was so easy to use. I will definitely be using this brand on our next bathtub reglazing job!
Benefit Four: Can Be A DIY Project
The fourth benefit of reglazing a bathtub is that you can do it yourself (our personal favorite way to do things around here hehe!)
While hiring a professional crew is well within your rights, this is a relatively easy process to complete on your own.
The primary reason that most people don't consider reglazing as a DIY project is because of the fumes. (And believe me, the fumes punch you in the nose.)
Ventilation is necessary and you'll need a way to either ventilate the room with a sucker or push the air out and get it circulating until the curing process is complete and the fumes die down.
All we did was open up windows and doors, wear face masks (which certainly helped), and had a fan running to "suck" the fumes out of the room.
That worked well enough, and between coats of paint, we left the area completely to stay away from the fumes!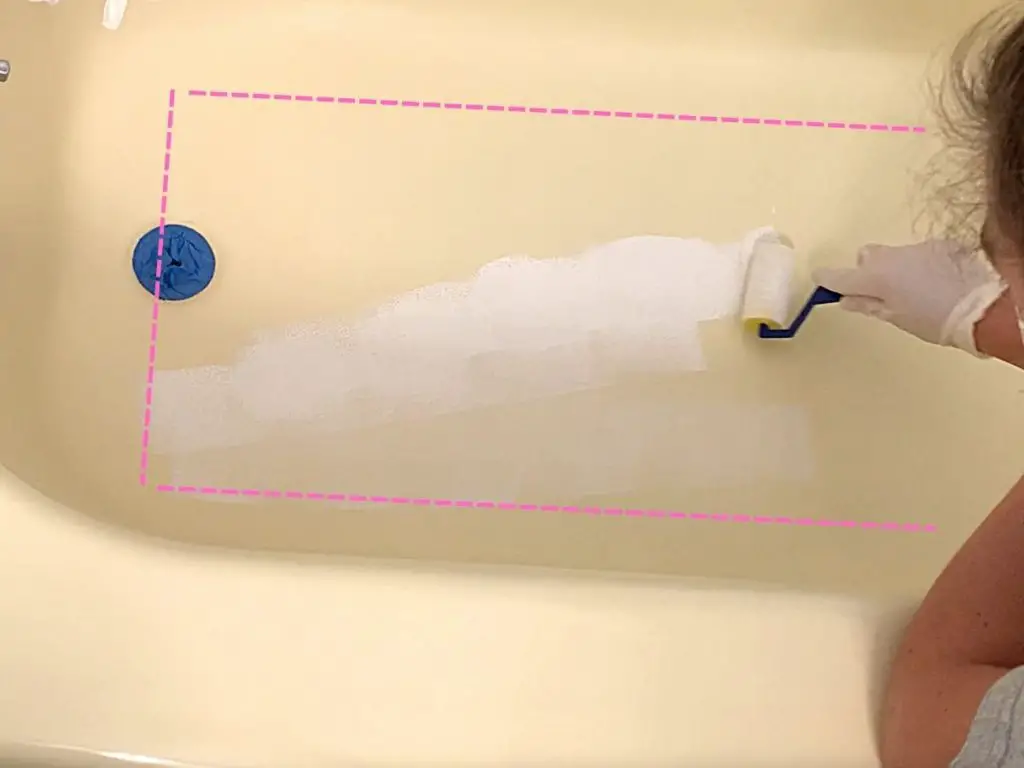 Benefit Five: Most Bathtubs Can Be Restored (Within Reason)
The last benefit of reglazing a bathtub is that it can be completed on most bathtubs.
I say "most" because it all depends on the severity of damage to your bathtub.
If your bathtub has severe scaling, cracking, abrasions on the surface, or other deep dents or holes, reglazing won't be enough to bring the tub back to life.
However, minor damage and disrepair are much more suitable for a reglazing job.
In fact, a good reglazing job can extend the life of your bathtub because it will provide an extra protective layer over top of any spots that have seen minor damage.
In addition to our rental bathtub being an ugly color, it had a few tiny knicks in it that we were able to reseal with the refinishing kit.
That will help this tub last for several more years longer now AND it looks and feels brand new!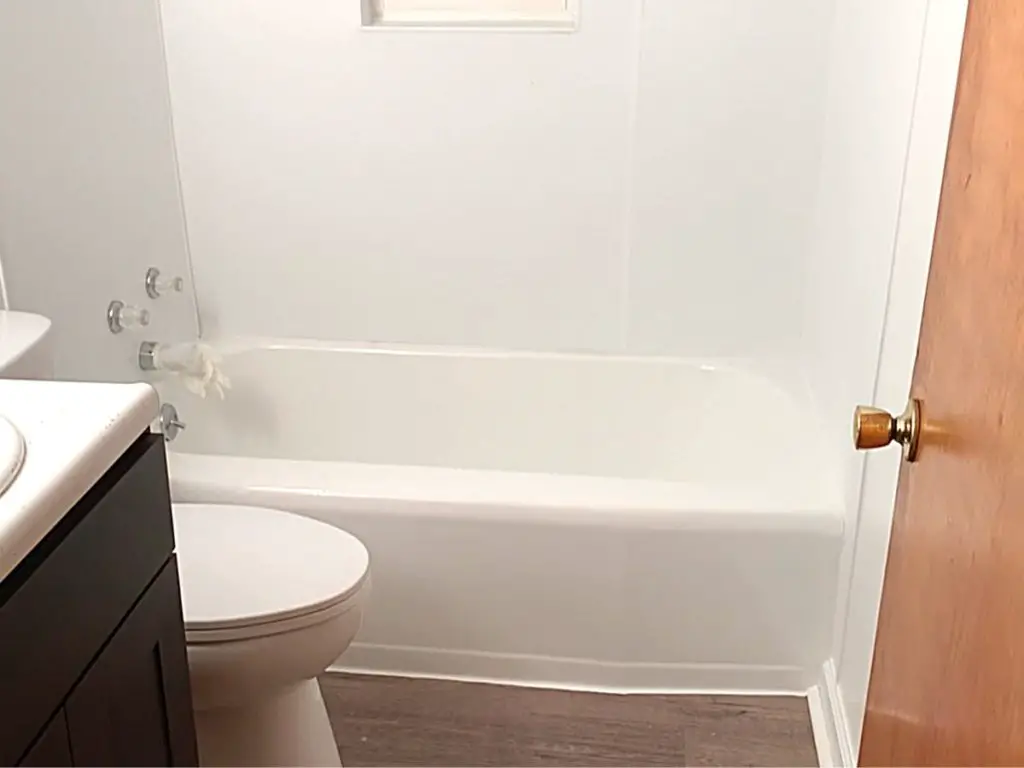 What Are The Drawbacks To Reglazing A Bathtub?
Here are the drawbacks to reglazing a bathtub.
Drawback One: Likely Can Only Reglaze Once
The first drawback of reglazing a bathtub is that you likely can only reglaze once.
I say "likely" because if a tub has never been reglazed or was properly reglazed the first time, then you can sand, repair, and refinish the tub rather easily.
However, if the original reglaze job was poorly completed or it is well beyond its shelf life to repair the tub, the reglazing will not take a second time.
And likely, once a third reglazing needs to be completed, the tub will probably be in such bad condition that it will be better to replace the entire thing anyway.
So it's in your best interest to go into this project thinking that this is a "one-chance-to-get-right" project.
If that worries you, you can always have your tub professionally reglazed for a couple of hundred dollars (which is still cheaper and faster than a new tub installation).
However, as long as you properly clean and sand the tub, you shouldn't have any issues with using the tub refinishing kit.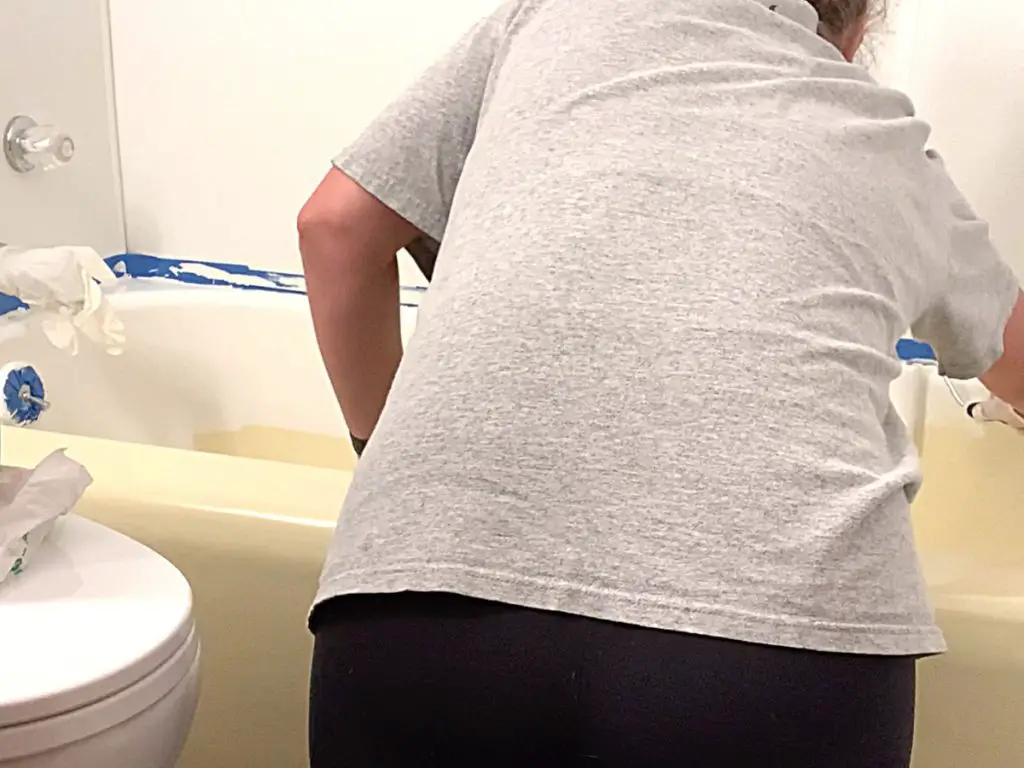 Drawback Two: Must take Proper Safety Precautions
The second drawback of refinishing a bathtub is the (few) safety hazards that can occur if you don't follow instructions properly.
The fumes and general exposure to the chemicals used during the glazing process can be dangerous.
Just as with anything involving strong fumes, people have died from too much exposure to stripping, paint, and primer fumes.
As long as you take the proper safety precautions on the back of the box, you should be fine though.
If you wear a mask, use the exhaust fan & additional portable fans, keep the door open, and open up any nearby windows, the room should be ventilated enough to complete the work and leave.
Drawback Three: Might Have To Spend the Night Elsewhere
The last drawback to reglazing a tub is that you'll likely have to stay the night somewhere else until the fumes wear off.
The fumes from this kind of work are generally so heavy, that you'll have to spend the night—and probably a full day—out of your home while everything cures and the fumes die down. 
It's not the most ideal situation but it is what it is. A quality reglazing job on your bathtub will be more than worth a night or two elsewhere.
The last thing you want to do is sleep in a house where chemical fumes are heavy and cloying. 
It's not only unhealthy to breathe in the fumes when you're asleep, but you're also not going to be able to tell the difference between being asleep and unconscious.
It is far safer to hedge your bets and give the fumes time to die down.
After we finished reglazing our tub, we left the property for the night. When we came back the next day, the fumes had pretty much disappeared.
Other FAQs About Reglazing A Bathtub
Here are some other frequently asked questions about reglazing a bathtub that will help you with your decision!
What Types Of Bathtubs Can Be Refinished?
Bathtub refinishing kits and reglazing are best used on ceramic tile and porcelain, fiberglass, acrylic, cast iron, and steel tubs and sinks. It cannot be used on galvanized steel or flexible plastic.
How Long Does Reglazing A Bathtub Last?
A reglazed bathtub can last between 2 and 6 years depending on the level of wear and tear that the tub sees. If the tub is gently cleaned often, never has sitting water, and is gently used, it can last for over 6 years.
Is It Expensive To Reglaze A Bathtub?
Reglazing a bathtub is an inexpensive way to restore an old bathtub. Professionally glazed tubs will cost between $250 and $700 depending on the level of repair the tub needs. Bathtubs can also be refinished using DIY bathtub refinishing kits that cost between $50 and $100.
Can You Reglaze Your Tub Yourself?
If you haven't figured it out already, you can reglaze a tub yourself! To learn how to paint a bathtub yourself, check out my tutorial here.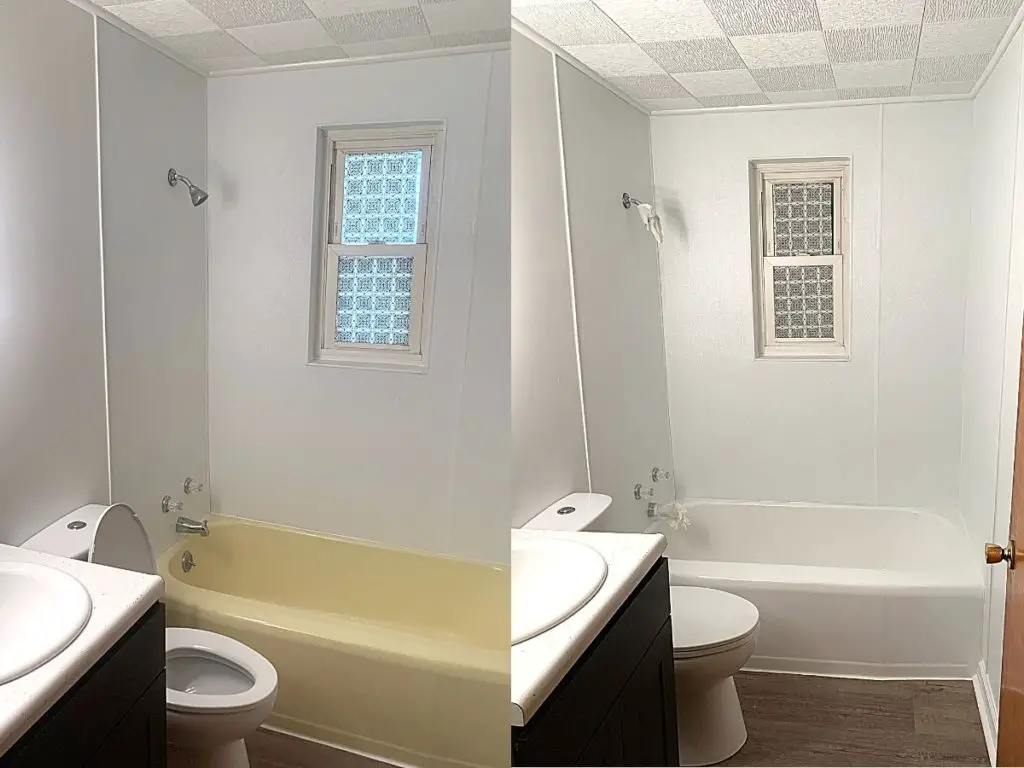 How Long Do You Have To Wait To Use Your Tub After Reglazing?
A reglazed bathtub must have 3 full days at 70-80 degrees Fahrenheit and 50% humidity to fully cure before use. The reglazed tub will be dry to the touch in 1 hour, can be recoated in 1-2 hours, and can be used after 3 days.
Final Thoughts On Reglazing A Bathtub
Reglazing your bathtub is a fun and relatively simple DIY project, especially considering the alternative of fully replacing the bathtub and all of the hassles that entail.
It's also an opportunity to show off some of your creativity and change the aesthetics of your bathroom.
Always remember to be safe and wear the proper personal protective equipment. No amount of great reglazing work is going to matter much if your health is at risk.
Stay safe and enjoy the fruits of your handiwork!
Catch you in my next post!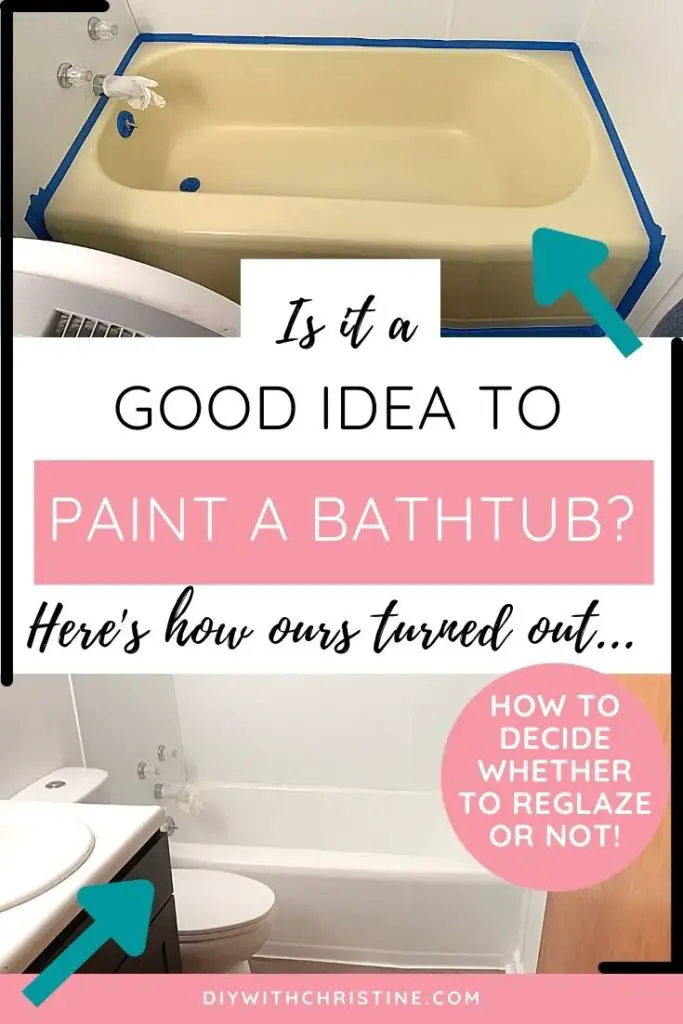 ---
Related Bathroom Articles
---
How To Decide Whether To Reglaze Your Bathtub Or Not (Pros & Cons List!)
DIY With Christine is a participant in the Amazon Services LLC Associates Program, an affiliate advertising program designed to provide a means for sites to earn advertising fees by advertising and linking to Amazon.com.