*My posts may contain affiliate links, which means I may receive a small commission, at no cost to you, if you make a purchase through a link! Thank you for supporting my website!*
Last updated on February 20th, 2023 at 04:27 pm
How To Save Wet Laminate Flooring From Damage
Did your room with laminate flooring flood and now you're wondering how to dry it out and save it? Well, look no further because I have your answer!
To dry out laminate flooring with water under it:
Act immediately
Find and stop the leak (if applicable)
Soak up sitting water with a dry mop or towels
Lift one edge of the flooring to let air flow underneath (if possible)
Have a fan and dehumidifier running for 48 hours
Now that we've got a basic understanding of what to do, let's break down the details a little further, so you can save your wet laminate flooring.
Let's dive in!
Quick Navigation: How To Dry Wet Laminate Flooring
What Happens If Laminate Flooring Gets Wet
Water is laminate flooring's worst enemy. If water sits too long, the planks will warp, the tongues on the planks will break, and your flooring will be ruined without repair.
To see the full effects of water that's sit for too long under laminate flooring, check out my article here.
But if you act quickly, you can avoid this fate!
| Level Of Difficulty | Time To Complete |
| --- | --- |
| Easy | 48 Hours |
Step One: Find & Stop The Leak
The first step to drying laminate flooring with water under it is to stop and find the leak (if that's what caused the water to be under the flooring).
If your laminate is wet because of a leak then you need to find it and stop the flow of water before you can go about doing anything else.
Hopefully, it's obvious where the water is coming, so that you can stop it quickly and start to dry up the water.
For us, the new plumbing we did in our utility room didn't seal properly and we had to cut a hole in the drywall and reseal the drainpipe to prevent the leak from happening again.
That small area caused our entire laundry room to flood with water overnight. RIGHT on our new laminate flooring.
Talk about stress! But instead of freaking out, we acted quickly and while my husband searched for the leak, I started step two – soaking up as much water from the floor as possible.
If your laminate flooring is wet from a flood, and not an obvious leak, then it's time to move on to step two.
---
Related Laminate Flooring Articles
---
Step Two: Soak Up Most Of The Water With A Dry Mop Or Towels
The next step to drying laminate flooring with water under it is to soak up as much of the water as you can.
The easiest way to do this is to use a mop with a dry head. Soak up some water and wring it out in a mop bucket until the top of the laminate is dry.
If you don't have a mop, then towels can help as well. But for big rooms with a lot of water, you will have a hard time getting most of the water up before you run out of dry towels.
This step is important. The more water you soak up, the easier it will be to dry out the laminate flooring completely and save it from any water damage.
Once you have as much water as you can be removed, it's time to move on to the next step.
Step Three: If Possible, Lift One Edge Of The Laminate To Allow Better Air Flow Underneath
The next step to drying laminate flooring with water under it is to prop up one side of the flooring.
If you can, attempt to lift up one edge of the laminate flooring (even if it's only half an inch) so air can more easily flow underneath it.
When our leak happened, we hadn't the laminate flooring transition strip yet, so we could prop up one edge and let air from a fan flow underneath it.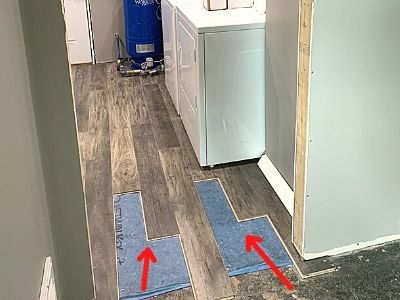 If your laminate flooring is finished already, remove the baseboard and transition strip from the side of the room with a door. Then prop up that end of the laminate flooring with something thin like a scrap piece of plywood.
If it's not possible for you to lift up the area of laminate with water under it, then don't worry about it because that's out of your control. The next step will help get most of the flooring dried out.
Just be prepared that the areas that can't get good airflow are more likely to be warped and damaged by the water.
Step Four: Set Up A Fan & Dehumidifier In Front Of The Wet Laminate Flooring
The final step to drying laminate flooring with water under it is to have a fan (or two) and a dehumidifier running in the room.
To completely dry out the flooring as quickly as possible, you need to set up a fan or two on high and point it at the lifted laminate flooring.
In addition to the fans, put a dehumidifier on high to help get as much moisture out of the room as possible.
Most laminate flooring is water-resistant so it will not be ruined by water immediately. However, if the water sits for too long on or under it, the water will slowly seep into the laminate and cause swelling.
This swelling will ultimately make the laminate flooring break down and need to be replaced.
The fan and dehumidifier will help the underlayment and laminate flooring dry out quickly so likely none (or very little) of the swelling will occur.
Additionally, underlayment is meant to either absorb moisture or block moisture from the subfloor, so that it can't damage the underneath of the laminate flooring.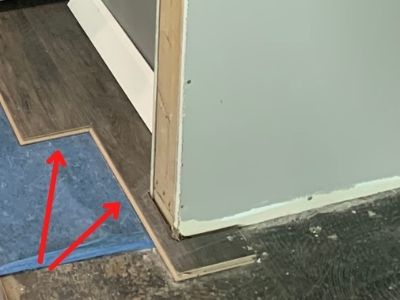 But if the water is between the underlayment and laminate flooring, it can trap water and cause all of the issues we've discussed to occur.
The fan and dehumidifier will help to reduce the amount of moisture in this area as well so hopefully, water will not be sitting against the laminate flooring for long.
Allow the fan and dehumidifier to run for a full 24 to 48 hours depending on how much water got under the laminate flooring to ensure as much water is removed.
If you do all of these things within a couple of hours of the water getting underneath the flooring, you should be able to save your laminate from major damage.
Since the planks along the edge typically have been cut, water might damage them a little more easily. So some of these planks might need to be repaired or replaced no matter how quickly you act.
How Our Wet Laminate Flooring Turned Out
After the flood happened in our laundry room, we acted as soon as we found the water and soaked up as much of the water as we could within 6-12 hours of the flood happening.
(We aren't exactly sure when it occurred. It was sometime overnight, and we saw it the next afternoon.)
Then we set up a fan in front of the laminate flooring to help it dry out.
Even though we acted a little slowly, none of our laminate needed to be replaced. Amazingly, none of it was damaged.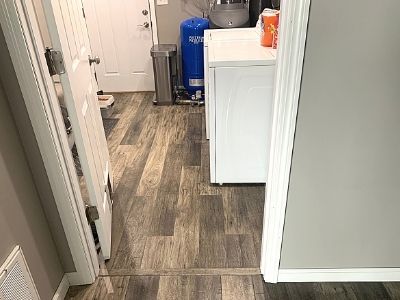 Unfortunately, time is not your friend in this scenario. The longer it takes you to get the water out from underneath the laminate, the more damage is likely to occur.
Because of this, finding the leak, stopping and fixing it, and getting the water out from underneath the laminate as quickly as possible is your best chance to protect your laminate flooring from damage.
Other FAQs About Drying Wet Laminate
Here are some other frequently asked questions about drying out laminate flooring to help you save your flooring from potential water damage.
How Much Water Can Laminate Flooring Take?
Laminate flooring can take a small amount of water on top because most laminate is water-resistant. However, if any amount of water gets underneath laminate flooring, then it only takes a couple of hours before water damage can occur.
How Long Does It Take For Water To Damage Laminate Flooring?
Water will start to damage the open edges of laminate flooring after two hours of full submersion. To prevent major damage from occurring, dry out laminate flooring using a dehumidifier and fan(s) within two hours of water getting underneath the flooring.
How Long Does It Take For Laminate Flooring To Dry?
Laminate flooring takes 24 to 48 hours to fully dry out after a flood. To help minimize water damage, soak up as much water as possible with a mop or towels, and run a fan and dehumidifier on high for 24 to 48 hours.
Will Laminate Floor Swelling Go Down?
Laminate flooring swelling will go down once the moisture is removed. To help reduce the swelling, use a dehumidifier to reduce moisture in the air. If the swelling causes the tongues in the planks to break, though, then the flooring will need to be replaced.
Final thoughts On Saving Wet Laminate Flooring From Damage
There you have it!
Water-soaked laminate flooring can cost hundreds (if not thousands) if not handled immediately.
We were able to save our laminate flooring even after the entire room flooded overnight by using these steps.
Hopefully, this one will help you save your flooring as well!
Catch you in my next post!
---
Related Laminate Flooring Articles
---
How To Dry Laminate Flooring With Water Under It (Avoid Major Damage!)
DIY With Christine is a participant in the Amazon Services LLC Associates Program, an affiliate advertising program designed to provide a means for sites to earn advertising fees by advertising and linking to Amazon.com.