*My posts may contain affiliate links, which means I may receive a small commission, at no cost to you, if you make a purchase through a link! Thank you for supporting my website!*
Last updated on October 7th, 2022 at 02:28 pm
Should The Trim Be The Same Color As The Door? Let's Find Out!
Trying to spruce up the interior or exterior of your home with a new coat of paint? Have you ever asked yourself, "should door and trim be the same color?" Well, they don't have to be!
Commonly, the door and the surrounding trim should be the same color to make your home feel cohesive. Although, many people are switching to complementary or contrasting colors for that extra wow factor. These color combinations can include white trim/black doors, white trim/wood doors, wood trim/white doors.
So, what are your next steps? Need some ideas on color choices? Well, keep reading!
This article will answer common questions that come up when choosing a trim and door color, address complementary vs contrasting colors, and give great examples of both!
Let's dive in!
Quick Navigation: How To Choose Trim Color
Choosing The Same Color For The door and trim
The first color combination you can choose is having your door and trim be the same color (which is most common).
This is the most common color combination because it ensures a seamless look throughout your entire house.
Trim is traditionally white/off-white or wood color, so choosing a door that will match these colors will always look nice and traditional.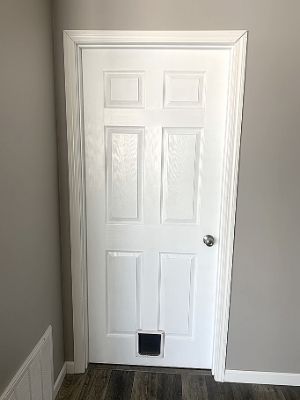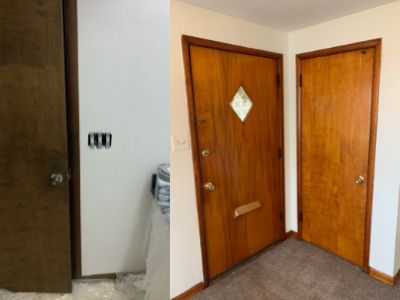 But, like all things in interior design, this isn't a strict rule. If you want to go for a more daring color, you can!
If you're a little hesitant to step too far out of the box, pale colors or neutrals like cream or taupe can work wonders.
Whatever you choose, always remember to consider the color of your walls as well (which we will discuss below). 
Choosing A Complementary Color For The door and trim
The next color combination you can choose is having your door and trim be the complementary colors (such as wood doors and white trim or vice versa).
Choosing a complementary color combination is a nice mid-point between all matching and going full-blown dramatic contrast.
Complementary colors can also allow you to select shades that match wood-grain trim or baseboards.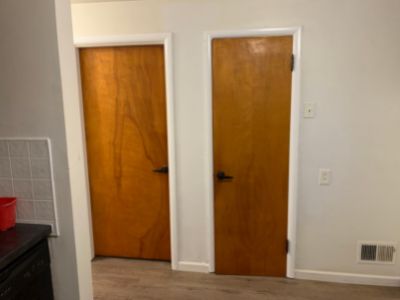 As with the matching color scheme, you also need to consider the color of your walls.
The color of the surrounding walls will influence the overall impact of the colored door. So it's essential to make sure all those elements jive before getting down to business.
But wait, what if your walls are more than one color? What if you've got wallpaper? No worries!
You can create a super cute effect by matching the trim to one color in the wallpaper and the door to another. Adorable! 
---
Related Trim & Entryway Articles
---
Choosing A Contrasting Color For The door and trim
The last color combination you can choose is having your door and trim be the same color (such as black doors and white trim).
Okay, so maybe you're in the mood for something really bold (which is becoming more popular!).
Painting your door and the surrounding trim in contrasting colors is a great way to make it pop and create a strong statement within your home.
Go for a black door with white trim if you're feeling dramatic. Maybe a little feisty? A deep red door with a cream trim has excellent contrast!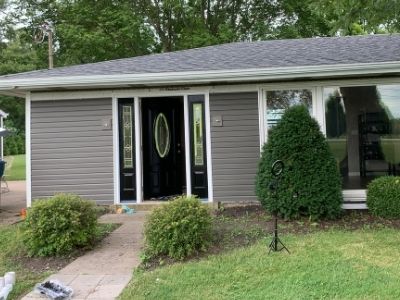 Now that we've got your options covered, let's discuss how to choose the best trim color for your door.
How To Choose the best Trim Color for Your door
Not sure how to decide? Well, here are a couple of additional tips for choosing a door and trim color combinations:
To give your room a pretty focal point: Use a bold door color and contrasting trim to break up a large wall. However, if your room is too small, the pop in color may be overwhelming and give the room an even smaller feel.
To create a sleek look or combat a door in an awkward place: Make the door and trim the same color as the surrounding walls to help it blend in and keep your hallway seamless.
To make your door to really stand out: Give it a coat of high-gloss paint to make it shine! Paint with a bit of gloss is also easier to wipe down, and we all know how dirty doors can get!
If you choose a bold color, try accenting the rest of the room in the same color, so everything in the room feels cohesive.
The feel of the color choice is always important! For example, pastels give a comfy but chic vibe; deep colors are rich and classic; bright colors are modern and edgy; black, white, and grey create a minimalistic look. 
For more door and trim color inspiration, check out Metrie's interior design gallery. 
Other FAQs About Choosing A Trim Color
Here are some other frequently asked questions about choosing the best trim, door, and wall color combinations for your home!
Should the trim be the same color as the walls?
Choosing a trim color that's the same color as your walls has much the same effect as painting your door and trim the same color—it creates a seamless look and often makes the space appear larger. If you're dealing with a room that's already a bit on the small side, this could be a great option to maximize your space.
Should the trim be lighter than the walls?
Using white trim is classic. If your walls are pastel or neutral, white trim acts as an excellent subtle contrast. If your walls are a deeper or darker color, white trim can lighten up the whole room. If you're hung up on choosing colors, white is a great option—it will match any color on your walls, and if you change your mind, it's easy to cover.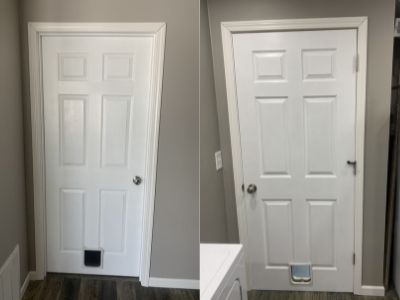 Should the trim be darker than the walls?
Choosing a trim color that's darker than your walls creates a bold, edgy, contrasted look. A dark trim can also draw attention to any window and door frames in the room. If you have woodwork trim, having lighter-colored walls will emphasize its intricate details.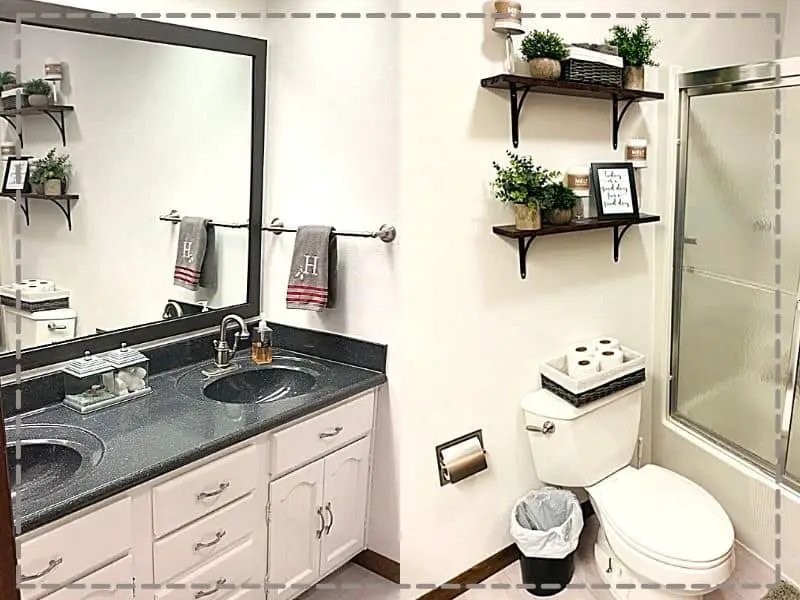 Should The trim and Door Be the Same Color On exterior doors?
It is standard for exterior doors to have contrasting colors to their trim. This gives your home a distinct entrance, making everyone turn their heads as they drive by. These contrasting colors can include white trim with black, burgundy, navy, forest green, turquoise, or any other color that pops against the trim.
Contrasting exterior doors also have other benefits, including:
Highlighting architectural features of your home, like ornamental details on your door or windows
Giving the door frame more depth and dimension
Making your front door the center of attention
Stylish hardware will stand out even more
Check out this video by Cityline that covers painting your exterior door in contrasting colors! 
Should door trim and baseboards be the same color?
To create a seamless and traditional look, the door, trim, and baseboards should all be the same color. To create a bold statement, the door should be a contrasting color from the trim and baseboards. Either way, the trim and baseboards should match to outline the room and keep it balanced.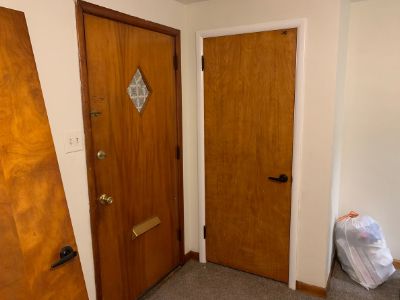 Final Thoughts On Choosing A Trim and Door Color Combination
There you have it! There's a lot of flexibility in the color combinations you can create.
If you still aren't sure, simply choose a white trim. That will match all color combinations you can create with the wall and door colors.
Or if you have wood trim, go with a light/white wall color to create a beautiful, modern, and clean look.
Good luck making your color choices!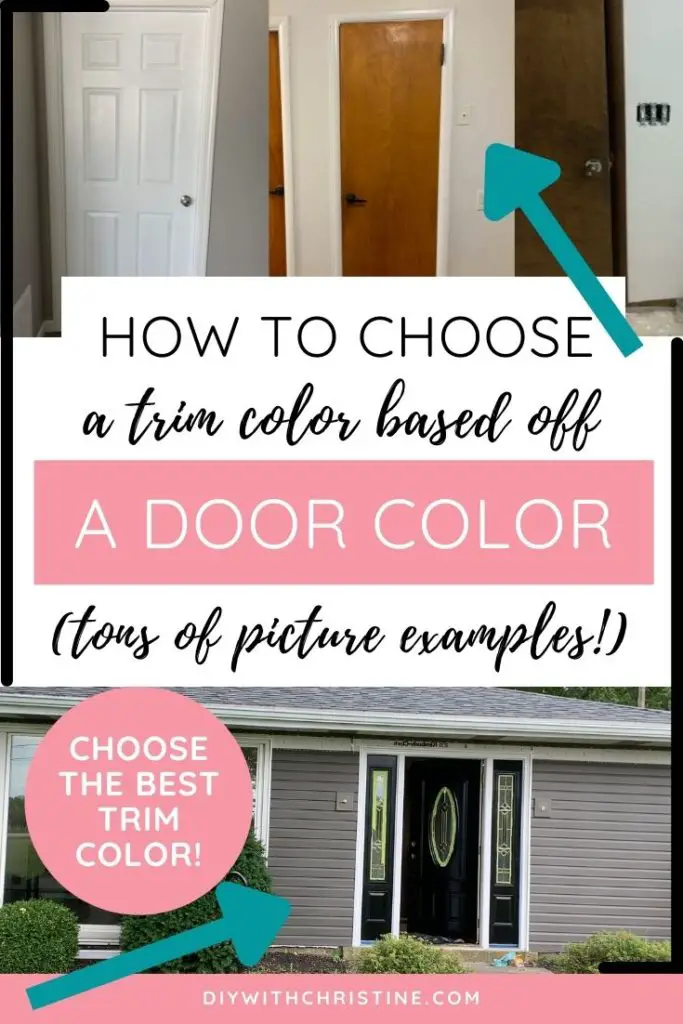 ---
Related Trim & Entryway Articles
---
How To Choose The Trim Color Based Off Your Door Color (With Pictures!)
DIY With Christine is a participant in the Amazon Services LLC Associates Program, an affiliate advertising program designed to provide a means for sites to earn advertising fees by advertising and linking to Amazon.com.