*My posts may contain affiliate links, which means I may receive a small commission, at no cost to you, if you make a purchase through a link! Thank you for supporting my website!*
Last updated on February 20th, 2023 at 04:38 pm
Where To Put Pendant Lights Over A Kitchen Island
Wondering whether you should center pendant lights over an island or not? Well, look no further because I have your answer:
When pendants are centered over a kitchen island, they appear visually balanced provide even light coverage across the countertop. Pendants can be cheated toward the working side of the island (away from the seating) to help minimize glare while eating and focus the light more on the work side.
Now that we have that covered, let's break this down further so you can make the best placement decision for your pendant lights.
Let's dive in!
Quick Navigation: Pendant Light Placement Over Kitchen Island
The Two Options You Have For Pendant Placement: Centered Or Off-Centered
First, let's talk about the two potential positions your pendants can be in: centered and off-centered.
When I talk about "centered" or "off-centered", I'm referring to the position relative to the width of the island.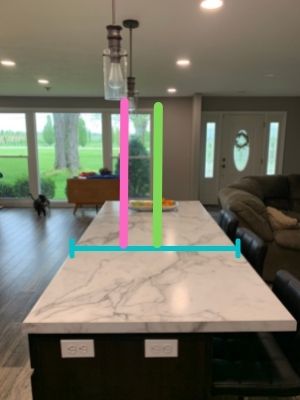 This pendant position is just one of many spacing guidelines you need to consider before officially hanging the lights.
To see all of the standard pendant spacing guidelines, check out my article here.
Otherwise, in this article, we are only going to talk about the position over the width of the island.
Benefits of Centering Pendant Lights Over an Island
In general, the best position to put your pendant lights is centered on the kitchen island because of the benefits.
These benefits include:
Visually appealing look over the island
An even spread of light across the countertop
First and foremost, it's the general aesthetic that stands out as the largest, most visible benefit.
You want the pendant lights to be centered because, if they aren't, it throws off the visual appeal of the entire thing. 
You also want them centered because they are directly over the large, flat countertop surface.
Pendant lights centered across the width of the island will cast an even and uniform light over both sides of the island.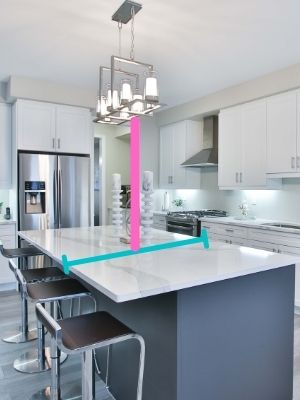 ---
Related Kitchen Island Articles
---
Drawbacks of Centering Your Pendant Lights Over a Kitchen Island
Depending on how your kitchen island is placed and the shape of its design, perfectly centered pendant lights over the width of the island may not place as much light on the "work side" of the island and too much light on the "eating side" of the island. 
This central positioning can create a glare for the person eating. You can offset it by cheating the pendants to the work side of the island.
We actually installed our pendant lights in this "off-centered" position, and we never have issues with glare or the inability to see on either side of the island.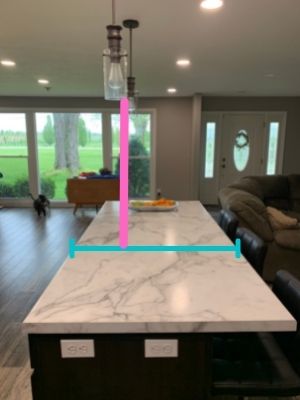 When to Center Pendant Lights Over an Island
In general, most kitchen islands will benefit the most from centering the pendants across the width of the island.
If you want the most evenly spread light or if the side of your island is one of the main focal points, then centering the pendants is an excellent option.
When Not to Center Pendant Lights Over an Island
Some of the scenarios where you might not want to center your pendants across the width of the island include:
When there is already enough overhead lighting in the kitchen
When you want to move the intensity of the light to a certain section
If you want to have an increased amount of light in the kitchen, rather than on the sitting area, you could keep your pendant lights centered only one way and installed closer to the kitchen side of the island. 
Additionally, if you already have a great deal of lighting in the kitchen then you are free to toy around with how you want to place your pendant lights.
In this scenario, the position of the lighting will not matter as much, so you can choose whichever positioning you prefer.
Other FAQs About Pendant Light Placement
Here are some other frequently asked questions about centering pendant lights over the island to help you install them quickly and easily!
How Do You Install A Pendant Light Without An Outlet?
To install pendant lights without an outlet, you should find a pendant light that works off batteries and a remote. There will be no cord to hide, and new electrical will not have to be run to the desired location.
How Do You Space Pendant Lights Over A Kitchen Island?
To help you space out your pendant lights properly over your island, I have an entire spacing guide you can find here.
In this guide, I cover in detail the standard pendant height over an island, the number of lights you need based on your island size, the spacing between each light, and more.
How Do You Choose A Pendant Light For Your Kitchen Island?
Pendant lights come in a TON of colors, shapes, sizes, and styles. Shopping for the perfect light for your kitchen can quickly become overwhelming.
Not to fear, though!
If you need help choosing a pendant light that will compliment your kitchen and design style, then check out my helpful guide here.
I'll walk you through the various styles and color options along with other crucial details you will want to make sure your pendant light can do to help you make the easiest and best choice!
Final Thoughts On Centering Pendant Lights
There you have it!
The pendant light position across the width of the island is more of a personal preference than a hard-set rule.
Hopefully, seeing your options laid out like this helps you decide what will be the best placement in your kitchen.
Catch you in my next post!
The Best Kitchen Tools & Products I've Reviewed
Ravinte Cabinet Handle Installation Template (For Doors & Drawers)
This is my all-time favorite handle installation template because it has two templates (one for drawers and one for doors) with multiple pull sizes & knob placements! These templates make installing cabinet handles a breeze because you always know your handles will be installed in the same spot on all of your drawers and doors. The kit also comes with a drill bit so you can guarantee you're using the correct size. I used this template on my entire kitchen and both bathrooms to cut the installation time in half. You can find this hardware template here on Amazon.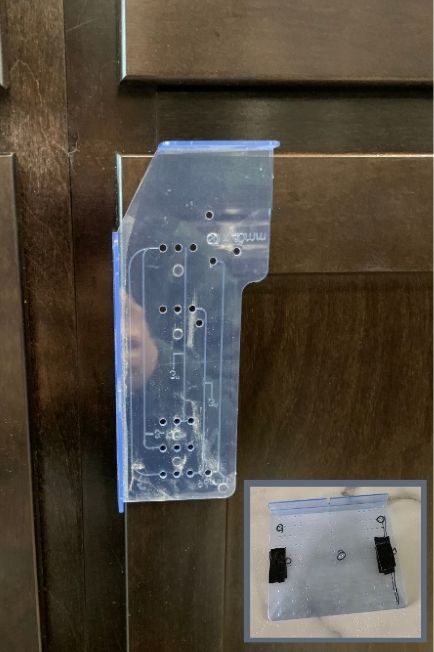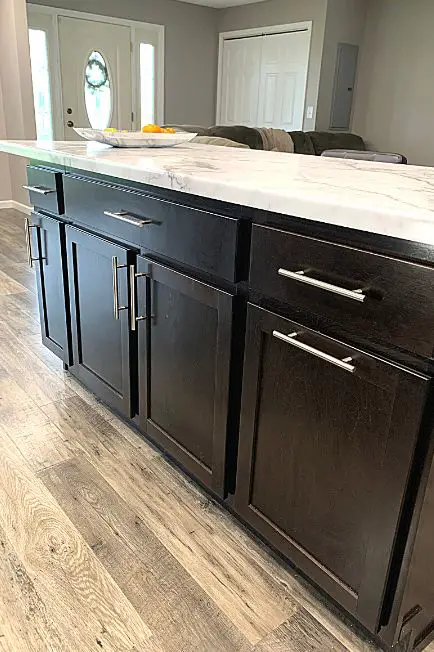 Franklin Brass 5-1/16 Inch (128mm) Center Bar Pull (Stainless Steel)
If you want to immediately modernize your kitchen island, then these cabinet pulls are a must. They are heavy-duty feeling, durable, easy to install, and are a large size for a great price. We put these pulls on all of our kitchen and island doors and drawers along with our bathroom doors and drawers. You can find these gorgeous cabinet pulls here on Amazon.
P.S. Use the hardware installation template I mentioned above to install these new pulls in record time!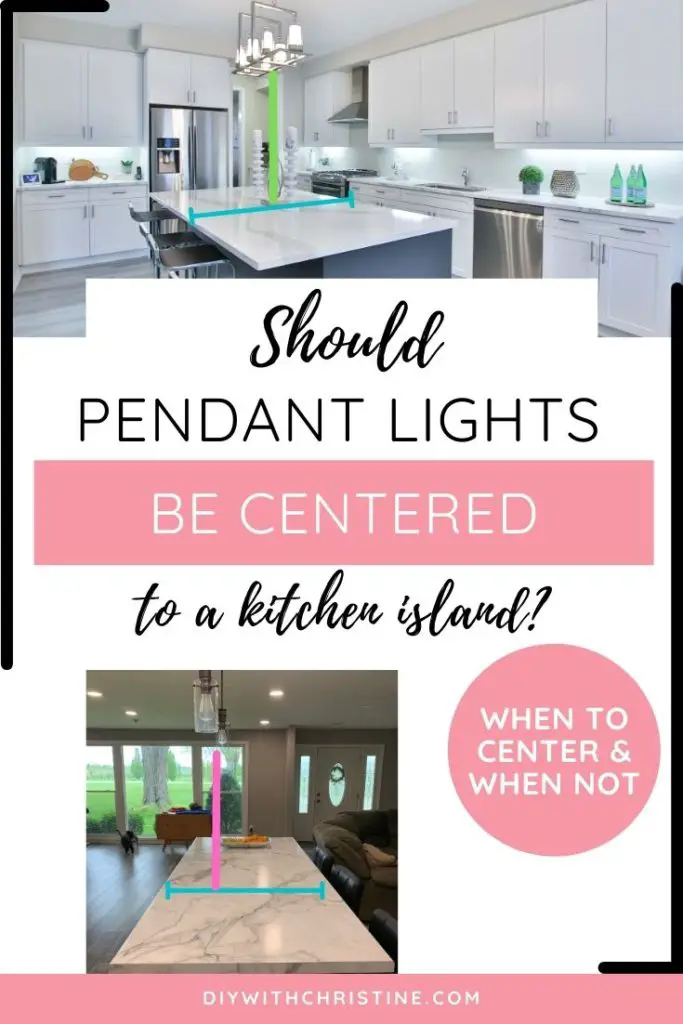 ---
Related Kitchen Island Articles
---
Should Pendant Lights Be Centered To The Kitchen Island? (+ Pictures!)
DIY With Christine is a participant in the Amazon Services LLC Associates Program, an affiliate advertising program designed to provide a means for sites to earn advertising fees by advertising and linking to Amazon.com.