*My posts may contain affiliate links, which means I may receive a small commission, at no cost to you, if you make a purchase through a link! Thank you for supporting my website!*
Last updated on October 17th, 2022 at 04:49 pm
Why Do People Put Pillows On Couches? Find Out Here!
Wondering if you truly NEED throw pillows on your couch? Well, look no further because I've got your answer!
Throw pillows are a cheap and easy way to add contrast and functionality to a couch. However, throw pillows can be annoying if they fall off slippery leather couches frequently or end up on the floor often without use. To avoid, limit to 2-3 pillows per couch corner or forgo altogether.
Now that we've got that out of the way, let's go further into when and how you should use throw pillows and when you should probably skip them altogether.
Let's dive in!
Quick Navigation: Benefits Of Throw Pillows On Couches
What is the Point of Throw Pillows?
Throw pillows may seem like a frivolous purchase, but throw pillows can definitely add some value to your living space.
Benefit One: Throw Pillows Are an Inexpensive Décor Item
The first benefit of throw pillows is how easily you can add a decorative and cozy moment on your couch without breaking the bank.
For $10-$30 a pillow, you can easily try out trends, change the color accents in your home, or even add a festive air around the holidays.
For example, every Halloween, Christmas, or Easter, you can get themed pillows to bring in the spirit of the season.
Typically, you can purchase pillows once and change out the covers as you please. It's a simple yet effective way to redecorate your space on a budget.
Some of my favorite pillow inserts and covers on Amazon!
PRO TIP: To make your pillows full and fluffy (not slouchy), size up the pillow insert by 2 inches. (For an 18″ x 18″ pillow cover, get a 20″ x 20″ pillow insert.)
It will make your pillows look so much better!
Benefit Two: Throw Pillows Can Be Comfortable & Functional
The second benefit of throw pillows is how functional they are as well as stylish.
Throw pillows come in a variety of shapes, sizes, and fabrics.
For example, large, knit throw pillows are excellent to use while napping or as extra support for your arm while sitting on the couch.
Or small, elongated lumbar throw pillows are great to add that little bit of extra support to your back while sitting on the couch.
Plus, throw pillows tend to last for years before wearing out, so they're worth the small amount of money for many comfy sits on the couch.
They're one of those fantastic decor pieces that don't seem like a waste of money because you will likely use them in some fashion every single day.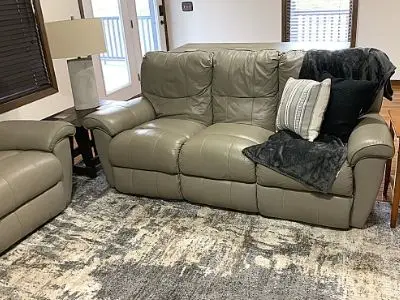 ---
Related Home decor Articles
---
Can You Decorate A Couch Without Throw Pillows?
There are some occasions where throw pillows don't benefit a couch.
Sometimes leather couches and throw pillows just don't mix. Certain throw pillow fabrics and densities (such as satin fabric or pillows that are really stuffed) will slip, slide, and fall over/off a leather couch no matter how many times you prop it up.
Or maybe your pets or kids use them more like toys/weapons and wear them out well before they should, leaving them ratty, lumpy, or torn.
In those cases, your couch does not need a throw pillow. Throw pillows likely will detract from the cozy and "put-together" look you're going for.
Instead, you can choose to decorate your couch without throw pillows.
Couches can be decorated without throw pillows. To decorate without a throw pillow, you can drape a throw blanket across the back of the couch or use a decorative tray on the armrest to add contrast, or simply leave the couch plain to create a clean, clutter-free look.
Draping a throw blanket over the back of the couch or over one arm not only looks good, but it's also at arm's reach for easy use. (Hello, more functionality! Check out my article here for how to choose the best throw blanket for a gray couch.)
In addition, you can put a décor tray on your couch to rest your drinks or a vase to house flowers or leave the couch plain and let the decor around the couch do all the talking.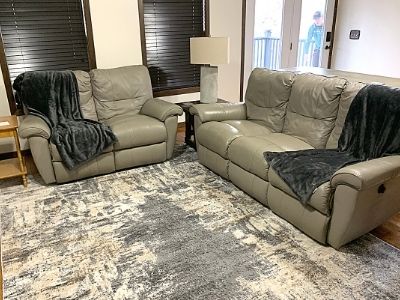 How to Choose Throw Pillows For A Couch
For those of you who've decided throw pillows will really level up the looks of your couch, it's time to discuss how to choose throw pillows that will suit your couch.
Choosing the right throw pillows can be as easy as finding the color you like and following that. However, I recommend going further than that to make your couch really stand out.
Step One: Choose a Few Colors for Your Throw Pillows
The first step to choosing a throw pillow is choosing your color scheme.
Your living room likely already has a color scheme, so take a look around and build off of the dominant colors already in the room.
They can be similar colors in different hues or even contrasting colors, but having more than one will offer some depth to the décor.
For example, my living room has a strong "greige" vibe along with blacks, whites, golds, greens, and wood tones.
Before looking for throw pillows, I knew I wanted white/cream pillows with accents of the greige color that I have in my rug, my wall decor, and in the couch itself.
I also knew I wanted two different colors/patterns on my pillows, so I was going to look for a darker-colored pillow (more black or dark gray) to contrast the light colors going on in the room.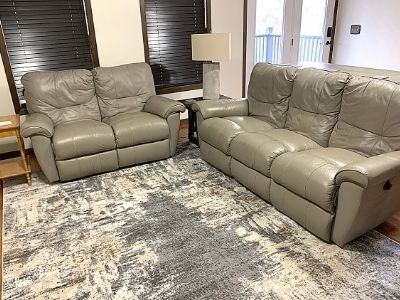 Step Two: Choose a Pattern for Your Throw Pillows
The next step to choosing a throw pillow is choosing your pattern.
Having at least one pillow with a bold pattern that draws on your dominant colors makes the couch look more interesting.
Then having more simple, solid-colored, or complementary patterned pillows will help the whole couch look cohesive and aesthetically pleasing to your eye.
For example, one pillow might have a bold, zigzag pattern while the pillow next to it might be one solid color. Or you could do a striped pillow with a solid pillow. Or polka dots with a solid-colored pillow.
I am a strong believer that less is more, so while you can go crazy in the pattern department, it can quickly make your couch feel overwhelming to look at and not well-thought-out.
To avoid that problem, simply pick one pattern and accent it with different solid-colored throw pillows.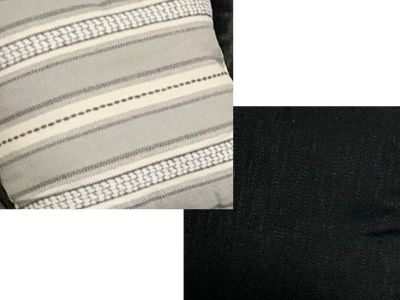 Step Three: Choose a Texture for Your Throw Pillows
The last step to choosing a throw pillow is choosing a variety of textures.
The texture of your pillow can bring ultimate comfort as well as design. Some possible textures to choose from are wool, velvet, fur, tweed, or leather.
Having a mixture of soft and coarse textures makes your sofa looks attractive.
But don't just choose a pillow texture based solely on the looks. Remember, throw pillows should be functional as well as decorative.
What's the point of having a plethora of pillows that you hate the texture of and just throw on the ground every time you want to sit on your couch?
If that's the case, then you'd be better off forgoing throw pillows altogether.
The Throw Pillows I Chose For My Couch
After factoring in all of these steps, I ended up with these two sets of pillows – one patterned pillow with a cream background and greige design and one simple, black pillow to add a bold contrast.
Both pillows are the same, soft-knit texture because I love using my pillows to lay my head on as I sprawl out on the couch. Other fabric textures bother me, so I didn't get them.
My couch still looks fabulous though! (At least it does in my opinion, and that's all that matters, haha!)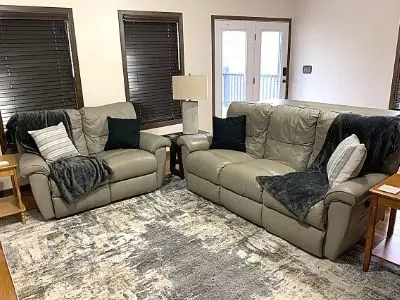 How Do You Place Throw Pillows on Your Couch?
Now that you've got ideas of what colors, patterns, and textures you want in a throw pillow, it's time to think about sizing and placement.
If you want to have throw pillows but don't want to go overboard, just focusing on the corners is enough.
Having one or two pillows in the corner of your couch can be enough to make your sofa look more comfortable.
However, if you want to make sure you get the perfect size and placement for your type of couch, check out my article here.
It's full of examples to help you pick the perfect pillow size and placement for your couch.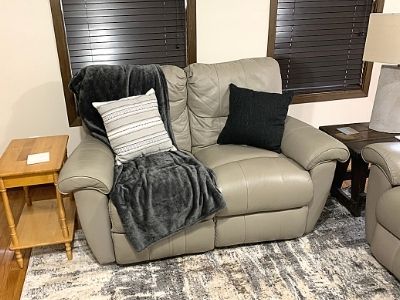 Other FAQs About Throw Pillows On Couches
Here are some other frequently asked questions about throw pillows to help you decorate your couch with ease!
Can You Have Too Many Throw Pillows?
People who love throw pillows might be tempted to cover the whole couch, but there is such a thing as having too many.
This is especially true of more petite sofas that can feel overwhelmed a little more easily than deep couches.
Having too many throw pillows on a couch can make the couch feel small and cluttered. They also make sitting on the couch difficult without knocking the pillows on the ground. Instead, only place 2-3 pillows in each couch corner for optimal functionality and design.
To determine how many throw pillows would be optimal for your couch, check out my article here. (Includes charts and pictures to help you!)
How Do You Store Throw Pillows?
When you're sitting on your couch or visiting with people, the pillows can sometimes get in the way.
The quickest and easiest way for people to move them is by throwing them on the floor. If you don't like the idea of putting pillows that were on the floor back on your couch, an easy fix is to a drop zone.
To easily store throw pillows off the floor, create a "drop zone", such as an armchair, basket, or ottoman, to place the extra throw pillows while using the couch. Once you're done with the couch, grab the pillows from the drop zone and replace them on the couch.
Can Minimalists Have Throw Pillows?
Throw pillows seem almost entirely contrary to minimalism. To some, these kinds of home décor items fall under the category of clutter.
And while throw pillows can appear at odds with minimalism, if you're someone who loves throw pillows and relinquishes other clutter, you can still be a minimalist.
Throw pillows can complement a minimalist home without making a couch feel cluttered. Choose throw pillows for functionality as well as style, and limit the number of pillows to 2-3 per couch to stick with a minimalist design style.
Do Sofas Need Throw Pillows?
Throw pillows are a cheap, easy, and functional decor element for any sofa. Use them to create a cozy vibe in your home. Throw pillows can be problems on slippery leather sofas or homes with children/pets that wear the pillows out quickly. In those cases, sofas do not need throw pillows.
Final Thoughts On Choosing Throw Pillows For A Sofa
There you have it!
While you don't need to have throw pillows on your couch, throw pillows are an easy way to redecorate and can make your sofa more inviting. You can easily remove your throw pillows when you want more space or keep them on your couch for a polished look.
Whether you are someone who has a pillow cover for every season, have no throw pillows at all, or fall somewhere in between, there is no right or wrong way to style your sofa.
They're an excellent addition to any couch, but they are by no means mandatory. Hopefully, this has helped you make a decision on whether to use throw pillows or not on your sofa!
Catch you in my next post!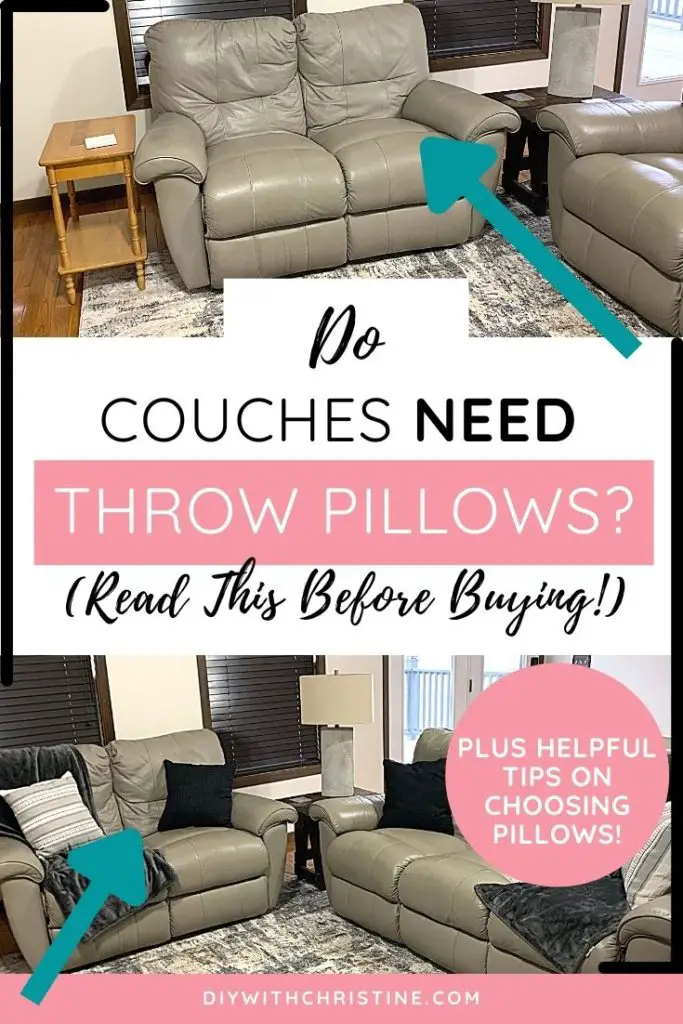 ---
Related Home Decor Articles
---
Do Couches Need Throw Pillows? (Consider This Before Buying)
DIY With Christine is a participant in the Amazon Services LLC Associates Program, an affiliate advertising program designed to provide a means for sites to earn advertising fees by advertising and linking to Amazon.com.