Hey there!
Welcome to my world of DIY!
My name is Christine, and I started this blog, DIY With Christine, to document my husband and I's journey while we completely gutted and renovated our first home, and to show other women that we CAN build our dream home without relying on others or paying outrageous contractor fees.
If you've ever wanted to:
 Refresh rooms in your home to better suit your style 
Create money out of thin air by injecting equity into your updated house, so you can sell for top dollar or
Complete maintenance and home renovation projects yourself to avoid expensive contractor fees
Then this blog will be your go-to resource to help you do that without feeling overwhelmed!
My goal is to help you renovate and decorate your dream home without breaking the bank, and without having to rely on others. I LOVE empowering women to accomplish tasks themselves. Especially in an area of life that is usually expected of men to take care of. (Not to say we don't love our men who help us! I'm just saying that it is no longer necessary to rely on them to "fix the house". We can do it ourselves and they can help if they'd like!).
Women, like you and I, are more than capable of fixing the clogged drain, painting and decorating the bedroom, tiling the kitchen backsplash, and building the high-end kitchen table! And lucky for you, I'll be here every step of the way while you take on this new DIY journey. 🙂
A LITTLE BIT ABOUT ME
I'm a cat mom, a volleyball fanatic, a loving wife, and a girl who's always loved being artsy and creative. Painting, building things, doing arts & crafts – you name it, and I loved it as a kid. 
I even created intricate drawings of exactly how I'd decorate and paint my room in every color of the rainbow. Imagine the cringy-est kid's room ever then multiply it by 10! That would have been this design haha! Luckily, my parents said I had to buy the paint to complete the project, and I lost interest pretty quickly.
Although, that didn't stop me from rearranging my room every few months and covering the walls with posters and drawings.
Excluding that terrible paint design, I never considered being artsy and hands-on in anything relating to home improvement. Of course, that probably had a lot to do with me not owning a house. But that all changed when I started getting more interested in homeownership and real estate investing.
MY REAL LIFE EXPERIENCE WITH DIY & HOME RENOVATION
If you've ever heard of "House Hacking" then you'll know what I'm talking about in this section. But in case you don't know, this is what Google has to say about House Hacking:
"House Hacking is a strategy that involves renting out portions of your primary residence to generate income that is used to offset the cost of your mortgage and other expenses associated with owning a home."

– Forbes
I mention this because when I was a sophomore in college, my parents and I went in on a duplex together. If I helped fix it up, I got to live rent-free on one side, and the rent from the other side would pay the mortgage. Crazy enough, I was house hacking before I had ever heard the term. (This strategy is something I'd HIGHLY recommend if you ever get the chance.)
The Duplex
When we bought the duplex, we bought it as a HUD foreclosure. There was old, crackling plaster, hardwood flooring missing in the bathroom, and animal feces all over the basement. Most people would probably wonder what we ever saw in the house! I'll tell ya – it was a good deal, the bones were good, and the rent potential was worth it!
I spent that entire summer working alongside my family renovating the duplex, so it could be ready before college started again. In that time, I painted walls, sanded and refinished hardwood floors, and installed new door trim and baseboard, on top of a myriad of other things.
I lived there for 4 more years taking care of the property (both my side and our renter's side) and adding unique touches (like new cabinet handles and kitchen backsplash) to make the rental better when my husband and I moved out.
Check out my other blog, DIY Rental Manager, to learn all about how we self-manage the Duplex and our other rental properties for only 5-10 hours a month! (We manage them better than a professional property management company would AND we get to pocket the management fees! Win-win!)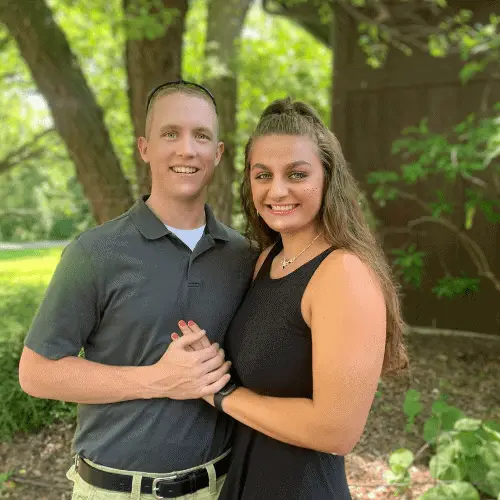 Meet Adam, my husband! He and my father (who hates pictures haha) helped me learn everything I know about DIY and home improvement. They empower me to be a stronger woman, and for that, I'll forever be grateful!
The 1950's Ranch
After we got married, we got to live in that little duplex together and create a home. Only a short year later, we bought our current home – a 1950's ranch that needed EVERYTHING replaced in it. Again, what did we see in this house?? Oh yeah, that's right! We saw a great-priced estate sale in the perfect location, and I really wanted to flip a house haha! Luckily, Adam was all-in on this project with me, so we made it happen!
We spent the next year gutting and renovating every single aspect of this house. I'm not kidding when I say this – it might be a 1950's house, but almost none of it is left from the 1950s. (Except parts of the foundation and the structure – but we redid a good portion of that as well).
Here's a before and current picture of just the kitchen: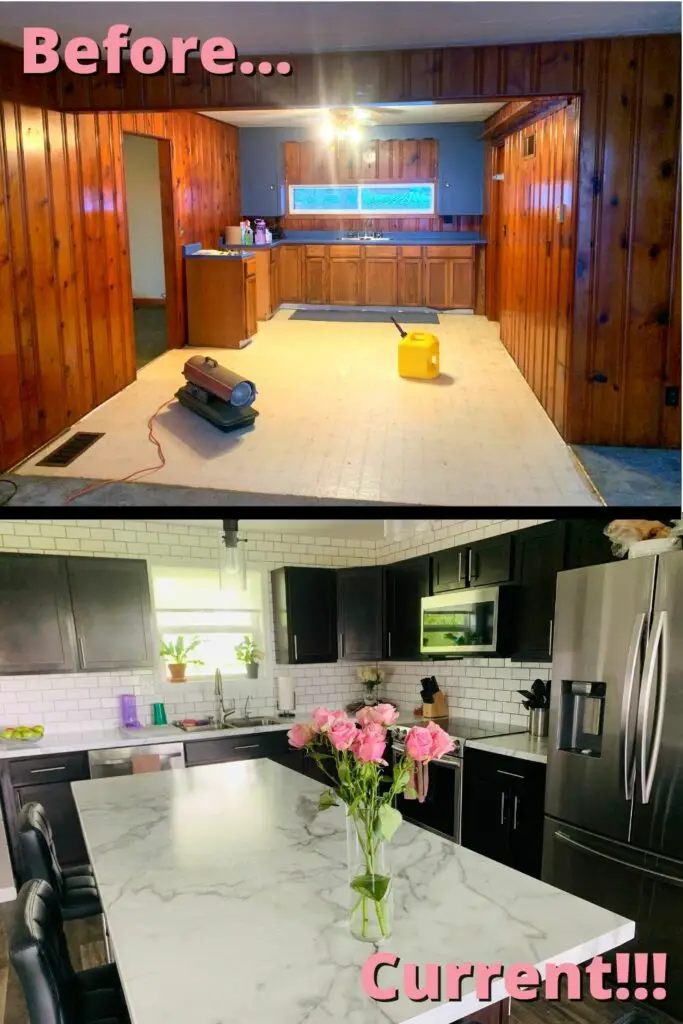 Here's a before and current picture of the master bathroom: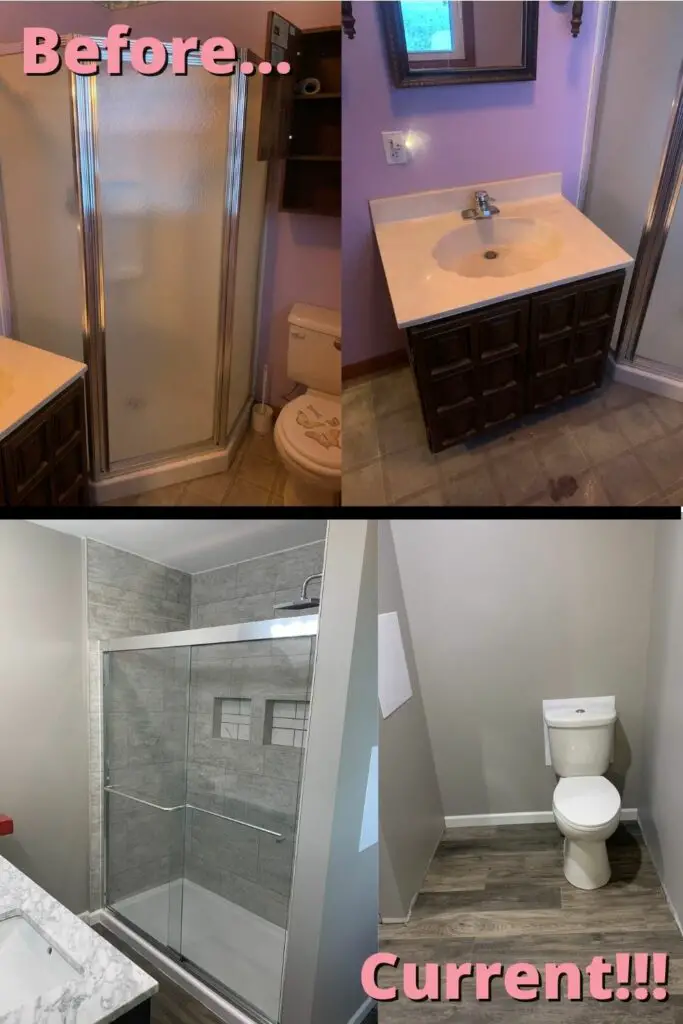 And finally, here's a before and current picture of the exterior of the house: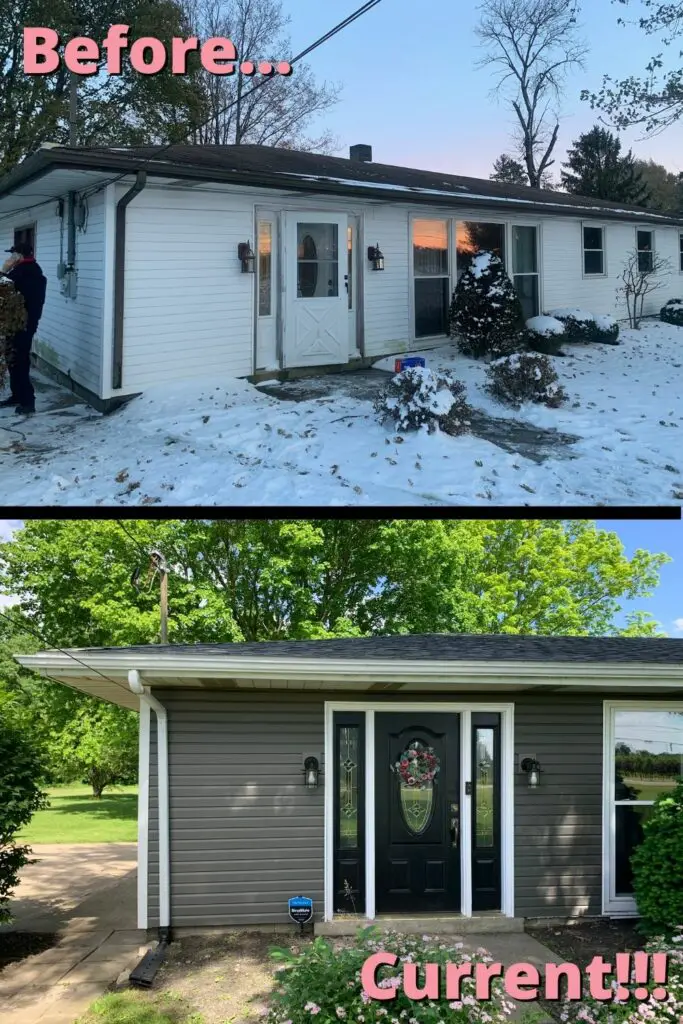 Do you see what I mean? I mean look at that WOOD PANELING! It was very satisfying to remove that stuff. During this project, I went from performing basic home maintenance and home improvement projects to building walls, running plumbing through bathrooms, drywalling entire rooms, tiling showers, and more.
I've definitely made my fair share of mistakes, but I'll never trade those mistakes because every mistake has made me better and stronger. Lucky for you, you can learn from my mistakes and avoid making them yourself!
HOW I STARTED BLOGGING ABOUT DIY & HOME IMPROVEMENT
Towards the end of our 1950s home renovation, I started to think about how much I had learned over the past year and how much money that knowledge had saved me (and hopefully how much it will make us when we sell it later!).
I realized that it is not normal for women to learn the skills I learned. (And if you were taught them, kudos to whoever taught you! They're helping you have a better life!) I just feel that it shouldn't be that way though! Women, like you and I, are just as capable of renovating our homes on a budget like anyone else.
There's no reason to wait YEARS to have your dream house when you can create your dream TODAY with your own two hands. I just think that is so cool, and I want to help more women feel the same empowerment I felt on this journey.
As I've said before, DIYing your home is one of the fastest ways to learn new skills, get a major feeling of accomplishment and empowerment, and save some major money (while also adding more value to your home!)
I hope I've inspired you to try your first DIY or home improvement project! If you feel inclined, I would love to hear about your experiences and lessons learned as you go through your own DIY journey!!
ABOUT DIY WITH CHRISTINE BLOG
DIY With Christine's main focus is helping you renovate and decorate your dream home without relying on others or paying a contractor outrageous fees.
This blog also covers topics about DIY, home improvement, & home decor.
Disclaimer: Please note that this is a personal blog where I share my personal experience, tips, and tricks about DIY & home improvement. All opinions are mine. You should not take anything from this blog as professional advice. You can read more about the privacy policy here.
DIY With Christine is a participant in the Amazon Services LLC Associates Program, an affiliate advertising program designed to provide a means for sites to earn advertising fees by advertising and linking to Amazon.com.