*My posts may contain affiliate links, which means I may receive a small commission, at no cost to you, if you make a purchase through a link! Thank you for supporting my website!*
Last updated on October 29th, 2022 at 04:06 pm
Paint Gutters & Downspouts Before & After
Wondering if you can paint your gutters and downspouts to make your old gutters look new again? Well, look no further because here's your answer:
Gutters and downspouts can be painted using exterior paint or spray paint. For maximum paint adhesion, clean the inside and outside of the gutters thoroughly using a pressure washer before painting. After the paint has dried, apply a clear topcoat to increase the longevity of the newly painted gutters.
Yes, it's really that simple, but the results are astounding! When we bought our 1950s Ranch, everything was orange and brown… two colors I despised…
So when we decided to switch the colors of the house to gray and black, we had to change the color of the gutters from brown to white.
Then was born this tutorial! Follow along to transform the color of your gutters to a more favorable one as well.
Let's dive in!
Quick Navigation: How To Paint Gutters & Downspouts
| Level Of Difficulty | Time To Complete |
| --- | --- |
| Easy | 6-8 hours |
Step One: Blow Out Debris With Leaf Blower
The first step to painting gutters and downspouts is to blow out the debris with a leaf blower.
Or you can also use a pressure washer to blast out the debris.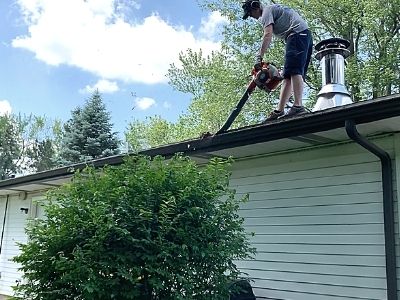 Personally, I prefer to use a leaf blower to initially blast out the bulk of the debris, then follow up with the pressure washer because it's easier to clean up the debris later.
Depending on how long ago it rained for you, the debris will mostly be dry, so it's not a muddy, stinky mess when you blast it out. That means when it's all blown out of your gutters and off the roof, it will be easier to sweep up and dispose of.
However, if you blast the debris out with a pressure washer, then you're definitely going to make a muddy mess. (And the debris tends to smell strong when it's wet. Not my cup of tea haha!)
But either way gets the job done. Choose whatever works best for you!
Start at one end and blow all of the debris toward the other end and off the roof. Continue around the house until all gutters are cleared of debris.
Once the debris is out, it's time to move onto the next step!
---
Related Gutter & Outdoor Articles
---
Step Two: Pressure Wash The Inside & Outside Of Gutters
The next step to painting gutters and downspouts is to pressure wash the inside and outside of the gutters.
Were you wondering how to clean gutters before painting? I was wondering too, and after cleaning our gutters, I've determined pressure washing is the best solution.
The best way to clean gutters before painting is to use a pressure washer on medium pressure (1500-2000 psi) to remove dirt, algae, and debris. If a pressure washer is unavailable, then the next best option is to hand scrub gutters with a gutter cleaning solution and rinse with clean water.
Yes, now I like to break out the heavy-duty pressure washer because it will blast out the fine dirt particles and caked-on algae that is much harder to try to scrub off by hand.
This is the Generac pressure washer that we have. It is fantastic because of that PowerDial that allows you to change pressures with a simple turn!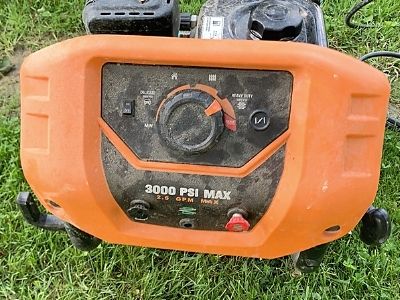 Instead of needing different pressure washers with different psi's to get the job done or having to constantly switch out the nozzles to achieve a different spray and pressure level, I just turn the dial and can keep working.
That was a total gamechanger in making any of my pressure washing projects go faster.
Now, I don't think they make the model we own anymore, but this model found at Amazon has 2900 psi max and 2.4 GPM (very close to ours) and the PowerDial is on the wand instead of the front of the machine. It's the version that I would buy today if my current pressure washer went bad.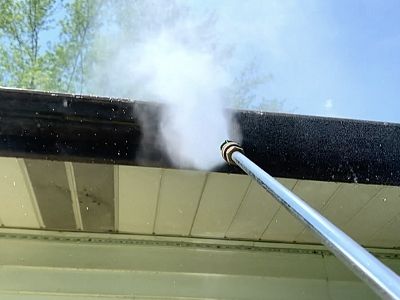 For our gutters, all we needed was this pressure washer to get them spotless. However, if you are still having trouble getting some of the grime off of your gutters, then you should use this gutter cleaning solution found at Amazon to help remove some of the gunk.
Spray it on, let it sit, and scrub it off to help make the gutter paint preparation process easier.
For a more in-depth tutorial on how to clean gutters with a pressure washer, then you should check out my article here. It'll help you determine how frequently you should be cleaning and performing routine maintenance to make your gutters last for decades to come!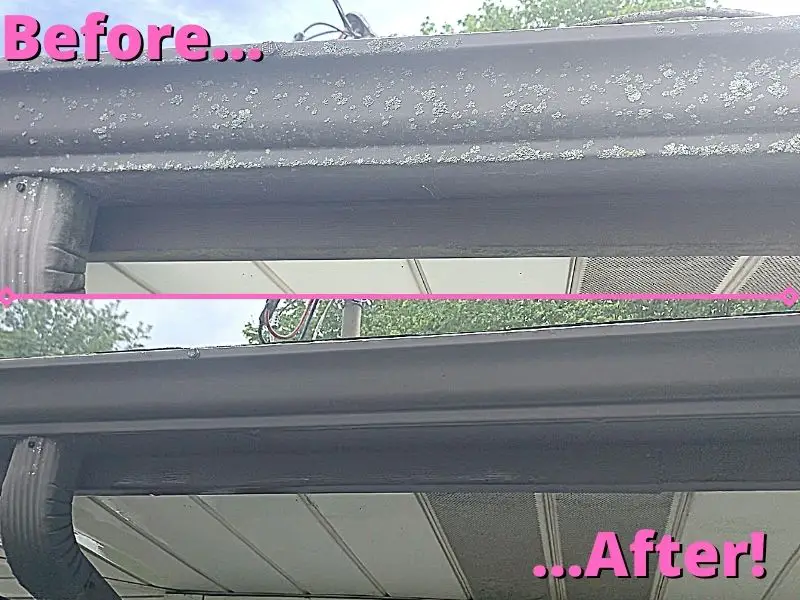 Whichever way you clean your gutters, just make sure you allow plenty of time to make them spotless. Even the smallest amount of dirt can cause the paint to flake later, so really take the time to get this part right.
Also, it's best to paint the gutters within a day or two of cleaning so that they are fully dry and still clean of debris when you start your first coat.
Now that we've got the gutters looking spotless, it's time to move onto the next step!
Step Three: (Optional) Repair Damaged Gutters
The next step to painting gutters and downspouts is to repair any damaged part of the gutters.
Since we've taken the time to thoroughly clean the gutters and prep them for paint, we might as well fix any problem areas so our gutters and paint job will last for years to come.
Some of these repairs can include fixing bent gutters, patching holes or removing rust, re-attaching loose gutters and downspouts, and more.
However, if your gutters are in good shape, then we can move onto the next step!
Step Four: Paint Gutters With Spray Paint
The next step to painting gutters and downspouts is to paint the gutters with spray paint.
Yay, we are finally onto the important part. Painting!
Now, to do this part fast and flawlessly, I highly recommend using Rustoleum spray paint. We used high gloss white spray paint found at Amazon. Not only will it help you paint faster and make it easier to get within the cracks of gutters, but it will also allow you to get a much more flawless finish than a paintbrush ever could.
Plus, it will stop and prevent rust from occurring in the future, which is a big win if you already have some rust on your gutters.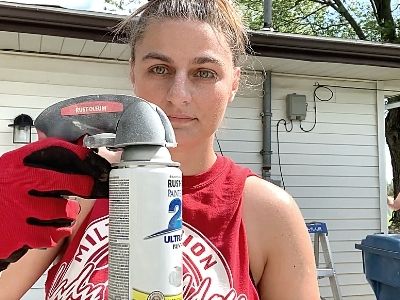 I also highly recommend that you invest in one of these comfort grip spray paint guns found at Amazon. After spray painting for hours straight almost, my hand was feeling it.
However, the blistering and soreness were minimal compared to if I had to have sprayed the gutters with the normal nozzle! (I did spray a section of the gutters like that, and nope, my hand would have given up after hour two haha!)
Also, wear gloves to minimize blistering if you decide to paint all in one day as we did.
Painting all of the gutters in one day was 100% worth it because everything was able to dry before any unwanted weather came through, and we got it over with in one go.
But I will say, doing it all in one day isn't for the faint of heart. So no worries if you need to spread the project out across a day or two.
How To Paint Gutters Flawlessly
To paint the gutters and downspouts flawlessly:
Tape off any areas you don't want paint on (roof, soffit, siding, etc.)
Spray several thin coats using wide passes over the gutters and downspouts
Never hold the spray in one spot for more than half a second (or drippage will occur)
If a drip does occur, wipe it off immediately and let the paint dry
Spray over drip wipes later with thin layers
Apply 2-3 coats of paint or until the paint color is fully achieved (no splotchiness)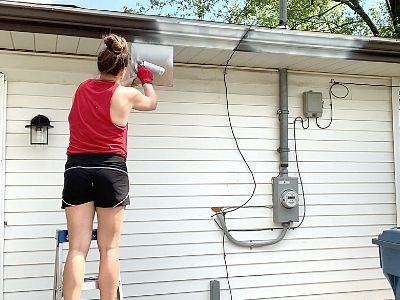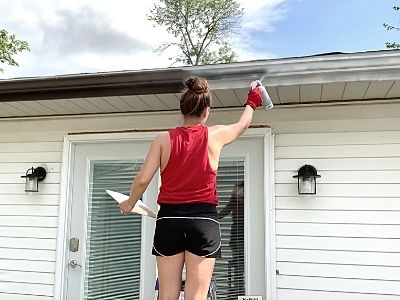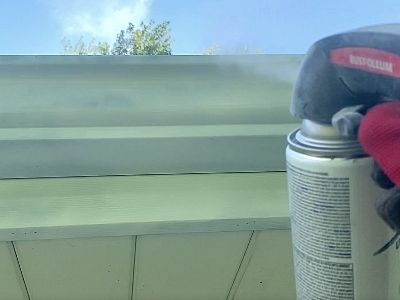 Step Five: Apply A Top Coat To Gutters
The last step to painting gutters and downspouts is to apply a topcoat to the gutters.
To really protect the new paint on the gutters, you should apply 2 coats of Rustoleum's clear topcoat. We used the high gloss clear topcoat found at Amazon.
Just as you applied the paint, you should spray several thin coats using wide passes over the gutters and downspouts for smooth, clean coverage.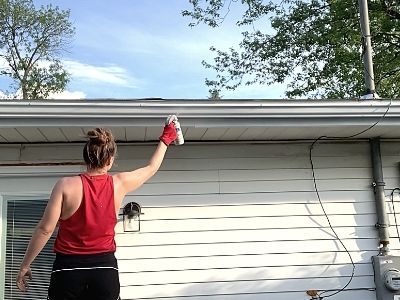 In total, we went around the house 4 times (2 coats of white and 2 coats of clear) to paint the gutters and downspouts.
By the time we made it around the house once, the paint at the beginning was dry, so we were able to immediately start on the second coat (and so on).
After the final coat was applied, we let it dry fully, and we were done! The rain even came the next day to test the quality of our work, and we passed! A flawless finish that stands up to the weather.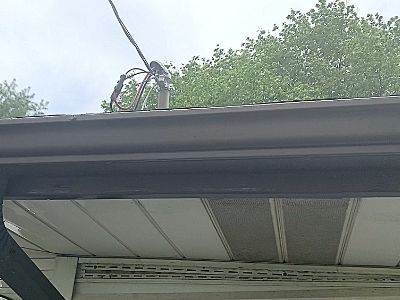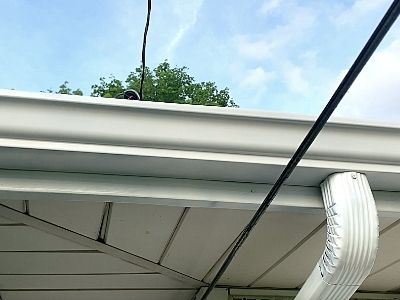 UPDATE: Painted Gutters Before & After (ONE YEAR LATER)
Now that we've had our gutters painted for one full year, and they've gone through a pretty harsh Ohio winter, I wanted to give an update.
The paint has actually adhered pretty well on the majority of the gutters (especially the most visible parts).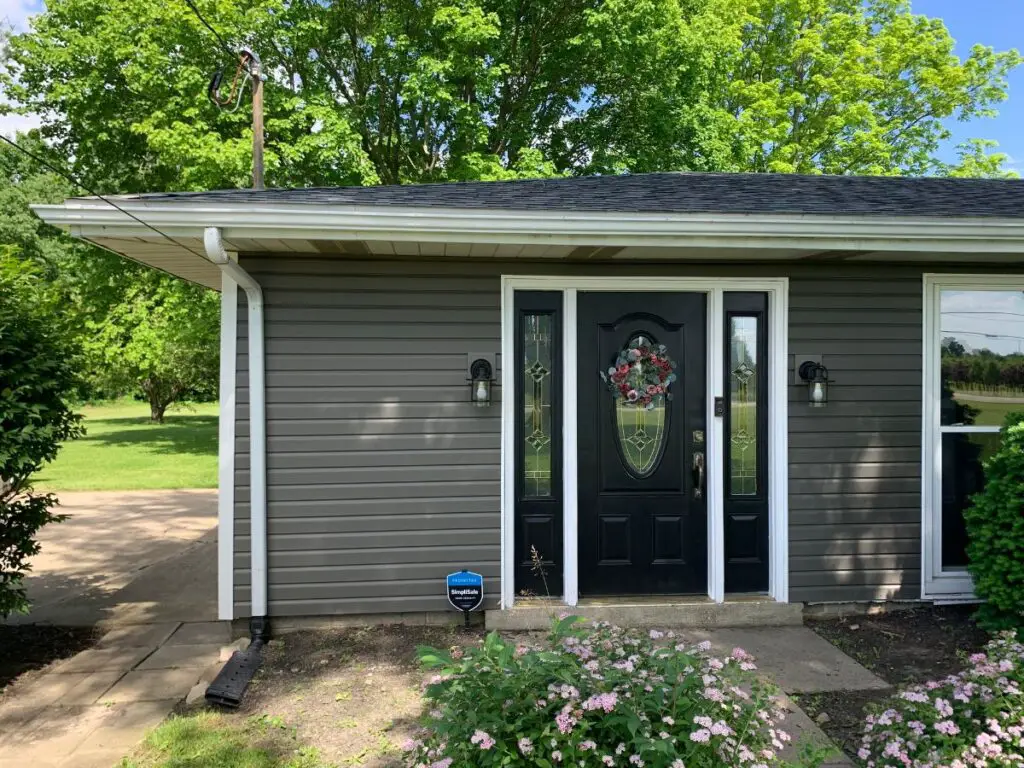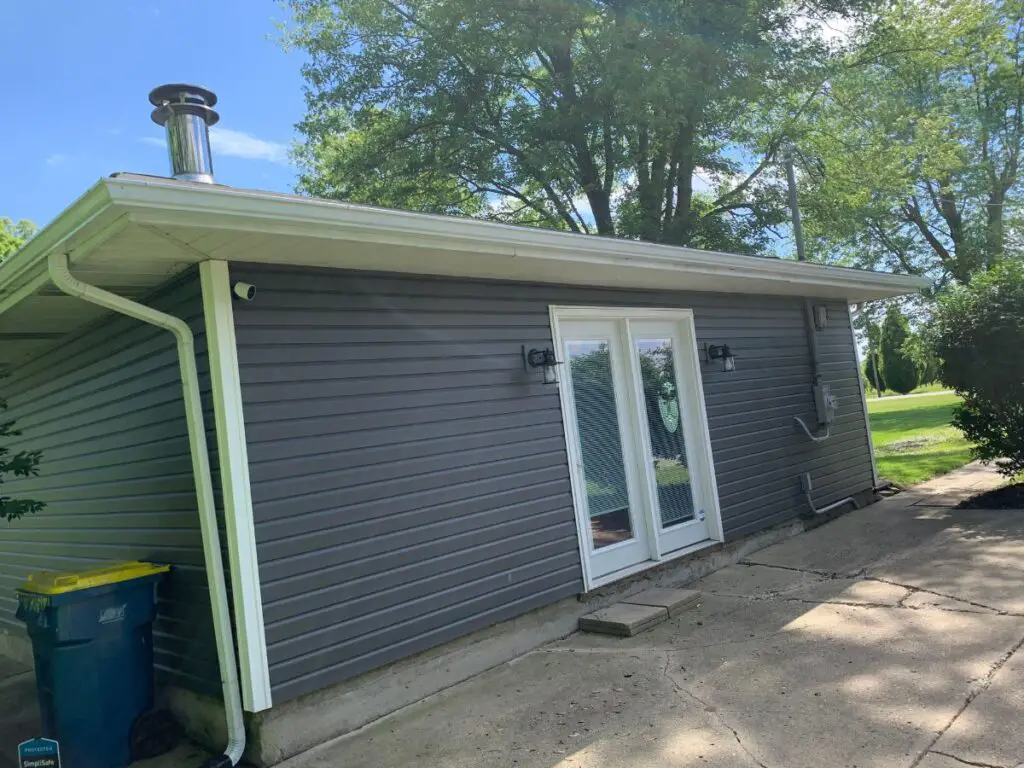 There are a few spots where the paint is chipping off. But it is only chipping off in the spots where rain should not be getting to anyway.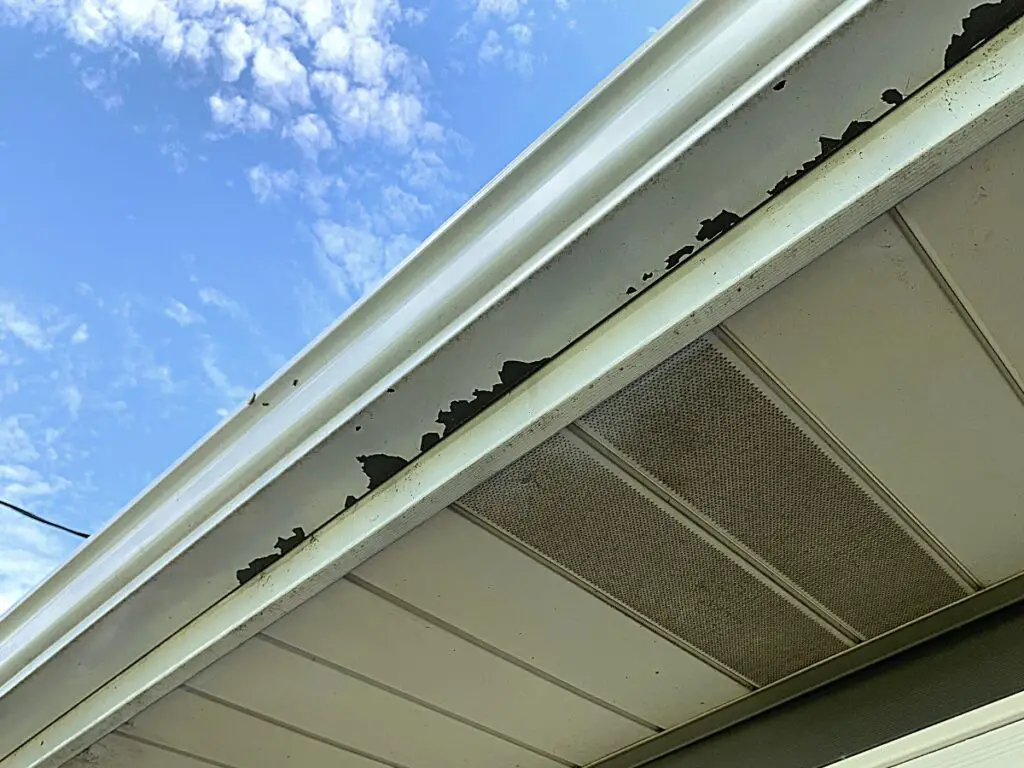 A little aluminum flap along the roof and edge of the gutter accidentally got tucked against the house so it wasn't directing the water into the gutters.
Instead, it's been directing the water between the house and the gutters. That excess water got underneath the gutters and froze a few times, which affected the paint.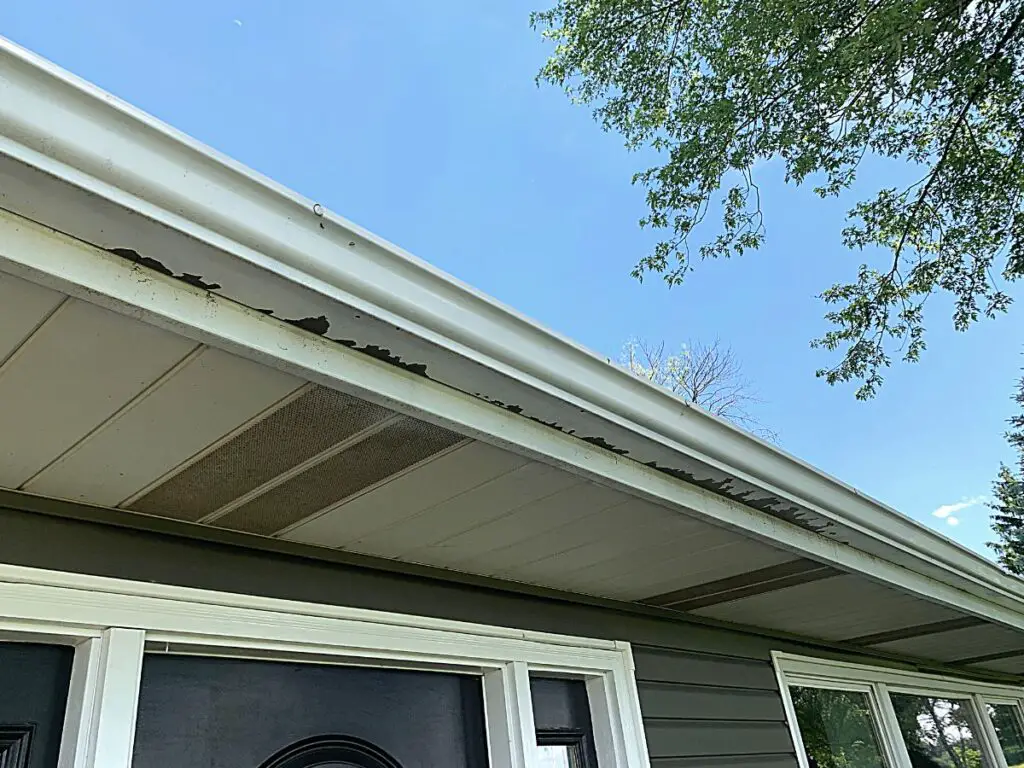 On the downspouts and the parts of the gutters where that little flap was in its correct position, the paint stayed perfectly!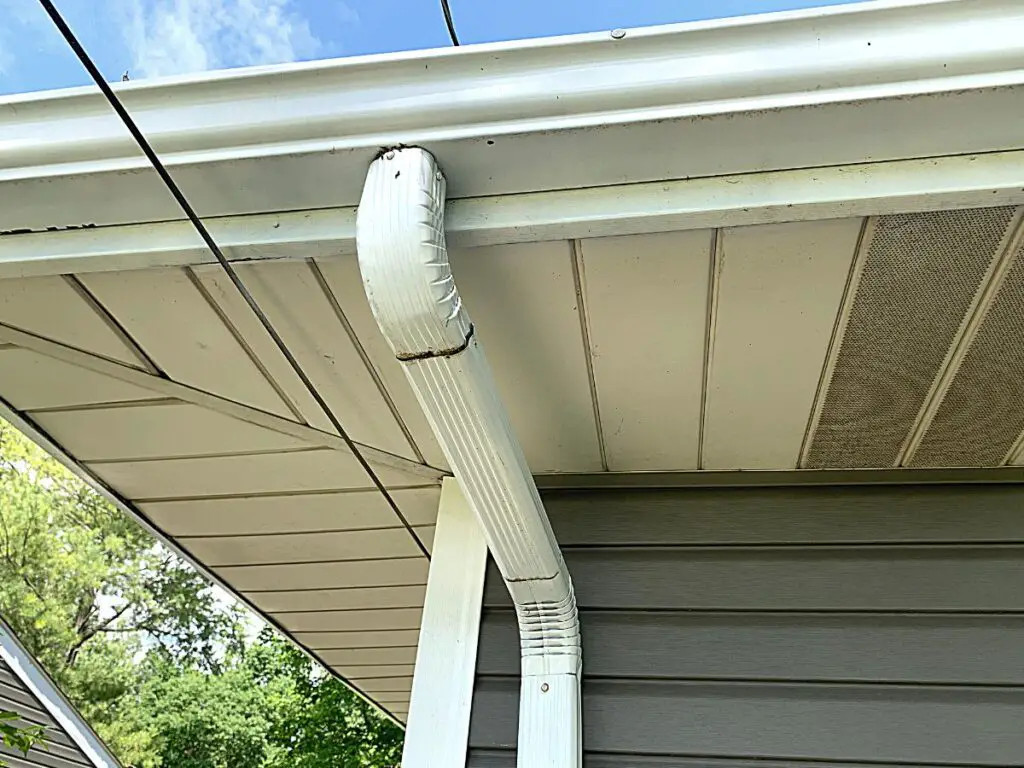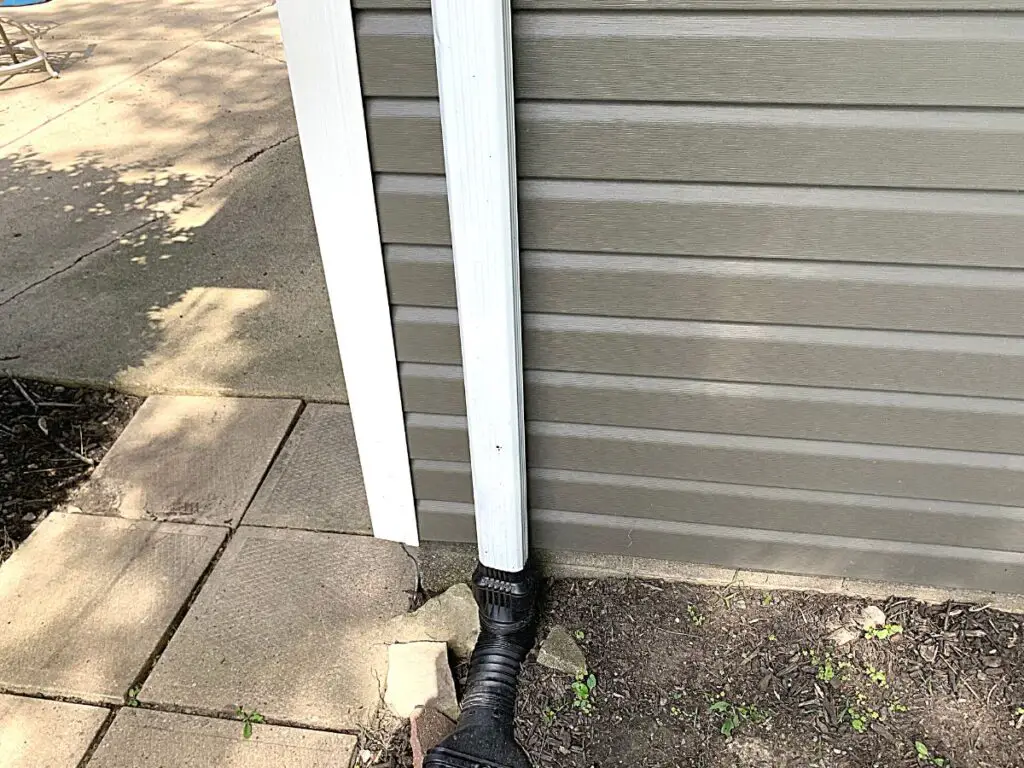 Since we noticed this problem, we've gone around and fixed that little flap so the water is flowing into the gutters. Now I'm confident if I touch up the paint in these areas, it'll stick better.
Other than those spots underneath the gutters, the paint has held up beautifully. It looks like we got completely new gutters even though all we did was spray-paint them.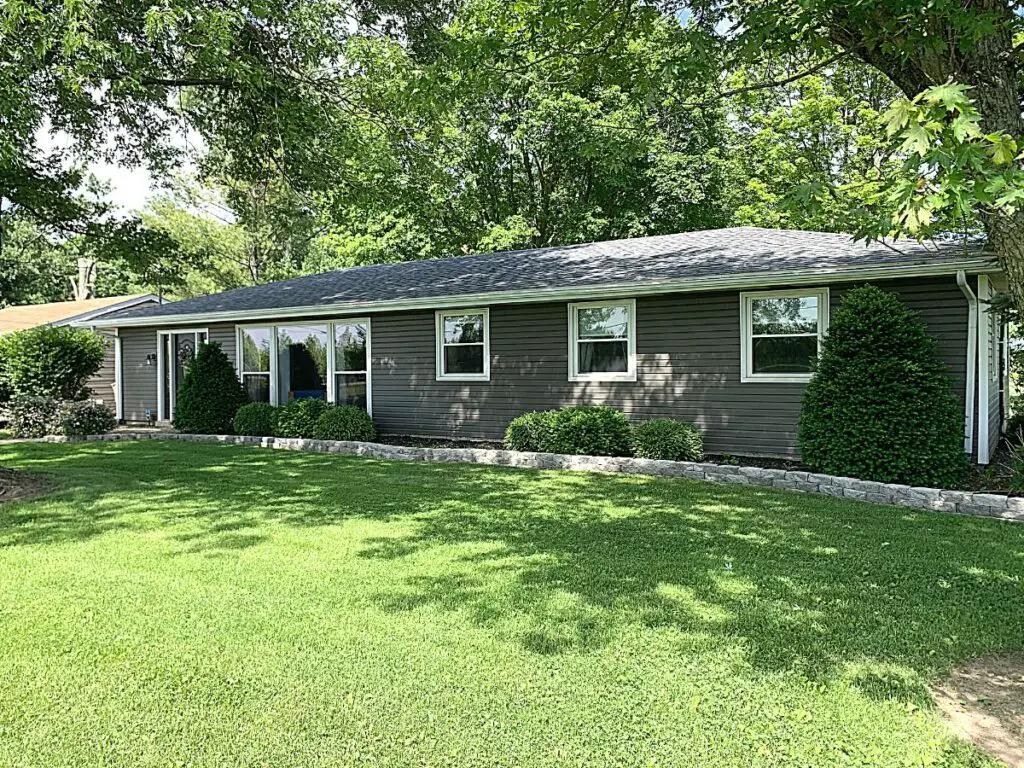 I will 100% be spray painting any gutters that are in good shape but the wrong color again in the future!
Spray painting the gutters was relatively easy, has lasted a long time without being touched up, and is SIGNIFICANTLY CHEAPER than replacing perfectly good gutters.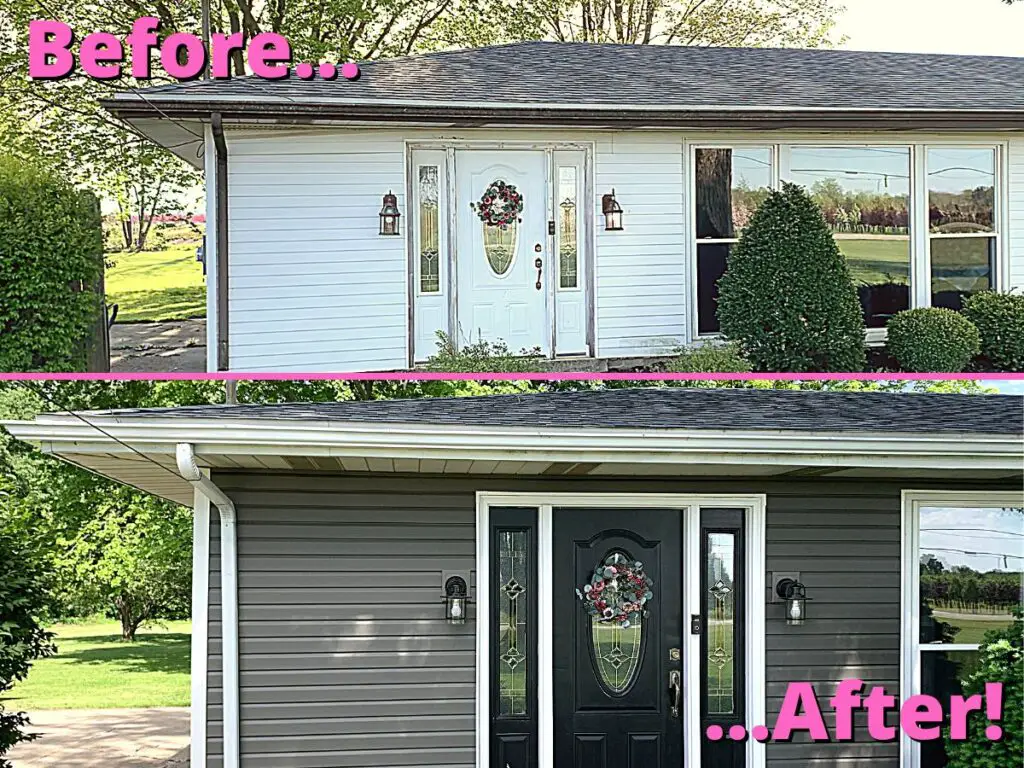 Other FAQs About Painting Gutters & Downspouts
To help you complete your project successfully, here are some other frequently asked questions about painting gutters and downspouts!
Is It A Good Idea To Paint Gutters?
It is a good idea to paint gutters if the gutters are in good condition and a different color is desired to update the look of the home. Also, if there are minor scuffs, scrapes, or scratches, then painting gutters is an excellent and cost-efficient way to make them look new again.
What Kind Of Paint Do You Use On Gutters?
Use Rustoleum spray paint, exterior paint, or other paint that has good adhesion with metal on gutters and downspouts. A clear topcoat that is approved for exterior metal use is also highly recommended to extend the longevity of the paint job on gutters.
Can You Paint Gutters White?
Painting gutters white is a great way to make old gutters look new again or bring an outdated home color scheme to a more modern and neutral color scheme. The quality of the paint matters more while painting gutters than the color.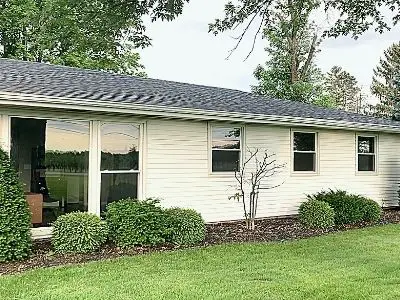 How Much Does It Cost To Paint Gutters On A House?
The cost of materials to paint gutters yourself on a 1500 sq ft house (150 linear ft) ranges from $100 to $150. The cost to have gutters painted professionally ranges from $365 to $827 with the average cost being $599.
How Much Paint Do I Need To Paint The Gutters On A 1500 sq ft House?
To paint the gutters on a 1500 sq ft house (150 linear ft) with spray paint, you need sixteen 12 oz cans of (color of your choice) spray paint and six 12 oz cans of clear spray paint. To brush on the paint on gutters, you need 1 gallon of paint and 1/2 gallon of a water-based clear topcoat.
What Color Should You Paint Gutters and Downspouts?
If you are struggling with deciding whether to paint your gutters and downspouts the same color as the trim or the house, then you need to check out my article. I'll help you choose the best gutter color for your home and style!
Final Thoughts On Painting Gutters & Downspouts
There you have it! Painting your gutters and downspouts is an easy and cheap DIY project that you can tackle in a day or two.
For the small amount of effort you put in today, you can make your house look as if it has new gutters in whatever color your heart desires! Score!
Now it's your turn to paint your own gutters and downspouts. Sending you all of my best luck!
Catch you in my next post!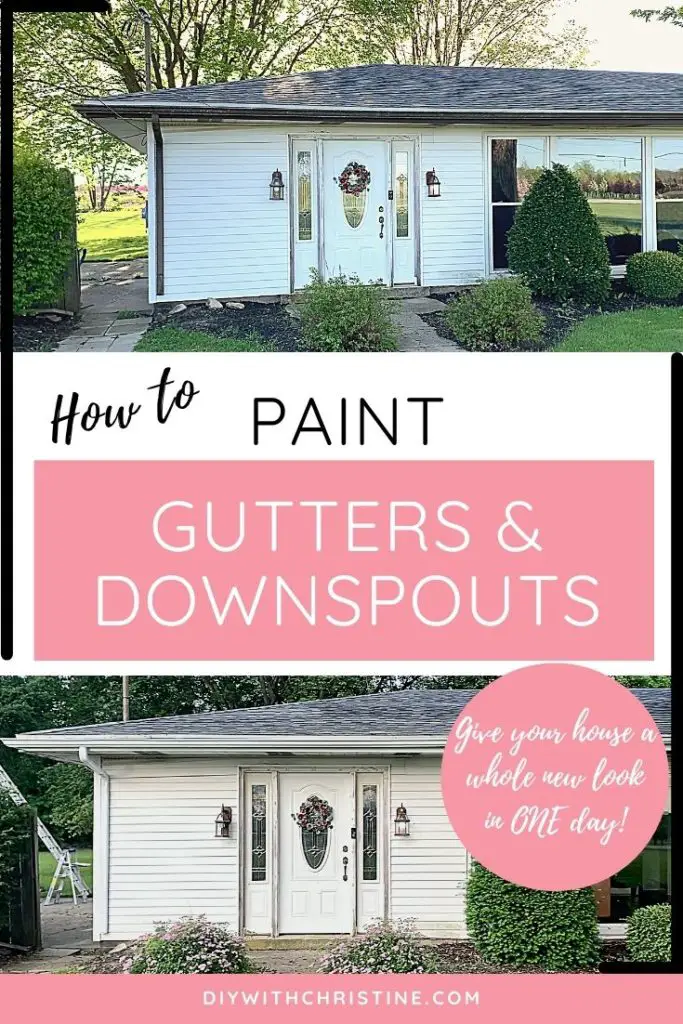 ---
Related Gutter & Outdoor Articles
---
How To Spray Paint Gutters & Downspouts (Picture Tutorial!)
DIY With Christine is a participant in the Amazon Services LLC Associates Program, an affiliate advertising program designed to provide a means for sites to earn advertising fees by advertising and linking to Amazon.com.