*My posts may contain affiliate links, which means I may receive a small commission, at no cost to you, if you make a purchase through a link! Thank you for supporting my website!*
Last updated on October 14th, 2022 at 12:34 pm
What Is The Best Ceiling Paint Color? Find Out Here!
Wondering what color white you should paint your ceiling? Well, look no further because I have your answer!
Ceilings should be painted a bright white with a flat finish. Sherwin Williams, Behr, Valspar, Dutch Boy, & Zinsser all have a pre-mixed bright white ceiling paint that blocks stains, hides imperfections, and gets full coverage in 1-3 coats.
Now that we've got the basics out of the way, let's go over why a bright white, flat paint finish is the best paint color for your ceiling and which white ceiling paints are the best by brand.
Let's dive in!
Quick Navigation: Best White Ceiling Paint Colors By Brand
Why Are Ceilings Painted White?
There are several benefits to painting ceilings white, which is what makes white the most popular ceiling paint color.
These benefits include:
Hides imperfections
Brightens the room
Makes the room appear taller
Gives a nice contrast against (or complements) all colors
Non-reflective finish reduces glares from artificial light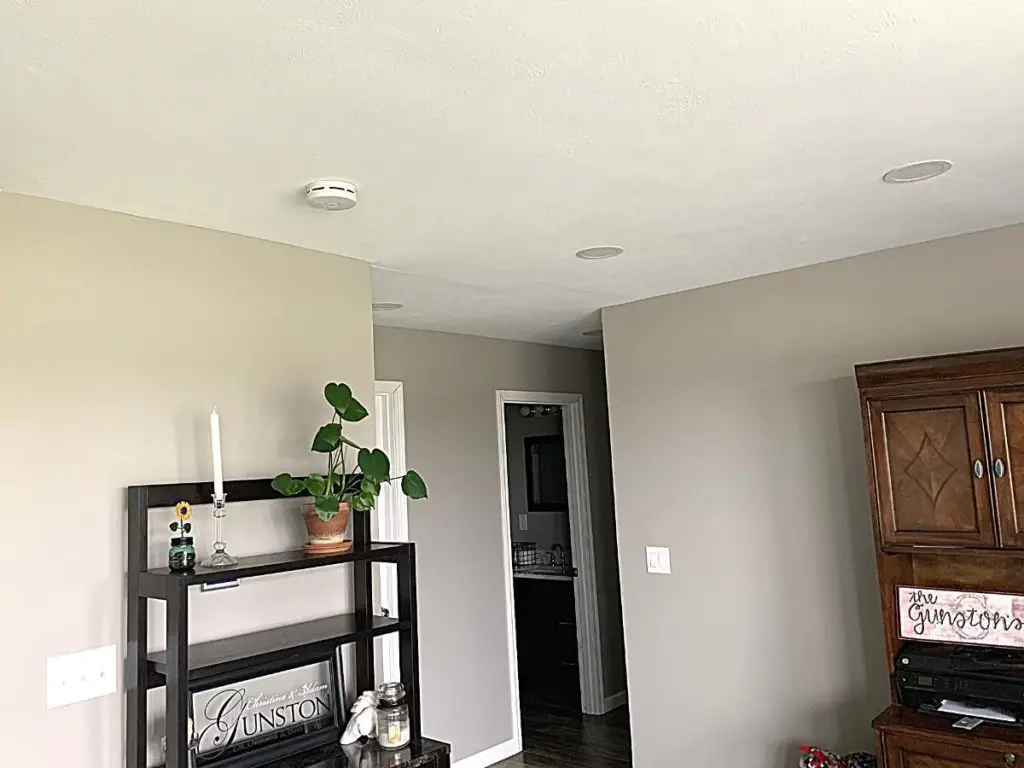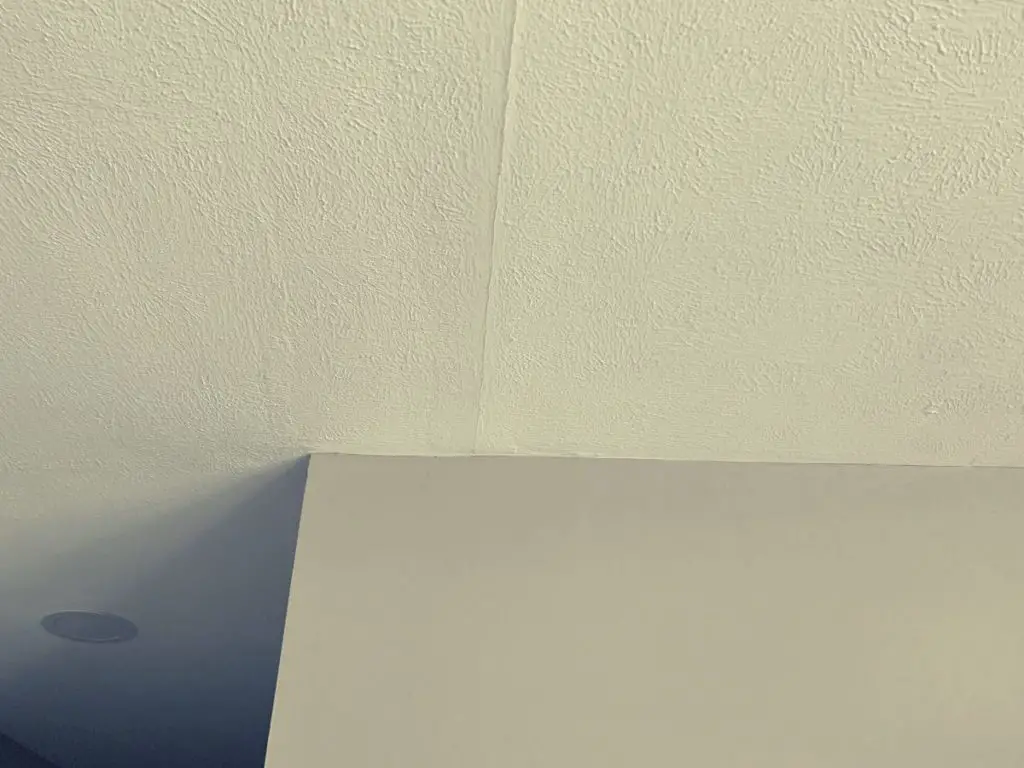 Using other colors to paint the ceiling have the opposite effect on a room. These include:
Makes imperfections prominent
Darkens the room
Makes the room appear smaller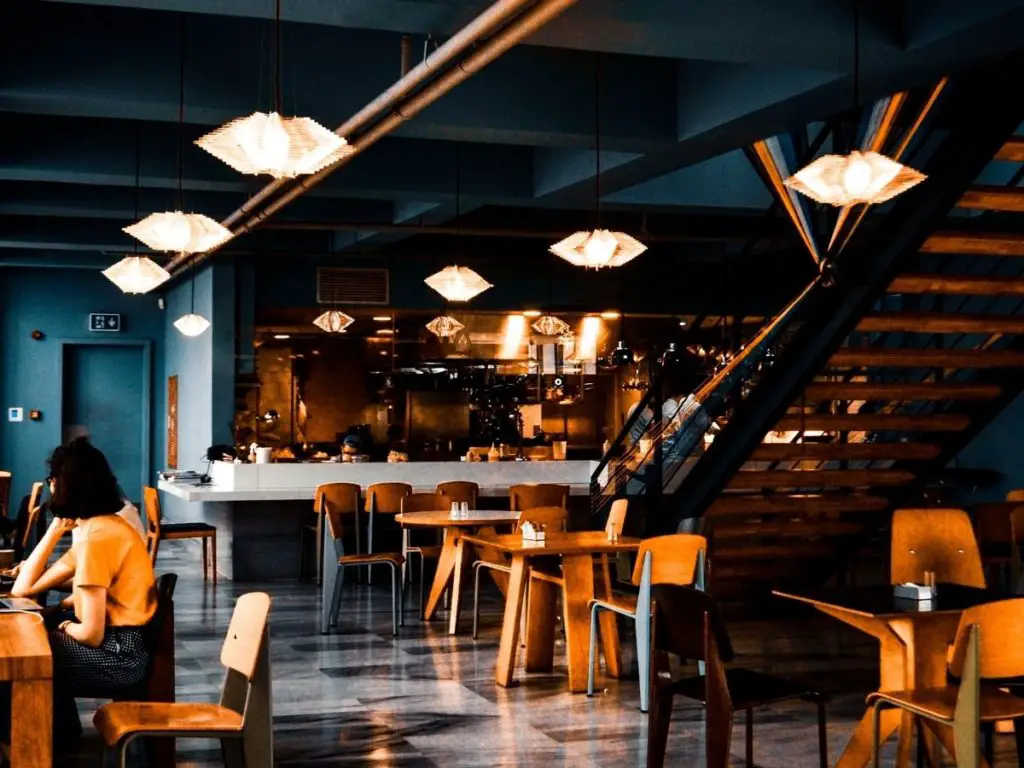 Of course, there are always exceptions to the above.
Large rooms with ceilings taller than 10 feet that have a color other than white painted on the ceiling can give a moody, dramatic vibe to a room without making it feel too small.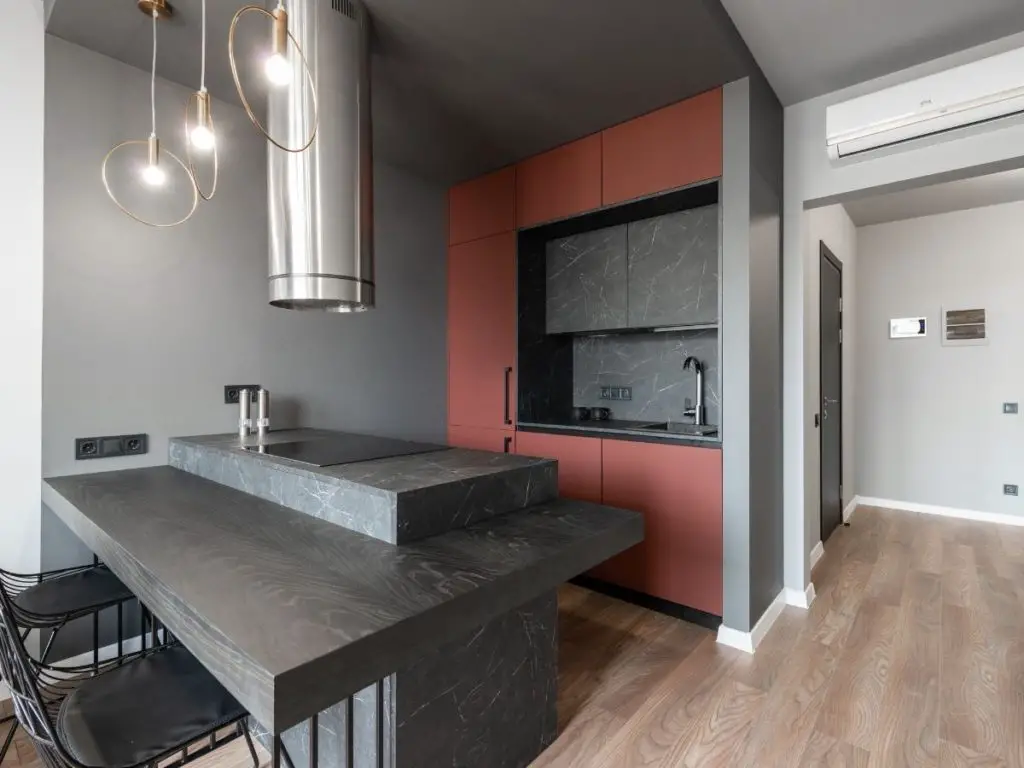 In general, though, the best paint color for a ceiling is a bright, flat white. The bright white with a flat sheen will give all of the benefits listed above.
So taking that little tidbit into consideration, here are the best white ceiling paints by the brand to make your decision super simple.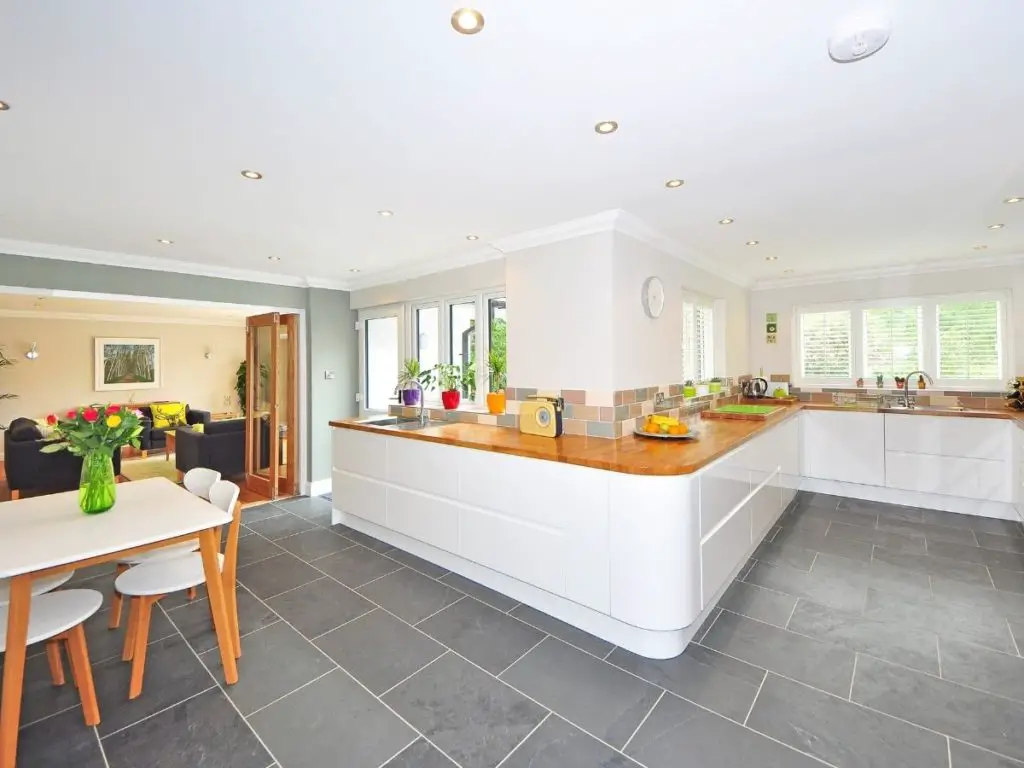 Best White Ceiling Paint Colors By Brand
This table shows the best white ceiling paint colors by brand.
You really can't go wrong with any of these paint brands or their ceiling paint (which are all pre-mixed, so no need to choose a color!).
All of these ceiling paints are designed to:
Hide stains in 1-3 coats
Minimize splattering while painting
Reduce glare and hide imperfections
Dries quickly so recoating can happen on the same day
My Favorite White Ceiling Paint Color & Brand
My personal favorite ceiling paints are Dutch Boy's Dura Clean Bright White Ceiling Paint & Primer and Valspar's Ultra Flat Ceiling White Ceiling Paint & Primer.
I've used both of these paints on our personal home and our rentals and haven't had an issue with coverage and love the bright white, clean color.
Plus, having a primer built-in helps the painting process go faster because the coverage is much better than the ceiling paints without it.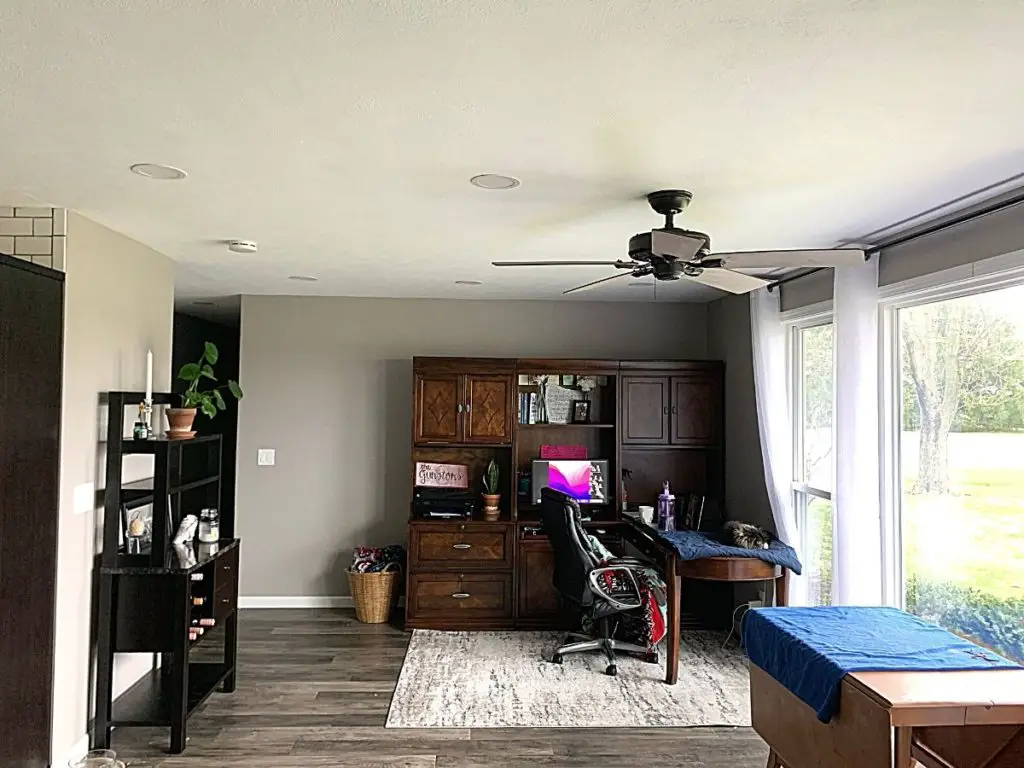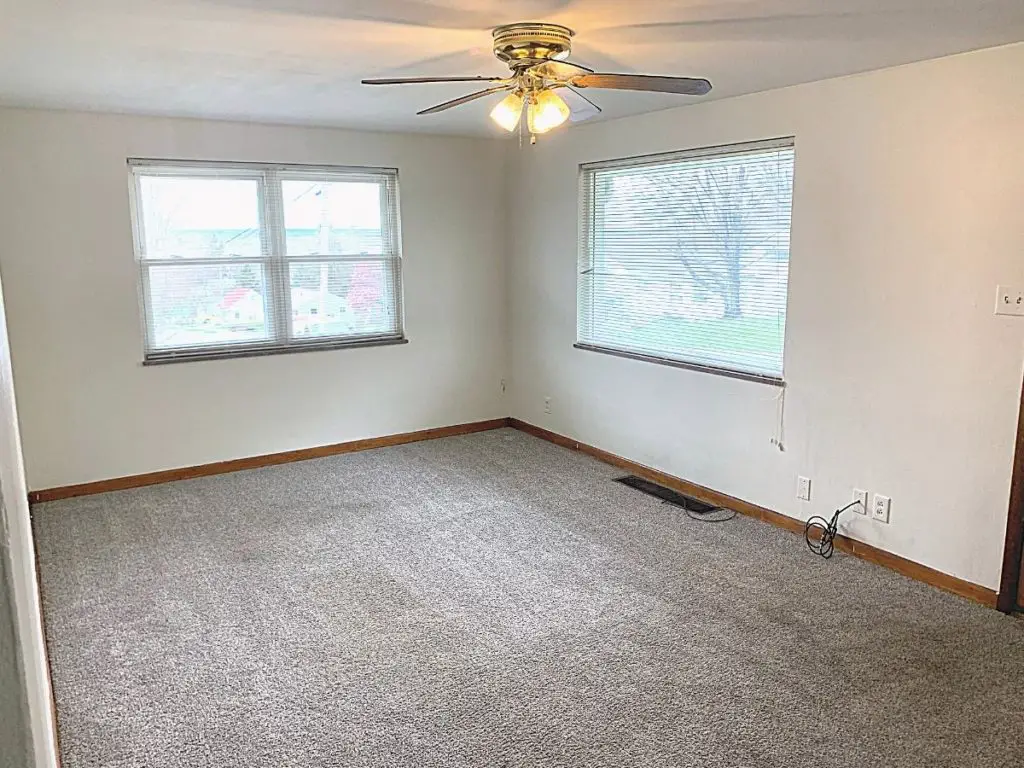 Final Thoughts On The Best White Ceiling Paint Color By Brand
There you have it!
The best color for the ceiling is a flat, bright white paint that will hide imperfections, hide stains or aging on the ceiling, minimize splatter, and dry quickly so you can recoat in a few hours.
Hopefully, this short guide helped take the stressful choice of paint color decisions out of the equation, so now you can move on to the actual painting process!
Catch you in my next post!
The Best Paint Supplies I've Reviewed
Wooster Shortcut Angle Sash Paintbrush (2-Inch)
This is my all-time favorite paintbrush because it is so lightweight! The short handle takes the pressure off your wrist and creates an extremely comfortable grip, so you can paint longer without feeling the weight on your wrist. I use this paintbrush on 99% of my paint projects. You can find this paintbrush here on Amazon.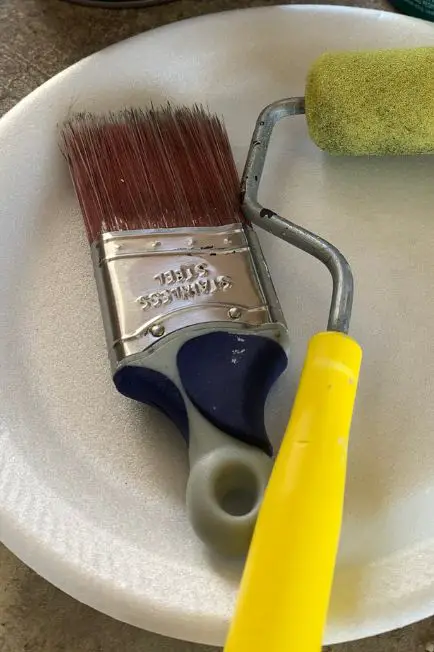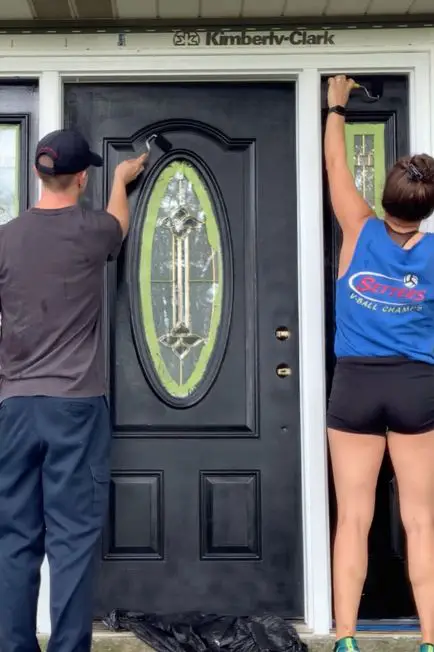 FoamPRO 164 Fine Finish Roller (4-Inch)
If you want the least amount of paint texture left from a roller (such as on metal or furniture), then this is the best roller you can use. The fine finish in the foam leaves the tiniest bit of texture that can easily be sanded between coats to get a finish almost as good as a sprayed finish. You can find this awesome foam roller here on Amazon.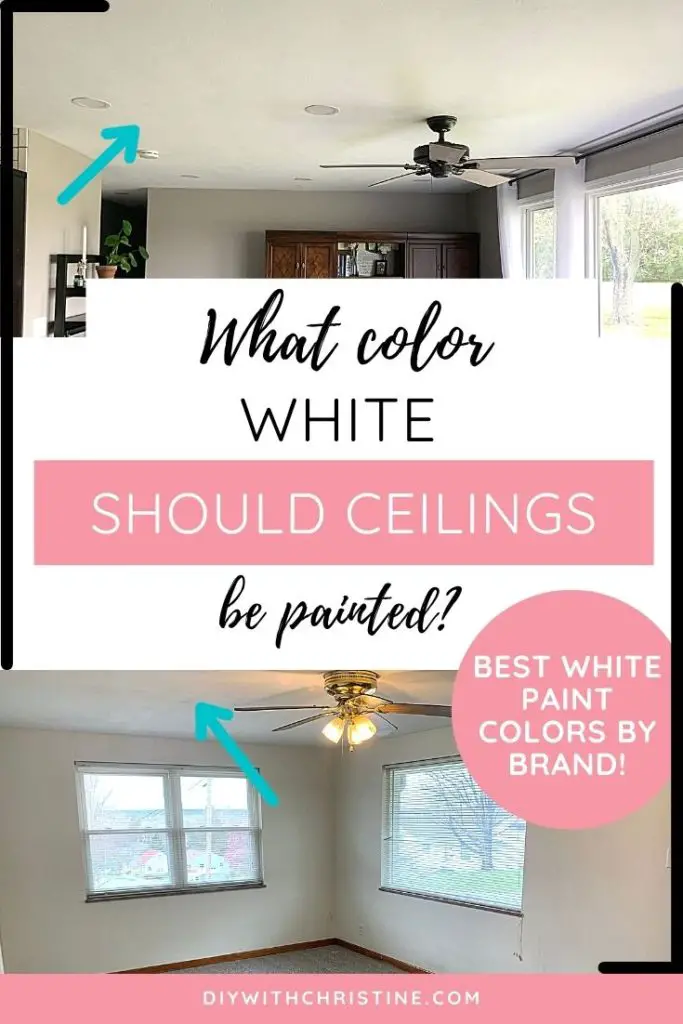 ---
Related Paint Articles
---
What Color White Should You Paint The Ceiling? (Best Color From Every Brand!)
DIY With Christine is a participant in the Amazon Services LLC Associates Program, an affiliate advertising program designed to provide a means for sites to earn advertising fees by advertising and linking to Amazon.com.