*My posts may contain affiliate links, which means I may receive a small commission, at no cost to you, if you make a purchase through a link! Thank you for supporting my website!*
Last updated on February 20th, 2023 at 04:39 pm
Should I Install Pendant Lights Over My Kitchen Island Or Not?
Have you been wondering if your kitchen island needs pendants? Well, look no further because I have your answer! (And it may even surprise you!)
Kitchen islands that are small, closed-off, or have shorter ceilings do not need pendants because pendants can easily become intrusive, cluttered-looking, and create glare in a smaller kitchen. However, when the space allows, pendants can add extra personality, lighting, and style to a kitchen.
There are several benefits and drawbacks to pendant lights that you need to know before you make a decision. Plus, there is a nifty design trick below to help you better decide if you need pendants over your kitchen island.
Let's dive in!
Quick Navigation: Do Kitchen Islands Need Pendants
What Is A Pendant Light?
A pendant light is a small, singular light fixture that is attached to and hangs from the ceiling by a cord, chain, or metal rod. Pendant lights are typically hung in a row (in groups of 2-4) over a kitchen island to add additional task lighting, mood lighting, and design element to the room.
While pendant lights have risen in popularity over the years and do have some fantastic benefits, they do come with some sneaky drawbacks that might persuade you to skip over installing them during your kitchen remodel.
Let's first go over the benefits of installing pendant lights over a kitchen island.
Reasons Your Kitchen Island Might Need Pendant Lights
There are several reasons why most people install pendants over their kitchen islands.
These benefits include:
Extra Lighting
Decorative / Visually Appealing
Makes A Room Appear Taller
Benefit #1: Extra Lighting
The first reason your kitchen island might need pendants is if you need the extra lighting they add.
For kitchens that don't get a lot of natural light or are lacking an abundance of quality, bright lights overhead, pendant lights would be considered a necessity.
As you settle into your kitchen, you'll likely find yourself, your family, and your guests congregating around the kitchen island to chat, talk, work, and cook.
With the addition of pendant lights, you're given the option to have a bright task light directly over the largest working area in the kitchen; the island!
Having that additional lighting over the kitchen island makes your kitchen so much more functional (on top of the extra style pendant lights can add!)
And for just a little bit more money, you can install dimmable bulbs and a dimmable switch to have the pendants create mood lighting on command as well.
For our kitchen, we love to leave the pendant lights on when we leave the house so that we can see more easily when we come back home.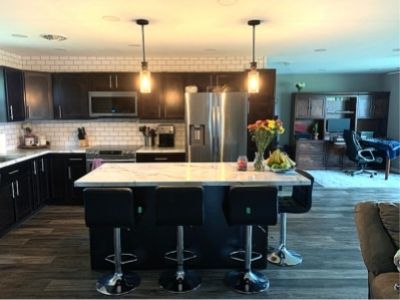 The pendants cast a softer light and the bulbs are much easier to switch out when they burn out instead of the other recessed lights throughout the house.
If you're anything like me, then you'll really enjoy the functionality that these extra lights bring to the kitchen.
There are other benefits as well, so let's keep going!
---
Related Kitchen Island Articles
---
Benefit #2: Decorative / Visually Appealing
The second reason your kitchen island might need pendants is if you need to add another decorative element to your kitchen.
Pendant lights come in all shapes, sizes, and colors imaginable, so they're another great way to add personality and style to a kitchen island.
This is especially true if you have a rather simple and plain kitchen.
Nothing wrong with that! In fact, I much prefer simple, clean-looking, bright kitchens. In those scenarios, the open space actually is the decorative part.
That being said though, sometimes a kitchen island just feels like it's missing something.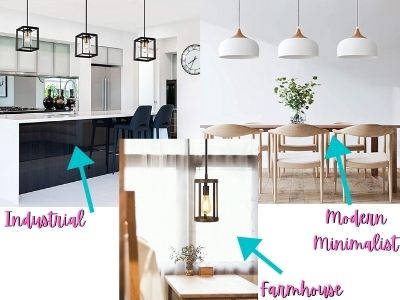 That's where pendants can make a big difference. Add 2-3 unique pendants overhead and marvel at the way they draw your eyes up to make the room appear balanced and well-thought-out.
Plus, with all of the different styles, you can easily add a touch of your personality to the room for a relatively cheap price (think $25 – $100 per light fixture).
Once you've installed one set, you can swap them out as often as you like to easily switch up the vibe of your kitchen.
In addition to how aesthetic and functional pendants are, there is one more big benefit to having them!
Benefit #3: Makes A Room Appear Taller
The last reason your kitchen island might need pendants is if you need to give the illusion that a room is taller than it actually is.
Our house specifically needed this because we have short, 8-ft ceilings.
The reason pendants help make your room appear taller is that they draw your eyes upward. Kitchen islands are usually bulky and anchor a room (and your eyes) down to the ground. So having a couple of bright and see-through pendant lights really helps to add the balance needed to make the room seem open, airy, and tall.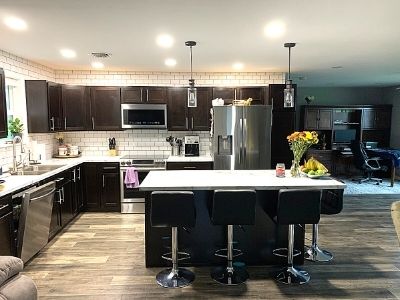 This trick especially works if you get glass pendants because they are slim and see-through, so you don't feel like your vision is being chopped up as you might feel with other larger, more bulky lights.
That being said, this benefit could quickly turn into a drawback (further explained below) if you don't execute it correctly, so keep reading to make sure you get the most benefits out of your pendants if you choose to install them.
Reasons Your Kitchen Island Might NOT Need Pendant Lights
Contrary to what most people might think, pendant lights are NOT for every kitchen and every person's design preference. There are several reasons why some people choose to skip installing pendants over their kitchen islands.
These reasons include:
Intrusive To Line Of Sight / Glare
Adds Clutter To A Small Kitchen
Extra Work To Keep Clean
Drawback #1: Intrusive To Line Of Sight / Glare
We just discussed how pendant lights can be used to make a room appear larger. Well, they can also just as easily be intrusive and block your line of sight.
If you have a tall family member and shorter ceilings, they might find their vision being obstructed every time they stand around the island to chat. Having only 2 clear glass pendants can certainly minimize this drawback, but depending on the size of your kitchen and island, that might still not be feasible.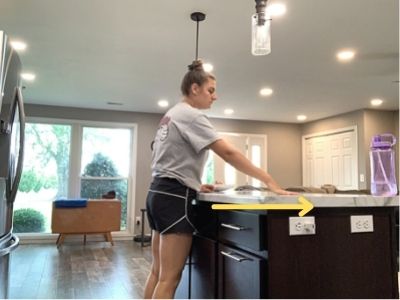 In addition, if you don't get the right size pendant lights, they can create an annoying glare while you're sitting or working around the island. Having the proper chain or cord length (and making sure to get one that you can adjust to fit your kitchen perfectly) can dramatically help minimize this problem though.
If you foresee the height of your ceilings causing problems with the functionality of your kitchen island, then it might be best to forgo the pendant lights altogether and stick to low-profile or recessed lighting overhead.
Let's discuss the next drawback that could occur from installing pendant lights.
Drawback #2: Adds Clutter To A Small Kitchen
The next reason you might not want to install pendant lights over your kitchen island is if you have a smaller or more closed-off kitchen.
The smaller / less open the kitchen, the more quickly adding extra elements can make a space look cluttered and overwhelming. With smaller rooms, less is always more.
Pushing cabinets up to the ceiling, using low-profile or recessed lighting, and leaving countertops free and clear of large items can dramatically make your smaller kitchen feel larger.
As soon as you add dangling lights, however, you can overwhelm the room instead of enhancing it.
Further down in this article, I explain a simple trick you can use to test the size and height of the pendant lights and how they will feel in the room before you buy them. Using that trick can help you determine whether these lights will add or subtract to your kitchen.
Before we get to that, let's discuss one more potential drawback.
Drawback #3: Extra Work To Keep Clean
The final reason you might not want to install pendant lights over your kitchen island is that they are extra work to keep clean.
For the most part, my clear glass pendants actually don't get dusty (or at least they don't really show it). However, I've used a skillet on our island a few times to cook, and that resulted in grease splattering all over one of the pendants.
Now, I know that's probably a rare occurrence for most people, but it definitely is a downside.
Other pendants (like ones that have black domes) are more likely to show dust and will require you to spend additional time cleaning them occasionally.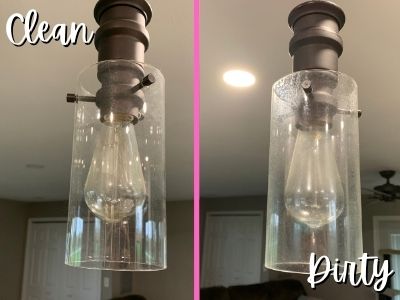 Of course, this likely is a small drawback, but if you're like me and value your time very highly, then this might be a significant drawback for you.
Luckily even the pendants that collect the most amount of dust should easily only take a few minutes with a duster to put them back in their original glory.
That's about it though. There aren't many serious drawbacks to adding pendants to an island. And if you choose the correct pendant light (from our next discussion), then you will only reap the benefits and mostly avoid the drawbacks.
How To Choose The Best Pendant Light Size & Height For Your Kitchen Island
There are a couple of rules of thumb you'll want to consider before choosing a pendant light along with using this genius design trick to help you visualize the best size and height.
These include:
Size and height
Focal point of the kitchen
Rule Of Thumb #1: Size & Height
Size and height are the most important factors when choosing a pendant light for your island. Pendants that are too large or drop too far into the room make the room appear cluttery, busy, and can easily block people's views.
To help prevent this, you should stick to small and/or glass pendants. These types of pendant lights will aid in creating an open and airy feeling in the room. Also, it's a good rule of thumb to stick to 2-3 pendants to avoid making the room feel busy.
Lastly, dimmable pendants are always preferred because they give you the option to use them as task lighting OR mood lighting. And around here, we love being able to control our space to fit our mood!
Design Trick To Help Visualize Pendant Lights
There is a neat design trick to help you more easily choose the correct size and height for your kitchen.
The trick is simple; blow up balloons around the size of the lights you're looking to order, and hang them on strings that equal the height that you think will be ideal for your pendant lights to hang down.
From there, you can adjust the size of the balloon and the height of the string until you come up with the best size and height for your space. (Or more importantly, it will help you decide if you even want them there at all!)
Leave the balloons up for a couple of days, so that you can get a true feel for them in the space. This includes cooking, eating, and talking around them, so you can see how intrusive they might actually be.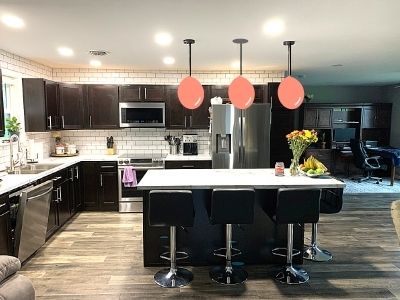 Rule Of Thumb #2: Focal Point Of The Kitchen
The other rule of thumb is to consider the focal point of your kitchen. If there is a central focal point in the background (i.e. decorative hood range) or the background is busy, then I would opt for no pendants.
Otherwise, if the background is plain or you feel that the large island is really weighing down the kitchen visually, then I would opt for pendants.
If you have shorter ceilings as we do, then you should lean towards small and/or see-through pendants that cast light in all directions to help minimize the drawbacks we discussed above.
Other FAQs About Putting Pendants Over A Kitchen Island
If you do decide that pendant lights are best for your kitchen, then you should make sure you have the sizing and dimensions correct for your unique space. Below are some of the most frequently asked questions regarding installing pendant lights over a kitchen island.
How Many Pendant Lights Should Go Over A Kitchen Island?
Kitchen islands should have 2-4 pendant lights. For smaller kitchen islands, 2 pendant lights are optimal, while larger kitchen islands will need 3-4 to help balance out the extra space. Pendants are generally spaced 2 feet apart, so the size of your island will dictate how many pendants should go over a kitchen island.
How Far Apart Should Pendants Be Over An Island?
Pendants are typically spaced 2 feet apart over an island. This allows plenty of room to see past them and provides ample light while also ensuring the space above a kitchen island looks adequately decorated. For busier kitchen backdrops, pendants can be spaced out up to 3 feet apart over an island.
How Far Above An Island Should Pendants Hang?
The bottom of the pendants should hang 30-36 inches above an island. Islands are typically 36-42 inches tall, so the bottom of the pendant will be 6-6.5 ft from the floor. This helps prevent your vision from being blocked while sitting or standing around the island.
Final Thoughts On Putting Pendants Over A Kitchen Island
There you have it! Pendant lights are not a requirement over a kitchen island. While I do personally think they add a unique touch to an otherwise potentially boring part of the kitchen, I do see the advantages of skipping over them in a smaller kitchen.
If you're curious about other ways to style your kitchen island, I've got an excellent article to help you really make your kitchen island unique! You can level up your kitchen island decorating skills here.
Otherwise, you are now packed with all of the information you need to make an informed decision regarding kitchen island pendants. All that's left to do is make a decision and knock out the rest of your kitchen remodel!
Catch you in my next post!
The Best Kitchen Tools & Products I've Reviewed
Ravinte Cabinet Handle Installation Template (For Doors & Drawers)
This is my all-time favorite handle installation template because it has two templates (one for drawers and one for doors) with multiple pull sizes & knob placements! These templates make installing cabinet handles a breeze because you always know your handles will be installed in the same spot on all of your drawers and doors. The kit also comes with a drill bit so you can guarantee you're using the correct size. I used this template on my entire kitchen and both bathrooms to cut the installation time in half. You can find this hardware template here on Amazon.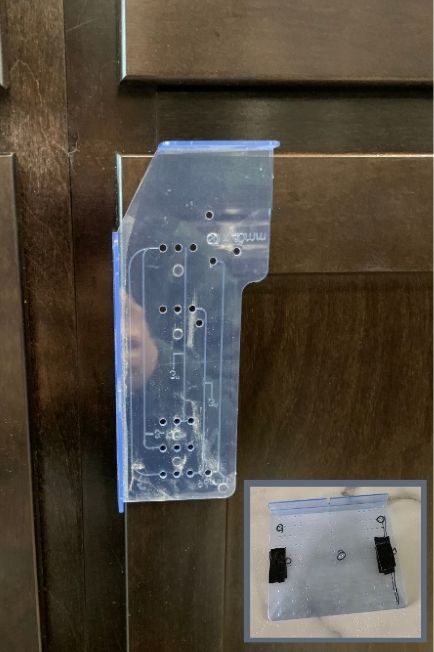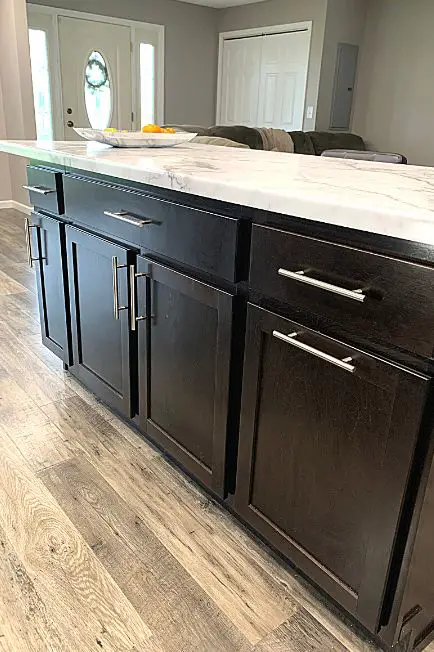 Franklin Brass 5-1/16 Inch (128mm) Center Bar Pull (Stainless Steel)
If you want to immediately modernize your kitchen island, then these cabinet pulls are a must. They are heavy-duty feeling, durable, easy to install, and are a large size for a great price. We put these pulls on all of our kitchen and island doors and drawers along with our bathroom doors and drawers. You can find these gorgeous cabinet pulls here on Amazon.
P.S. Use the hardware installation template I mentioned above to install these new pulls in record time!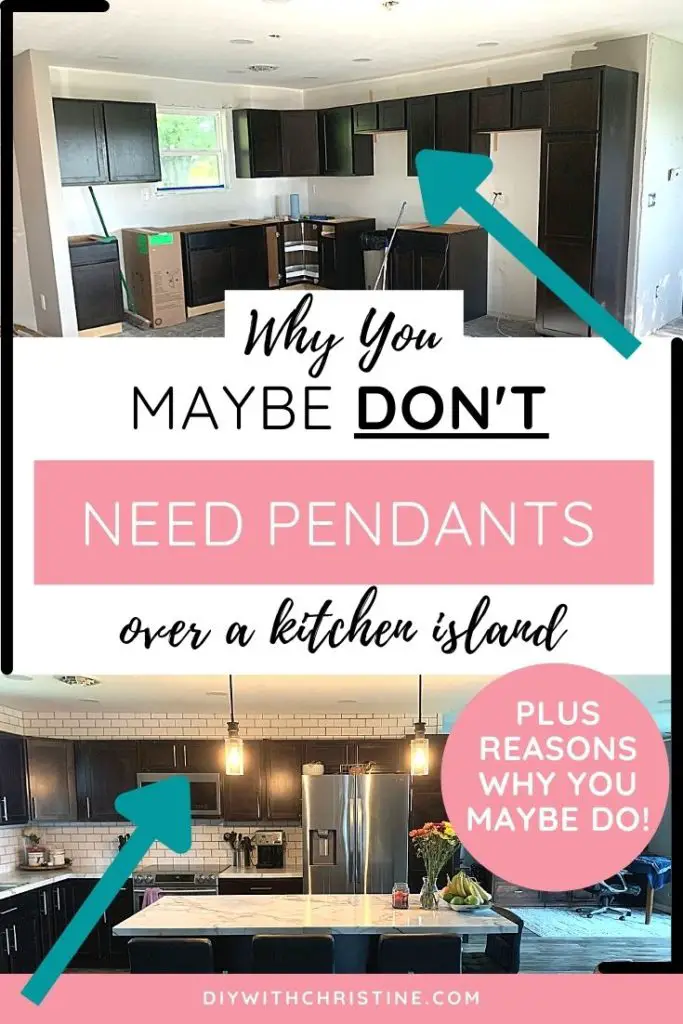 ---
Related Kitchen Island Articles
---
Do Kitchen Islands Need Pendants? 8 Things To Consider First
DIY With Christine is a participant in the Amazon Services LLC Associates Program, an affiliate advertising program designed to provide a means for sites to earn advertising fees by advertising and linking to Amazon.com.