*My posts may contain affiliate links, which means I may receive a small commission, at no cost to you, if you make a purchase through a link! Thank you for supporting my website!*
Last updated on March 26th, 2023 at 02:46 pm
Best Cabinet Combinations To Use For A Kitchen Island
Wondering what type of cabinets you should use to build a kitchen island? Well, look no further because I have your answer!
Kitchen islands are built using the same base cabinets used throughout the rest of the kitchen. Base cabinets can include a cabinet with a door and drawer, all drawers, pull-out trash cans, and more. Combination any number of these base cabinets to build a kitchen island.
Now that we've got the basics out of the way, let's break into the details further so you can make sure you choose the right base cabinets for your kitchen island.
Let's dive in!
Quick Navigation: How To Choose Cabinets To Build A Kitchen Island
One: Determine The Total Size Of Your Island
The first step to choosing kitchen island cabinets is to calculate the total size of the island that you can fit in your kitchen.
Specifically, we are looking for the maximum length and width of an island (including the countertop overhang) that can fit in your kitchen while still accounting for the required walkway space around it.
This measurement will help us choose the correct cabinet dimensions that will let us build an island that will fit into our kitchen.
I have a full article on the minimum spacing requirements needed to fit a kitchen island, so pop over there if you need help figuring out what size island can fit into your kitchen.
For the sake of this article, let's say you read my other article and calculated that you can fit an island countertop that is 36 inches wide by 78 inches long (and still have plenty of walking space around this size island countertop).
This tells us that our cabinet configuration has to add up to less than 78 inches because that is all of the space we have (and it might be less depending on what side you want to add seating).
Take those dimensions and move on to the next step.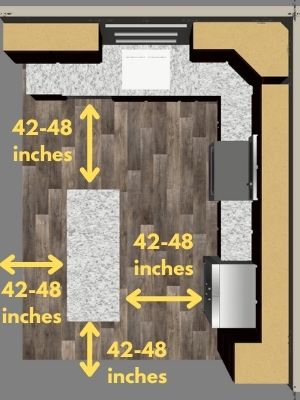 ---
Related Kitchen Island Articles
---
Two: Choose The Location Of The Seating On The Kitchen Island
Once you have the total length and width of the biggest island that can fit in your kitchen, determine where you want the seating to be.
The most common locations for seating on a kitchen island are:
On the backside only
On the backside and one end
Only on one end (with seating on 3 of the sides)
Depending on where your seating will be, you want to subtract 12 inches from those sides to get the max cabinet width and length you can fit in your kitchen. The only exception to this rule is when you have seating only on one end – then you want the overhang to be 24 inches so you can easily fit 3 seats on all 3 sides.
In our example, our max size island countertop is 36 inches wide by 78 inches long. If we want seating on the backside and one end, then we need to subtract 12 inches from each dimension to account for the countertop overhang on two sides.
That leaves us with 24 inches wide by 66 inches long to configure some base cabinets that will make up our kitchen island.
---
Pro Tip: Unless you have a kitchen that is larger than 15 ft by 15 ft, the width of your island will likely be the depth of one standard base cabinet (24 inches) plus a 12-inch countertop overhang (hence why in my example, my max island countertop width ended up being 36 inches).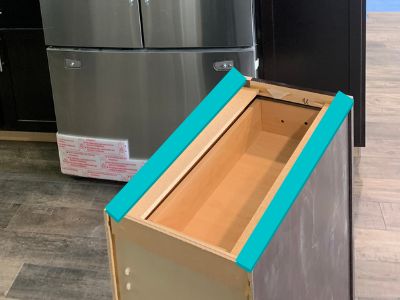 If your kitchen is that large, then you also can double up on base cabinets (by facing them back-to-back) to add additional storage and countertop space. This would make your island 48 inches wide plus a 12-inch countertop overhang if you wanted seating on one side.
The length of your island is where you get to customize the different styles and sizes of base cabinets you will be using. Since we calculated that we can fit 66 inches of base cabinets, we need to decide how many cabinets we want and what sizes we want them to be.
Move on to the next step to see your base cabinet options.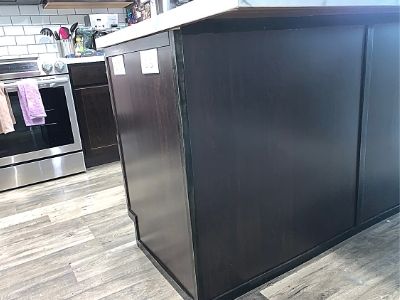 Three: Choose The Type Of Cabinets You Want In Your Island
Now is the fun part. It's time to choose what types of cabinets you want in your island.
Do you want a cabinet with pull-out trash cans? Or maybe a cabinet with all drawers to fit all of your cooking utensils? What about an extra large cabinet with a single drawer and door to fit your largest cooking appliances? This is where you get to decide what would be most functional for your kitchen.
For our kitchen island, we opted for a cabinet with two pullout trash cans because we didn't have any other place to put them. Looking back, I kind of wish we added a cabinet with all drawers, but I didn't have an article like this to help me think about what I would want prior to building it.
What I do love about our kitchen island is that we chose the largest cabinet size (36 inches wide) and that is the perfect spot for our crockpots, toaster, blender, and skillet.
Here are some of the most common base cabinets you can choose from:
Cabinets with only drawers
Cabinets with one drawer and a door
A cabinet with a pullout trash can
Any combination of these cabinets
Now that you've got the general type of cabinets you might like in your island, let's decide which sizes are available and will fit in your kitchen.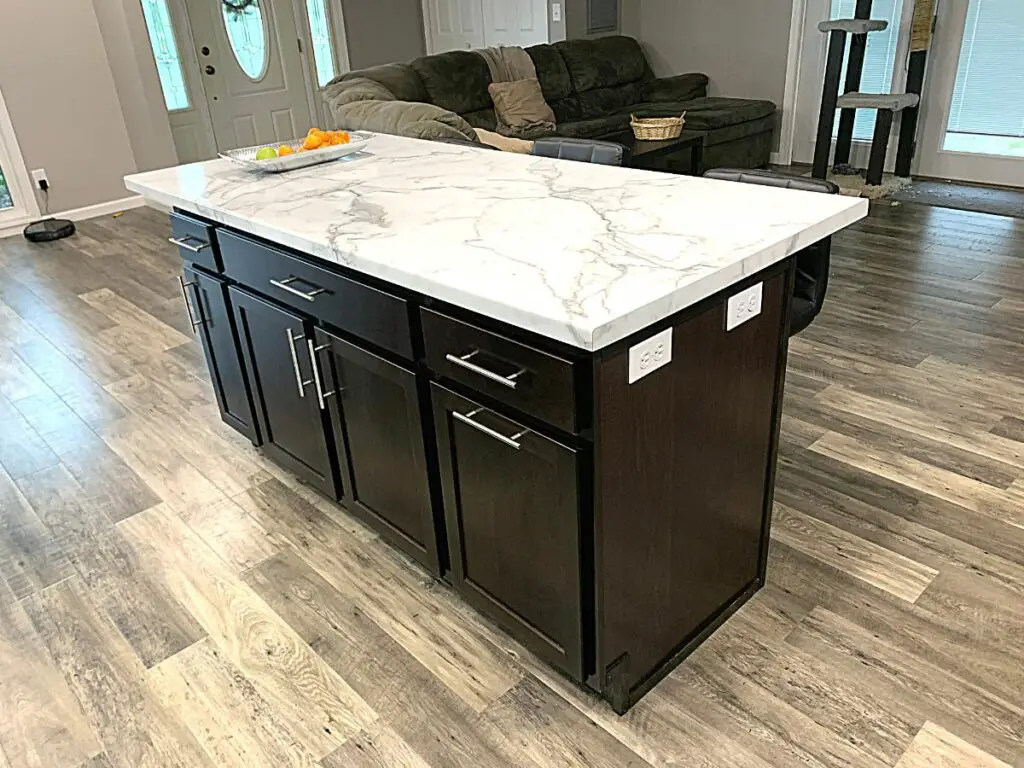 Four: Choose The Cabinet Widths That Combine To Equal The Total Width You Want Your Kitchen Island To Be
The final step to deciding what cabinets to use to build your kitchen island is to select the cabinets.
The easiest way to do this is to look up the type of cabinets you decided on in the last step and see what widths are available. Then you can choose 3-4 base cabinets that when screwed together, their widths total the measurement you have available in your kitchen (excluding the overhang).
Try to choose fewer, large cabinets rather than several small cabinets because this will help you maximize your space and allow you to fit even your largest cooking appliances and utensils in a multitude of places.
In our example, you want to choose three or four base cabinets where the widths add up to 66 inches in total. To accomplish this, we could choose any of the following cabinets:
If you want a pullout trash can cabinet, they typically come in 15- or 18-inch wide cabinets
If you want a cabinet with all drawers, they tend to be 18- or 24-inches wide

If you chose both 18-inch wide cabinets, then that leaves room for one 30-inch wide cabinet or two 15-inch wide cabinets, or one 12-inch wide and one 18-inch wide cabinet
Or if you chose the 18-inch trash can cabinet and the 24-inch drawer cabinet, then that leaves room for one 24-inch wide cabinet with a top drawer and door
See how the possibilities are endless?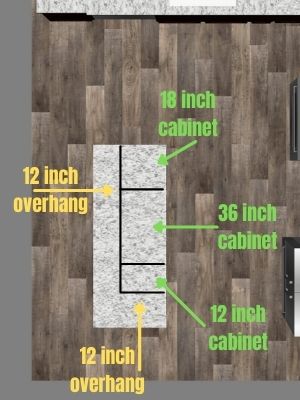 For our kitchen island, we chose one 18-inch wide pull-out trash can cabinet, one 36-inch wide standard base cabinet with a single drawer and door, and one 12-inch wide standard base cabinet with a single drawer and door. The widths of those combined add up to the 66 inches we could fit in our kitchen.
As you search for cabinets online, each store might have different standard widths of cabinets, but the process of choosing what base cabinets to use in your kitchen island is the same.
Other FAQs About Kitchen Island Cabinets
Here are some other frequently asked questions about kitchen island cabinets to help you build an island in your home.
What Do You Use For A Kitchen Island?
Kitchen islands are made out of base cabinets screwed together and screwed to the ground. You can configure different sizes and styles of base cabinets to make a custom kitchen island. Finally, a countertop slab is attached to the top of the base cabinets.
Can You Use Wall Cabinets As Base Cabinets For A Kitchen Island?
Wall cabinets can be used as base cabinets for a kitchen island, however, your storage space and island are going to be smaller/more narrow than if you used standard base cabinets. If you have a narrow kitchen, this option might be preferable over standard base cabinets.
Wall cabinets will need a toe-kick built before you will be able to attach them to the ground (base cabinets come with them built-in).
How To Make A Simple Kitchen Island Out Of Base Cabinets
Kitchen islands are actually fairly simple to build yourself (and you can fully customize them to fit your space and needs perfectly!). Check out my picture tutorial showing you how we installed a kitchen island in our kitchen so you can do the same!
Final Thoughts On Kitchen Island Cabinets
There you have it!
The best cabinets to use to build a kitchen island are 3-4 standard base cabinets. The cabinets can be configured in any way so you can customize the size of each cabinet and the number and location of drawers and doors on the island.
Hopefully, this guide helped you decide what cabinets you want to build your island with.
Catch you in my next post!
The Best Kitchen Tools & Products I've Reviewed
Ravinte Cabinet Handle Installation Template (For Doors & Drawers)
This is my all-time favorite handle installation template because it has two templates (one for drawers and one for doors) with multiple pull sizes & knob placements! These templates make installing cabinet handles a breeze because you always know your handles will be installed in the same spot on all of your drawers and doors. The kit also comes with a drill bit so you can guarantee you're using the correct size. I used this template on my entire kitchen and both bathrooms to cut the installation time in half. You can find this hardware template here on Amazon.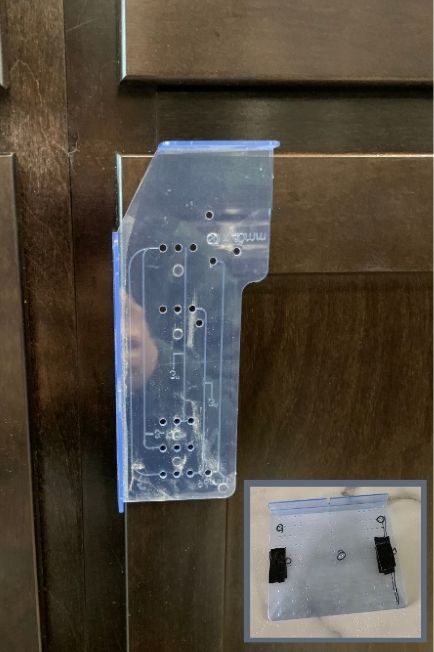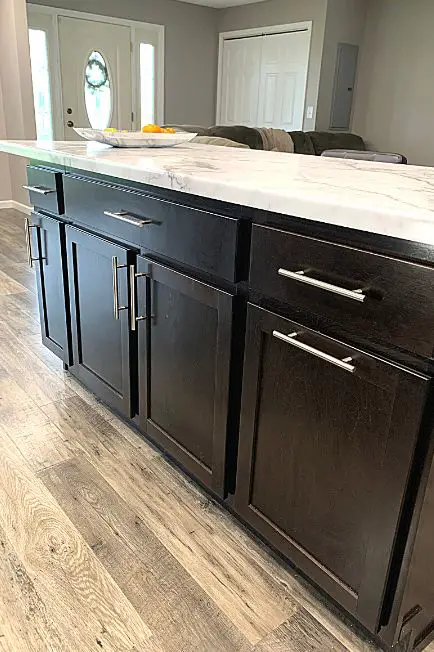 Franklin Brass 5-1/16 Inch (128mm) Center Bar Pull (Stainless Steel)
If you want to immediately modernize your kitchen island, then these cabinet pulls are a must. They are heavy-duty feeling, durable, easy to install, and are a large size for a great price. We put these pulls on all of our kitchen and island doors and drawers along with our bathroom doors and drawers. You can find these gorgeous cabinet pulls here on Amazon.
P.S. Use the hardware installation template I mentioned above to install these new pulls in record time!
---
Related Kitchen Island Articles
---
What Cabinets To Use To Build A Kitchen Island (Plus Layout Ideas!)
DIY With Christine is a participant in the Amazon Services LLC Associates Program, an affiliate advertising program designed to provide a means for sites to earn advertising fees by advertising and linking to Amazon.com.