*My posts may contain affiliate links, which means I may receive a small commission, at no cost to you, if you make a purchase through a link! Thank you for supporting my website!*
Last updated on February 20th, 2023 at 04:31 pm
Is Carpet Or Hardwood In Bedrooms Better?
Wondering what rooms would benefit from carpeting the most? Well, look no further because I have your answer!
Rooms that benefit from carpeting the most:
Bedrooms
Stairs
Playrooms
Hallways
Family rooms
Living rooms
Basements
Rooms where carpeting is a poor choice:
Bathrooms
Kitchens
Entryways
Mud rooms
Laundry rooms
Any rooms that see water frequently
Now that we've got that out of the way, let's discuss further why these rooms benefit greatly from carpet instead of other types of flooring and which rooms would be best for your unique home.
Let's dive in!
Quick Navigation: Which Rooms To Put Carpet In
Advantages And Disadvantages of Carpet
First, we must discuss the benefits and drawbacks of carpet to help you better decide which rooms to put it in.
| Pros Of Installing Carpet | Cons Of Installing Carpet |
| --- | --- |
| Increased insulation | Holds dust, mites, fleas, and allergens |
| More traction and less slipping | Difficult to clean up |
| Reduces noise | Spills absorb all the way through |
| Comfortable on bare feet and socks | Retains bad smells and bacteria |
| Relatively inexpensive | |
The biggest benefits of carpet are their noise reduction and insulating qualities.
So some of the best places to install carpet are in any room where we want the floor to be warmer when we walk or sit on it, or wherever we want to be able to walk as quietly as possible.
However, carpet is much harder to clean than other types of flooring (especially if any liquids are spilled). And it holds onto dust and allergens much more than other types of flooring.
So, installing carpet is a poor choice for any room that sees water and other liquids frequently.
And if anyone in the house is highly allergic to dust and other allergens, then installing carpet might not be the best choice for any of the rooms in your home.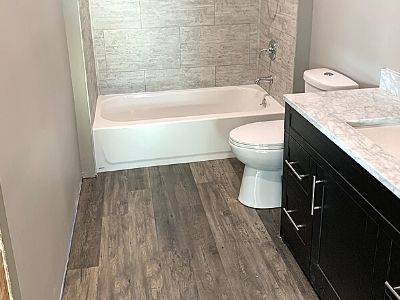 ---
Related Flooring Articles
---
Best Rooms To Install Carpet In
Now that we know the advantages and disadvantages of carpet, let's discuss which rooms would benefit from carpet the most.
Room One: Bedroom
The first room that would benefit from carpet the most is the bedroom.
Your bedroom is the one place in the house where you want the most comfort and noise reduction. It's the one place where most people won't enter, and you can be your most relaxed.
That being said, carpet is best for the bedroom because it naturally reduces sound so rooms with carpet in them will always be a little quieter than the rest.
This noise reduction is super beneficial for anyone who's trying to sleep in their bedroom, no matter what time of day it is.
Also, the added insulation carpet provides is valued pretty high for most people crawling out of bed in the morning. No more worrying about cold feet while crawling out of bed!
Bedrooms also see less traffic in the home, so carpet will last longer in these rooms than in living and family rooms.
Room Two: Stairs
The next room that would benefit from carpet the most is the staircase.
While stairs are not necessarily what we could consider a "room" it makes more sense to carpet stairs that are leading down to a basement or up to the second story of your home.
This is because carpet helps provide traction and reduce slipping while walking. The added traction from carpet can make stairs safer to walk up and down than other types of flooring.
In addition, carpet is easier to install over top stairs because it wraps around and conforms to the different shapes and angles that stairs create (compared to other types of flooring).
Carpet also creates an extra layer of protection for the underlying structure of the stairs, so your stairs will be protected for years to come.
Room Three: Playrooms
The third room that would benefit from carpet the most is the playroom.
For most families, the playrooms are essentially the same as bedrooms. However, if you have that extra room set aside for kids, pets, or even adults to have fun in, carpet should be on your priority list.
The biggest reason is to cushion the slips and falls that are bound to happen from time to time.
Also, it makes the "fun" room more insulated and comfortable than rooms that have hardwood or some other hard surface variation. 
Other Optional Rooms To Install Carpet In
No matter what the layout of your home looks like, the rooms above will benefit from carpet the most.
However, there are a few more rooms in the house that could benefit from carpet depending on how the layout of the house.
Optional Room One: Family Room
The first optional room that would benefit from carpet the most is the family room.
Since the family room is likely the room where the family hangs out for the largest part of the day, you might want this room to feel cozy as well.
Carpet always makes a room feel cozier because of how soft and plush it is. However, carpet does wear out more quickly than other types of flooring.
So, if your family room is a high-traffic area, another type of flooring might be better (and you can just add a throw rug to get that little bit of coziness thrown in as well).
If you have an open-concept home, however, then you should keep the flooring the same throughout all the rooms that can be seen in the "open area".
Usually, the kitchen, dining room, and family room can all be seen at the same time. When this happens, keeping the flooring the same will make the room appear larger and flow better.
Since carpet is a poor choice in a kitchen (an area that sees a lot of water, dirt, and food remnants), and since the flooring in an open concept should be the same throughout, then tile, hardwood floors, or laminate flooring would be the better option for the family room.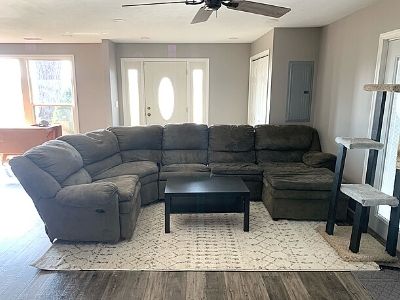 Optional Room Two: Basement
The next optional room that would benefit from carpet the most is the basement.
The basement is a "whatever goes" kind of room. It typically serves as storage, the wife's lounge, a man cave, or a playroom/gaming room.
Because of this, the type of flooring in the basement should be up to the style and preference of who will spend the most time in the room.
If the basement is used mostly for storage or occasionally floods, then carpet is not the best option. Instead, installing tile or simply painting the concrete floor would be the best option.
However, if the room is meant to feel like a den or a playroom, then carpet again will help the room feel cozy, warm, and softer to sit on or wrestle on.
Optional Room Three: Living Room
The final optional room that would benefit from carpet the most is the living room.
The living room is much like the family room. If your house is open-concept and your living room flows into another room where carpet would be a poor choice, then carpet should not be installed in this room either.
However, if your rooms are sectioned off a little more, then carpet can be a suitable choice for this room as well.
At the end of the day, if you choose to install a different type of flooring other than carpet, you can always put a rug overtop that will help give that "carpet feel" while still giving a high-end look that is easier to clean and maintain.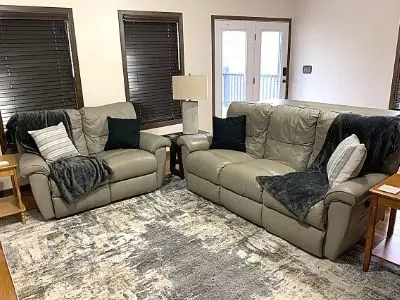 Other FAQs About Choosing Which Rooms To Install Carpet In
Here are some other frequently asked questions about flooring to help you choose the best flooring for each room!
What Rooms Is Carpeting A Poor Choice?
Carpeting is a poor choice in any room that frequently sees water, food remnants, or dirt. These elements will quickly damage carpet. These rooms include but are not limited to, kitchens, bathrooms, entryways, mudrooms, and laundry rooms.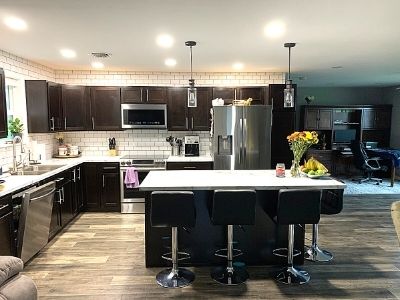 Is Carpet Or Wood Better For Bedrooms?
Carpet is better for bedrooms than wood because it reduces noise while walking, adds extra insulation, provides additional traction while walking, and adds extra cushion for playing, sitting, wrestling, or laying. Though, wood floors in bedrooms can be softened up with a large area rug.
Do Buyers Prefer Carpet In Bedrooms?
Buyers prefer carpet in bedrooms because carpet makes a bedroom feel cozy and comfortable. It also helps keep the room warmer and reduces noise for anyone walking while someone is sleeping. Carpet is often expected in a bedroom.
Final Thoughts On Which Flooring To install In Each room
There you have it!
The rooms that would benefit from carpet the most are bedrooms, hallways, stairs, playrooms, family rooms, living rooms, and basements. Carpet is beneficial for these rooms because it reduces noise, is warmer to stand on, and is soft and comfortable to sit or play on.
With all of that being said, just because we name the best rooms for carpet doesn't mean that's what you have to go with. In most homes, a lot depends on the layout and personal preference.
In most cases, you can't go wrong with carpet in the bedrooms though. Most homeowners would agree as well!
Catch you in my next post!
---
Related Flooring Articles
---
How To Decide Which Rooms To Put Carpet In (For Maximum Benefit!)
DIY With Christine is a participant in the Amazon Services LLC Associates Program, an affiliate advertising program designed to provide a means for sites to earn advertising fees by advertising and linking to Amazon.com.