*My posts may contain affiliate links, which means I may receive a small commission, at no cost to you, if you make a purchase through a link! Thank you for supporting my website!*
Last updated on October 14th, 2022 at 12:22 pm
What Order Should You Paint A Room? Find Out Here!
Wondering what's the best order to paint a room? Well, look no further because I have your answer!
The best order to paint a room is to paint the ceiling first, then caulk and paint the trim, baseboard, & door frame, then paint the walls, then paint the doors, and finally, paint the cabinets.
Now that we've got the basics out of the way, let's break into the details a little further so you can paint your room faster and better.
Let's dive in!
Quick Navigation: The Best Order To Paint A Room
One: Paint The Ceiling First
The first area you want to paint in a room is the ceiling.
When painting the ceiling, gravity is working against you. No matter how careful you are while painting, little flecks of paint will inevitably end up on everything below where you are painting.
Because of this, you want to paint the ceiling first so that the flecks will be painted over once when you paint the walls later.
If you painted the walls before the ceiling, then you will likely have to do some touch-ups where paint from the ceiling will drip as you roll the paint on it.
There are some rules for painting ceilings that you want to follow to make the paint job look like a professional did it. Be sure to read the rules in my other article before painting.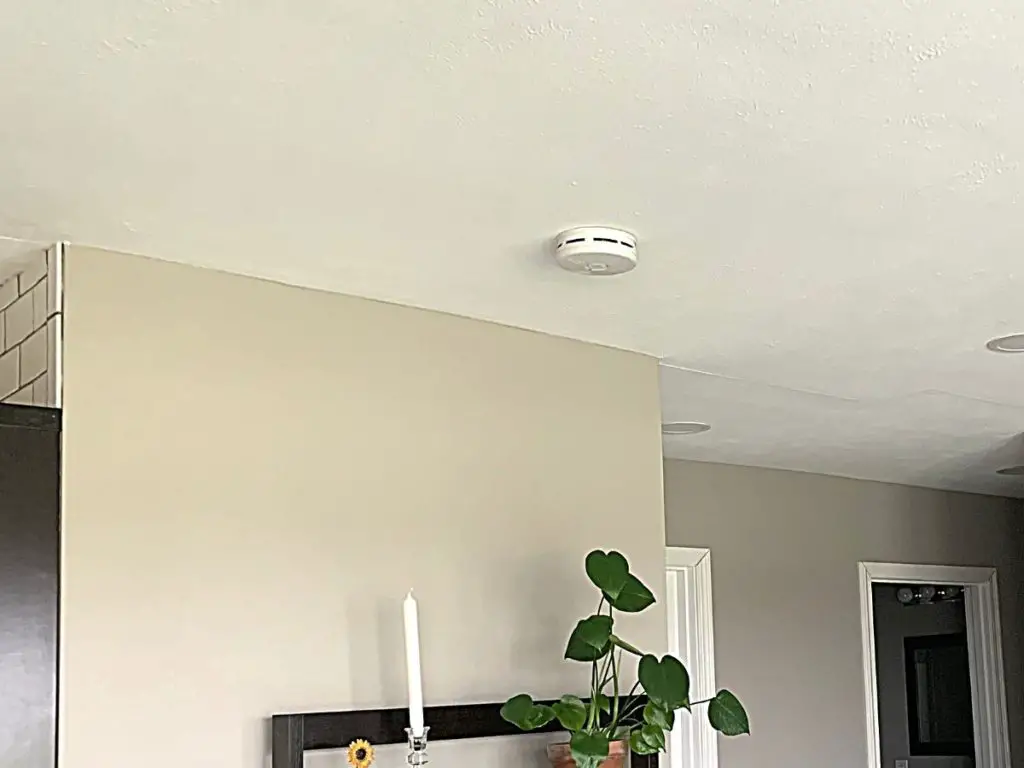 ---
Related Paint Articles
---
Two: Caulk & Paint The Trim, Baseboard, & Door Frame
The next area you want to paint in a room is the trim, baseboard, and door frame.
First, though, if you need to do any caulking, you want to do that before you paint the trim and baseboard.
It is common to caulk the gap between the:
Window/door trim and the wall
Window trim and the window frame
Door trim and the door frame
Baseboard and the wall
And any gaps where two pieces of trim or baseboard meet (such as the corners and mitered joints)
You should use this painter's caulk found at Amazon, so that it can be painted over to create a clean and finished look.
For help with filling large gaps around window/door trim, check out my article here. And for help with fixing bad mitered joints in window/door trim, check out my article here.
Since the caulk will need to be painted over, it's best to caulk first, then paint the trim.
In addition, you want to paint all of the trim before painting the walls because it is easier to cut along the flat wall than it is to paint the top of the trim that sticks off the wall without having to do touchups on the wall again.
You can always use painter's tape to make this less of a problem, but if you recently painted either your trim or your wall, then you want to make sure you use this delicate painter's tape found at Amazon.
When using regular painter's tape, you run the risk of tearing off your new paint because the paint won't be fully cured and regular painter's tape has a pretty strong, stickiness to it.
But the delicate kind has less stickiness, so it will help prevent any paint that hasn't fully cured from ripping off when you remove the tape.
Trim and baseboards can sometimes be tricky to paint and get a long-lasting finish, so before you start painting, you should check out my tutorial on how to prep baseboards and trim for paint.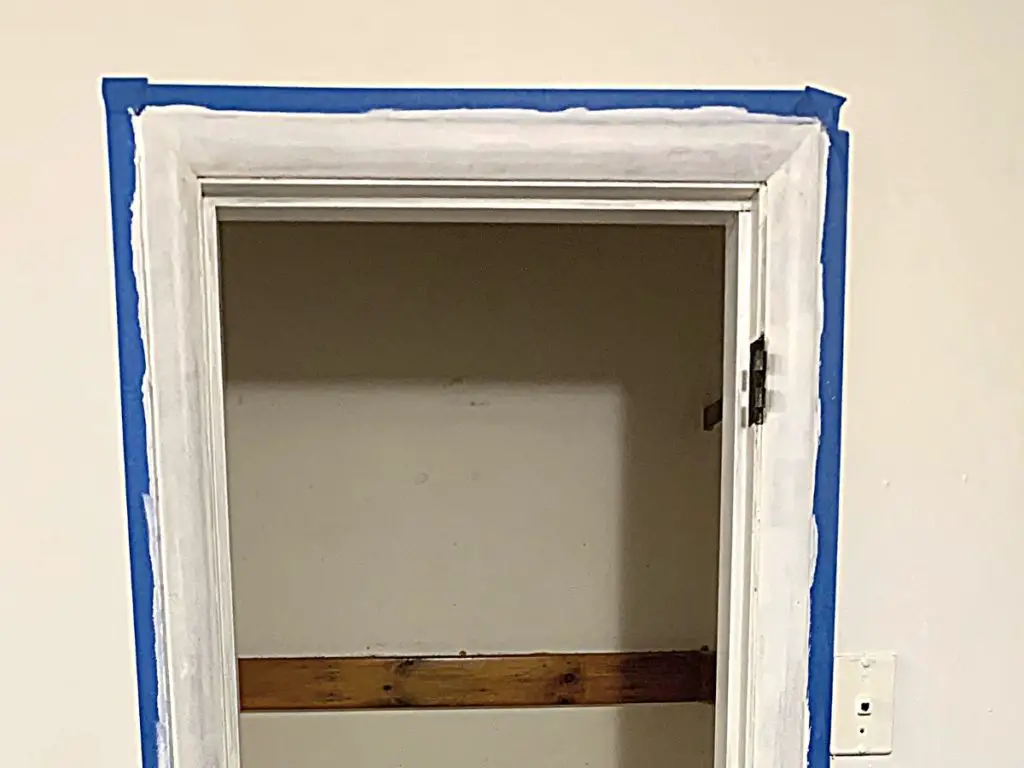 Three: Paint The Walls
The next area you want to paint in a room is the walls.
You might think it's crazy that the walls are the third area to be painted in a room (and not the first), but if you paint the ceilings and the trim/baseboards first, then you will not have to do any touchups on your wall paint.
Since the walls are vertical to you (instead of horizontal like the ceiling or top of the baseboard), it is easier to use your paintbrush to cut a straight line along the wall where it meets the ceiling and along the wall where it meets the trim.
Plus, if you are using a color that's different from your ceiling and trim color on your walls, it is a little bit easier to see your cut line while you are painting along with the newly painted ceiling, or newly caulked and painted baseboard.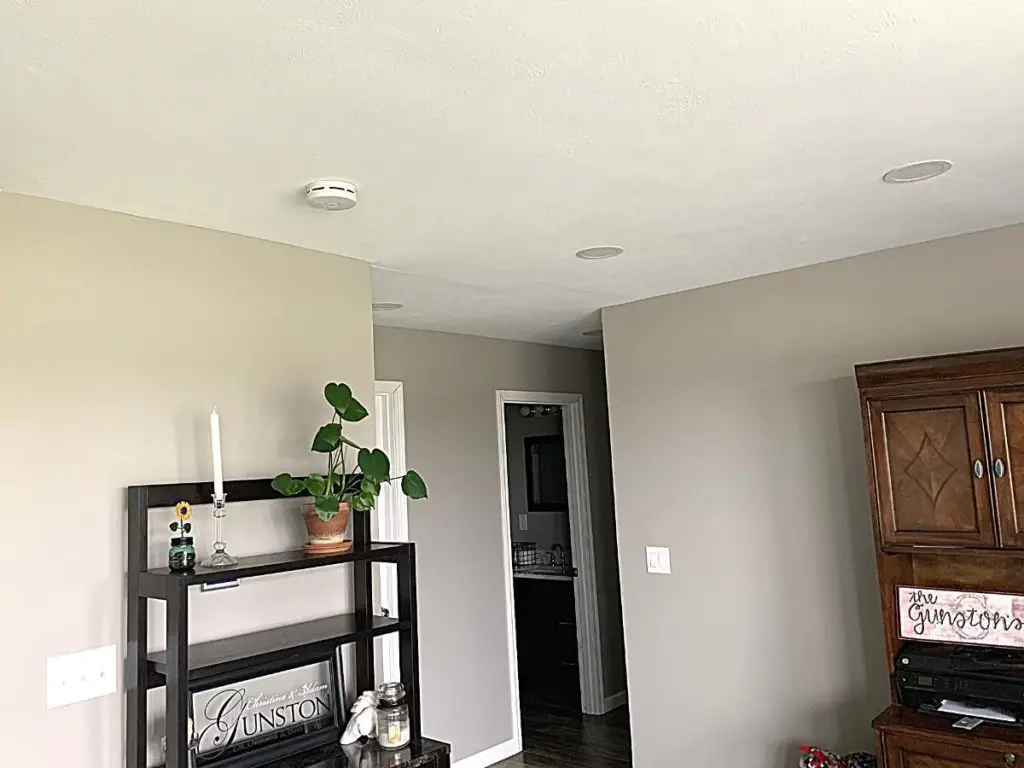 Four: Paint The Doors
The next area you want to paint in a room is the doors.
The walls being painted first will let you move furniture back into the room without affecting your ability to paint the doors easily later.
The doors are also a small area that needs to be painted, so you can easily tarp the floors and paint them in place without worrying about getting paint on the door frame or walls.
And everything above the door will already have been painted, so no touch-up paint will be needed after the door is painted because no drips can land on the door.
For help on painting interior 6-panel doors flawlessly in 3 easy steps, check out my tutorial here.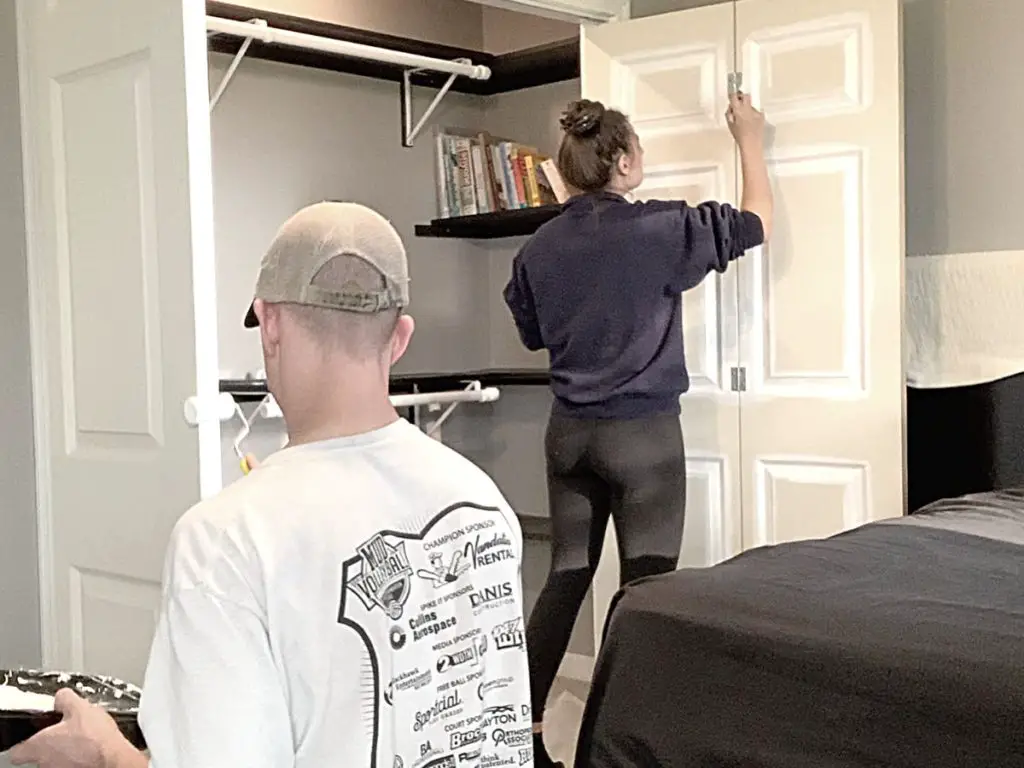 Five: Paint The Cabinets
The final area you want to paint in a room is the cabinets.
Painting cabinets such as the kitchen cabinets, bathroom cabinets, or cabinets in a laundry room is a tedious and time-consuming task.
The last thing you want to do is have to do any touch-up work on them after you've got a smooth paint finish on them.
Because of this, you want to leave these as the last thing painted in a room. That will ensure that no paint drips onto it, and if you need to paint in stages, you can paint the cabinets at a much later date.
For help on painting bathroom cabinets like a pro, check out my tutorial here.
That's it! If you paint a room in this order, you will save yourself so much time and money by not having to use extra paint or spend extra time doing any rework!
Other FAQs About The Best Order To Paint A Room
Here are some other frequently asked questions about painting your house to help you avoid having to do rework while painting!
Do You Roll Or Cut In First?
When painting you should cut in first and then roll. Cutting with a paintbrush leaves a more prominent brush mark than a roller does. Running the roller over the brush marks after cutting blends the paint so that it has one seamless, virtually smooth texture.
Do You Have To Cut In On The Second Coat Of Paint?
You should cut in on the second coat of paint to ensure that the paint is even and has the same texture on the entire wall. If the first coat of paint was thin and you don't cut in on the second coat, the paint can appear uneven and splotchy.
Can You Use Painter's Tape On Freshly Painted Trim?
Using painter's tape on freshly painted trim can rip the paint off because the paint hasn't fully cured yet. To avoid this, paint the trim first then paint the walls after by cutting along the trim without using tape. If you must use painter's tape, then use the delicate-labeled kind.
Final Thoughts On Painting A Room Order Of Operations
There you have it!
Painting a room in a specific order will allow you to paint faster and help you avoid having to go back and touch up spots because you didn't paint in the correct order.
Hopefully, this guide will make painting a breeze for you.
Catch you in my next post!
The Best Paint Supplies I've Reviewed
Wooster Shortcut Angle Sash Paintbrush (2-Inch)
This is my all-time favorite paintbrush because it is so lightweight! The short handle takes the pressure off your wrist and creates an extremely comfortable grip, so you can paint longer without feeling the weight on your wrist. I use this paintbrush on 99% of my paint projects. You can find this paintbrush here on Amazon.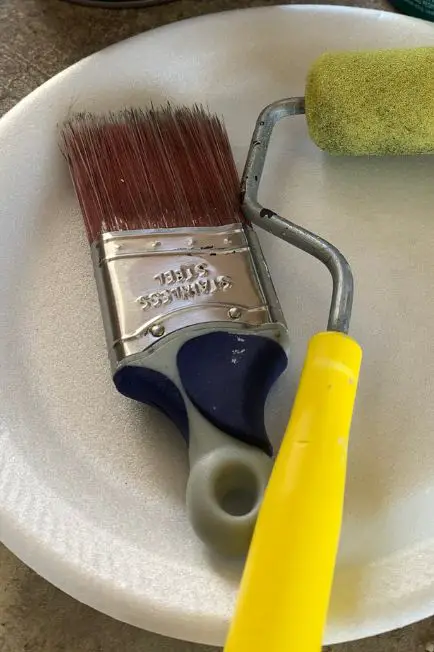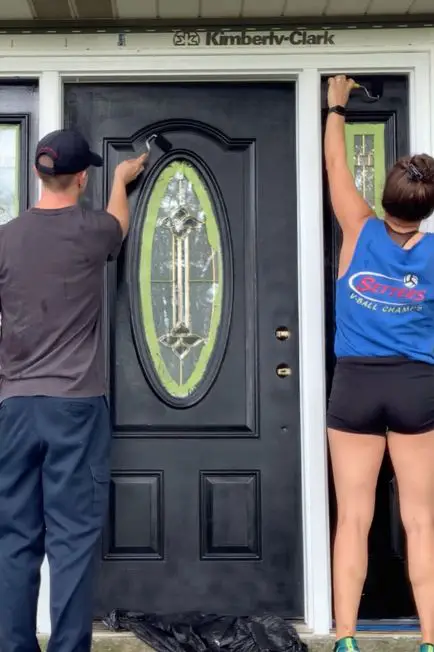 FoamPRO 164 Fine Finish Roller (4-Inch)
If you want the least amount of paint texture left from a roller (such as on metal or furniture), then this is the best roller you can use. The fine finish in the foam leaves the tiniest bit of texture that can easily be sanded between coats to get a finish almost as good as a sprayed finish. You can find this awesome foam roller here on Amazon.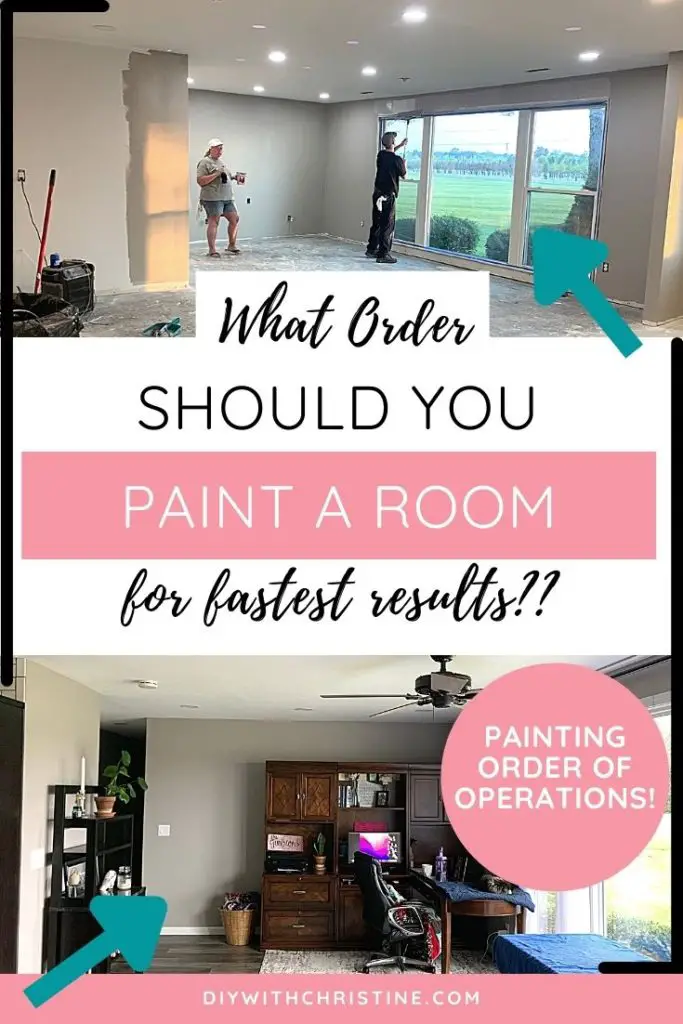 ---
Related Paint Articles
---
What Order To Paint A Room For Best Results (Paint Faster & Better!)
DIY With Christine is a participant in the Amazon Services LLC Associates Program, an affiliate advertising program designed to provide a means for sites to earn advertising fees by advertising and linking to Amazon.com.