*My posts may contain affiliate links, which means I may receive a small commission, at no cost to you, if you make a purchase through a link! Thank you for supporting my website!*
Last updated on January 18th, 2023 at 05:57 pm
Easily Dress Up A Plain Kitchen Island Like An Interior Designer
Tired of looking at a boring, builder-grade kitchen island? Well, you're in luck! You're about to learn exactly how to style a kitchen island like an interior designer!
Likely, your kitchen island is the centerpiece of your kitchen (as it is in ours), so it's crucial that it's styled and looking good.
After gutting and renovating our 1950s Ranch, I've learned that a home will never truly feel complete until it's been decorated.
I'm sure your home feels the same way if you're missing decorations, especially in your kitchen, which is the heart of your home. 
So let's start tackling this problem in the kitchen, specifically on the kitchen island!
Luckily, it only takes a few key design elements to pack a big punch!
Let's dive in!
Quick Navigation On How To Style A Kitchen Island
Step One: Upgrade The Back Panel Of Your Kitchen Island
The first step to style a kitchen island like an interior designer is to upgrade the back panel of your kitchen island.
It can be boring to see the plain backside of a builder-grade cabinet as the base of a kitchen island. Most people/builders finish the backside of their kitchen island using the standard, store-bought finishing panels because it's cheap and easy to do.
Nothing wrong with that! Even we installed our kitchen island with a standard back panel to finish it.
But we quickly realized that the simple back panel just doesn't cut it. 
Firstly, it looks unfinished because there is nothing hiding the seams or corners.
Secondly, it truly does look like a run-of-the-mill, store-bought panel, which does not make your kitchen island look custom and unique.
What do you put on the back of a kitchen island?
The standard way to finish the back of a kitchen island is to use a store-bought cabinet back panel and wood trim stained or painted to match the cabinets. Alternatively, wall paneling, tile, stone, or shiplap can be put on the back of a kitchen island to add a custom design and focal point to the kitchen.
---
So how do we fix this? There are a few things you can put on the back of a kitchen island depending on the look you want!
Custom Trim
The first thing you can put on the back of a kitchen island (and the cheapest!) is to add custom trim.
For our kitchen island back panel, we wanted a simple finish that looked a little bit more elegant than just installing the back panel. Also, we needed a way to hide the seams and corners of the back panel all while accomplishing this upgrade on a budget.
Because of this problem, I created a simple, but elegant way to finish our kitchen island back panel! You can check out my full tutorial on how you can cheaply finish your kitchen island back panel using custom trim as well.
The beauty behind adding custom trim as we did is you can go as simple or as grand as you want.
Since we wanted simple, we went with a thinner trim around the entire island (costing us less than $50 total!). But if you want more of a statement piece, then add wider trim or trim with a design!
Also, if you're in the beginning stages of building a custom kitchen island out of base cabinets then adding trim is an excellent way to make your island installation much easier. Check out my full tutorial on how to easily make a custom kitchen island out of base cabinets for significantly less than the average cost to install a kitchen island.
Now, if custom trim seems too simple and you want a bigger statement on the backside of your island, then you can add wall paneling.
Wall Paneling
The next thing you can put on the back of a kitchen island is wall paneling. Wall paneling is another way to keep your kitchen island upgrade on a budget.
Wall paneling comes in large 4 ft x 8 ft sheets for $30-$50, and they come in a variety of patterns and textures.
For example, you could find a faux brick pattern, a faded shiplap barn wood pattern, a beadboard, or a white tile pattern.
The beginning of this video does a good job of showing how to nail or glue wall paneling around the base of your kitchen island.
Like the video briefly shows, you would install this product just like you would install the store-bought back panel, then you can simply trim it out as we discussed above.
It's an easy way to add a unique touch to your kitchen island that you can't just buy at the store! (Well, I guess you technically are buying this at the store, but most people won't be this creative, so that makes it custom in my book haha!)
Shiplap
The next thing you can put on the back of a kitchen island is a shiplap. White shiplap would be a statement piece on the back of your kitchen island.
Easily install it on the back and sides of a white kitchen island and fall in love with your kitchen again.
This video does a fantastic job of explaining how to install shiplap on a kitchen island or peninsula!
Tile or Stone
The last thing you can put on the back of a kitchen island is tile or stone. Adding tile or stone will most likely be the most expensive way to finish the back panel of your kitchen island.
(Well, maybe! It depends on the tile you choose because white subway tile is cheap! We were able to install white subway tile from countertops to ceiling throughout our entire kitchen for less than $150!
So you could easily tile the backside of your kitchen island for less than $100. You can check out my tutorial on how to install subway tile backsplash yourself to really level up your kitchen here.)
The extra cool part of tiling or adding stone over the other options though is the fact that it's durable and easy to clean.
If you have seating on the backside of your kitchen island, then I'm sure you've seen the shoe scuff marks along the back (they drive me nuts! Haha!).
Tile/stone would hide those scuff marks and be a little easier to wipe down than maybe a wall panel might be.
This video isn't the greatest, but it does do a good job of showcasing what a stone kitchen island looks like so that you can decide whether that's a good look for your island or not!
On top of that, tile/stone gives off the most elegant/high-end vibe of all of the options (simply because tile or stone appears to be more expensive and adds dimension to the flat back of your island). 
So if you're going for a high-end, designer vibe, then tiling might be the option for you to upgrade the back of your kitchen island!
Other Options
In addition to all of these kitchen island back panel ideas, you can simply paint your kitchen island a different color from the rest of your kitchen cabinets.
That contrast would make your island a statement piece within the room as well!
White kitchen cabinets with gray or black island cabinets, gray kitchen cabinets with white, black, or navy island cabinets. You get the picture!
The idea is to add a unique touch to the base of your kitchen island.
Next, we're moving away from the island itself and onto some of the decor pieces surrounding the island.
---
Related Kitchen Island Articles
---
Step Two: Swap Out The Island Lights
The next step to style a kitchen island like an interior designer is to swap out the island lights for something more modern!
Pendant lights are an important design element over a kitchen island because they draw your eyes up from the bulky kitchen island that is anchored to the ground. When you draw your eyes up through simple decor moments such as hanging pendant lights, you make the ceiling appear higher and the room appear larger.
In addition, pendant lights add extra light to the kitchen, which also makes a room appear larger and helps you see better while you're preparing your food.
So adding modern pendant lights are a must to create a functional and styled kitchen island! To help you pick a fantastic pendant light for your kitchen island, let me share some of my favorites.
My Favorite Pendant Lights To Style A Kitchen Island
First, let me show you the beauties we picked!
These black pendant lights with a clear glass shade from Amazon were my pick because of their simplicity.
Our ceilings are rather low (only 8 ft), so I wanted lights with a clear glass shade, so that your view was never fully blocked.
That little detail helped me add a really pretty decor moment without making it feel intrusive in the room (because who wants to stand around a kitchen island where you can't see the person on the other side because the lights are big and bulky?)
Plus, this pendant light comes with an adjustable cord, so we could shorten it to keep it out of our faces on our lower ceilings. Add the sweet dimmable feature, and I fell in love!
---
A very close second on my list was this stunning clear glass shaded pendant light from Amazon.
Again, these lights gave off a lot of light and were adjustable to fit our lower ceiling. The other lights just barely inched it out because I liked the shape of the shade a little better.
---
Then my last choice was these awesome, cafe-style, large dome-shaped pendant lights from Amazon.
If I had a taller ceiling and a little bit larger island (ours is 36 inches wide by 78 inches long), I would have totally chosen these modern beauties.
But alas, I needed a little smaller and more see-through pendants to really accentuate my kitchen island.
These well-priced beauties might be perfect to really level up your kitchen island though!
However, there is one more option you can try before dropping some money on new pendant lights.
How To Modernize Old Pendant Lights
Of course, buying new pendant lights might not be the best move for you right now, so you can always save yourself a buck or two today and modernize your existing light fixtures.
Yes, simply spray paint your existing pendant lights! If your current lights are silver and your new kitchen vibe is going towards black hardware, then pop those lights down, give them a good spray paint, hang them back up, and see the transformation they make!
Believe me, even if the style is a little outdated, a more modern paint color such as black or gold will really make a difference in the looks and style of your kitchen island.
Once your lighting situation has been upgraded, it's time to focus on seating!
Step Three: Add Comfortable, But Stylish Seating
The next step to style a kitchen island like an interior designer is to add stylish and comfortable seating.
I don't know about you, but I hate having items in my home that aren't functional. In my opinion, I would group awesome, designer-looking barstools that feel terrible to sit on into that group.
Honestly, why spend the money on something that hurts to use? Haha, okay I'll get off my soapbox now.
When we were searching for seating for our island, I knew I wanted chairs that were stylish and modern, but I wanted my guests to be able to sit in them comfortably for hours if they wanted. 
(I also did not want to spend an arm and a leg on four chairs because we had just dropped enough money on the whole house renovation. It kinda forced decor to be put on the back-burner.)
My Favorite Functional, Comfortable, & Stylish Barstools To Style A Kitchen Island
Cue these adorable and comfy chairs from Amazon!
They swivel, adjust up and down, and have a nice foot rest on them. Plus, they're made of faux leather, so they are easy to wipe down if food is spilled on them.
Although, I do find the crumbs that fall into the seams of the seat a little annoying. Nothing my vacuum can't fix in two seconds though.
They come in a pack of two for less than $100 (SCORE!), swivel, are height-adjustable, have a footrest, are cushiony, and add a nice modern flair to our kitchen island.
Really, the price is what got me. Most other barstools are $100+ A CHAIR. These chairs come in a pack of TWO for $100ish. That was a much better price in my book haha. You can check the current price here.
And so far, our guests love them. They've commented on how comfortable they are to sit in (which I agree, they're cushioned fairly well). It's funny, many of our guests have been my husband's 25-year-old friends, and when they sit in these chairs, they turn into 10-year-olds who just have to spin on the chairs haha!
If you get these chairs, I'd love to hear if your guests do the same thing!
---
More Barstools To Style A Kitchen Island
Here are a couple of other barstools that would fit the stylish and comfortable criteria in my book:
For a little bit more elegant look, these barstool chairs would be awesome.
The tufted back immediately says "high-end". So if you really want to style your kitchen island like an interior designer, then adding tufted barstools is the way to go.
Again, they adjust and swivel, which are always key elements in a good barstool in my (and most people's) eyes.
While on the little pricier side of my preferred price range, these chairs definitely hit the comfortable/functional side of the spectrum with the high-density sponge in the seat. (You can check the current price here.)
They didn't fit the criteria I was looking for with my island, but they could be the perfect fit to style your kitchen island!
---
These barstools are also an awesome price per chair when you buy four of them. (Check the current price here.)
They also swivel and adjust, and they don't have that stitched pattern through them, so they wouldn't catch crumbs like the chairs I chose sometimes do!
I was leaning towards these chairs, but I really wanted black ones, so the ones I chose won me over in the end.
Now that we've got some awesome barstools for our kitchen island, it's time to talk about the top of the island.
Step Four: Display A Decorative Tray Or Serving Platter Or Fruit Bowl
The next step to style a kitchen island like an interior designer is to add a small decorative moment.
What should I display on my kitchen island?
Display a bowl filled with fruit, a vase filled with flowers, or a serving tray filled with decor such as flowers, candles, figurines, etc. on a kitchen island to create a visually stunning and functional decor moment. Focus on one key decoration and leave the rest of the kitchen island counter empty to create an open, airy, and clutter-free kitchen.
---
What to display on a kitchen island is a frequently asked question that I've pondered often. While you can easily leave your island empty (which I do love a nice, open kitchen counter), adding a small decor moment can help elevate the looks of your kitchen as a whole without making the room feel cluttered.
The way to make it not feel cluttered is to make the decor moment functional as well as decorative. I know I keep hitting on this, but this is the best way to keep your home feeling light and airy.
Plus, you need less stuff to accomplish the design you want, so I'm really helping you be budget-friendly and clutter-less-friendly! (Is that a word? Probably not. Let's make it a word now!)
Use Fruit To Decorate
You can easily create a functional and decorative moment on your kitchen island using a decorative tray or bowl filled with fruit.
To add a little bit of a decor moment on our island, we added the silver serving tray from our wedding and filled it with fruit. The greens, reds, and oranges from our apples and oranges we eat each week create a pretty picturesque moment at the end of our island.
Now, we have something that makes the kitchen island look better, and it encourages us (and our guests) to eat more fruit because it's in the center of the kitchen now.
Like I said, many of our guests have been my husband's 25-year-old friends. They are a funny thing, 25-year-old men. I can guarantee they wouldn't eat fruit unless it's paraded in front of them. Then all of the sudden, they eat all of it, and you wonder what the heck happened haha!
It's good! It's my sneaky way to keep the people in my life healthy. 🙂
Use Cutlery Or Other Kitchen Utensils To Decorate
Another option could be to add a turntable with your best knife set or a pretty utensil holder filled with utensils.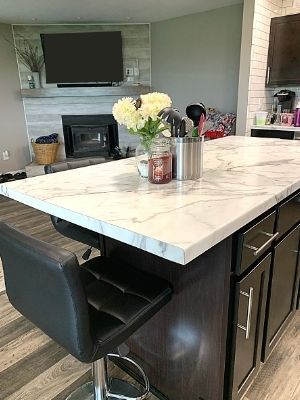 Not only can you now easily access all of your knives or utensils right in the middle of your kitchen, they're also creating a simple decorative area for you.
The key to this idea is to have your knives in a nice, natural wood holder, or your utensils in a decorative pot that accents your kitchen island and other decor pieces nicely.
Having your cooking utensils in an old coffee grind container isn't going to cut it. Instead, opt for a metal holder or a ceramic holder that matches your style.
You can also add a cute, little salt and pepper shaker on your turntable, so that you can have easy access to your most-used spices and have them on display.
To really make this idea work, however, you're going to want to include the last step's idea to bring it all together. (Yes, a plant or some flowers would really make your turnstable of knives or utensils seem intentional and designer!)
Okay, let's talk about the last step to style your kitchen island like an interior designer so we can come full picture.
Step Five: Add A Plant Or Flowers
The last step to style a kitchen island like an interior designer is to add a plant or flowers to your kitchen island!
Greenery always makes a big impact and brings life to a room, no matter the decor style, so I always recommend adding some plants (even fake ones!) to elevate the design of your room.
My Favorite House Plants To Style A Kitchen Island
There are all sorts of house plants that would be perfect for styling a kitchen island. A gorgeous rattlesnake plant, a nice fern plant, or pretty purple waffle plant would add a natural element to your kitchen island.
And if you go with the turntable idea, one of these plants would help finish off the decorative corner.
Fake Plants Are Perfect To Style A Kitchen Island
Don't worry though, fake plants can have the same effect on styling your island as real plants do. So if you're not up for keeping a real plant alive, then snag some pretty fake ones and never think about it again!
Ahh, I will never get over how big of a difference a few plants can make in a room!
Final Thoughts On How To Style A Kitchen Island
There you have it! Now you have all of the tips and tricks you need to decorate a kitchen island like an interior designer.
While it seems like we went through a lot of ideas, you really only need to select 2-3 ideas and implement them on your island.
A few new ideas implemented will drastically transform the look and feel of your kitchen island, and you'll be so proud once you bring your design to life!
I believe we all deserve to come home to a house we absolutely love. So here's to you creating your own home that you love!
Catch you in my next post!
The Best Kitchen Tools & Products I've Reviewed
Ravinte Cabinet Handle Installation Template (For Doors & Drawers)
This is my all-time favorite handle installation template because it has two templates (one for drawers and one for doors) with multiple pull sizes & knob placements! These templates make installing cabinet handles a breeze because you always know your handles will be installed in the same spot on all of your drawers and doors. The kit also comes with a drill bit so you can guarantee you're using the correct size. I used this template on my entire kitchen and both bathrooms to cut the installation time in half. You can find this hardware template here on Amazon.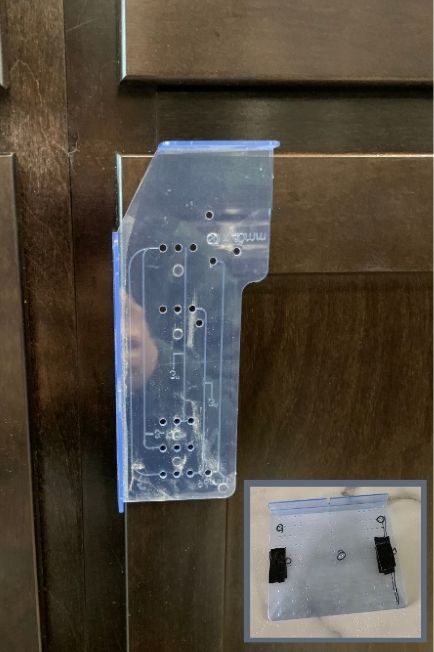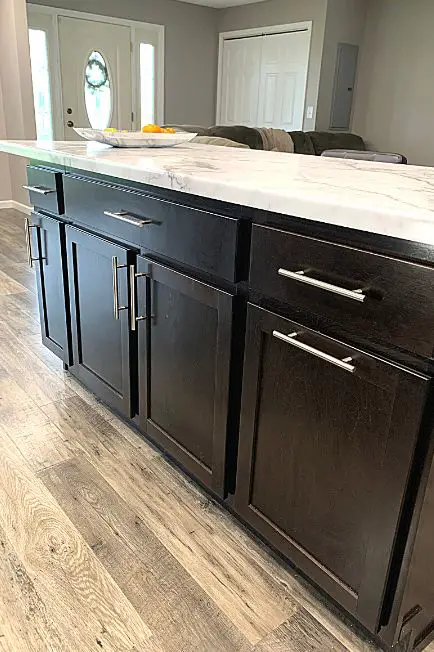 Franklin Brass 5-1/16 Inch (128mm) Center Bar Pull (Stainless Steel)
If you want to immediately modernize your kitchen island, then these cabinet pulls are a must. They are heavy-duty feeling, durable, easy to install, and are a large size for a great price. We put these pulls on all of our kitchen and island doors and drawers along with our bathroom doors and drawers. You can find these gorgeous cabinet pulls here on Amazon.
P.S. Use the hardware installation template I mentioned above to install these new pulls in record time!
---
Related Kitchen Island Articles
---
How To Style A Kitchen Island With A Few Simple Decor Pieces
DIY With Christine is a participant in the Amazon Services LLC Associates Program, an affiliate advertising program designed to provide a means for sites to earn advertising fees by advertising and linking to Amazon.com.