*My posts may contain affiliate links, which means I may receive a small commission, at no cost to you, if you make a purchase through a link! Thank you for supporting my website!*
Last updated on October 21st, 2022 at 02:34 pm
Easy DIY Wooden Shelves: Beginner DIY Woodworking Project
Want to decorate your boring, plain walls with some beautiful DIY wood shelves?
Well, you're in luck! These simple DIY shelves are PERFECT for a beginner to dip her toes in the world of woodworking, DIY, and home renovation all while staying on a budget! Woohoo!
Check out the tools, materials, and steps you need to make these awesome wood shelves below.
Let's dive on in!
Level Of Difficulty
Easy
Time To Complete
3 days (Including dry time)
Materials For DIY Wood Shelves
Tools For DIY Wood Shelves
How To Make DIY Wood Shelves
Step One: Measure And Cut 1" x 10" Board Into Two 24" Pieces
Firstly, I decided where I wanted to hang my shelves. My mom's guest bathroom needed a major makeover, so I chose to install my shelves over the back of the toilet.
If you haven't seen it yet, I explained the 10 steps I took to update and refresh her outdated bathroom in this post!
Because of this, I wanted to make my wood shelves be the same width as the back of the toilet.
Secondly, I chose the width and depth of the shelves I wanted. I found that 24" was a perfect size. I could get 2 full shelves out of the 6' board. (Or you could get 3 shelves a hair under 24" which still would have been a great size for over a toilet).
In addition, I chose a 10" wide board. That size was deep enough to put decorations on, but still shallow enough for nobody to bang their heads against them while using the toilet.
The last thing I need is someone getting assaulted while using my bathroom haha! You choose the sizes that will best fit your space!
Finally, cut the boards to size.
---
Related Polyurethane & Woodworking Articles
---
Step Two: Sand Both Boards With 120 Grit And 220 Grit Sandpaper
The next task I had to complete to make wood shelves was to sand. I had to sand the boards, so they would be smooth as buttah (read that in a Boston accent). 
To save time, I opted for the slightly more expensive "quality" boards. This is because they had fewer knots and imperfections in them than the standard boards could have had.
However, you can choose the standard boards if you want a more "rustic look" or like the "knotty" look.
Either way, sand both boards completely with 120 grit sandpaper (especially the edges we just cut). If I had owned a mechanical sander at the time, I would have used that in a heartbeat. As a result, it would have saved me so much time and effort!
But alas, I didn't have one, so some good, old-fashioned elbow grease on my part did the trick.
Pro tip: Sand down the edges to round them out and get rid of that hard, factory edge. This will give your shelves a custom, high end look!
After all sides of both boards are sanded with the 120 grit paper, sand it all over again with 220 grit sandpaper. 
To clarify, the 220 grit will smooth the boards out the rest of the way. Moreover, it will give the shelves a more finished look that'll be acceptable for staining.
Lastly, wipe everything down. This is important, so we don't get dust particles in the stain and ruin our pretty boards.
Step Three: Stain Both Boards
The next step to make wood shelves is to stain! This is the fun (and very messy) part!
Firstly, take your stain and your boards into an area that you don't care if the stain gets on. (Trust me, stain and paint always find a way to get on the stuff you don't want it to.)
Secondly, grab your 10-in-1 Paint Multi-Tool, and crack open your stain. (If you've ever cursed at your paint can while trying to open and close it, then you need to make this under $15 purchase ASAP! This paint multi-tool has been one of my favorite small tool purchases ever!)
Lastly, stir the stain with a paint stir stick, and use a foam brush to apply it to the boards. Do small sections at a time and wipe the stain as you go. For a lighter stain color, paint less on and wipe it off immediately. For a bolder stain color, let it sit on the board for 2-3 minutes before wiping.
How To Stain DIY Wood Shelves
Varathane Premium Fast Dry Wood Stain found at Amazon is the kind of stain I recommend. It dries fast and gives you the full color without having to apply several coats!
As a result, you're going to get a pretty bold color from the very first swipe. I highly recommend testing on a scrap piece of the same type of wood to make sure it's the color and boldness you want.
Continuing on, stain all sides, let them dry for one hour, then flip them over and stain the last side.
How To Clean Up After Using Stain
Both the stain and topcoat are oil-based, so you won't be able to clean them up with just soap and water. After you're done staining your shelves, pour some mineral spirits in a cup and repeatedly dunk the brush into it to get the stain out. Next, dump the cup following the bottle's instructions. Finally, repeat the process until the brush runs clean.
Step Four: Apply 3 Coats Of Polyurethane Topcoat (Lightly Sand After First Coat To Remove Imperfections)
The next step to make wood shelves is to apply the topcoat. Once your stain is dry, it's time to apply the topcoat! This step is the most time-consuming part of the project because you have to do a minimum of 3 costs.
(Yes, I rolled my eyes at the 3 coats minimum rule on the can as well. However, I quickly found out why that was important. The clear coat appears foggy and leaves fingerprints until you finally apply the 3rd coat and let it dry completely. If you do it correctly now, you can watch your wood shelves stand up to the test of time.)
First, open up your polyurethane with your 10-in-1 paint multi-tool and stir, I repeat, STIR it with a paint stick. (Whatever you do, don't shake it!!!!)
Polyurethane Mistakes
As you can tell, I've made the terrible mistake of shaking the polyurethane before using it. I thought I could skip the step of using a paint stick. Silly me!
Consequently, I had air bubbles all over my beautifully stained wood. Plus, I used a normal paint roller which is also a big no-no, AND I applied too thick of a topcoat… all at the same time…
No wonder I had air bubbles galore that ruined my finish. I broke every rule on the back of the can because I didn't read it!
So! Stir the can. Then, you can use your other foam brush, so you can get a smooth finish. (Try not to slather it on.) You'll be fine because you're going to avoid my mistakes 🙂
Second, wipe the polyurethane as smooth as possible on the top and sides and let dry. (Depending on your brand, this will take a minimum of 4 hours.)
In addition, I recommend trying to do all three topcoats of the top and sides in one day then the next day, flip them over and do all three topcoats of the bottom.
Because of the dry-time, this is definitely the most time-consuming step. However, it is the part that gives that beautiful, professional finish of a brand, new shelf from the store. So, it is 100% worth it!
How To Clean Up After Using Polyurethane
Follow the same cleaning instructions as above. While you are waiting for each coat to dry, pour mineral spirits in a cup and repeatedly dunk your foam brush into it. When the liquid is too foggy, dump the cup following the bottle's instructions. Finally, repeat the process until the brush runs clean.
To sum it up, you want a clean brush to give your topcoats a smooth finish. Otherwise, hard chunks will make it extremely hard to give a smooth finish.
Step Five: Attach Shelf Brackets To Shelf
The next step to make your wood shelves is to attach the shelf brackets. How exciting! Your beautiful shelves are almost complete!
First, start by deciding how far apart you want your shelf brackets to be. (I measured the center of each of my brackets 4" from each edge of the board.)
Second, hold the back of the bracket flush to the back of the shelf. Also, use a speedy square to ensure the bracket is perfectly perpendicular to the back edge of the board.
Third, mark each hole of the bracket where you're going to drill with a pencil. This way, you can check that your bracket is in place still as you screw.
Finally, grab two ¼" wood screws, and screw one into each marked hole to secure the bracket to the bottom of your shelf. Double-check that the back of the bracket can sit flush against the wall.
If the back of the shelf is sticking too far out from the bracket, unscrew the bracket and slide it farther towards the back of the shelf.
Wood Filler Mistakes
If you have to readjust your screw holes, you might need to fill the old hole with wood filler, sand, restain, and reapply the topcoat. I learned the hard way though. Just because wood filler says it's stainable does NOT mean it will stain the same color as your wood. You've been warned! If your shelf bracket hides the old holes, then you're in luck and can keep moving on!
After the first shelf bracket is in place, repeat the steps above for the second bracket.
Step Six: Attach Shelves To Wall & Decorate!
Last, but not least, it's time to attach your shelves to the wall! Because drywall is basically paper, it's always recommended to find a stud to screw your wall fixtures into. Use your stud finder to find a stud to secure at least one side into.
If there aren't any studs that will let you position your shelves exactly where you want, then that's okay, you can use drywall anchors. Just be sure to check the weight that you're wanting to support on the wall. Don't try to support 30 lbs of weight using drywall anchors that only support 10 lbs.
How To Determine Shelf Spacing
First, I recommend cutting a piece of painter's tape the length of your shelf. Next, position it exactly where you want the bottom of your first shelf to be. Before you press down, use your level to level out the piece of tape. Finally, measure 4" from either side and put a piece of tape where each bracket is going to sit.
To clarify, this process gives you a clear vision of what your shelf placement will look like before you screw a single hole into the wall. I love this method because I am am a very visual person. I struggle to determine where I want something until I see it on the wall.
At that point, it's too late because I've already screwed holes into the wall! With the tape hack, I can just adjust the tape now before installing the shelf. Also, I like to tape where I want the second shelf to be following the same steps, so I know exactly how the spacing will turn out.
Hanging Shelf Hack
Here's another hack for hanging shelves. First, take the tallest item you plan to decorate with on the bottom shelf and hold it up to the top of the bottom piece of tape (your first shelf).
Second, make sure the bottom of your second piece of tape (your second shelf) is higher than that so all your items will fit nicely on your new shelf.
How To Attach DIY Wood Shelves To The Wall
Once you're happy with the positioning of your tape, take your first shelf and hold it up to the bottom piece of tape. Next, line the bottom of the shelf with the top of the vertical piece of tape (which you leveled already, so your shelves should be level as well).
First, with one hand, hold the shelf, and with the other, mark the holes that need to be drilled through the brackets with a pencil.
Second, remove the shelf, drill your holes with the drill bit that came in the drywall anchor kit, and insert your drywall anchors. (If you're drilling into a stud, use a drill bit that's half the size of the one that comes in the drywall anchor kit.)
Third, repeat that process for all 4 holes for the bottom shelf. Then hold the shelf back over the new anchors and screw each bracket into place, one-by-one.
Last, repeat for the second shelf. Then decorate with your favorite pieces!
If you want to know how I decorated my shelves, check out this post here. And if you want to see the rest of the steps I took to completely refresh this outdated bathroom, check out this post here.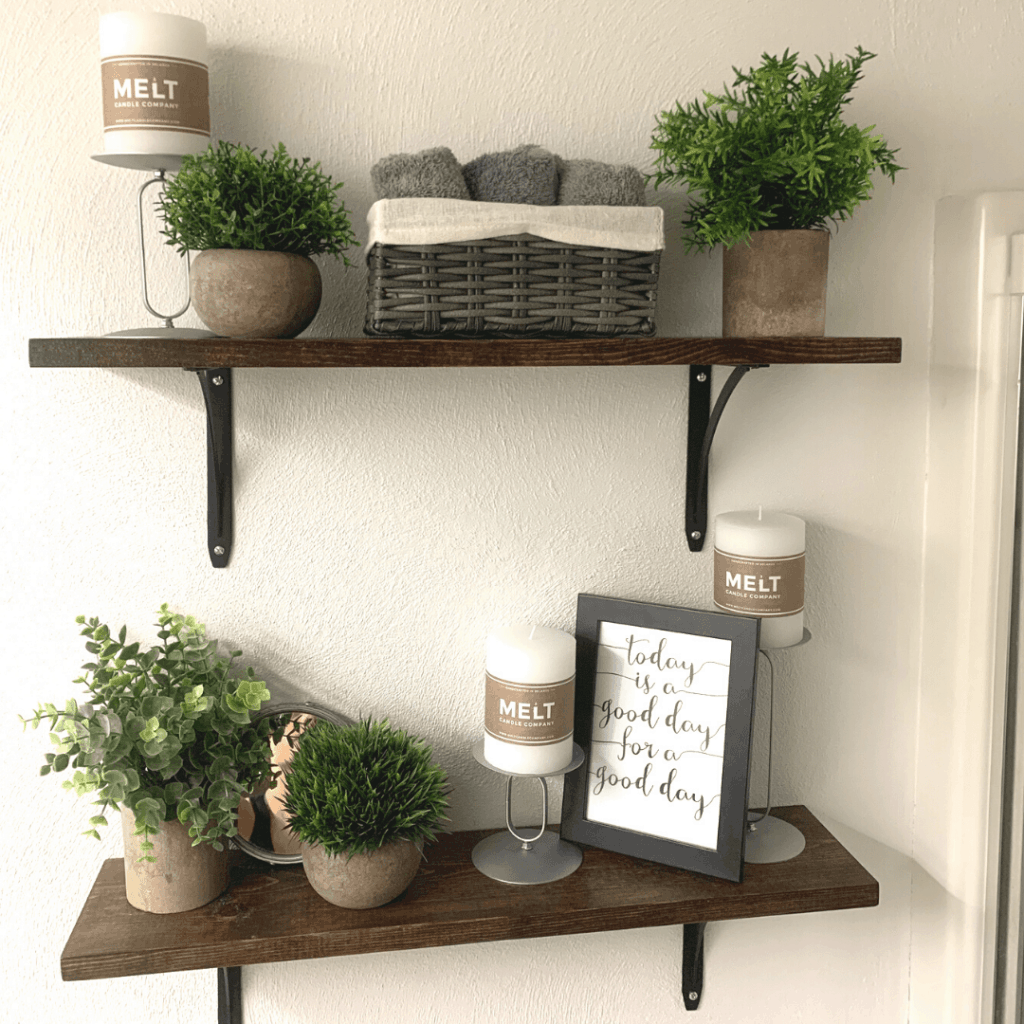 Final Thoughts On DIY Wood Shelves
That's it! You've just made beautiful (and cheap) shelves all by yourself. You go, girl! These simple shelves are an excellent way for you to dip your toes in the world of woodworking, DIY, and renovation all while staying on a very small budget.
Also, if you're just starting to get into DIY and want a list of the basic tools you need to make your room look nice, I've got you covered over here!
Once you decorate your shelves, everyone will be asking you to make and decorate these shelves for them as well!
Catch you in my next post!
---
Related Polyurethane & Woodworking Articles
---
How To Make & Install Beautiful DIY Wood Shelves (Beginner DIY)
DIY With Christine is a participant in the Amazon Services LLC Associates Program, an affiliate advertising program designed to provide a means for sites to earn advertising fees by advertising and linking to Amazon.com.