*My posts may contain affiliate links, which means I may receive a small commission, at no cost to you, if you make a purchase through a link! Thank you for supporting my website!*
Last updated on October 21st, 2022 at 01:56 pm
Make This Simple DIY End Table To Customize Your Living Room!
In need of an end table, but not ready to drop some major money on an expensive one? Instead, make this DIY beginner end table to solve your problem!
This inexpensive side table is perfect for you if you're a beginner DIYer because it's mostly made out of cheap 1" x 2" furring strips!
I'm a firm believer that there's no better way to learn DIY than just diving into a project. So if you can solve a pain point you have (aka your need for an end table) AND save yourself some money by making it yourself, you've got a winner in my book!
My need for an inexpensive, but cut end table forced me to get crafty. I searched through my scrap wood pile in my garage, and created this beginner end table project.
Now, I've got a modern-looking little side table that cost just the price of paint and a top coat since I had the rest of the supplies.
Use this tutorial to make your DIY end table and practice your woodworking skills along the way!
Let's dive on in!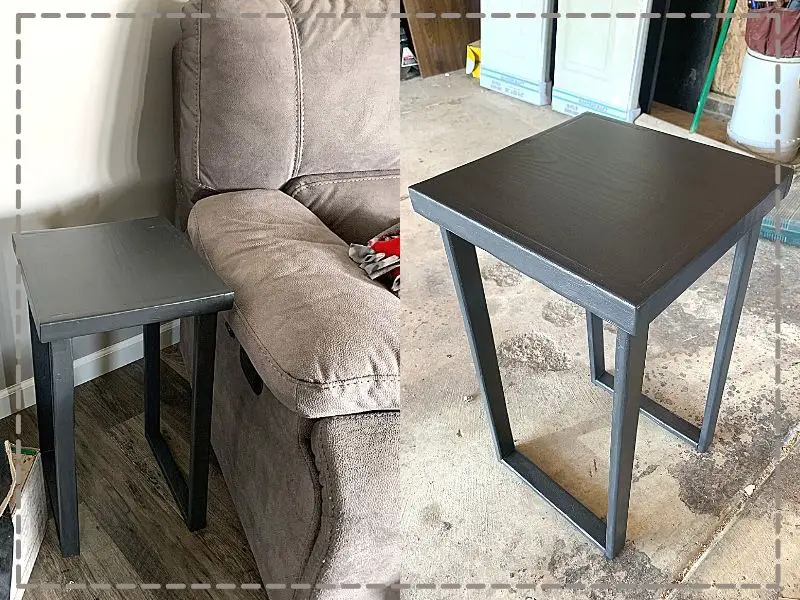 Quick Navigation: How To Make A DIY Beginner End Table
| Level Of Difficulty | Time To Complete |
| --- | --- |
| Easy | 6-8 Hours (Including paint & topcoat dry-time |
Step One: Cut The Pieces For The Side Table
The first step to making this beginner end table is planning the dimensions and cutting the pieces. For our living room, I only had a tiny spot to place a table next to my recliner. So I chose to make a 13-¼" by 12-¾" side table.
For the main top, I measured and cut an 11-¼" by 12" piece of 1" x 12" pine board. Then I framed it out with two 13-¼" pieces of 1" x 2" furring strips and two 11-¼" pieces of furring strips.
It will make a tabletop framed like this:
Then I cut four more pieces of furring strips at 23" for the legs. Which will make the table 23-¾" high and rest perfectly next to an average height armrest.
Lastly, I cut 2 more pieces of furring strips at 10-½" to connect the legs (and give extra support).
This is how the legs turn out:
Beginner End Table Cut List
Here's the official cut list:
Tabletop: 1 piece of 1" x 12" pine board cut to 11-¼" x 12"
Tabletop: 2 pieces of 1" x 2" furring strips cut to 11-¼"
Tabletop: 2 pieces of furring strips cut to 13-¼"
Legs: 4 pieces of furring strips cut to 23"
Legs: 2 pieces of furring strips cut to 10-½"
You can adjust the dimensions to make whatever size side table you'd like! I chose to make this inexpensive end table mostly out of furring strips because they are CHEAP.
No, they are not the best quality, so the legs of my table do have chunks out of them. But when painted black, you can't tell.
And they kinda look like I designed it that way! You definitely could make this project out of a higher quality of wood if you want a smoother finish throughout though.
Since this project is perfect for beginners, you might as well practice on the cheapest wood!
Alright, now that we've got the dimensions, let's dive into the next step!
---
Related Home Decor & Living Room Articles
---
Step Two: Assemble The End Table
The next step to making this beginner end table is to assemble the pieces.
Frame The Tabletop
First, you need to frame out the piece of pine board with furring strips.
To do this easily, I flipped my piece of pine board upside down on a flat table and laid the pieces of pine into the position I wanted. 
Then I clamped two corners at a time to hold the furring strips in place while I ran a countersink drill bit through the side of the furring strip into the side of the pine board (and screwed them together using 1-¼" drywall screws).
NOTE: It's important to use a countersink drill bit like one of these in this set because it will make the screw head sit below the surface of the wood.
Then you can easily fill over the screw head with wood filler and act like it's not even there!
Continue around the pine board until you've secured all 4 pieces of furring strip into place!
Attach The Legs To The Tabletop
After the table top is assembled, it's time to attach the legs.
All four leg lengths must be identical so that the table stands without a wobble. To double-check that they are equal, hold each piece up to each other and feel the end to make sure they are flush.
If one leg is a hair longer than the other, you will want to shave it off to make it equal to the other legs now.
Then I grabbed my husband to help me hold each leg in place so I could again use a countersink drill bit and screw them into the tabletop.
I screwed from the inside of the legs into the tabletop frame, so that the screw was hidden and I didn't have to fill it later.
Once all legs are screwed in place, attach two of the legs with one of the last furring strips to create the foot.
This part was tricky. My husband held the pieces together and held a level on top while I drilled and screwed the legs into the foot.
NOTE: Furring strips can easily crack down the center if you don't drill before screwing. This can happen along the ends of the furring strips (like around the foot or where the legs are getting screwed into the tabletop).
So take the extra minute to drill first!
Here's the table fully assembled and sitting next to my chair!!!
P.S. Don't mind that some of my wood is stained black already. As I said, I used scrap wood that I had leftover from a previous project and decided to paint it later.
Now that your end table is assembled, you can move onto the next step!
Step Three: Fill Gaps & Screw Holes In The End Table With Wood Filler & Sand
The next step to making this beginner end table is to fill the imperfections with wood filler and sand.
Now, I know this table is meant to be basic and cheap, but there are a few small things we can do to increase the looks of the table without much cost or effort!
One of those things is using wood filler. I wanted the tabletop to have as little of the frame showing as possible, so I filled it in with wood filler. If you like that part then skip the wood filler on that part!
I also filled in all of the screw heads with wood filler.
Use The Correct Wood Filler On Your Side Table
Here's a small caution about "stainable" wood filler. It can be stained, but it will NOT stain the same color as the rest of the wood.
So if you want to stain your DIY side table, then you'll want to use this wood filler found at Amazon that blends more naturally with pine.
It will have a better chance to stain similarly to the rest of the wood than this generic stainable wood filler found at Amazon that I used. But since I painted mine, it didn't matter what wood filler I used!
Here's a picture of how this generic stainable wood filler turns out…. Yeah, I was upset with that turnout, so I had to sand off all the stain and wood filler from that project and re-stain it. Waste of time… So use the correct wood filler to avoid this mistake!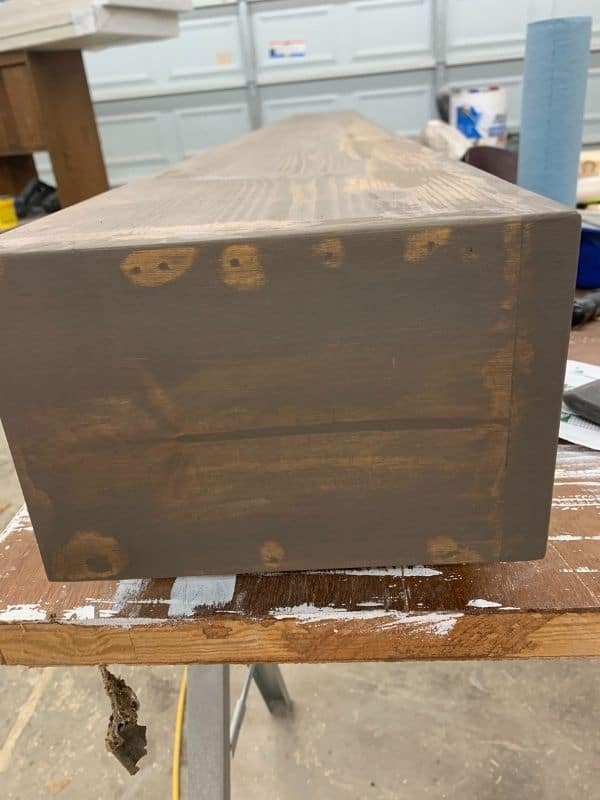 Use 80-100 Grit Sandpaper To Sand The End Table
Once the wood filler has dried, it's time to sand!
To sand quickly, I used my Dewalt Palm Sander from Hardware World with 100 grit sandpaper.
I like this sander because it gets the job done and it's good enough for small projects, but one day, I'd like to get a more expensive one that has more power.
I just had to use more sheets of sandpaper with this sander to get the job done, which isn't a big deal. It is simple to use though, so I feel like it was a perfect tool for me when I got started building some of my wood projects!
To sand this table, I mostly focused on the tabletop because I wanted it to have a smooth finish.
I did sand down the legs a little bit, but I didn't spend much time on them because I used cheap furring strips, so I knew they were going to have a little more character than my tabletop would.
Step Four: Paint The End Table With Paint
The next step to making this beginner end table is to paint or stain! I wanted my end table to match the black coffee table in my living room. Plus, I've heard numerous benefits of using chalk paint on furniture.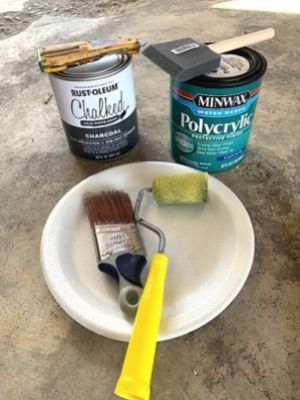 So I chose to use Rustoleum's Chalked Paint in Charcoal found at Amazon on this project.
I can see why furniture flippers like this paint. It is THICK, so it hides blemishes and brushstrokes well.
And it doesn't take more than one coat to cover the furniture.
At first, I wasn't too thrilled with this Charcoal color because when it's painted on, it looks GRAY and not as black as I was hoping. But once the topcoat is applied, chalk paint darkens up. So now the table looks black instead of gray.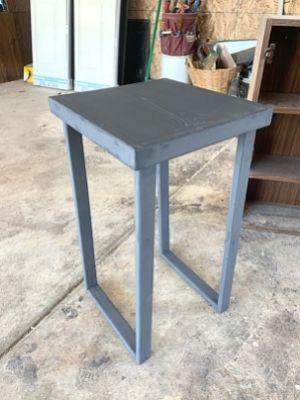 How To Paint With Minimal Brushstrokes
When I paint anything, my favorite two tools to use are this 2-inch short handle paintbrush and this 2-inch foam roller (both found at Amazon).
I adore the short handle on this paintbrush because it's a much more comfortable way to grip a paintbrush than one with a standard-length handle. And because the handle is shorter, the entire brush is lighter.
That means I can paint longer before my hand gets worn out or sore. I used this paintbrush to paint all of the 6-panel doors (you can check out my tutorial for how to paint 6-panel doors fast here), a lot of the window trim (here's my tutorial on how I fixed the gaps in my window trim), and all of the walls in my house.
The foam roller is the real secret to minimal brushstrokes though. Foam in general leaves fewer brush marks than traditional brushes, and when in roller form, it leaves behind no brushstrokes!
I use the short-handled brush to get in all of the nooks and crannies and the foam roller to roll over the brush marks and cover large areas quickly.
Paint or stain the entire table, even the underside! We're almost done. All we have to do is protect it with a topcoat now!
Step Five: Protect The Side Table With A Topcoat
The last step to making this beginner end table is to apply a topcoat. Woohoo, we've made it!
Now that you've done all of the hard work to build this table and paint or stain it, it's crucial to protect it with a topcoat.
This is especially true for the tabletop that will see a lot of wear and tear from drinks and anything set on top.
For this step, I used Minwax Polycrylic Water-based Finish.
Water-based finishes are awesome because they dry quickly (much quicker than oil-based finished), AND they're easier to clean up afterward (just clean out brushes with water instead of mineral spirits).
This time, I used a cheap, disposable foam brush to apply the topcoat because again, foam minimizes brushstrokes!
(To avoid bubbles in your topcoat and other mistakes, you can check out my post here. A lot of the examples are from my time using oil-based polyurethane.
However, the mistakes can happen in water-based too. So read that before you apply the topcoat to save yourself some potential headaches!)
To finish off this project, I applied one coat of Polycrylic to the legs and three coats to the tabletop (where it gets the most use).
Here's the finished table! See how much darker the topcoat makes the chalk paint turn out?
And here's the table next to my chair. Yes, it's got some tiny imperfections, but honestly, it's been one of my favorite projects I've built because I use it every single day.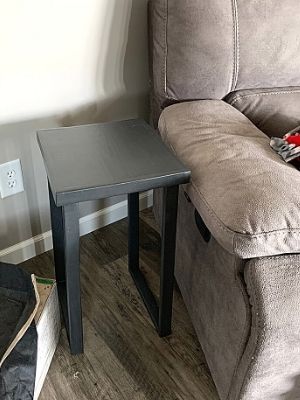 And now I can tell guests I built it! Which always wins me some "wows" with the crowd haha!
Final Thoughts On Making A DIY End Table
There you have it! My only two goals with this inexpensive side table were to make it completely out of scrap wood (hence the reason behind the use of cheap furring strips that I had laying around) and to finally have a spot to put my coffee next to me when I sat on the couch haha!
This cheap and easy little end table accomplished both of the goals perfectly for me. So if you desperately need an extra table for your living room or bedroom, but you don't want to drop $100+ on one, you can make this table!
It'll solve your problem while simultaneously saving you money until you're ready to invest in a higher-end table for your home.
I love learning about woodworking and DIY on projects like these because it doesn't matter when you mess up! And you learn so much along the way.
So what are you waiting for? Make this beginner end table today!
Catch you in my next post!
---
Related Home Decor & Living Room Articles
---
How To Make A Beginner End Table (Full Tutorial With Pictures!)
DIY With Christine is a participant in the Amazon Services LLC Associates Program, an affiliate advertising program designed to provide a means for sites to earn advertising fees by advertising and linking to Amazon.com.