*My posts may contain affiliate links, which means I may receive a small commission, at no cost to you, if you make a purchase through a link! Thank you for supporting my website!*
Last updated on February 20th, 2023 at 04:24 pm
The Importance Of Palisade/Dumawall Corner Trim To The Installation Process
---
UPDATE: Palisade Waterproof Grout-Free Tiles have replaced Dumawall tiles in the U.S. They are the same product, just simply rebranded, so I will use them interchangeably throughout this article.
---
Are you looking to install Palisade/Dumawall tile and trying to decide if you truly need the corner trim to complete the installation?
Well, then you've come to the right place! In this article, I'll explain exactly why I think you should install the trim with your Palisade/Dumawall tile (and the possible problems if you decide to skip this step!)
During our two complete bathroom renovations, we installed Palisade/Dumawall and became familiar with the three different types of trim and their best uses of them.
Shortly, you'll see the huge benefits of the different Palisade/Dumawall corner trims, and you'll realize that the extra cost makes your life way easier!
Let's dive in!
Quick Navigation For Palisade/Dumawall Installation Without Trim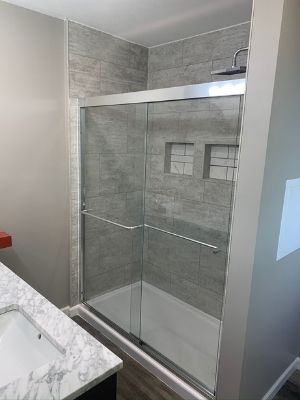 Can You Install Palisade/Dumawall Without Trim?
Palisade/Dumawall tile should not be installed without trim. Palisade/Dumawall trim is designed to hide the cut tile edges and waterproof the seams of the shower enclosure. Without trim, the Palisade/Dumawall tile will appear unfinished and cause the weak points of the shower (the corners) to be left unprotected from water damage. It is recommended to complete Palisade/Dumawall installation with trim to ensure proper waterproofing of the shower enclosure.
---
Related Palisade/Dumawall Articles
---
Why You Should Complete Palisade/Dumawall Installation With Trim
One: Finish/Hide The Cut Edges Of Palisade/Dumawall
One of the most important reasons that you do not want to complete your Palisade/Dumawall installation without trim is that all of the cut edges will be exposed (and that just looks bad).
Palisade/Dumawall is an interlocking tile which means the tongues and grooves overlap and "lock together", much like laminate or vinyl plank flooring does.
That being said, the tongues and cut edges need to be hidden on the bottom of the starting row, the top of the last row, and all of the ends of rows that don't connect with another piece of Palisade/Dumawall.
If you don't hide these tongues and cut edges, not only will it look unfinished, it also won't be waterproof.
Each type of trim has its own time to shine:
Inside Corner Trim – Used on the inside corners of walls to connect tile between two walls

Often used on the inside corners of the shower

L-Trim – Used on the outside corners of walls to connect tile between two walls

Often used to finish shower niches or window sills in showers and tubs

J-Trim – Used to finish off the ends of the tile

Often used to finish the top of the last row and the cut ends of all the rows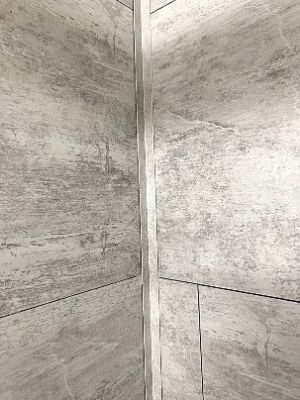 All of these trim pieces give the ends of the tile a clean, finished edge that will make your entire shower enclosure or backsplash look complete.
Our Real Life Example Using Palisade/Dumawall
For our DIY shower tile remodel, we did use all three types of trim, but we did not use another piece of J-Trim along the top of the last row to finish it off.
When we ran our tile to the ceiling, we thought we could just caulk along the top seam and the ceiling to finish it off as we did along the starting row and the shower base.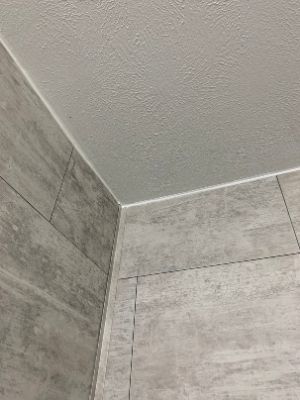 As you can see, it turned out okay, but if I were to redo this project, I would 100% spend the extra money to get an extra piece of J-Trim.
As you'll find out, the last row is the hardest row to install (if you are installing up to the ceiling which I would recommend for a more luxurious feel!) because you have to cut it a little shorter to get it to slide past the ceiling and glue to the wall.
That means the gap is a little bit larger than is preferable to just caulk a little bit. We had to span about an inch gap with the caulk, which is extremely hard to make perfect.
Instead, we could have just finished the last row with another piece of J-Trim and not had to caulk at all because the edge would have looked perfect.
Ahh, you live and you learn! Just bite the bullet on the cost now and save yourself a bit of a headache and regret later.
Two: Make The Corners Of Palisade/Dumawall Waterproof
The next important reason that you do not want to complete your Palisade/Dumawall without trim is that it helps make the corners waterproof.
Most likely your shower or tub will have three walls that need to be covered with tile. That means there are two inside corners where there is a possibility of water leaking through and causing damage.
Of course, you could just cover these inside corners with caulk and skip over the insider corner trim altogether to waterproof the corners, but that will make the corners look messy and unfinished.
And in the long run, that caulk is exposed directly to the real world, so it will most likely see a lot of wear and tear and fail sooner than if you had installed the corner trim with caulk in it.
Instead, you should install the inside corner trim and caulk on the inside of that trim as you insert each piece of Palisade/Dumawall to completely waterproof the corners. 
The trim will help protect the caulk because it will be inside the trim, instead of being exposed, so your shower or tub enclosure will last much longer.
Also, the inside corner trim helps hold the rows in place so they don't shift or get pulled off the wall accidentally over years of use. It locks everything into place and allows it to better stand the test of time.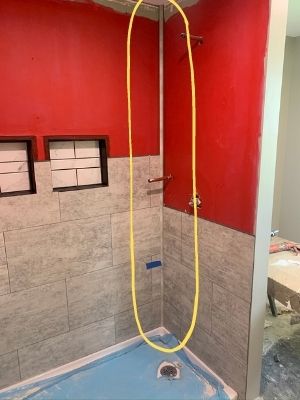 Three: Create A Seamless Transition Around The Corners
The last important reason you do not want to install Palisade/Dumawall without trim is that, without it, there's nothing to create a seamless transition around both the inside and outside corners.
This became prevalent when we were trying to decide how to tile our shower niches. The shower niches were the only area that had an outside corner. 
Without the L-Trim, the cut edges that met up at the outside corners would have been exposed, and again, not been waterproof.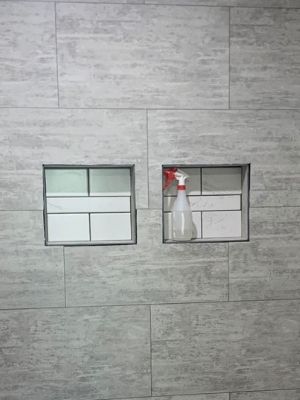 The L-Trim made it so simple to finish off these corners and create a seamless transition. Also, it is much like the trim that goes around a window; it's meant to be decorative and cover some gaps (and in this case, help waterproof).
We were even able to miter the corners and make the shower niches look even fancier!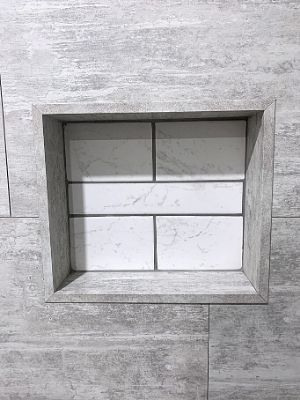 With all of that being said, you should not complete your Palisade/Dumawall installation without trim.
I'm all for doing DIY projects to save money, but the goal is still always to do work so well that it looks like a professional completed the job.
Installing the trim with your Palisade/Dumawall tile is the easiest way to give your shower remodel that professional finish.
Here is another article with great diagrams of how each trim piece works.
How To Install Palisade/Dumawall Tile
Now that you know the importance of all three types of trim, are you ready to start installing your new shower tile?
I have a complete guide that explains in detail exactly how to measure, cut, and install Palisade/Dumawall Tile within a day!
Speaking from experience, the planning/measuring step of the installation process is the hardest and most time-consuming part. So I fleshed out exactly how we calculated the size of each piece so that you can do the same in a fraction of the time it took us!
I also cover several of the problems we came across so that you can skip right over them and complete your new tile installation with ease.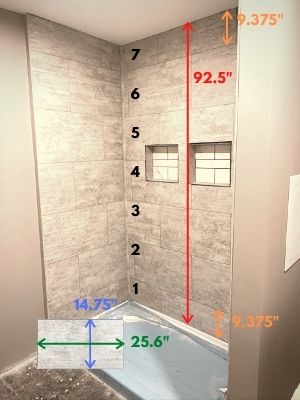 5 Benefits Of Using Palisade/Dumawall Groutless Tile Over Ceramic Tile
Next, let's briefly discuss the five benefits of using Palisade/Dumawall tile over traditional ceramic, glass, or any other tile that involves grout.
Palisade/Dumawall tiles are great because they are:
Waterproof (grout is not waterproof itself)
Cut easily with standard power tools (no special tools or skills needed)
Easy-to-clean and durable (the gorgeous colors hide soap streaks EXTREMELY well – coming from a lazy person who hates to clean the shower/tub!)
Lightweight and easy to install (no messy grout or mortar everywhere)
Custom- and elegant-looking (several colors to pick from to fit your bathroom perfectly!)
Check out my full, honest review of our Palisade/Dumawall shower to learn more about all five of these benefits (and the cons) of using this product over a traditional tile shower installation.
Can You Install A Shower Niche With Palisade/Dumawall?
You most certainly can install a shower niche with Palisade/Dumawall! We installed one in both of our bathrooms, and it was just the sizzle feature to add to make the bathroom seem FANCY and SPA-LIKE.
Shower Niches are the perfect way to add extra shelving and an accent piece within your shower enclosure. Like we discussed above, the L-Trim makes installing a shower niche with Palisade/Dumawall super easy.
Check out this tutorial to see exactly how we installed our shower niches within our Palisade/Dumawall shower and bathtub.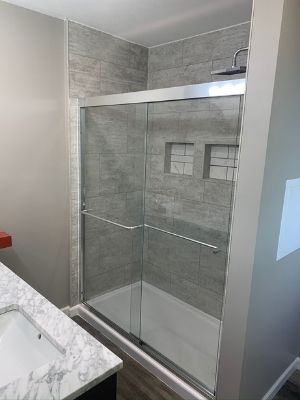 Final Thoughts On Palisade/Dumawall Installation Without Trim
There you have it! The trim is important to the Palisade/Dumawall installation process and is 100% worth the extra cost.
At the end of the day, the cost of Palisade/Dumawall tile, trim, caulk, glue, and RedGard waterproofing membrane is still cheaper than purchasing most types of tile, grout, and all of the waterproofing materials you need to make a traditional tiled shower waterproof.
Catch you in my next post!
---
Related Palisade/Dumawall Articles
---
Installing Palisade/Dumawall Without Trim: How It Affects Seams, Waterproofing, Cut Edges
DIY With Christine is a participant in the Amazon Services LLC Associates Program, an affiliate advertising program designed to provide a means for sites to earn advertising fees by advertising and linking to Amazon.com.