*My posts may contain affiliate links, which means I may receive a small commission, at no cost to you, if you make a purchase through a link! Thank you for supporting my website!*
Last updated on February 20th, 2023 at 04:29 pm
When Should You Use A Rug In A Bedroom? (And When Should You Not?)
Wondering if you need a rug in your bedroom? Well, look no further because I have your answer!
Bedroom rugs are not necessary, however, they do have many benefits. Bedroom rugs add comfort and style, are affordable and easy to install, and help to define spaces within a room. Rugs can be difficult to clean and trap smells, though, so they are not always beneficial to add to a room.
Now that we've got the basics out of the way, let's break into the details a little further so you can determine if a rug is actually necessary for your bedroom.
Let's dive in!
Quick Navigation: When Should You Put A Rug In A Bedroom
Does A Bedroom Need A Rug?
Rugs are not a requirement for bedrooms, but they are nice to have.
Using a rug in a bedroom can add style and comfort to a room, and it can even form a layer of protection for certain types of flooring and furniture legs.
Using a rug in your bedroom may be the item that it needs to bring it to the level of comfort that you prefer.
It can also be an excellent way to add some color, life, and vibrance to a room as well.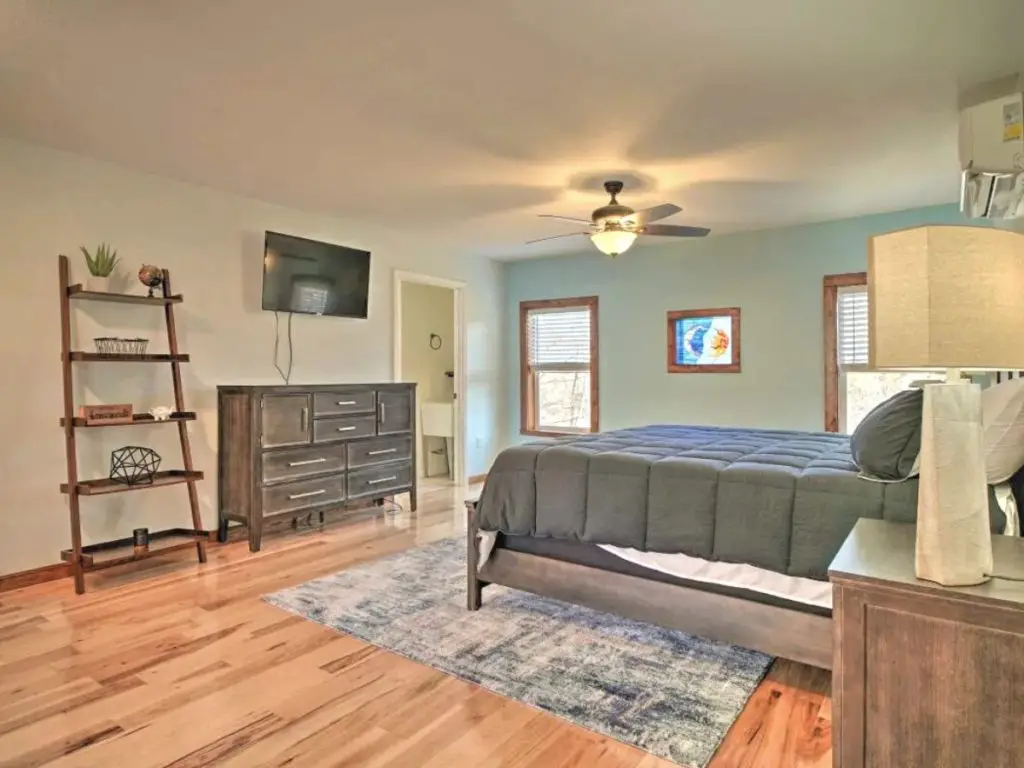 The joy of a rug is that they are moveable, light, and easy to install, and they are not permanent.
This means that you can experiment with bold colors and layouts without having to live it for a long time afterward if it does not work out how you intended.
Not every bedroom needs a rug, as they do come with some downsides as well, and they do not always suit the aesthetic, layout, or design of a room.
But most bedrooms can benefit from a rug of some form, especially bedrooms in areas that experience cold weather.
Let's go deeper into the pros and cons of bedroom rugs to help you determine if your bedroom could benefit from one.
---
Related Decorating Articles
---
Benefits Of Bedroom Rugs
The benefits of adding a rug to your bedroom include:
Bedroom rugs are affordable – this type of rug is inexpensive to buy, regardless of the style and size of the rug, and is significantly less expensive than carpeting an entire room.
Bedroom rugs are easy to install – installing a bedroom rug to add a touch of flair to a bedroom is as simple as placing it on the floor. Nothing could be quicker or simpler!
Bedroom rugs add comfort – adding a rug to your bedroom can make the room more comfortable and remove the icy sting of cold winter floors on bare feet.
Bedroom rugs add a layer of protection – using a bedroom rug can protect hardwood floors, and it can protect wooden or plastic furniture feet from damage as well.
Bedroom rugs define space – using a rug can make one area feel separate from the rest of the room. This is a great way to create separate 'zones' in your room for various functions.
Bedroom rugs are easily accessible – there are thousands of bedroom rug options available in any style, every color, and every size and shape. There is a rug out there that will easily suit your style and bedroom preferences without having to look too hard to find it.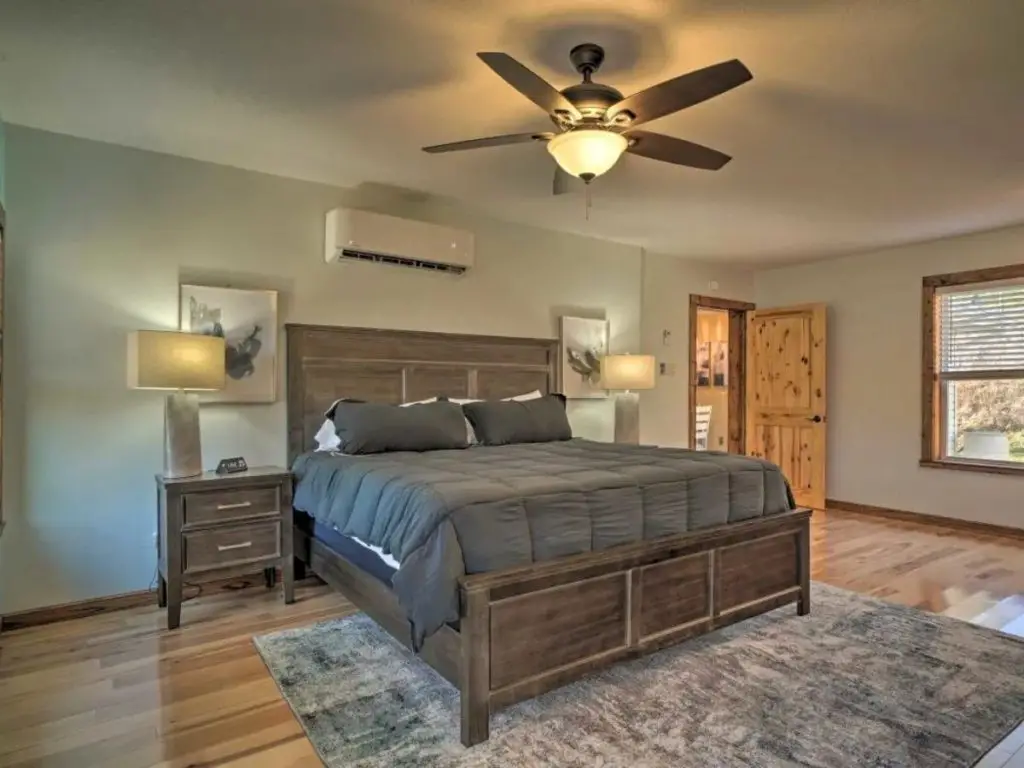 Drawbacks Of Bedroom Rugs
The drawbacks of adding a rug to your bedroom include:
Bedroom rugs are difficult to clean – rugs are challenging to clean, especially if large furniture is placed on top of them.
Bedroom rugs can attract and trap dust – depending on the material the rug is made from, it may be a magnet for dust and dirt, and it may even contribute to the dust in the room.
Bedroom rugs can trap smells – bad odors are easily trapped within rugs, which adds to the difficulty in cleaning them, and can significantly detract from the comfort of a bedroom. Bad smells can come from moisture, pets, or spills, and removing them can be impossible.
Bedroom rugs can add clutter – using a rug in your bedroom alters the feel of the space, and if it is not well considered, a rug may cause a bedroom to feel smaller or more cluttered simply by its presence.
How To Position A Rug In Your Bedroom
This video does a fantastic job of showing the best places to position a rug in a bedroom (and even gives a little hack if you don't want to purchase a huge rug!).
Final Thoughts On Adding Rugs To Bedrooms
There you have it!
Bedroom rugs can add comfort, style, and function to a bedroom as long as they properly fit in the space.
Fortunately, rugs are relatively affordable, and they can be easily removed, so there is nothing to lose!
Experiment with different rugs until you find the perfect rug for your bedroom, and you will not be disappointed as the rug adds so much to your space!
Catch you in my next post!
---
Related Decorating Articles
---
Do Bedrooms Need Rugs? (Pros & Cons Explained)
DIY With Christine is a participant in the Amazon Services LLC Associates Program, an affiliate advertising program designed to provide a means for sites to earn advertising fees by advertising and linking to Amazon.com.